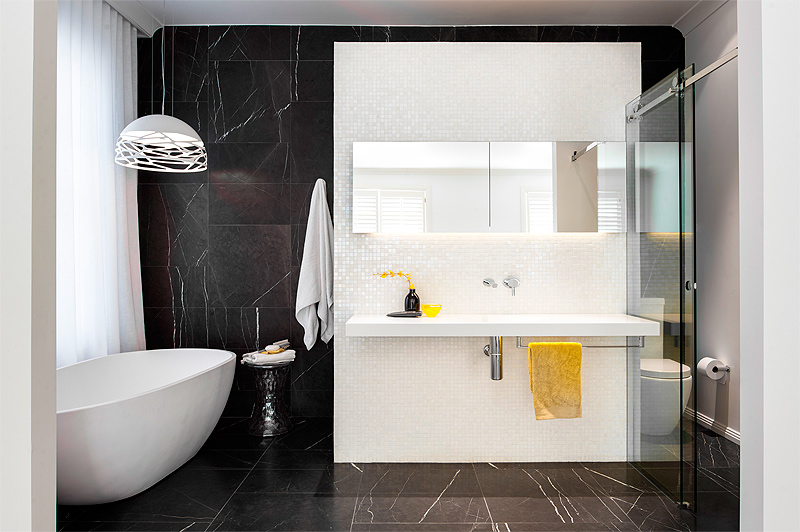 Este baño elegante, moderno y atemporal sirvió para que el diseñador australiano Darren Genner de Minosa Design recibiera, por segundo año consecutivo, el premio Australian Bathroom Designer of the Year 2014 que otorga el KBDI (The Kitchen & Bathroom Designers Institute). El baño pertenece a una vivienda, situada en una prestigiosa zona residencial al Este de Sidney, que había sido remodelada en numerosas ocasiones sin un buen resultado.
Los actuales propietarios habían llevado a cabo sus propias reformas y esta estancia era la última que les quedaba por renovar. Con tres niños pequeños y apretados horarios de trabajo, decidieron dejar esta tarea en manos del diseñador al que pidieron un espacio dinámico y atractivo, abierto y privado al mismo tiempo, que incluyera texturas naturales, buena iluminación, espacio de almacenamiento y que estuviera en consonancia estética con el resto de la casa.
Las principales dificultades a las que se enfrentó el diseñador fueron una planta estrecha y una ventana de estilo colonial que no podía tocarse. Además, los propietarios querían que el baño se abriera a la habitación principal con la consecuente pérdida de una de las paredes y, por tanto, de espacio útil.
Esta superficie perdida se recuperó levantando una cuarta pared en el centro del cuarto de baño, donde se situó un elegante y minimalista lavamanos mientras que el espejo oculta discretamente un armario. Esta nueva pared es la que permite un uso dual ya que oculta la ducha y crea una zona para el inodoro, separado por una puerta corredera de cristal.
Como los techos eran muy altos y los clientes deseaban un rociador en el techo, en la zona de la ducha se creó un falso techo a 2,40 m de altura para montar el rociador y que también sirvió para empotrar una línea de iluminación. La campana extractora está equipada con un sensor de vapor de agua, que hace que el ventilador se encienda una vez que el vapor de agua llega al techo.
El espacio disfruta de una buena iluminación LED que, además de ser regulable, hace que el cuarto de baño parezca más grande cuando está completamente iluminado.
Al lado de la ventana se colocó la bañera, creando una bella imagen. Para ocultar el estilo de la ventana, se utilizó una ligera cortina blanca que tamiza la entrada de la luz y facilita la conexión con el dormitorio principal.
Parte de las paredes y el suelo se revistieron con mármol gris oscuro que se aplicó siguiendo un patrón decorativo. Para complementar su textura natural, se eligió un mosaico de vidrio de Bisazza que aporta el toque de brillo al diseño.
_______________________________________________________________________________________
Las imágenes:
_______________________________________________________________________________________
Imágenes CAD-3D:
_______________________________________________________________________________________
Sobre Minosa Design:
Fundada por los diseñadores  Simona Castagna y Darren Genner, en el año 2001, Minosa Design es una innovadora firma australiana especializada en el diseño de lavamanos y mobiliario de baño, que realizan fabricantes locales.
También están especializados en el proyecto integral de cocinas y baños de líneas minimalistas, que han sido premiados y nominados en múltiples ocasiones.  Además, han aparecido en destacadas publicaciones del sector.
______________________________________________________________________________________
Información e imágenes facilitadas por Minosa Design
You might also like