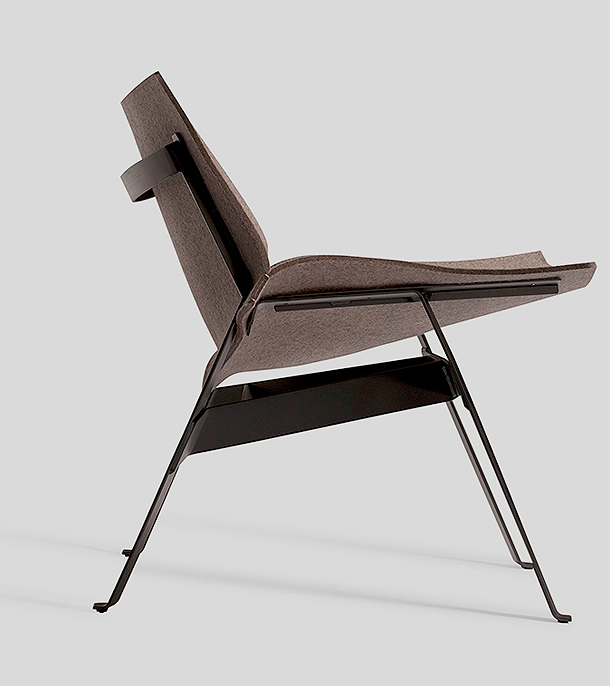 Panel:
Panel es una butaca fabricada en acero y cuero o lana, que ha significado el debut en el mercado español de la joven diseñadora Lucy Kurrein de la mano de la firma Capdell. Para esta reconocida empresa ha diseñado este liviano asiento, que se presenta como una alternativa a las tradicionales y robustas butacas tapizadas.
Este cómodo asiento, que pudo verse recientemente en el stand de Capell en Feria Hábitat Valencia, está fabricado en acero y cuero y lana en diferentes colores. La sección plana de la estructura metálica ofrece una generosa plataforma para el asiento, recordando a un atril que sirve de apoyo a un gran libro abierto con tan sólo las tapas.
La estructura, lacada epoxi, está disponible en blanco, rojo y negro, aunque el cliente puede optar a elegir su propio color. También existe una versión en varilla de acero que proporciona una estética todavía más liviana a la butaca.
En la parte alta y posterior del asiento, una varilla de la estructura adquiere una forma redondeada para facilitar el transporte de la butaca.
_______________________________________________________________________________________
Las imágenes: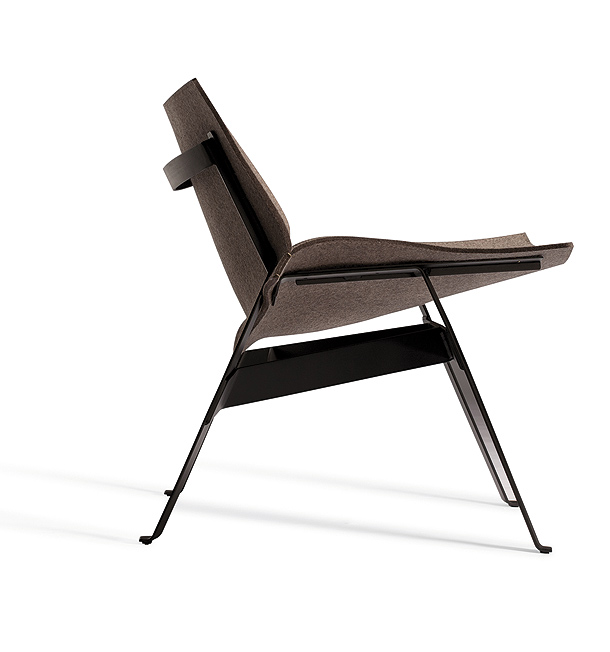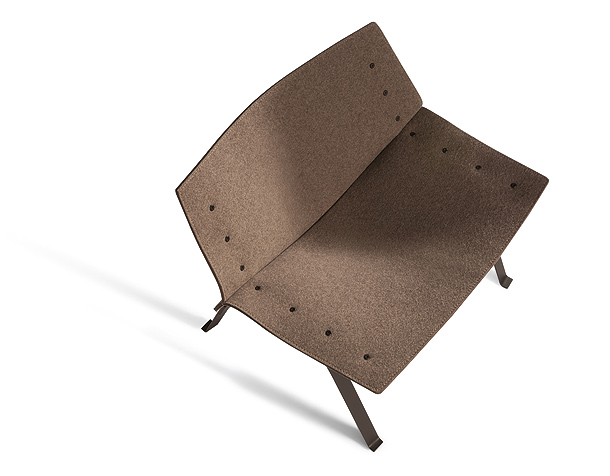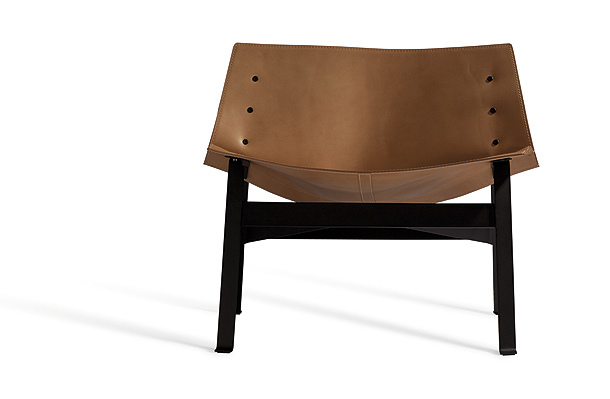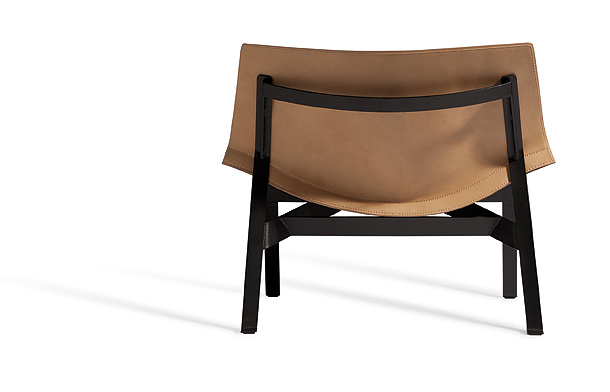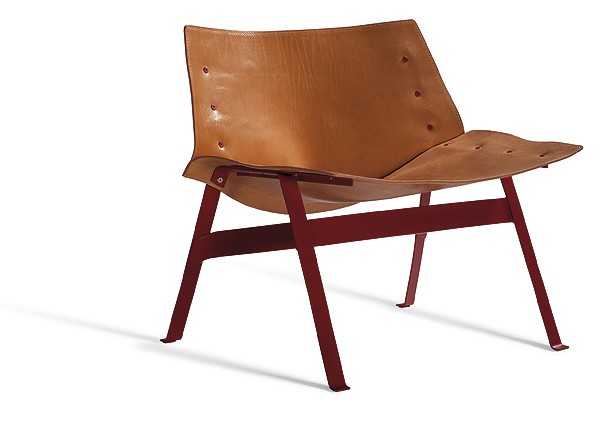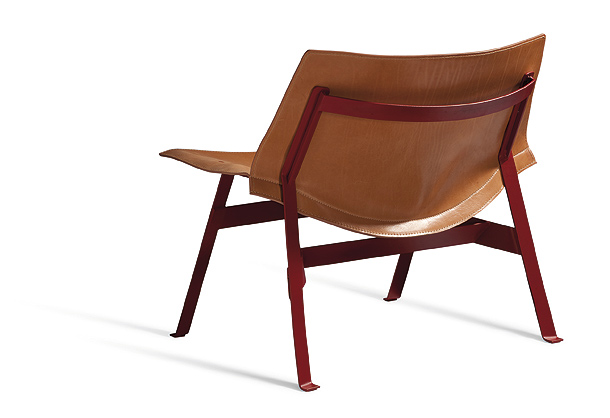 _______________________________________________________________________________________
Sobre Lucy Kurrein: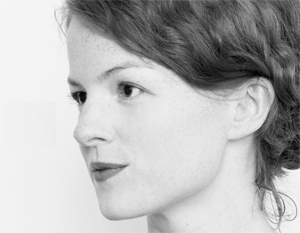 Después de estudiar en el Leeds College of Art and Design y en Bucks New University (entonces Buckinghamshire Chilterns University College), Lucy Kurrein empezó su carrera profesional con el diseñador Mattew Hilton. Con él adquirió el rigor que exige el trabajo de diseño industrial y los conocimientos necesarios sobre materiales y tecnología de fabricación. Aquí Lucy trabajó para clientes como SCP, Case Furniture, Habitat y De La Espada.

De 2009 a 2013, trabajó en el estudio PearsonLloyd, donde desarrolló proyectos de diseño en áreas como oficina, salud, menaje del hogar, espacios públicos y transporte, con clientes en el sector del mobiliario como Bene, Alias, Modus y Tacchini.

En el año 2013, la diseñadora fundó su propio estudio y durante el primer año lanzó el sofá Lincoln y las mesitas Lily para SCP. La colaboración con Capdell ha significado su debut en el mercado español. Su trabajo aúna el rigor del diseño industrial con la calidez del diseño de mobiliario.
_______________________________________________________________________________________
Sobre Capdell:
Capdell es una marca creada en 1981 como evolución de Sillerías Alacuás, una compañía fundada hace 40 años. Esta empresa, localizada también en Valencia, estuvo asociada desde el principio a una tradición muy específica: trabajar artesanalmente la madera para crear sillas atractivas y de calidad.
A lo largo de los años, Capdell ha revisado y enriquecido su catálogo, introduciendo nuevos e innovadores diseños, obra de profesionales de las más diversas disciplinas. Diseñadores como Rafa Ortega, Vicente Soto, Jaime Bouzaglo, Merche Beltrán y Lledó & Asociados Design Studio han hecho significativas contribuciones a la marca, desarrollando modelos exclusivos para ella.
Conscientes de la necesidad de cuidar el medio ambiente, desde hace años trabajan con materias primas reciclables, como las maderas provenientes de campos sostenibles de tala controlada certificado PEFC. También los polipropilenos -totalmente reciclables- y otros materiales como barnices y tintes, son seleccionados de modo que produzcan el menor impacto medioambiental posible. En la actualidad, se encuentran inmersos en los protocolos para la obtención de la certificación ISO 14001 de Gestión Ambiental.
_______________________________________________________________________________________
Información facilitada por Capdell y en la web de Lucy Kurrein. Imágenes facilitadas por Capdell
You might also like