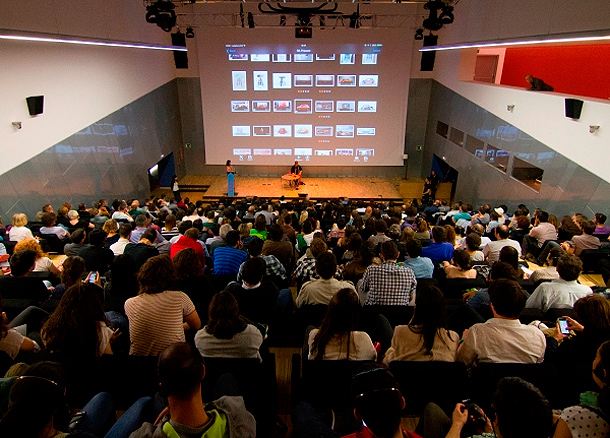 Design is Future: «Empresa» y «Sociedad»:
Mañana viernes 12, tendrán lugar los dos últimos bloques que, junto al que se celebra hoy, conforman el primer «Design is Future», el nuevo «congresstival» de la Barcelona Design Week.
El primero de los bloques, en horario matinal (10.30-13.30) y que lleva por título «Empresa», se centrará en mostrar, a través de varios casos de éxito, la importancia del diseño en la estructura de las empresas como un potenciador de la innovación. Entre los ponentes, Ana Mesas y Carmen San Emeterio (Adobe), Yao YingJia, vicepresidente de Lenovo y Natalia Argüello (NYdesigns).
Ya por la tarde (15.30-18.00), el bloque «Sociedad», a través de las diferentes ponencias, enseñara cómo el diseño ayuda a mejorar la sociedad en general y las ciudades en concreto a través de la innovación, haciendo más fácil la vida de las personas. Entre los ponentes, el diseñador Matthew Cohen ( MCDC Matthew Cohen Design Collective, NY); María Hidalgo, fundadora de Diseño Social +; y Koldobika Goikoetxea Rico co-fundador de The Social Coin.
A continuación y poniendo casi punto y final (el sábado y el domingo aún hay actividades), llega la fiesta de clausura (19.00-23.00) de esta décima edición de la Barcelona Design Week. El acto será también el escenario de celebración de los 15 años de la revista Interiores, la publicación mensual del editora Prisma especializada en el ámbito de la decoración.
.
---
Y en la #OffBDW:
Organizado por la Universidad Pompeu Fabra, el taller «Sketching through the body: Full-Body» (10.00-14) tiene como objetivo reflexionar sobre técnicas basadas en la educación somática y nuevos conceptos de diseño de interacción para las experiencias de cuerpo entero en el contexto de espacio público de la ciudad.
---
Código Abierto para una Economía Circular:
Un encuentro abierto y global (10.00-14.00 y 16.00-21) que trabajará simultáneamente en distintos lugares del planeta sobre Código Abierto para una Economía Circular. Activistas, expertos en hardware, software, diseño, gestión de residuos, gestión de recursos y economía colaborativa, trabajarán conjuntamente para desarrollar, intercambiar y prototipar ideas en este acto organizado por Makea tu Vida.
---
IdeOut propone un taller de diseño (11.00-18.30) para desarrollar un artículo para el hogar, un producto para uso doméstico y sin finalidades comerciales. El estudio pone a disposición de los asistentes todos sus recursos y conocimientos para hacer realidad sus ideas. Organizan designhooping y Path Graph en Mitte Barcelona.
---
Construcción. Dispositivo de simulación urbana:
DSU es un estudio sobre urbanismo, una escultura, una performance y una instalación al mismo tiempo. Busca el análisis de la ciudad y su representación escultórica mediante nociones propias del urbanismo, de la escultura minimalista y del diseño de producto. ¿Qué es una ciudad? ¿Como está organizada? ¿Cuales son los sistemas de planificación urbana más adecuados? ¿Cómo construirías un núcleo urbano?
---
 

Diseño industrial – Evolución y futuro:
El diseñador industrial Daniel Oltra Cervera (19.00-21.00) habla de cómo se transformará el diseño industrial, una disciplina que no tiene más de 200 años, a medida que la sociedad y la tecnología pasen del modelo industrial al postindustrial.
---
Quince aldeas de Mali no vivirán más en la oscuridad gracias a la farola portátil creada por el arquitecto italiano Matteo Ferroni. Con una performance (20.00-21.30) que combina diseño, etnografía y vídeo arte, el autor nos lleva hacia la dimensión simbólica de la luz recorriendo el origen del artefacto que ha transformado la vida de una comunidad.
---
 

Carga solar para bicicletas eléctricas:
Castells Bicicletes acoge la presentación (19.00) de un sistema de alimentación universal para alargar la autonomía energética de cualquier bicicleta eléctrica por medio de la recarga continua solar de su batería, haciéndola autónoma, útil sobretodo para cicloturismo. La estructura ha sido diseñada por Clausell Studio y las placas solares y el sistema electrónico por Textile Energy.
---
La programación completa en la web de la Barcelona Design Week
You might also like