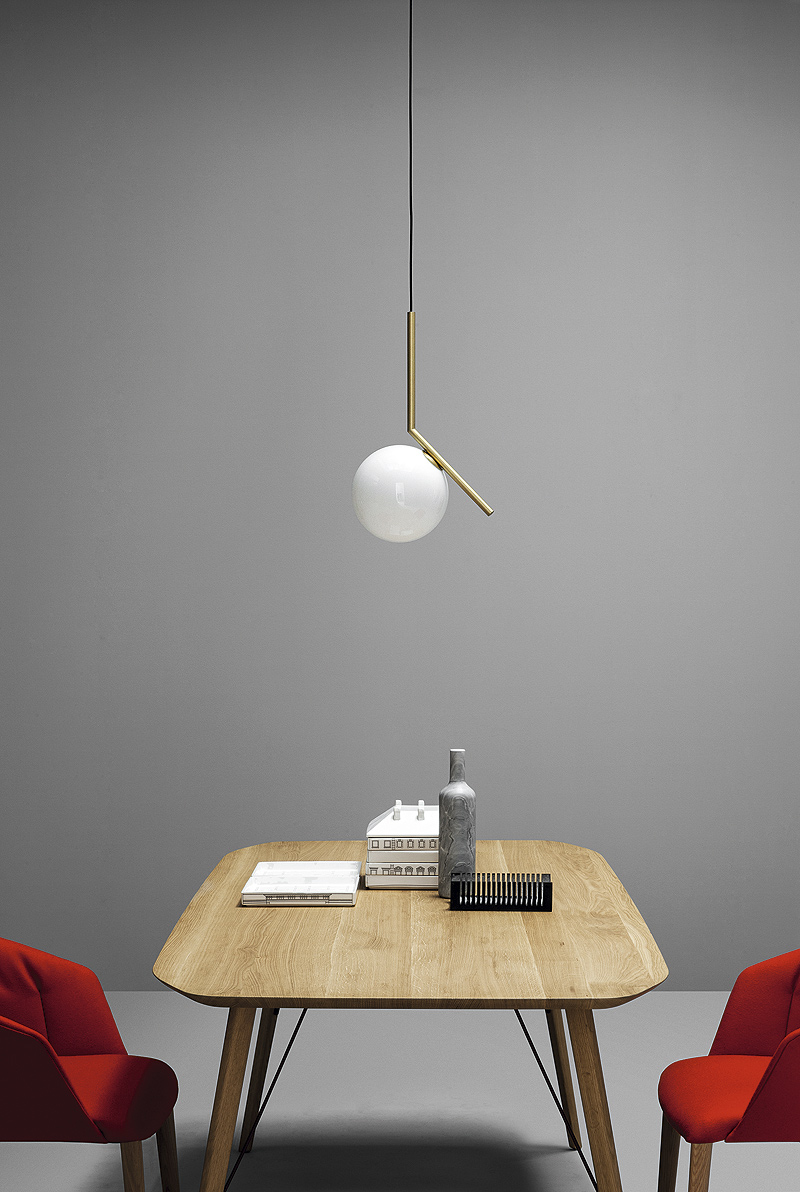 Santiago:
Santiago lleva la firma del diseñador austriaco Frank Rettenbacher y es la última mesa que se ha incorporado al catálogo de la empresa Zanotta. En 2014, el diseñador ya había creado para la firma italiana la mesita Emil y la consola Mina, y deseaba recuperar la ligereza de esos dos productos realizados en chapa metálica con un nuevo diseño de mayores dimensiones.
Rettenbacher se planteó el reto de crear una mesa de madera maciza con la misma imagen que caracteriza a las estructuras metálicas ligeras. Con este objetivo llegó Santiago,  inspirada por el estilo del arquitecto Santiago Calatrava, y como resultado de un cuidado estudio de las formas y los soportes, realizado por el diseñador junto al Departamento técnico de Zanotta que, al igual que él y como explica Rettenbacher, son unos «maniacos de los detalles constructivos».
La mesa ofrece la presencia de una pieza de mobiliario moderna enmarcada en una línea clásica, rota sutilmente por las abrazaderas de acero que aportan su fuerza a las finas patas, evitando deformaciones y el uso de voluminosas barras transversales. Bajo el sobre, se pueden ver los elegantes herrajes planos, incrustrados en la madera, y los tensores sujetos a las patas, que pueden desmontarse sin complicaciones.
Se explica desde Zanotta que Santiago es una de las mesas de madera maciza más ligeras disponibles en el mercado y se fabrica en tres tamaños: 210 x 90 cm y 145 x 145 cm (hasta 8 personas), 100 x 240 cm (hasta 10 personas).
En cuanto a materiales y acabados, el sobre y las patas se fabrican en nogal Canaletto macizo, barnizado natural, o en roble macizo barnizado natural o en blanco o negro a poro abierto. Mientras que los tirantes metálicos se presentan pintados en color negro por la versión en nogal Canaletto y en roble pintado negro; de color blanco para el modelo en roble pintado blanco; o de color burdeos o negro por el modelo en roble natural.

---
Detalles de las patas:
---
Sobre el autor: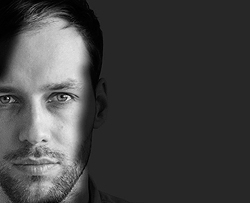 Frank Rettenbacher es un diseñador austriaco Bregenz, 1979) que vive y trabaja en Amsterdam. Se graduó en Diseño Industrial en la Universidad de Ciencias Aplicadas de Graz. Después de diseñar para Audi, en Ingolstadt, se unió a Philips Design en los Países Bajos.
En esta firma y a través del trabajo en diferentes departamentos, su premiado trabajo ha abarcado iluminación, electrónica de consumo y diseño estratégico. Desde 2012, es director creativo de Philips Televisión (TP Vision) y jugó un papel decisivo en el diseño y desarrollo de la aclamada televisión de cristal DesignLine. Por ella recibió el Dutch Design Award y en 2014 ganó el IF Gold y el Red Dot Best of the Best. El producto se encuentra en la colección permanente del Museo Stedelijk de Amsterdam.
Además, Frank Rettenbecher trabaja en sus propios proyectos, que se centran en el diseño de mobiliario e ilustración figurativa. En 2014, el diseñador comenzó a trabajar con el fabricante italiano de muebles Zanotta.
---
Sobre Zanotta:
Fundada, en 1954, por Aurelio Zanotta,
Zanotta
 es una de las firmas líderes de mobiliario de diseño italiano de reconocido prestigio internacional. Desde sus inicios, el diseño de sus productos ha contado con las firmas de arquitectos y diseñadores de fama internacional como Achille Castiglioni, Gae Aulenti, Marco Zanuso, Ettore Sottssas, Joe Colombo, Alessandro Mendini, Ross Lovegrove,…
---
Información e imágenes facilitadas por Zanotta
You might also like