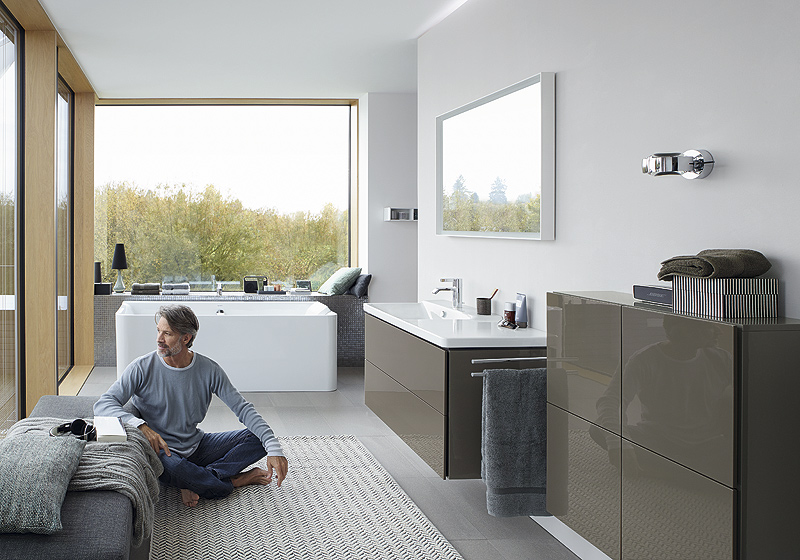 P3 Comforts:
Dirigida a un público joven y con un moderno concepto de confortabilidad, P3 Comforts es una de las nuevas colecciones que han desarrollado el equipo de Phoenix Design y Duravit. La serie está compuesta de lavabos, inodoros, bidés, bañeras y platos de ducha, un total de 57 productos que cubren una amplia gama de necesidades funcionales y de espacio.
P3 Comforts ofrece una imagen limpia, de líneas sencillas, marcada por la delicada curvatura que distingue el diseño de todos los elementos. A esta vertiente estética, se suma la práctica con detalles, características y opciones que incrementan la funcionalidad de cada uno de las piezas.
Los lavabos, que cuentan con una marcada profundidad, ofrecen diferentes versiones, desde el clásico lavamanos con o semi pedestal hasta amplias bancadas con superficies laterales para depositar objetos (a un lado o ambos lados), que complementan a la repisa donde se apoya el grifo.
El diseño del inodoro y del bidé se une de forma armónica al lenguaje de los lavabos. Para facilitar la limpieza, diferentes modelos de sanitarios se han equipado con el canal de lavado abierto Rimless. Además, los nuevos inodoros suspendidos pueden ampliarse con el asiento de lavado plano SensoWash Slim. Por otra parte, la zona ligeramente elevada del bidé ofrece suficiente espacio para la grifería y sirve para depositar utensilios.
La bañera, minimalista y monolítica, dispone de una gran capacidad interior y una repisa para insertar la grifería y poder tener los objetos a mano. Además en su intención de ofrecer la máxima comodidad, dispone de un reposacabezas y se puede equipar con un sistema de hidromasaje como el nuevo sistema Combi L. Éste proporciona con los jets de movimiento vertical una experiencia de confort relajante.
El plato de ducha está realizado con el nuevo material DuraSolid que consigue sin imprimación adicional una superficie antideslizante de tipo B. Esto proporciona un elevado nivel de seguridad que es imprescindible para su uso en espacios públicos.
El montaje se puede realizar tanto a ras de suelo, semiempotrado o también sobrepuesto con o sin patas. Además, puede combinarse con la mampara de ducha Open Space B, que crea un espacio de ducha ideal. El desagüe de fácil limpieza está integrado en una bancada ligeramente elevada.
Como accesorio, existe un taburete en el que poder sentarse, depositar objetos o en el que poder ducharse sentados.
---
Las imágenes:
---
Sobre Phoenix Design: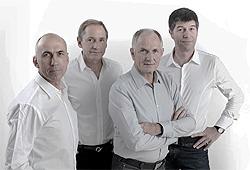 "Lógica, moral y magia" son los principios que rigen el conocido estudio alemán de diseño fundado por Andreas Haug y Tom Schönherr, Phoenix Design Stuttgart/Tokyo, cuyo trabajo se desarrolla en los campos del diseño de marca, estrategia y diseño de producto, de interfaces, consultoría y diseño avanzado.
Avalado por más de 400 premios durante los últimos 21 años, entre sus clientes figuran fabricantes de renombre internacional como Alape, Kaldewei, Laufen, Duravit, Hansgrohe, Sharp, Grundig, LG, Loewe, Gaggenau, Bosch, Siemens y Audi. Entre los galardones que han recibido destacan 15 Good Design Awards, 9 Red Dot Design Awards "Best of the Best" y 23 Design Plus Awards. Recientemente ha recibido el premio German Design Award 2012.
---
Sobre Duravit:
Duravit es una de las empresas punteras del mundo del baño de diseño de alta gama, que ofrece cerámica sanitaria, muebles, bañeras, wellness y accesorios. Sus orígenes se remontan a 1817, cuando Georg Friederich Horn construyó en Hornberg (Selva Negra) una fábrica de gres que se dedicaba a la fabricación de vajillas. La trayectoria de la empresa cambió a partir de 1950 cuando se inició la fabricación de porcelana. En 1960, el nombre de Duravit se abría camino en el mundo sanitario.
En la actualidad, dispone de diez centros productores y más de 5.000 empleados. Philippe Starck (Starck 1, Starck 2 o Starck 3), Norman Foster (Foster), Sieger Design (2on floor, Darling, D-Code o Happy-D), Phoenix Design (Caro y PuraVida) y Christian Werner (Ketho), entre otros, figuran entre sus diseñadores.
---
Información e imágenes facilitadas por Duravit
You might also like