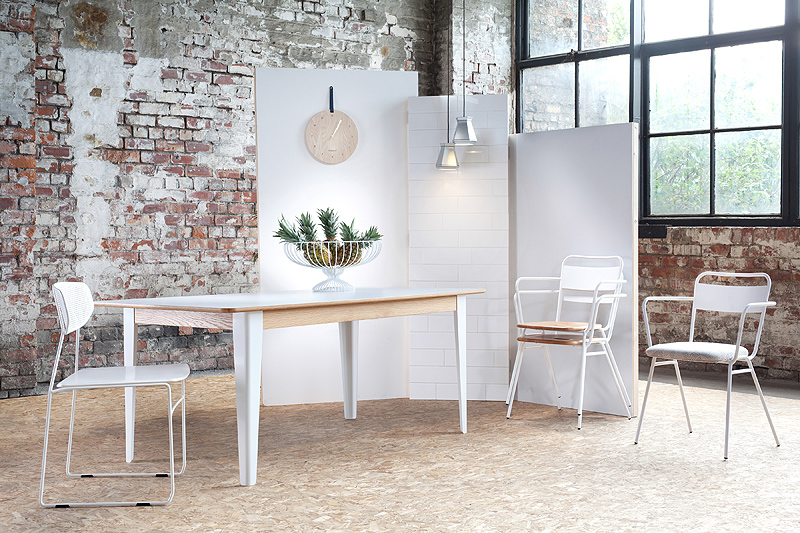 Naked:
Creada por los diseñadores Magnus Long Design Studio y Gala Wright para la firma británica Deadgood, la silla Naked forma parte de una creciente colección de mobiliario moderno para interior y exterior.
El perfil y la estructura de la silla vienen dados por una delgada varilla de acero que sirve de apoyo a las planchas de acero perforadas que conforman el asiento y el respaldo. De esta forma, Long y Wright consiguen crear un elemento ligero pero estructuralmente sólido.
Sin embargo, los detalles perforados no sólo ayudan a reducir el peso sino que también han sido diseñados para seguir un patrón que va de las perforaciones con mayor diámetro en el centro hasta las de menor, en los extremos.
Aunque Naked se creó pensando en el metal como material base, la silla también ofrece una versión tapizada que la convierte en una silla apropiada para una amplia variedad de ambientes.
Medidas: 46 x 48 x h 82 cm.
---
Las imágenes:
---
Sobre Magnus Long:
Con sede en Londres, Magnus Long Design Studio realiza diseño de mobiliario, iluminación y de producto para firmas como Modus, Hitch Mylius, Lerival, Deadgood y The Conran Shop.
Antes de abrir su propio estudio, Magnus estudio Diseño de Mobiliario y de Producto en la Universidad Nottingham Trent. A continuación, trabajó para el diseñador, fabricante y distribuidor de productos IT ergonómicos Colebrook Bosson Saunders, y para la empresa de mobiliario e iluminación twentytwentyone mientras que también fue miembro del galardonado estudio de diseño Viable London.
En 2012, Magnus abrió el estudio que lleva su nombre, debutando con un proyecto para la empresa británica de mobiliario Modus. El banco Bend se presentó ese mismo año, al que siguieron las mesas Bloom, lanzados en Designjunction en 2013, también para Modus. Ese mismo año, diseñó para Hitch Mylius, Lerival y Deadgood, que se añadieron a la lista de clientes.
Al año siguiente, después de recibir el encargo de diseñar una exclusiva colección de mobiliario llamada «Magnus Long para The Conran Shop», la firma presentó varias colecciones y rápidamente llamó la atención de los medios.
---
Sobre Gala Wright:
Antes de estudiar Diseño de Producto en la Universidad Metropolitan de Londres, Gala Wright estudio Física y Filosofía en la universidades de Oxford y Londres, seguido de ocho laboriosos años en la producción cinematográfica. Esta mezcla impregna sus diseños que, a menudo, combinan elegantemente mecánica y materiales.
En 2004-05, trabajó como freelance en Hábitat bajo la dirección creativa de Tom Dixon. Mientras tanto, el fabricante italiano Coro añadió su tumbona de jardín Loop a su catálogo. Loop nació en el taller de la universidad y, varios años después, sigue siendo un éxito de ventas.
Además de trabajar como diseñadora independiente, Gala fue miembro fundador -junto a Magnus Long y Charles Trevylian- del estudio de diseño Viable London que, después de su creación en 2005, se exhibió a nivel internacional y con el Museo del Diseño de Londres. Gala también ha diseñado para las firmas Mark y Ercol.
---
Sobre deadgood:
Deadgood es una empresa británica conocida por diseñar y distribuir su propia colección de mobiliario e iluminación de diseño moderno. La firma fue fundada, en 2004, por Dan Ziglam y Elliot Brook, dos amigos que compartieron una sencilla visión: crear una marca de diseño de prestigio internacional y ser reconocidos por el desarrollo de una colección de vanguardia de clásicos del diseño del siglo XXI.
Con el paso de los años, la familia ha crecido con el nombre de diseñadores como Lee Broom, Max Lamb, David Irwin, Viable London, Vicki Leach, Nick Rawcliffe, Daniel Schofield y Craig Jones Design. El equipo también incluye una red altamente cualificada de artesanos británicos que se encargan de realizar los diferentes productos.
---
Información en las webs de Magnus Long, Gala Wright y Deadgood. Imágenes en la web de Magnus Long
You might also like