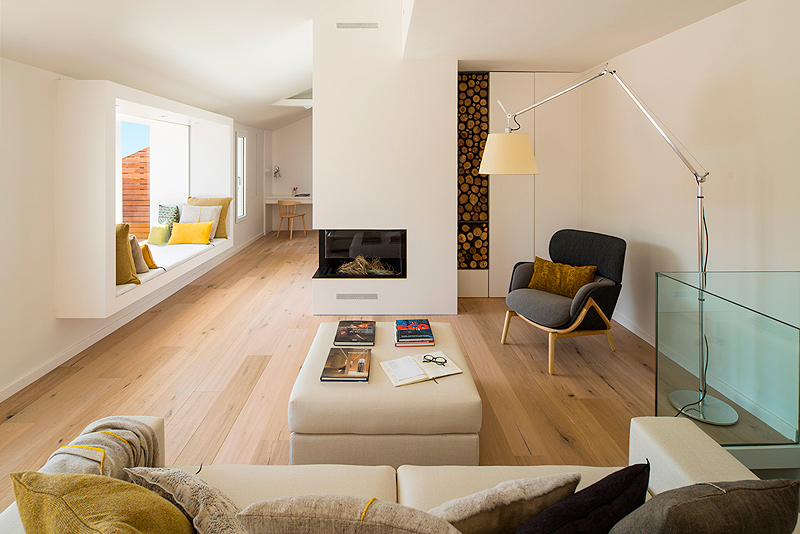 Casa de vacaciones:
Los propietarios de este dúplex, ubicado en la ajetreada Barcelona, deseaban un hogar donde el estrés cotidiano no traspasase la puerta de entrada de su hogar. La encargada de hacer este deseo realidad ha sido la interiorista Susanna Cots, apasionada por los espacios esenciales y la filosofía «slow».
El motor de inspiración fue unir el interior de la vivienda con el exterior, convirtiendo la terraza en un agradable y activo punto de reunión de la vida familiar. Situada en el nivel superior y revestida con un material noble como la madera, se comunica directamente con la zona de día.
Dos cubos de DM lacado en blanco crean cuatro funcionales zonas de relax, dos en el interior (comedor-cocina y salón) y dos en el exterior, tomando como punto de partida las dos grandes cristaleras que se abren en la fachada que comunica con la terraza.
Ésta se ha revestido en cálida madera y se le ha dado viva con árboles propios del clima mediterráneo como el olivo y el naranjo.
En el interior, la cocina, completamente equipada con un mobiliario blanco y sin tiradores donde los electrodomésticos quedan ocultos, se despliega a lo largo de una de las paredes. Aún con la mesa del comedor muy cerca, se ha creado una pequeña zona de office, profusamente iluminada durante el día con la luz natural que llega no sólo a través de los ventanales sino de una claraboya que la comunica visualmente con el cielo azul.
Delante del segundo ventanal, se encuentra la sala de estar con una chimenea que favorece el confort y los momentos de reunión. A continuación, se han situado un aseo y una pequeña habitación, que puede aislarse a voluntad mediante una puerta corredera.
Una sobria escalera de madera comunica esta planta con el piso inferior de la vivienda, donde se sitúa la parte privada formada por dos suites con baño incorporado.
En todo el dúplex se respira una atmósfera serena y natural, que emana del uso de materiales nobles como la madera y la utilización del color blanco, sello indiscutible del estudio de Susanna Cots. La iluminación también se ha estudiado al mínimo detalle, de modo que consiga transmitir las sensaciones de estar en una casa de verano, alejada del estrés propio de una gran ciudad.
---
Las imágenes:
---
Ficha técnica:
Proyecto:

Casa de vacaciones.

Año:

2015.

Localización:

Barcelona (España).

Diseño:

Susanna Cots.

Superficie:

140 m2.

Diseño de mobiliario:

Susanna Cots Interior Design.

Sillas:

Hay.

Sofás:

Tema V.

Butaca:

De La Espada.

Cocina:

Zania.

Iluminación:

Artemide.

Parquet:

natural de roble de Parador.

Atrezzo (cojines, nórdicos, plaids):

Teixidors y Maison de Vacances – París.

Mobiliario exterior:

chill out Susanna Cots Interior Design.

Revestimiento baño:

Vives y Porcelanosa.

Fotografías:

Mauricio Fuertes (www.mauriciofuertes.com)
---
Planimetría:
---
Sobre Susanna Cots Interior Design: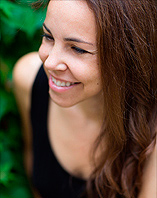 La interiorista Susanna Cots (Solsona, 1977) acaba sus estudios de Proyectista de Edificios y Obras, en 1998, y empieza los estudios de Diseño de Interiores, en Barcelona. Durante su formación académica trabaja en diferentes estudios de arquitectura y empresas relacionadas con el mundo del diseño para complementar su formación.
En el año 2003, realiza un Máster en Escaparatismo, en Madrid, y un año después, uno Diseño de Interiores para la producción audiovisual, en Barcelona. Después de varios años de experiencia, en el 2001 funda su propio estudio de diseño Susanna Cots Estudi de Disseny.
En estos ya más de quince años de carrera profesional, la interiorista ha diseñado espacios de todo tipo y como ella misma dice "todo aquello que sea susceptible de ser diseñado". El trabajo de Susanna Cots converge en un punto intermedio entre funcionalidad y estética, atemporalidad y comodidad. Su búsqueda incesante a través del blanco, las líneas estilizadas y el orden visual consiguen que sus proyectos transmitan una personalidad cada vez más consolidada.
Sus proyectos han sido reconocido en publicaciones de ámbito nacional como "Diseño Interior", "Casa Viva", "Mi Casa", "La Vanguardia" o "El País", entre otros. Ha participado en diferentes concursos y premios a nivel nacional e internacional como el ICFF New York (International Contemporary Furniture Fair), los Premios FAD de Barcelona, Porcelanosa Interiores, los Andrew Martin's Interior Design Awards de Londres y los SBID Awards, de The Society of British Interior Design, donde quedó finalista en dos categorías.
Además, es Miembro Honorífico de The Society of British Interior Design y del Colegio de Decoradores de Colombia. En 2014, Susanna Cots ha abierto su primer estudio internacional en Hong Kong.
---
Información e imágenes facilitadas por Susanna Cots
You might also like