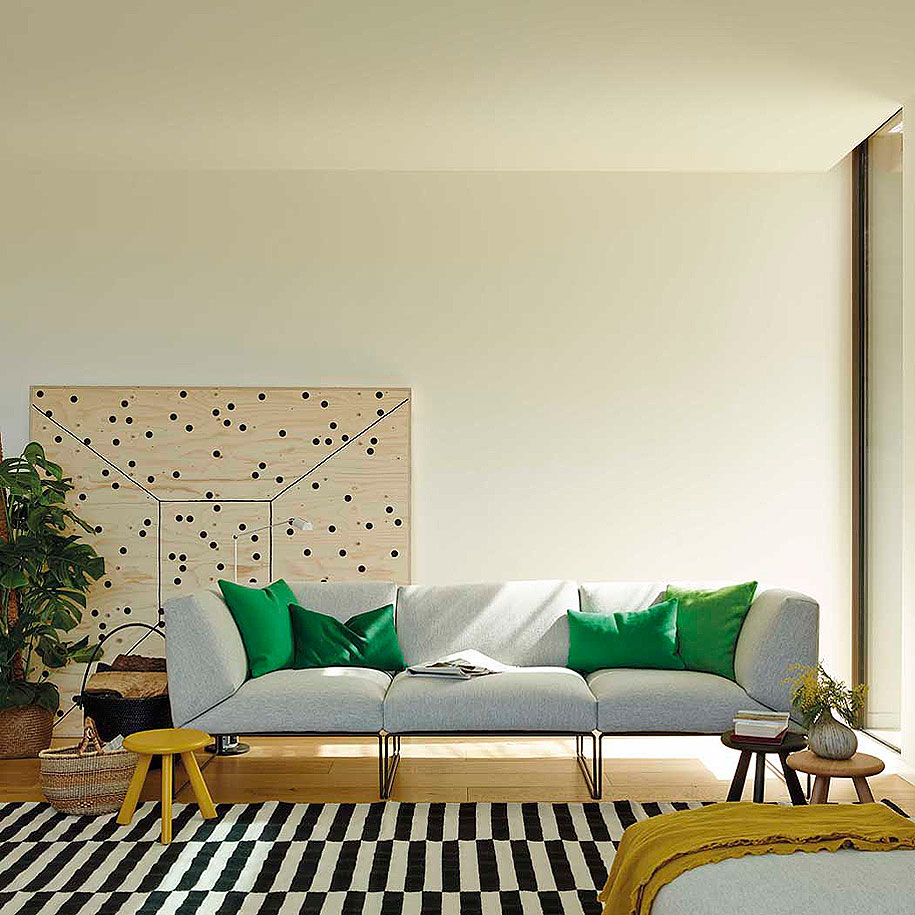 Siesta:
Diseñado por el estudio Lievore Altherr Molina, Siesta es un programa de asientos modular pensado para amueblar de una forma elegante y liviana entornos colectivos y también residenciales.
Esta colección, que produce la empresa Andreu World, ofrece confort, bellas proporciones, funcionalidad y gran versatilidad en base a las tres piezas base que la componen: módulos de una plaza, rinconeros (a derecha e izquierda) y reposapiés.
La combinación de estos tres elementos permite resolver diferentes necesidades en cuanto a forma y función: desde sofás individuales, impuestos por espacios de dimensiones reducidas, a grandes sofás, ideales para el sector contract u hotelero.
La practicidad y adecuación del programa Siesta a diversas situaciones crece con la amplia selección de tejidos con gran variedad de colores y texturas, disponibles en el catálogo de Andreu World. Además, las partes tapizadas pueden desmontarse de cara a facilitar el mantenimiento.
Como contrapunto, la estructura está realizada en varilla maciza de acero disponible en marrón tierra o blanco, cuya aparente fragilidad dota a la pieza de gran ligereza visual en contraste con la robustez del asiento.
Medidas módulo individual: 80 x 88'5 x h 74 cm.
Medidas módulo rinconero: 88 x 88'5 x h 74 cm.
Medidas módulo reposapiés: 80 x 80 x h 42 cm.
---
Las imágenes:
---
Sobre Lievore Altherr Molina: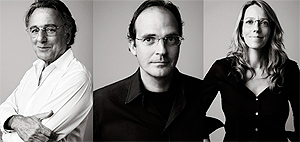 El estudio Lievore Altherr Molina nace en el año 1991 de la unión de sus tres socios: Alberto Lievore, Jeannette Altherr y Manel Molina.
Desde su fundación, se han dedicado al diseño de producto, a la consultoría y a la dirección de arte de distintas empresas.A lo largo de esta trayectoria, el equipo ha sido reconocido por sus diseños de mobiliario, por sus proyectos de diseño interior, de productos y envases. Paralelamente, han desarrollado una intensa actividad docente impartiendo seminarios y cursos en universidades españolas y otros organismos.
En 1999, recibió el Premio Nacional de Diseño, pero también se ha hecho merecedor de otros galardones tanto nacionales como internacionales. Además, ha realizado distintas exposiciones y muestras en Barcelona, Colonia, Chicago, Estocolmo, Helsinki, Lisboa, Londres, Lousiana, Madrid, Malmö, Milán, Nueva York, París y Tokio.
---
Sobre Andreu World:
Andreu World es una empresa familiar de mobiliario para interior y exterio que tiene su origen en 1955, gracias a la inquietud de su fundador Francisco Andreu Martí. Fundada como un pequeño taller de ebanistería en la localidad de Alaquàs, muy próxima a Valencia (España), actualmente, reúne a un equipo de profesionales altamente cualificado con una clara vocación internacional a partir de una premisa muy clara: diseño y calidad.
Esta premisa va ligada a la categoría de los profesionales que firman sus diseños: Patricia Urquiola, Piergiorgio Cazzaniga, Joan Lao, Mario Bellini, Lievore Altherr Molina, Josep Lluscà, Javier Mariscal y Nancy Robins, entre otros.
Actualmente, dedica un 60% de su producción a la exportación y su red comercial abarca los cinco continentes. Países como Nueva Zelanda, Emiratos Árabes Unidos, Singapur, Japón, México, Argentina y Estados Unidos son sólo algunos ejemplos en los que la marca está presente.
La firma dispone de un showroom de más de 2.000 m2 en Valencia, donde están ubicadas sus oficinas centrales, y de tres centros de producción: dos localizados en la misma provincia de Valencia y el tercero en Navarra. Además, cuenta con espacios expositivos en otras ciudades como Chicago, Nueva York, Pune, New Delhi y San Francisco, así como las oficinas de la delegación americana en el emblemático edificio Merchandise Mart.
La madera proviene de sus bosques, controlados mediante un protocolo de custodia que incluye la plantación, la tala, el secado –durante más de un año desde la tala, para evitar que la madera se quiebre en el futuro– y todas las fases de manipulado. Este proceso cuenta con la certificación FSC® (Forest Stewardship Council) que garantiza madera con origen en bosques reforestados y controlados.
Entre los numerosos premios recibidos a lo largo de su trayectoria figuran, entre otros: Red Dot Design Award 2013 , Best of Year Honoree 2012 , ADI Design Index 2012 , Best of Neocon 2012, Red Dot Design Award 2012 y Best of NeoCon People choice 2011 o el Premio Nacional de Diseño 2007.
---
Información e imágenes en la web de Andreu World
You might also like