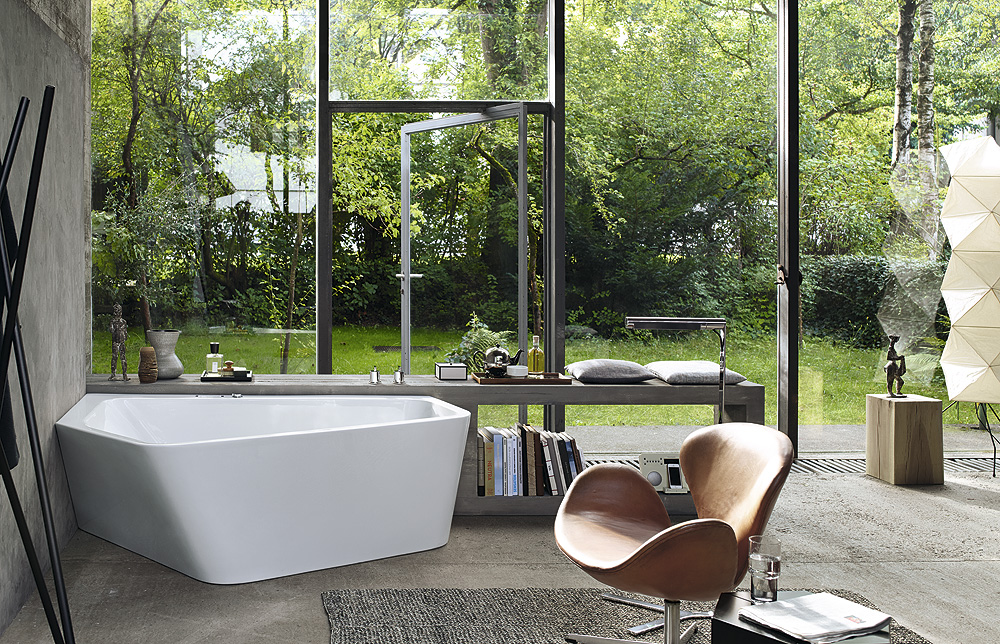 Paiova 5:
Con su inconfundible forma trapezoidal, la bañera Paiova de Duravit se ha convertido en todo un éxito desde su lanzamiento. El estudio austriaco la diseñó para que dos personas pudieran bañarse una al lado de la otra, en lugar de frente a frente, aumentando el confort gracias a un reposacabezas opcional.
Paiova 5 es la versión más reciente de este diseño, donde EOOS avanza un paso más: la nueva bañera ofrece en su extremo más ancho dos tipos de inclinaciones dorsales: una permite estar sentado de forma ergonómica y la segunda más tumbado.
Cada una de las inclinaciones puede equiparse con un sistema de hidromasaje. El equipamiento con el nuevo sistema Combi-L permite que los jets planos y elegantes muevan el chorro de masaje de forma vertical hacia arriba y hacia abajo a lo largo de la musculatura de la espalda. Además, el mando de control ofrece un manejo sencillo y confortable.
Otra de las novedades es que se ha disminuido ligeramente la entrada a la bañera a una altura de 58 cm en vez de los tradicionales 60 cm y, mientras este borde se presta para sujetarse, la parte posterior hacia la pared ofrece una superficie de apoyo más amplia para depositar los utensilios de baño.
La colección dispone de versiones de una y dos plazas. Gracias a las diferentes longitudes laterales, personas de diferentes estaturas pueden apoyarse fácilmente en la parte plantar y relajarse de forma óptima en ambas posiciones.
---
Las imágenes:
---
Sobre EOOS: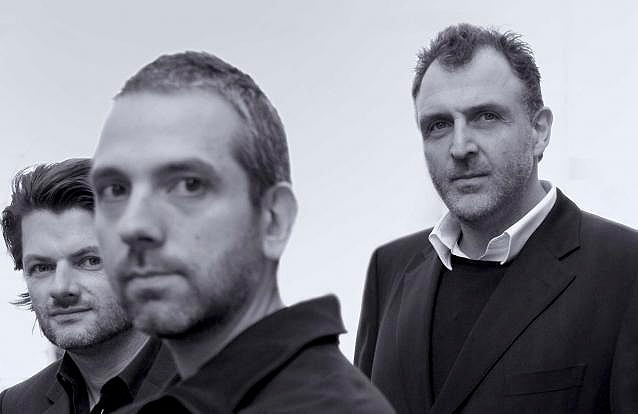 El trío de diseñadores austriacos EOOS, compuesto por Martin Bergmann (Lienz/Este del Tirol), Gernot Bohmann (1968, Krieglach/Styria) y Harald Gründl (1967, Viena), fundó en 1995 su propio estudio de diseño después de estudiar en la Universidad de Artes Aplicadas de la capital austriaca.  Para ellos, el diseño es "una disciplina poética y un servicio cultural para la sociedad".
EOOS opera en el sector del diseño de mobiliario y de producto así como el diseño de tiendas. A lo largo de su carrera han trabajado para importantes firmas como Adidas, Alessi, Arman Cosmetics, Dedon, Duravit, MatteoGrassi, Moroso, Red Bull o Zumtobel.
Sus trabajos le han reportado más de 50 premios, entre otros, el Compasso d'Oro (2004), el Design Week Award (2005), el IF Design Award (2007) y el Red Dot Design Award: Best of the Best (2007).  En 2008, la revista Elle Deco consideró su sistema de cocina móvil b2 para Bulthaup el mejor del año en la categoría Cocina. En 2012, la ducha Open Space de Duravit consiguió el Best of the Best en los premios Red Dot.
---
Sobre Duravit:
Duravit es una de las empresas punteras del mundo del baño de diseño de alta gama, que ofrece cerámica sanitaria, muebles, bañeras, wellness y accesorios. Sus orígenes se remontan a 1817, cuando Georg Friederich Horn construyó en Hornberg (Selva Negra) una fábrica de gres que se dedicaba a la fabricación de vajillas. La trayectoria de la empresa cambió a partir de 1950 cuando se inició la fabricación de porcelana. En 1960, el nombre de Duravit se abría camino en el mundo sanitario.
En la actualidad, dispone de diez centros productores y más de 5.000 empleados. Philippe Starck (Starck 1, Starck 2 o Starck 3), Norman Foster (Foster), Sieger Design (2on floor, Darling, D-Code o Happy-D), Phoenix Design (Caro y PuraVida) y Christian Werner (Ketho), entre otros, figuran entre sus diseñadores.
---
Información e imágenes facilitadas por Duravit
You might also like