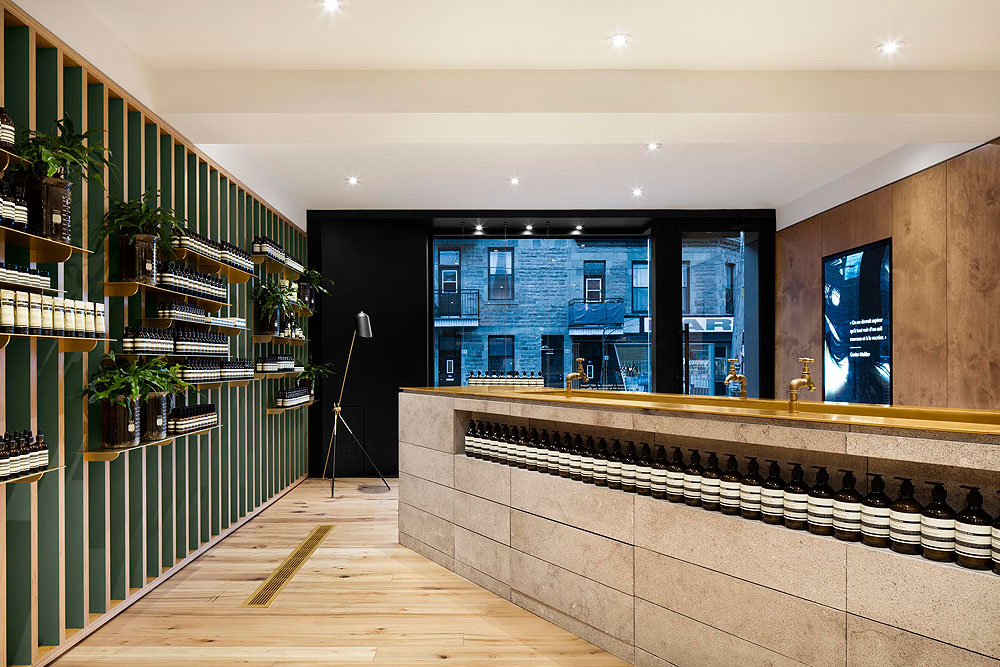 AESOP MILE END:
Aesop, la firma australiana de productos para el cuidado de la piel, continúa su colaboración reconocidos profesionales del diseño interior y la arquitectura, quienes dan vida a los cuidados y personales interiores de sus tiendas repartidas por todo el mundo (Estocolmo, Ginebra, Londres, Melbourne, Hong Kong, Ginza, París y Los Ángeles, entre otras). A las colaboraciones con Studio Ilse, Paulo Mendes da Rocha y Martin Courollon (Metro Arquitetos), Snøhetta, Schemata, Brooks + Scarpa o Torafu Architects se suma ahora el estudio canadiense naturehumaine.
La nueva tienda está localizada en Mile End, un barrio de Montreal, conocido por sus galerías de arte, talleres de diseñadores, tiendas y cafés. El estudio, liderado por Stéphane Rasselet, ha diseñado el establecimiento con el objetivo de retratar de forma simple el patrimonio del barrio al que llegaron diferentes oleadas de emigrantes entre las décadas de 1880 y 1980, como describió el cineasta Albert Kish en su documental «Our Street was paved with gold» (Nuestra calle fue pavimentada con oro), explica el estudio.
Continúan diciendo que «el diseño de esta tienda Aesop se presenta como una común pero deconstruida estructura. La tienda parece ser despojada hasta los huesos, mostrando sus entrañas estructurales». En el centro, un mostrador monolítico para demostraciones de productos, revestido de piedra caliza local y con un sobre de latón se erige como un «ancla visual», empujando a los clientes a moverse alrededor de él para poder ver los productos expuestos en las paredes.
Éstas están hecha de tablones verticales de madera contrachapada, pintados en un doble color: gris por un lado y verde por el otro. Esta combinación crea la ilusión de que la pared cambia de color mientras los clientes se mueven por el local. Las botellas de color ámbar se exponen ordenadamente en delgadas estanterías de cobre, que parecen flotar, formando parte de la paleta de conocidos materiales utilizados en el diseño interior: yeso, madera contrachapada, piedra caliza, bronce y madera recuperada.
En este minimalista espacio, el único mobiliario adicional dentro de la tienda es una lámpara de pie del estudio de diseño de iluminación local Lambert & Fils.
---
LAS IMÁGENES:
---
FICHA TÉCNICA:
Proyecto:

Aesop Mile End.

Ubicación:

23 St Viateur West, Montreal (Canadá).

Completado:

2016.

Diseño interior:

naturehumaine [architecture+design].

Lámpara de pie:

Lambert & fils.

Signo pintado a mano:

Mr. Sign.

Contratista:

Avantage Plus.

Fotografía:

Adrien Williams.
---
PLANIMETRÍA: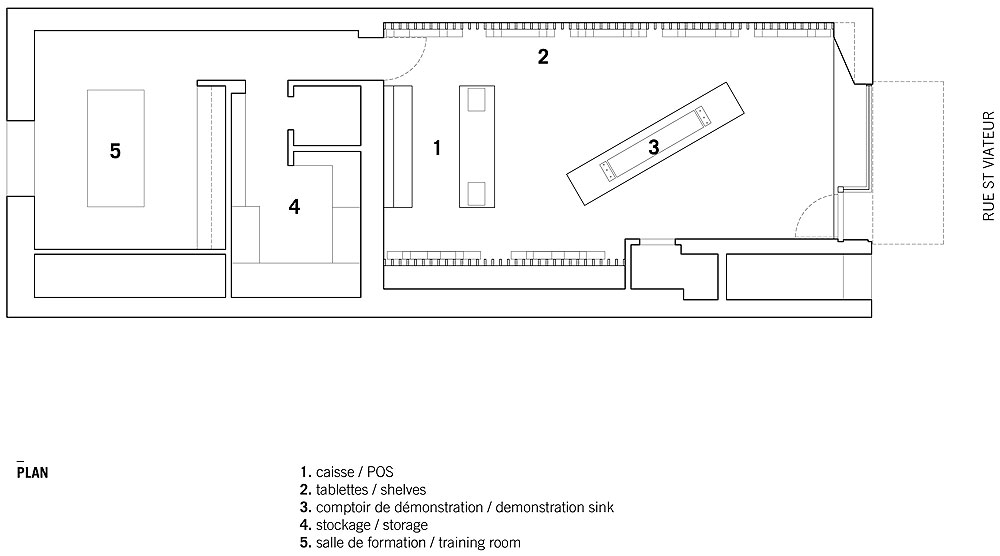 Planta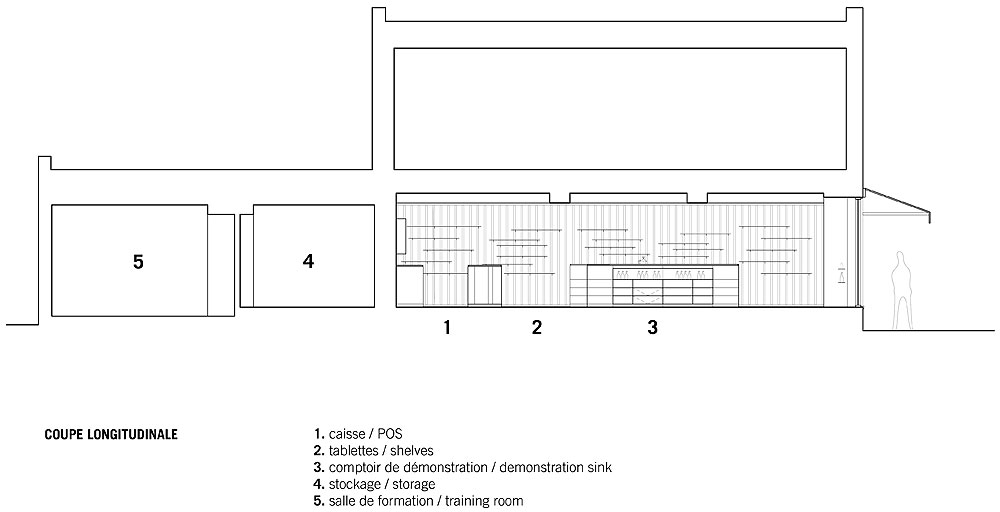 Sección longitudinal
---
SOBRE NATUREHUMAINE: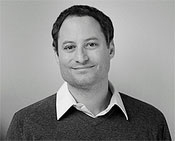 naturehumaine [architecture+design] es un estudio de arquitectura y diseño canadiense, fundado por Stéphane Rasselet (en la imagen) y Marc-André Plasse, que ya no se encuentra en el despacho. Su filosofia, como ellos mismos señalan, es "poner al ser humano en el centro de nuestras preocupaciones y crear ambientes inspiradores y dinámicos".
Stéphane Rasselet se graduó en la Escuela de Arquitectura de la Universidad McGill, en 1990. Después de trabajar en París, regresó a Montreal donde adquirió más experiencia en Dan Hanganu Architects, The Arcop Group y Lapointe Magne et associés. En 2004, Stéphane se unió a Marc-André Plasse para fundar naturehumaine.
La firma se distingue por la calidad y originalidad de sus proyectos en los sectores residencial, comercial y cultural, y han ganado numerosos galardones como el premio de la Orden de Arquitectos de Quebec y el Grand Prix du Design. Stéphane se convirtió en el socio principal en 2013.
---
Información e imágenes facilitadas por naturehumaine
You might also like