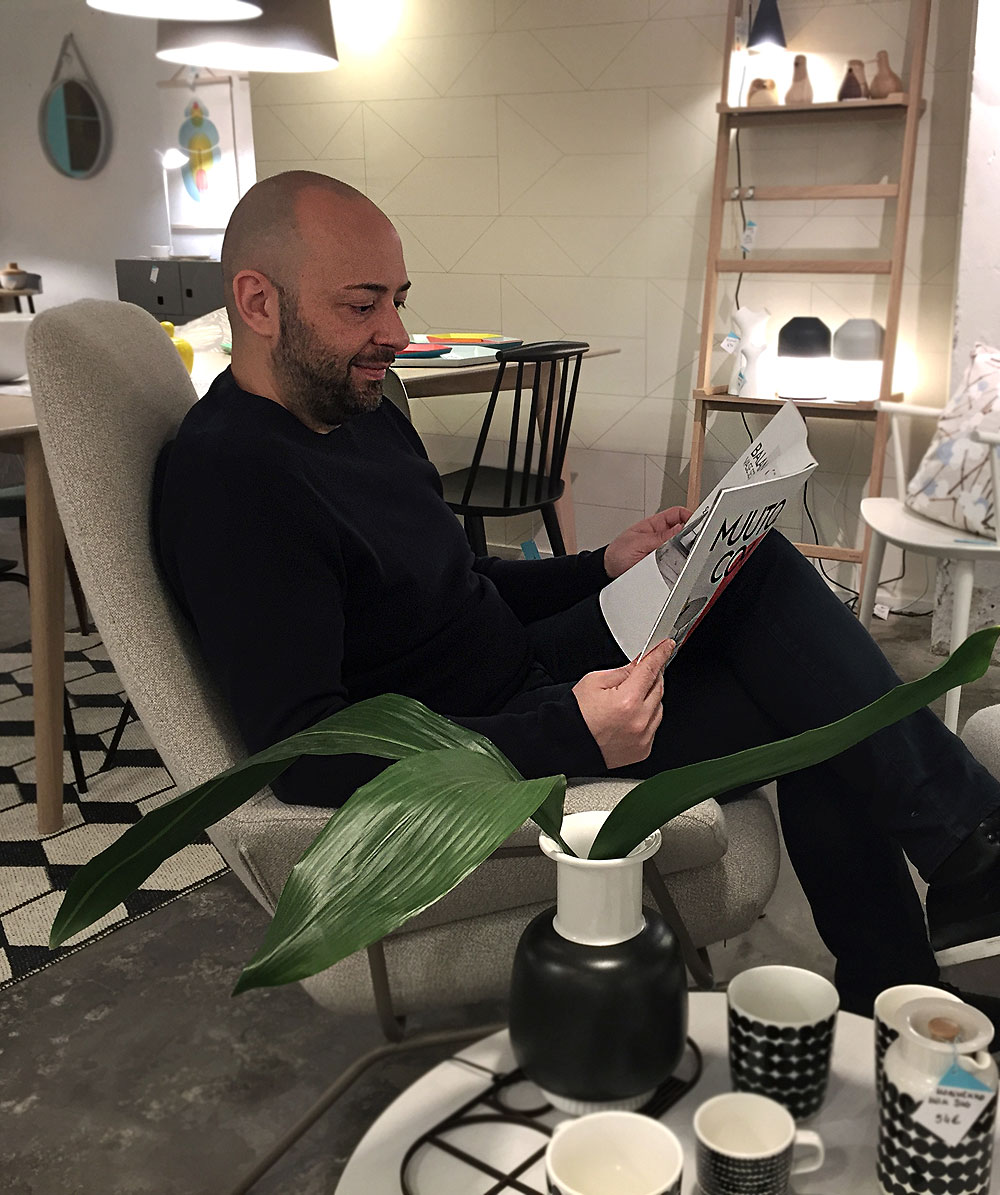 Fotografía: Sanna Völker
A veces los comienzos más arriesgados son los que tienen finales -o continuaciones- más felices. Éste es el caso de Nordicthink, la tienda concepto especializada en diseño nórdico que, recientemente, celebraba su quinto aniversario con nueva web, nuevos proyectos y los cinco pósters exclusivos que Emil Kozak, el reconocido diseñador gráfico danés afincado en Barcelona, realizó para la ocasión.
Creada por el interiorista Jordi Martín, Nordicthink es una tienda, situada en el Eixample dret barcelonés, repleta de objetos bellos, funcionales y cálidos, que comenzó su andadura en el año 2011, en plena crisis y cuando el diseño de los países nórdicos no gozaba en España de la popularidad que goza ahora. En ella, se pueden encontrar piezas de mobiliario, iluminación y complementos de las mejores firmas de los países nórdicos como HAY, Design House Stockholm, Fredericia, Muuto, Normann Copenhagen, un diseño y una forma de hacer de los que Jordi Martín se enamoró ya hace unos cuantos años. Pero es él quien nos lo explica.
---
LA ENTREVISTA:
¿Cómo y porqué nace Nordicthink?
Casi como una necesidad vital y, lógicamente, profesional. Después de muchos años trabajando con marcas italianas de alto nivel, tengo la necesidad de cambiar no sólo de estilo sino de idiosincracia, de cultura del diseño y necesito verlo todo desde otro enfoque.
Cuando decido crear mi propio negocio, hacía ya un tiempo que me llamaba poderosamente la atención una nueva generación de marcas y jóvenes diseñadores nórdicos. No tuve ninguna duda, hacia allí iba a mirar a partir de ese momento.
¿Fue la primera tienda en Barcelona?
En su momento, hubo una tienda llamada Eskandal de unos chicos islandeses que decidieron volver a su país cuando entramos en plena crisis.
¿Hay otras tiendas de diseño nórdico en España?
Concept store y especializada en diseño nórdico contemporáneo diría que no. Fuimos los primeros y de momento sigue así. Claro que las marcas con la que ya trabajábamos en 2010 y en las que nadie se fijaba ahora son muy requeridas y en otras tiendas se trabajan parcialmente.
¿Cuándo descubriste este estilo?
Más que descubrir un estilo, fue una manera de funcionar. Fue al empezar a trabajar con Fritz Hansen, un histórico del diseño danés, cuando vi que la manera de hacer a todos los niveles era distinta a la habitual en las marcas italianas.
¿Qué es lo que más te atrae de él?
La manera de ser de los nórdicos se refleja en su manera de diseñar, producir y trabajar. Son pragmáticos, no se complican y con ellos las negociaciones son muy sencillas. Cuando diseñan productos es algo parecido, aplican la sencillez para llegar a la idea pura, por tanto, optimizan tiempo, recursos y energías. Encaja como un guante en mi manera de ver el mundo, aunque por aquí no todos seamos así.
¿Con cuántas firmas trabajas?
Son bastantes, aunque cada vez acotamos más y hacemos mejores colaboraciones con las marcas. Diría que tenemos unas 15 firmas principales y luego recurrimos a aquellas que resuelven casos puntuales pero no son marcas recurrentes.
¿Tienes en mente incorporar nuevas?
Siempre estamos muy atentos a las novedades que vienen de Escandinavia, que son constantes. Hay varias marcas en el congelador, esperando disponer de un espacio mayor, pero la más inmediata es Woud, que en breve estará expuesta y con la que vamos a trabajar en exclusiva en Barcelona. Se trata de una marca danesa con un gran potencial y que tiene esas constantes que tanto nos gustan y compartimos con los escandinavos: sencillez, belleza y funcionalidad.
¿Cuáles son tus firmas preferidas?
Con algunas recuerdo la primera conversación, sorprendidos de que alguien en España se interesara por ellos. Incluso HAY, ahora mismo una marca muy potente, me confesaba el nulo interés en sus productos por aquellas fechas. Aquellas que creyeron en Nordicthink desde el principio son las que más aprecio y con las que tengo mejor relación más allá de lo profesional. Sin duda, HAY, Muuto, String, Normann Copenhagen y Ferm Living son mi Top 5.
¿Y diseñadores?
Aquí la lista es amplia. Por un lado, los clásicos como Jacobsen, Borge Mogensen o Poul Henningsen que son clara inspiración de toda la excelente generación actual de jóvenes y brillantes diseñadores. Soy muy fan de Form Us With Love, TAF architects, Simon Legald o Thomas Bentzen aunque tengo especial debilidad por Cecilie Manz y su trabajo reposado y lleno de sensibilidad.
¿Tres piezas favoritas? (Ya sabemos que es difícil)
¿Sólo 3? Es una quimera pero podríamos elegir The Dots de Muuto (colgadores de pared), Mags Soft de HAY (sofá modular)  y cualquier versión de String System (estantería modular) .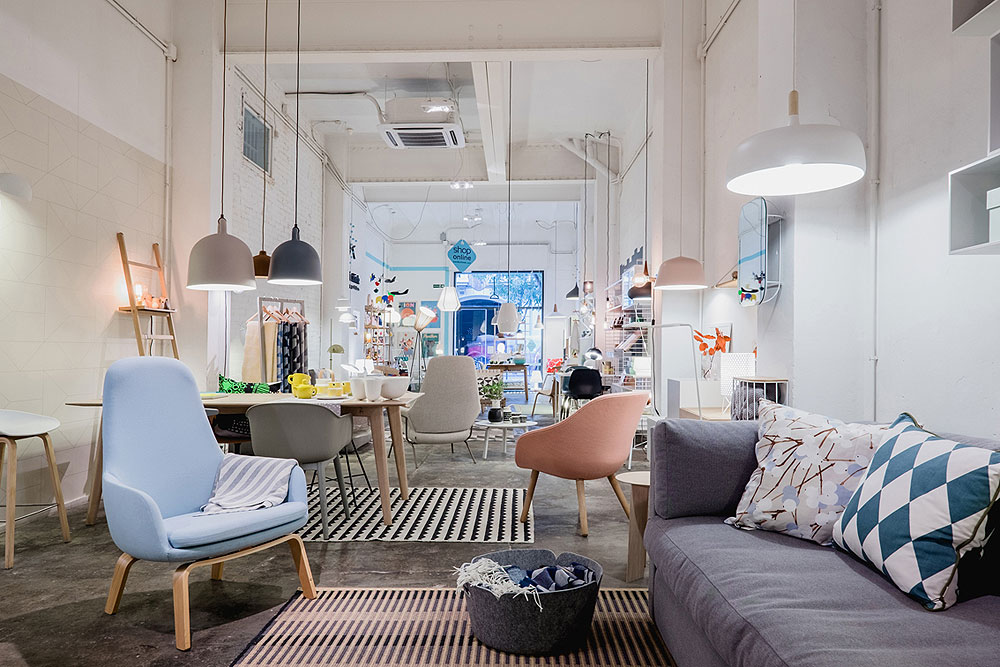 ¿Has pensado en convertirte en editor?
Hace tiempo que esa idea está en la agenda. Hemos hecho alguna mesa en colaboración, pero hay planes de futuro más potentes. Actualmente, tenemos en el equipo a una diseñadora sueca con la que confío poder aunar la mejor inspiración y visión escandinava con un filtro mediterráneo y barcelonés que, al final, es donde estamos y de donde somos. Aunque siempre miremos al Norte.
Queremos tener la mejor selección posible de marcas nórdicas y completarla con una propia editora, de diseño y producción local. Sería como cerrar el círculo perfecto para mí.
¿Cuáles son tus planes de futuro a corto plazo?
Lo más inmediato es movernos a un showroom mucho más grande. Tenemos una web muy completa que pide mayor espacio para tantos y maravillosos productos. También necesitamos un almacén con mayor capacidad y gestión de stocks. Como todo en Nordicthink, es una búsqueda reflexionada y slow, no sabemos hacerlo de otro modo.
¿Tendrá continuidad la colaboración con otros diseñadores? (en relación a Emil Kozak)
Me gustaría mucho, la experiencia ha sido genial. Emil es un tipo fantástico y ha sido una mezcla de ideas Barcelona-Copenhagen que sería estupendo repetir no sólo en gráfico sino en otras tipologías de productos y diseños.
¿Dónde crees que estará el diseño de los países (nórdicos) dentro de cinco años?
Es difícil de precisar porque lo sucedido en los cinco anteriores ha sido de vértigo. Creo que seguirán habiendo más firmas y algunas se van a volver muy fuertes, tienen el potencial económico y conceptual necesario. Lógicamente, lo que se viene llamando estilo nórdico (que no me gusta como definición, por demasiado genérica) debe evolucionar y lo hará. Ahora que se ha popularizado mucho más allá de sus fronteras naturales, diseñadores y marcas piensan de un modo mucho más global y eso ya se nota en sus propuestas.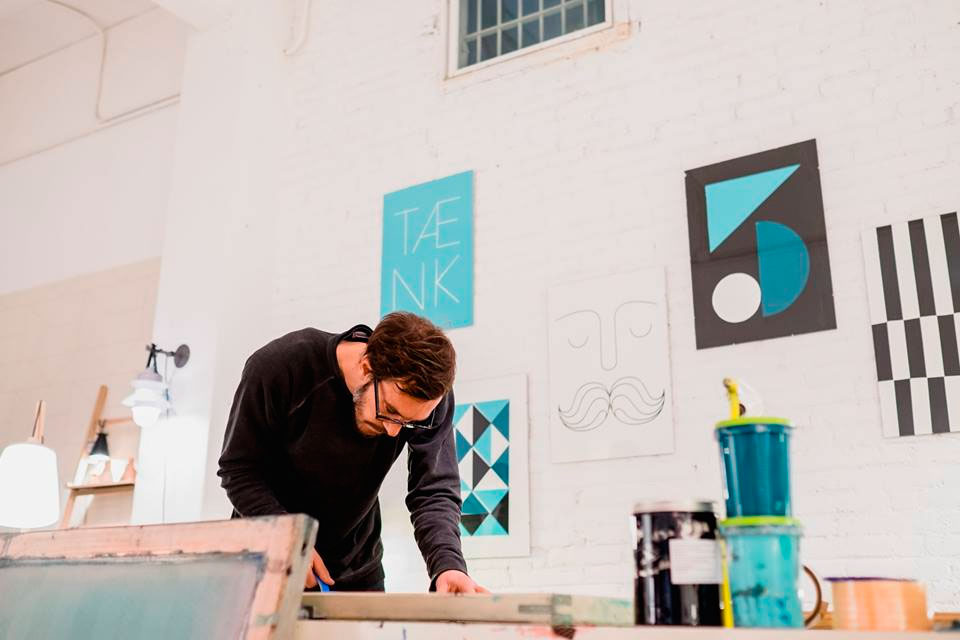 El diseñador danés Emil Kozak creando los pósters del quinto aniversario de Nordicthink
---
Imágenes facilitadas por Nordicthink
You might also like