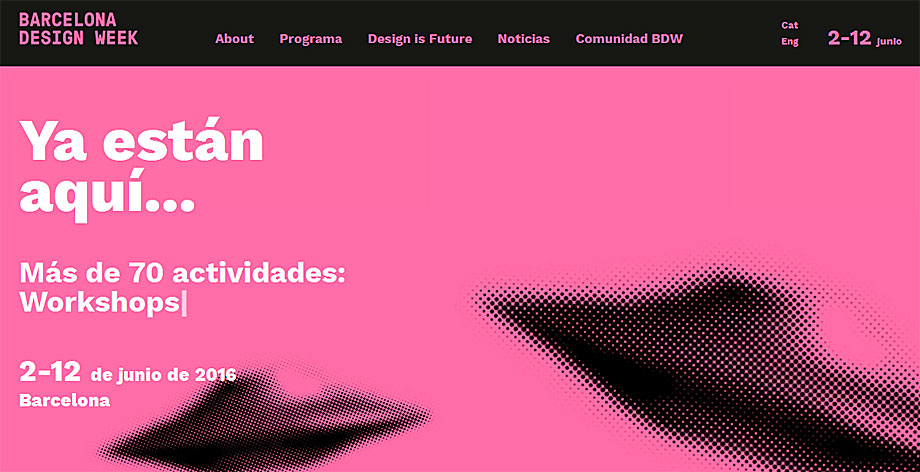 LA INVASIÓN DEL DISEÑO:
El pasado domingo cerraba sus puertas la Barcelona Design Week que, en su undécima edición, ha inundado la ciudad con más de 70 actividades y ha movilizado a más de 12.000 personas, superando de largo la cifra del pasado año. De esta manera, el evento internacional, que organiza el BCD Barcelona Centro de Diseño para creativos, empresas, profesionales, emprendedores y público general, es ya una cita de referencia del calendario del diseño y la empresa de la Ciudad Condal, y una de las semanas del diseño más importantes en el ámbito internacional.
En este sentido, Isabel Roig, directora general de BCD, apunta que este año se han cumplido dos de los principales objetivos de la BDW, en tanto que «se ha aumentado la asistencia y la participación en las actividades, incrementando el público internacional y acercando el diseño a la ciudadanía, y, por otro lado, estamos recibiendo una valoración muy positiva por parte de los asistentes sobre el contenido y los temas tratados».
Bajo el eslogan 'La invasión del diseño' y del 2 al 12 de junio, esta edición ha ofrecido un programa formado por conferencias, exposiciones, talleres, charlas, presentaciones, circuitos, mesas redondas, celebraciones y actividades de networking que han permitido debatir sobre el futuro del diseño y su impacto en los ámbitos social, profesional y empresarial. Traducido en cifras: 11 días de actividades, 26 conferencias y presentaciones, 48 emplazamientos en la ciudad, 22 talleres,15 exposiciones, cinco itinerarios para visitar 12 estudios de diseño, 10 actividades de networking y 12.000 asistentes (pendientes del número total  de visitantes de las exposiciones abiertas hasta el 30 de julio).
El pistoletazo de salida la BDW fue la conferencia inaugural «¿Y si la solución fuera el diseño? Replanteando el papel del diseño en la empresa y en la sociedad», en la que Alice Rawsthorn, crítica de diseño en el International New York Times y Frieze y autora del libro 'Hello World: Where Design Meets Life', exploró el impacto del diseño en nuestras vidas. La primera jornada se completó con la fiesta inaugural, a la que asistieron más de 1.500 personas, y la inauguración de la exposición «Interfaces: 100 años de diseño Simon», que se podrá visitar hasta el 30 de julio en el Disseny Hub Barcelona.
Plato fuerte de la Barcelona Design Week fue la segunda edición de «Design is Future, innovation through design congresstival» que, organizado por BCD y el estudio de diseño gráfico toormix, se convirtió del 6 al 8 de junio en un punto de encuentro, donde se defendió el valor económico y social del diseño, y de intercambio de conocimiento y debate para empresas, entidades y profesionales de todo el mundo. Esta segundo año, ha sido un éxito de participación con más de 300 empresas y profesionales, un 30% más de asistencia respecto al año anterior. Durante tres días, los participantes pudieron disfrutar de conferencias y talleres liderados por un cartel de lujo formado por 15 expertos de reconocido prestigio como Doug Powell (IBM Design), Chris Moody (Wolff Olins), Miguel Ballester (Fairphone), Laszlito Kovacs (WeTransfer), Andreas Enslin (Miele), Cristina Bustillo (Hospital Sant Joan de Déu) o Ed Gillespie (Futerra), entre otros.
Una de las novedades de este año fue la primera edición del «Design4Food: ¿qué relación tienen el diseño y la gastronomía?», un evento organizado por BCD y el estudio de diseño Papila, especializado en el mundo de la alimentación, que el pasado 8 de junio se convirtió en un espacio de debate y de reflexión sobre el papel del diseño en la conceptualización de productos o servicios relacionados con la gastronomía y la alimentación, un sector estratégico de la economía catalana.
Además de estos actos, la BDW también incluyó en su programa el PechaKucha Night 26. Especial Innovación Social, organizado en colaboración con el Museo del Diseño, que se focalizó en proyectos que estan haciendo posible, impulsando o dando difusión a la innovación social; la mesa redonda «Durar: diálogos entre Barcelona y Emiratos Árabes Unidos»; los talleres temáticos BDW, donde se abordaron temáticas como el branding, la innovación creativa, la impresión 3D, el smart marketing o el moodboarding; y los Open Design Studios, con visitas a VASAVA, P.A.R, Clase Bcn, Tigges Architekt, Comité Studio, Hey Studio, Emiliana Design Studio, Lagranja Design, Run Design, Andrés Requena, Wassabi y H2o.
Además y por tercer año consecutivo, la Barcelona Design Week ha sumado a su programa oficial las actividades paralelas de la BDW City, que han abierto el evento a la ciudad con exposiciones, presentaciones, conferencias, jornadas, talleres, networkings, showrooms o celebraciones organizadas por entidades, profesionales, empresas, establecimientos y otros agentes del sector.
---
LAS IMÁGENES: 
Fotografías: José Ballesteros
---
SOBRE BCD BARCELONA CENTRO DE DISEÑO:
BCD Barcelona Centro de Diseño es el primer centro de promoción e información del diseño sin ánimo de lucro, creado en España, en el año 1973. Su misión es promover esta disciplina entre las empresas y las entidades públicas como una herramienta estratégica para la innovación y la competitividad, fortaleciendo las relaciones entre diseño y empresa en todos los ámbitos, así como la proyección de Barcelona como capital del diseño.
BCD es miembro de The Bureau of European Design Associations (BEDA), International Council of Societies of Industrial Design (ICSID), Design Management Institute (DMI), Design for All Foundation, Design for the World y la Federación Española de Entidades de Promoción del Diseño (FEEPD). Además, cuenta con el soporte de la Cámara de Comercio de Barcelona, la Generalitat de Catalunya, el Ayuntamiento de Barcelona y el Ministerio de Industria, Energía y Turismo.
---
Información e imágenes facilitadas por BCD
You might also like