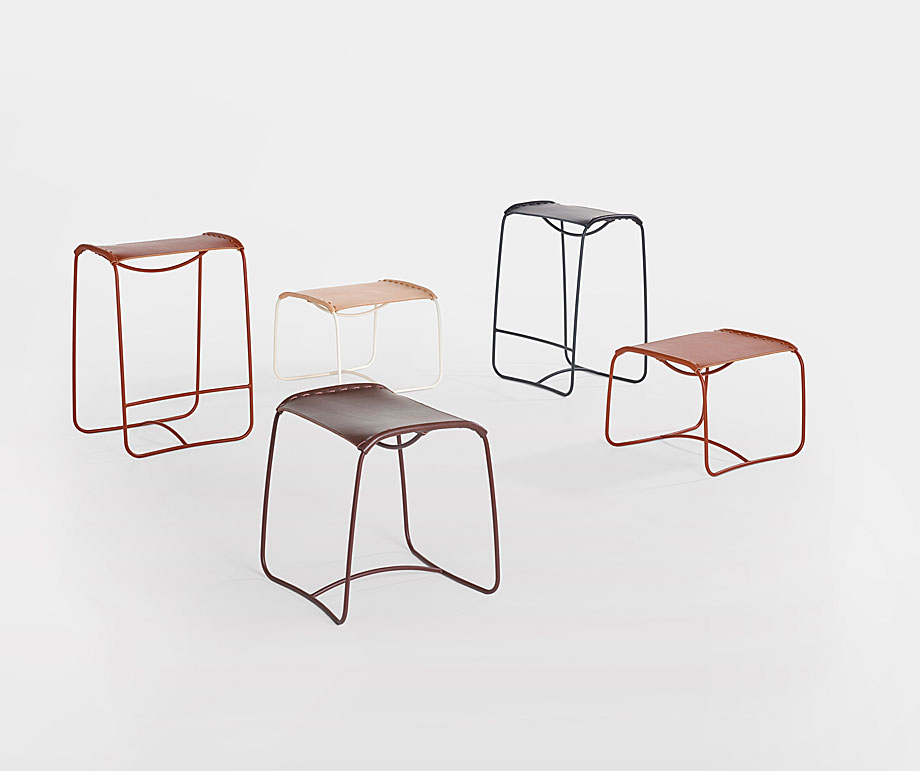 PERCHING:
Uno de los cuatro nuevos diseños que Artifort presentó en el pasado Salón Internacional del Mueble de Milán es esta familia de taburetes, fruto de la colaboración con la periodista y diseñadora Ilse Crawford. Perching tiene referencias directas a las tradicionales sillas de montar no sólo en su forma sino también en uno de los materiales que se utiliza para su fabricación, el cuero.
Explica la fundadora de Studioilse que querían diseñar una colección de taburetes que pudieran utilizar en sus propios proyectos, piezas útiles que pudieran encajar en el entorno pero que también se pudieran agrupar para crear espacios informales. La materialidad, los colores, el cuero y las dimensiones fueron cuidadosamente considerados para adaptarse a las formas cambiantes que vivimos.
El taburete tiene una estructura lineal ya que se quería que la ligereza física y la transportabilidad del asiento pudieran traducirse visualmente. Por ello, se diseñó un marco de acero de líneas continuas y suaves curvas, que se complementa con el asiento en un elegante y flexible cuero que aporta calidez y confortabilidad.
La familia Perching consta de tres piezas: un reposapiés/taburete (50 x 47 x h 38 cm), un taburete (50 x 47 x h 49 cm) y un taburete alto (50 x 41 x h 69 cm). La estructura de acero tiene un recubrimiento de pintura en polvo y la tapicería es de cuero cosida con cordones en el mismo material y color que el asiento. Está disponible en cuatro combinaciones.
Combinaciones de color:
Cuero Natural con base P81 Blanco Crema RAL9001 (estructura).
Cuero Cognac con base P69 Naranja Marrón RAL DESIGN 050 30 36 (estructura).
Cuero Havana con base P67 Chocolate Marrón RAL8017 (estructura).
Cuero Black con base P57 Negro Gris Ral 7021 (estructura).
---
LAS IMÁGENES:
---
SOBRE STUDIOILSE: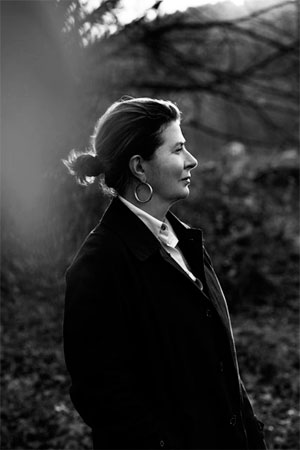 Ilse Crawford comenzó su carrera como periodista y  fundó ELLE Decoration en Reino Unido. Después de más de una década, en 2001, abrió su propio estudio Studioilse, que co-dirige junto a Óscar Peña, un despacho cuya práctica es multidisciplinaria con la simple misión de poner las necesidades y los deseos humanos en el centro de todo lo que hacen.
Esto significa crear ambientes donde los humanos se sienten cómodos, espacios públicos que hagan que las personas se sientan como en casa y hogares que sean habitables y tengan sentido para las personas que vivan en ellos. Para ellos diseñan muebles de diseño y productos que apoyan y mejoran el comportamiento y las acciones de la vida diaria humana.  
Como fundadora del departamento de Hombre y Bienestar en la Academia de Diseño de Eindhoven, su misión se extiende a nutrir una nueva generación de estudiantes para que con sus trabajos mejoren la realidad de la vida humana.
En 2014, Ilse Crawford fue nombrada miembro de Most Excellent Order of the British Empire (MBE) por la Reina Isabel II por sus servicios al diseño interior. En el año 2015, recibió un Doctorado Honoris Causa de la London College of Communication, Universidad de las Artes de Londres.
---
SOBRE ARTIFORT:
La empresa Artifort cuenta con una larga trayectoria en la fabricación de mobiliario moderno. Sus inicios se remontan a 1890 cuando Jules Wagemans se establece como tapicero en la ciudad holandesa de Maastrich. Fue su hijo Henricus quien amplió y reencaminó el negocio hacia la fabricación de muebles. A finales de los años 20 ya era conocida a nivel nacional.
Con la importante recesión de la década de los años 30, nace la firma Artifort (1928), nombre derivado de Ars y Fortis, en la que se plantean los principios que han acompañado a la empresa a lo largo de su historia: funcionalidad, comodidad, diseño y uso innovador de los materiales.
El gran punto de inflexión llegaría de la mano del diseñador indonesio Kho Liang Ie, artífice de los éxitos de Artifort en la década de los 60 y los 70. En 1959, contrató al diseñador francés Pierre Paulin quien aportó diseños frescos e introdujo nuevas técnicas de fabricación. También se expandió internacionalmente mientras con los años crecía el nombre de diseñadores que contribuían a ampliar su catálogo (Jasper Morrison, Patrick Norguet, René Holten, Michiel van der Kley, Gerard Vollenbrock y Toine van den Heuvel, entre otros).  En 2010, Artifort celebraba el 50 aniversario de uno de sus iconos: la silla Orange Slice, sin que Pierre Paulin, que la diseñó en 1960, pudiera llegar a verlo.
Además,  sus piezas de mobiliario forman parte de las colecciones permanentes de museos el Museo de Arte Moderno de Nueva York (MoMA) y el Centro Pompidou en París.
---
Información facilitadas por Artifort y en la web de Studioilse. Imágenes facilitadas por Artifort
You might also like