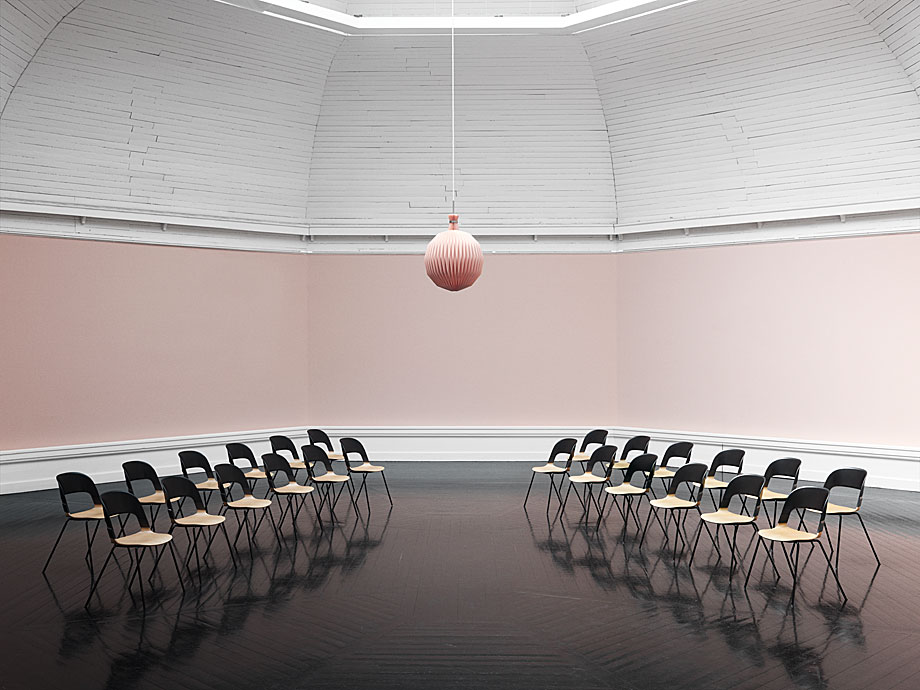 PAIR™:
Una de la muchas novedades que pudieron verse en la pasada edición de Orgatec, la feria europea más importante dedicada a equipamientos para oficina, es esta silla modular que lleva la firma de Benjamin Hubert. La nueva silla Pair™ es la primera colaboración entre el premiado diseñador británico, fundador del estudio de diseño Layer, y la conocida empresa danesa de mobiliario Republic of Fritz Hasen.
La silla está diseñada como un sistema de elementos encajables que ofrece una amplia variedad de variaciones, convirtiéndose en un producto con una gran capacidad de adaptación a cualquier ambiente de interior (comedores, hospitales, restaurantes, bares…). Sin embargo, antes de llegar a este modelo definitivo se realizaron más de 300 prototipos en un periodo de tres años.
Desde el lanzamiento de su primera silla apilable, la silla Ant™, diseñada por Arne Jacobsen en 1952, Republic of Fritz Hansen ha sido pionera en la utilización de la madera contrachapada para crear bellos elementos de mobiliario. El diseño de la silla Pair ™ está basado en el estilo Mid Century y en ella se empareja el pasado y el presente a través de un respaldo de policarbonato translúcido moldeado por inyección y una carcasa de madera contrachapada, creando una interesante interacción, mientras que las patas son de metal. Se incluyen dos opciones de respaldo (con o sin brazos), disponible en cuatro colores. La base (patas o patín) está disponible en dos colores y en cromo, mientras que el asiento se presenta en dos colores y chapa de roble con un cojín opcional en 40 tonos.
El proceso de fabricación está basado en la misma técnica de las nueve capas de madera contrachapada curvada al vapor utilizada para fabricar las sillas Series 7™ y Ant™, continuando la larga tradición de Fritz Hansen de utilizar este material para su colección de atemporales diseños.
«La silla Pair™ representa un sistema súper flexible con hasta 8.000 combinaciones posibles para satifacer la demanda de un mercado cada vez más centrado en la individualidad y los productos adaptados específicamente a las necesidades de los entornos en los que se usan», explica Hubert.
---
LAS IMÁGENES:
---
SOBRE BENJAMIN HUBERT:
El diseñador Benjamin Hubert se graduó en Diseño Industrial y Tecnología en Loughborough University. Después de adquirir experiencia en varias consultorías de diseño de renombre como Seymour Powell, DCA y Tangerine, fundó el estudio que llevaba su nombre, en 2009,  en North East London.  Durante este periodo, trabajó con multinacionales como Nike, Samsung, LG, Mamas and Papas, Coca-Cola y Eurostar.
En septiembre de 2015, el diseñador relanzó su estudio con el nombre de Layer, centrado en el diseño de productos tanto físicos como digitales, incluyendo productos y software conectados. Este momento de su carrera significó un importante cambio en la dirección de Hubert, que ha creado muebles y utensilios para marcas como Moroso, Ligne Roset y Menu.
Actualmente, Benjamin Hubert lidera un equipo de diseñadores industriales que trabajan en una amplia gama de sectores, incluyendo mobiliario, iluminación, productos de consumo, instalaciones arquitectónicas y dirección de arte. Hubert trabaja a nivel internacional en una amplia variedad de mercados, incluyendo Europa, Asia, Australia, Brasil y Estados Unidos. 
El estudio también ha recibido diferentes y prestigiosos premios incluyendo: Diseño del Año (British Design awards 2010), Mejor Producto (100% design/Blueprint awards 2009) y EDIDA International Young Designer of the Year 2010, entre otros.
---
SOBRE REPUBLIC OF FRITZ HANSEN:
Republic of Fritz Hasen, también conocida como Fritz Hansen, es una compañía danesa de diseño de mobiliario fundada, en 1872, por el carpintero del mismo nombre.  A lo largo de su casi siglo y medio de trayectoria, diseñadores de prestigio como Arne Jacobsen, Poul Kjærholm, Hans J. Wegner y Piet Hein han trabajado para la firma. Actualmente, colaboran con Fritz Hansen diseñadores como Hiromichi Kono, Cecilie Manz, Kasper Salto, Piero Lissoni o Jaime Hayon. Con sede en Allerød, la empresa cuenta con showrooms distribuidos por todo el mundo, de ellos 17 son concept store, y 115 socios comerciales en 29 países de cuatro continentes.
---
Información e imágenes en Fritz Hansen
You might also like