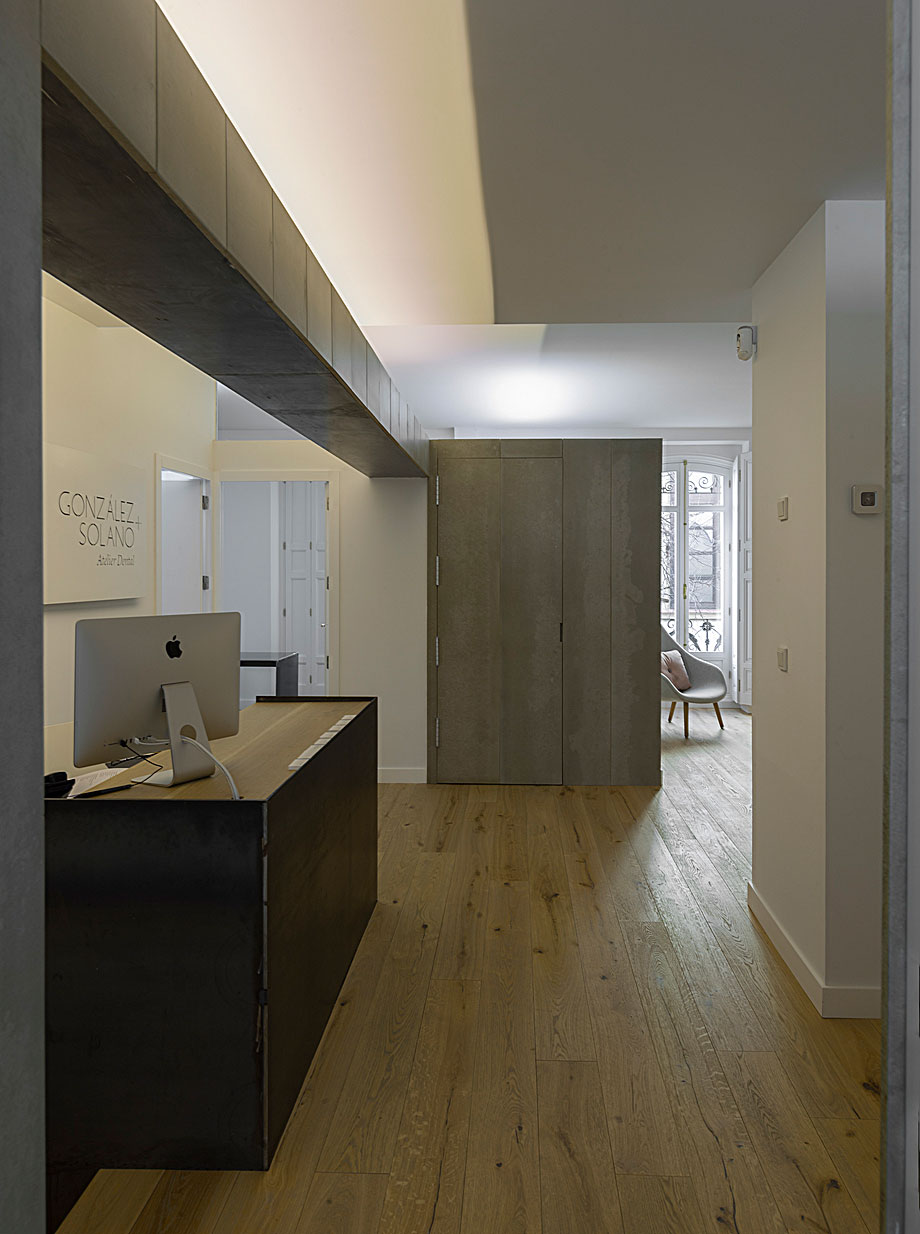 GONZÁLEZ + SOLANO ATELIER DENTAL:
Alejándose de la fría estética que acostumbra a definir los espacios clínicos, Ábaton Arquitectura concibió la reforma de esta clínica dental como un ejercicio de interiorismo cálido y funcional, más cercano a un espacio residencial que a la clásica consulta de un dentista, tal como deseaban sus clientes.
El local, que ocupa la planta baja y el sótano de un singular edificio del siglo XIX del centro de Madrid, ha sido reformado siguiendo una estética nórdica en la que prima la madera natural y el color blanco. Este material y este color se complementan con naturalidad con el gris antracita de las piezas de mobiliario realizadas a medida en acero, los paneles de cemento-madera, la piedra caliza apomazada de la escalera y el sótano, y otras piezas del ecléctico mobiliario de cuya elección se ha encargado la tienda Batavia, colaboradora habitual del estudio de arquitectura madrileño.
Conscientes del destacado papel que juega la luz natural como generadora de bienestar, el proyecto también ha estado encaminado a aprovechar al máximo la que entraba por las diferentes ventanas con la incorporación, cuando es posible, de paramentos de cristal transparente en lugar de tabiques ciegos y, cuando no lo es, con la incorporación de huecos acristalados en la parte superior de las puertas y de las paredes, asegurando de esta manera la privacidad de los pacientes durante sus visitas y tratamientos.
Para el cliente eran también muy importantes los espacios destinados a la investigación clínica y la formación, donde se combinan la tradicional relación médico-paciente con las últimas técnicas y tecnología más reciente. Por otra parte y para sacar el máximo partido al espacio del que se disponía, la mayor parte de las instalaciones y las estancias destinadas a uso interno se han colocado en la entreplanta. El resultado es un espacio en el que se respira el mimo por el detalle y la cuidada atención al paciente.
---
LAS IMÁGENES:
---
FICHA TÉCNICA:
Proyecto:

González + Solano Atelier Dental.

Ubicación:

Madrid (España).
Completado: 2016.

Arquitectura y construcción:

Ábaton Arquitectura.

Diseño de interiores:

Batavia.

Fotografías:

Luis Asín.
---
PLANIMETRÍA: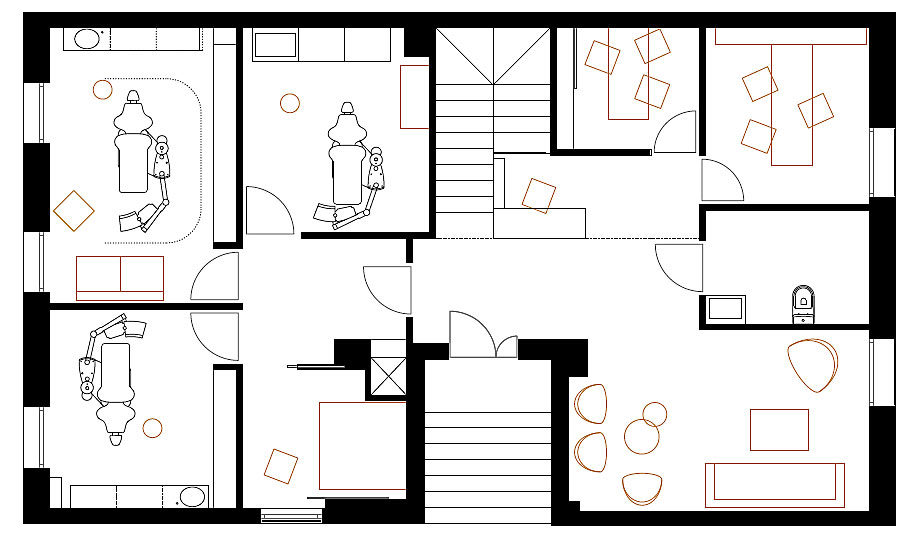 Planta baja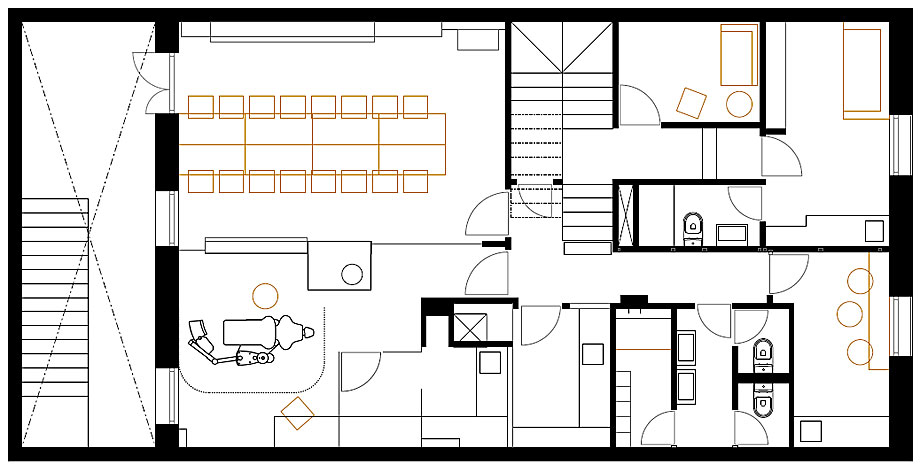 Sótano
---
SOBRE BATAVIA:
Batavia nace, en 1996, de la mano del ingeniero industrial Carlos Alonso como tienda de muebles, con el espíritu de ofrecer soluciones completas en el espacio arquitectónico contemporáneo. Desde sus inicios, la firma ha fusionado los mejores diseños de mueble contemporáneo con piezas únicas procedentes de Europa y Asia, haciendo que sus proyectos de interiorismo adquieran un personal estilo. Además, posee una extensa colección de mobiliario vintage de mediados del siglo XX procedente del norte de Europa, principalmente de Dinamarca, trabaja sobre algunas de estas piezas para adaptarlas a las tendencias del momento y también desarrolla sus propios diseños.
Con un equipo integrado por profesionales formados en el mundo del diseño y la decoración, Batavia cuenta con tres tiendas en Madrid y ha desarrollado una amplia experiencia en proyectos de decoración de restaurantes y viviendas, así como amueblamiento de oficinas. Colaboran habitualmente con estudios de arquitectura en la concepción y desarrollo de muchos proyectos, que han sido recogidos por la prensa nacional e internacional.
---
SOBRE ÁBATON ARQUITECTURA: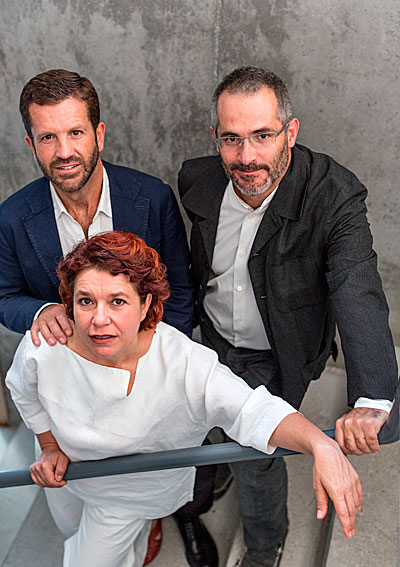 nace, en 1998, de la mano de la arquitecta Camino Alonso, del arquitecto Ignacio Lechón y del ingeniero industrial Carlos Alonso. El objetivo original de la empresa fue desarrollar cuidados proyectos de arquitectura y promoción de viviendas con una fuerte apuesta por el diseño y la calidad. Para llevar a cabo el control de todo el proceso constructivo y garantizar la calidad del proyecto, fundaron su propia constructora que les permite implementar y desarrollar nuevos sistemas constructivos con más flexibilidad.
Desde su fundación, Camino Alonso ha sido la directora creativa del estudio, imprimiendo un personal carácter a los espacios, vinculándolos al entorno y con una especial atención al respeto por la naturaleza.
Actualmente, en Ábaton trabajan más de 15 arquitectos, ingenieros y aparejadores, ofreciendo a sus clientes un servicio completo con la máxima calidad. El estudio cuenta con alrededor de 200 proyectos construidos (viviendas, hoteles, oficinas, restaurantes) y más de 80 viviendas transformadas en España y en el extranjero. Este trabajo ha sido publicado por la prensa especializada del sector de más de 80 países y reconocido con premios como The Best of Houzz 2016 en la categoría de Diseño, finalistas en 4ª Bienal de Diseño y Arquitectura por la Casa Transportable ÁPH80 (2014) y A + Premio en la categoría de Arquitectura + Sostenibilidad por la reforma de una finca en Extremadura (2013), entre otros.
Además, en 2015, Camino Alonso formó parte de la lista "50 under 50. Innovators of the 21st Century", una selección que recoge los mejores arquitectos y diseñadores de todo el mundo menores de 50 años.
---
Información e imágenes facilitados por el estudio
You might also like