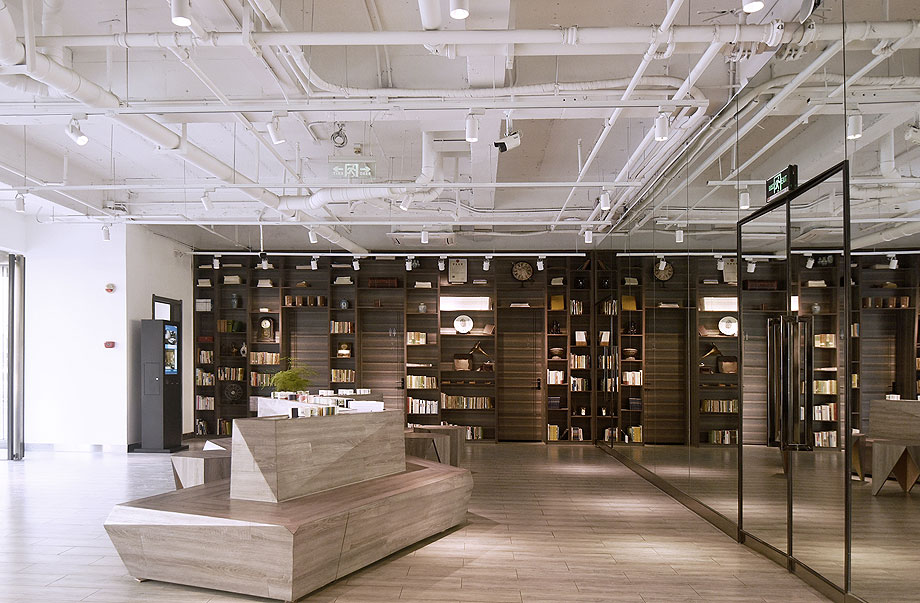 CITY INN:
El City Inn de la ciudad de Chengdu, en la provincia china de Sichuan, es un buen ejemplo de lo que se puede conseguir con un presupuesto relativamente bajo pero con altas dosis de imaginación. El hotel, que tiene 130 habitaciones y se inauguró en 2008, se encuentra cerca de Kuanzhai Alley, uno de los lugares turísticos más populares de la ciudad, en un barrio que, en gran parte, se remonta a la dinastía Qing, la última de las dinastías imperiales chinas (1644-1912).
Esta historia le sirvió a Chi Chih-Kang Space Design, el estudio creado por el diseñador taiwanés Chi Chih-Kang, para proyectar los nuevos interiores del hotel con la idea de dar a conocer la historia de esta zona, llevando a «los huéspedes a pasear por ella». Como consecuencia de esta idea, el hotel se convirtió en una galería de arte moderno, donde se encuentran pasado y presente. Por ejemplo, los fotos y los productos de los buenos y viejos tiempos se exhiben en el lobby como si fueran obras de arte. «Cuando decoramos con objetos del pasado no queremos que la gente vea la parte desgastada sino la parte hermosa de ellos. Los mostramos como piezas de arte», explica Chi Chih-Kang.
Este punto de partida también explica el uso de una paleta de colores casi monocroma en las habitaciones con muebles en negro, blanco o gris en estilo retro, muchos de los cuales fueron personalizados para la remodelación. Incluso las fotografías que visten las paredes son en blanco y negro, aunque reflejan el mundo colorista y animado de las calles y de lo que pasa en ellas. «Si los huéspedes toman fotos en las habitaciones», dice el diseñador taiwanés, «descubrirán que son el único objeto con color en lo que básicamente es una foto en blanco y negro.»

---
LAS IMÁGENES:
---
FICHA TÉCNICA:
Proyecto: 

City Inn (Chengdu Kuanzhai Alley).

Ubicación: 

Chengdu (Sichuan, China).

Completado:

septiembre 2016.

Diseño:

Chi Chih-Kang Space Design.

Diseñador jefe:

Chi Chih-Kang.

Superficie:

4.742 m2.

Fotografías:

Chu Chih-Kang.
---
PLANIMETRÍA: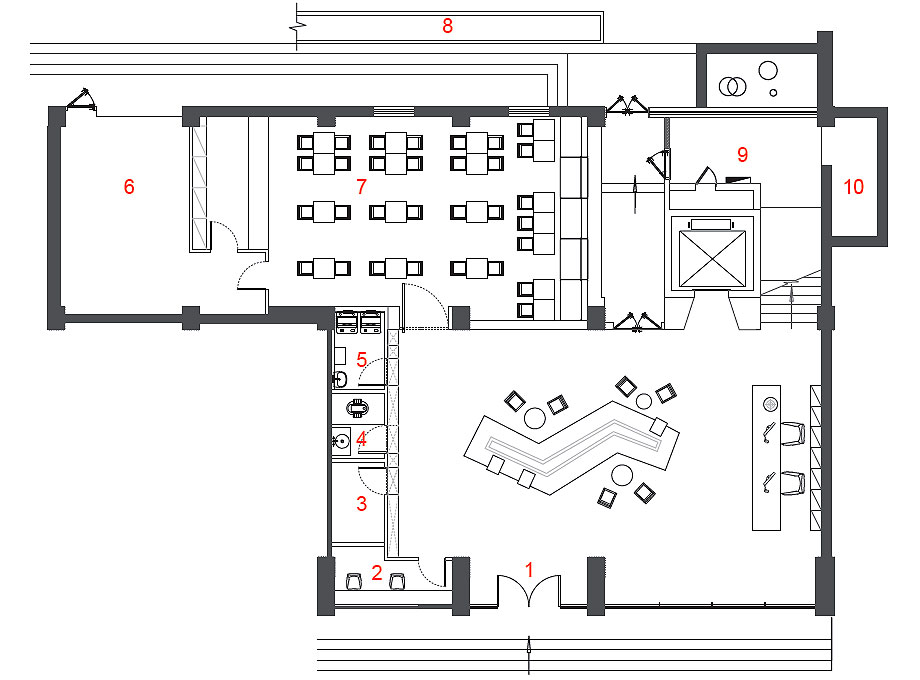 Vestíbulo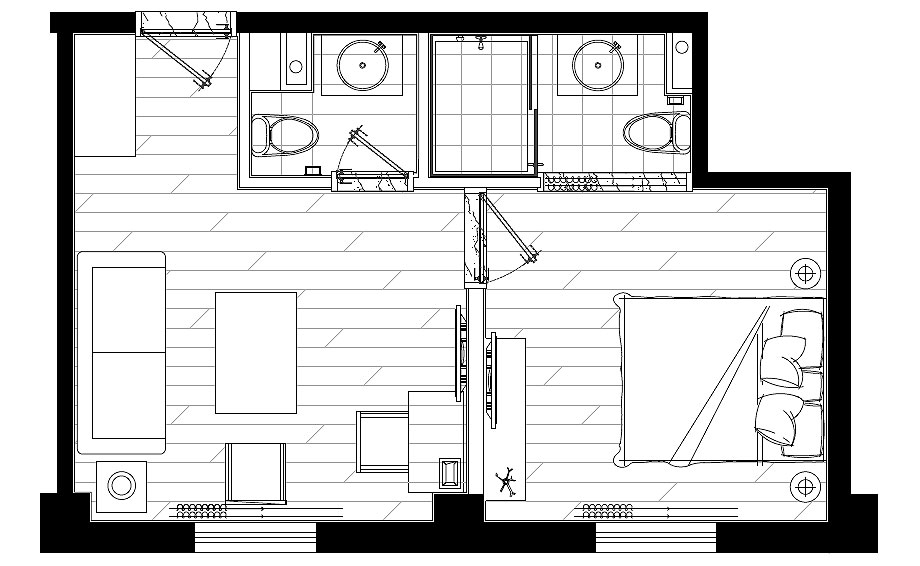 Suite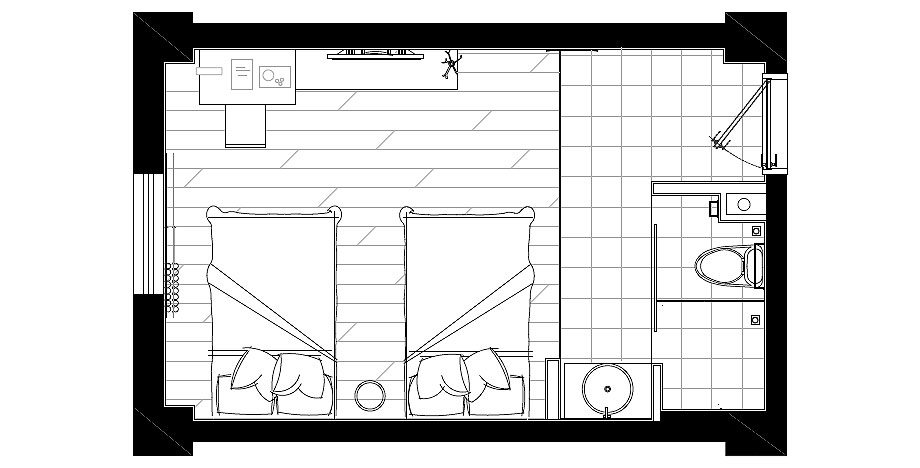 Habitación estándar
---
SOBRE CHI CHIH-KANG SPACE DESIGN: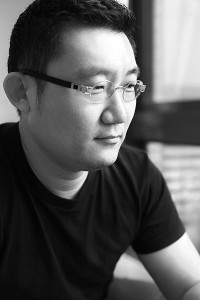 Chi Chih-Kang Space Design es un estudio, con oficinas en Kaohsiung (Taiwán) y Shenzhen (China), fundado y dirigido por el diseñador Chi Chih-Kang en 2015. Chih-Kang estudió en la Academia Nacional de Bellas Artes de Taiwán y en el Instituto de Diseño Arquitectónico de la Universidad de Shih Chien.

Expuesto a diferentes culturas desde su infancia, en sus trabajos puede encontrarse un moderno diseño oriental que también se desprende de su aguda observación del paisaje. El estudio se dedica principalmente al diseño de interiores (comercial, residencial y oficinas), pero también tiene proyectos de diseño de producto y diseño de exposiciones. Para Chih-Kangl, encontrar el valor básico de un espacio es el primer paso a la hora de diseñar.
El estudio ha ganado algunos de los premios de diseño más prestigiosos a nivel internacional como el Store Design of the Year de los World Retail Awards; el interior, Best of Best, de los Iconic Awards; el Gold Award de los Asia Pacific Interior Design Awards; el TID Award; el iF Design Awards; y el Good Design Award, entre otros.
En 2015, la revista AD (Architectural Digest) lo incluyó en la lista AD100, refiriéndose a él como uno de los estudios de diseño chinos más influyentes.
---
Información e imágenes facilitadas por el estudio