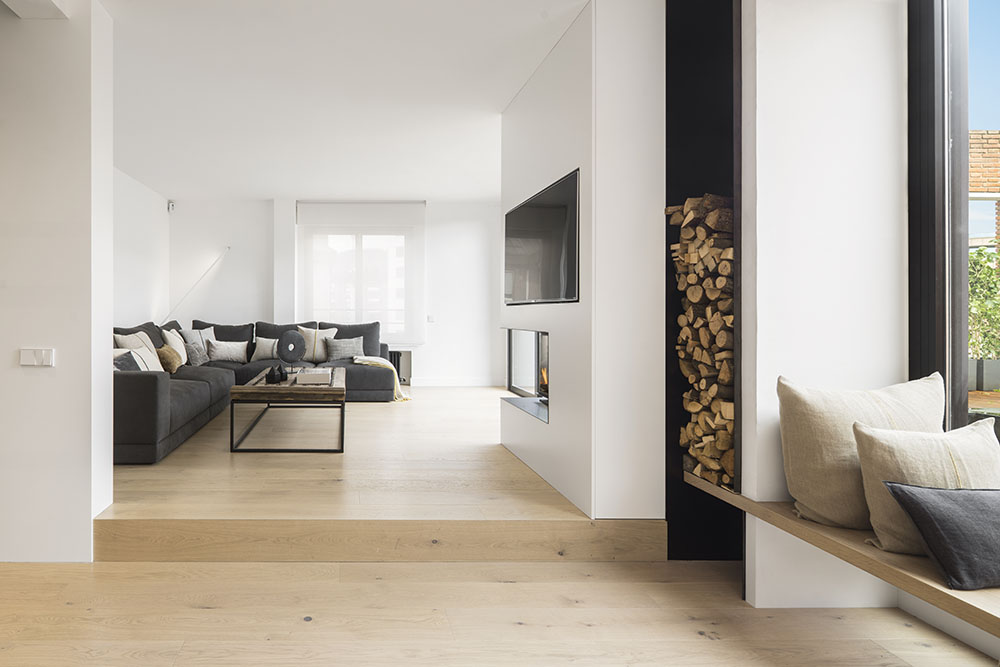 BLACK TO LIGHT:
Con este nuevo proyecto, la interiorista Susanna Cots da un nuevo paso en su trayectoria al tiempo que conserva la esencia y los elementos que dan forma y valor a sus diseños: la luz, el color blanco y la madera. Elementos con los que crea espacios llenos de vida y calidez que, en algunos casos, estuvieron precedidos por un pasado oscuro y ya obsoleto. Así ha ocurrido con este ático, ubicado en una transitada zona de Barcelona, que se abrió al exterior «en búsqueda de un tránsito interno mucho más abierto y activo».
La transformación de la vivienda comenzó con la abertura de ventanas hacia la terraza y la calle, que permitieron inundar sus interiores de luz. Este cambio sustancial permitió empezar a dar vida al espacio con simetrías y cubos que no sólo sirven para ordenar el piso sino también para crear una distribución equilibrada y armónica, en la que se perciben diferentes volúmenes dentro del volumen principal.
En el renovado ático, la cocina cobra un gran protagonismo. Sus generosas dimensiones, enmarcadas en un cubo de cristal con puertas correderas alineadas entre sí, permiten que resulte un agradable punto de reunión familiar. Su mobiliario en tono gris oscuro se acompasa con otras piezas de mobiliario como el sofá, los taburetes, las cortinas y el microcemento que se utiliza en diferentes partes del piso, especialmente en el volumen anexo a esta estancia que oculta, por un lado, un lavabo de cortesía, y por otro, la zona de lavandería.
Al lado de la cocina, la sala de estar y espacio para lectura y estudio se fusiona con el exterior, gracias a la gran apertura de luz y al contraste entre el blanco interior y el negro metálico de la terraza. El diseño de la terraza se ha proyectado como segundo gran núcleo social, acompañado de una fuente en cascada, que integra la naturaleza en medio de la ciudad.
La zona más privada de la casa abraza la cocina que sirve al mismo tiempo como elemento separador entre el área social y los espacios más íntimos de la vivienda. En esta parte del piso, el dormitorio principal se relaciona directamente con el exterior a través de un amplio ventanal, mientras que en el interior utiliza el cristal transparente para separar la ducha, el vestidor y baño.
Por otro lado, las cuatro habitaciones infantiles se han agrupado de dos en dos bajo un diseño simétrico, utilizando como nexo de unión una zona de aguas, en un caso, y una de juegos, en el otro.
El pavimento de madera se convierte en el elemento que unifica toda la vivienda bajo una pátina de tangible calidez, ya que incluso se adentra en los baños y se convierte en el revestimiento del cabezal de la habitación principal, haciendo que, en combinación con el color blanco, cobren protagonismo los elementos de color negro de este ático en Barcelona.
---
LAS IMÁGENES:
---
FICHA TÉCNICA:
Proyecto:

BlacktoLight.

Ubicación:

Barcelona (España).

Completado:

2017.

Diseño interior:

Susanna Cots Interior Design.

Superficie:

180 m2.

Iluminación:

Artemide, Vibia.

Chimenea:

Hergom.

Parquet:

Kährs.

Grifería:

Cristina Bossini, Hansgrohe, New Road.

Sanitarios:

Duravit, Roca, Fiora, Galassia.

Mobiliario:

sofá de Casadesús; la mesa de centro es una antigüedad con diseño de Susanna Cots, igual que el recibidor; sillas y taburetes de HAY; mesa y sillas del jardín de Kettal; jardineras de Vondom.

Textiles:

Teixidor, Costa Massana, Yutes, Zara Home.

Fotografías:

Mauricio Fuertes.
---
PLANIMETRÍA: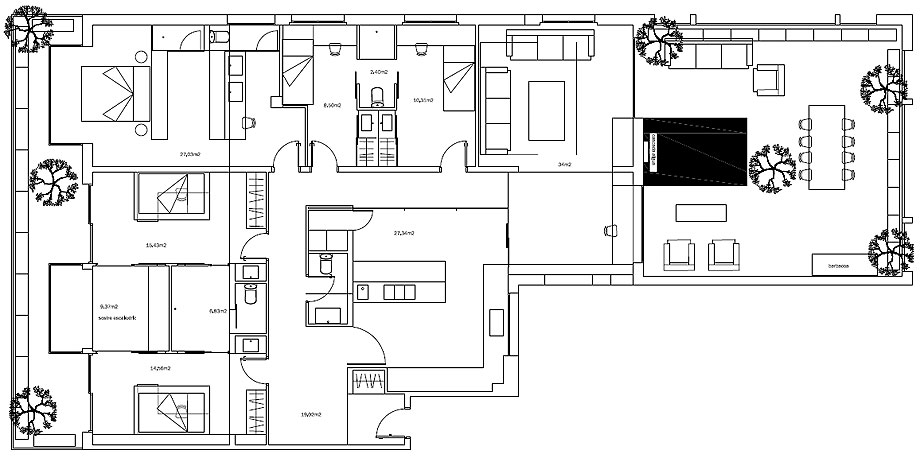 Planta
---
SOBRE SUSANNA COTS:
La interiorista Susanna Cots (Solsona, 1977) acaba sus estudios de Proyectista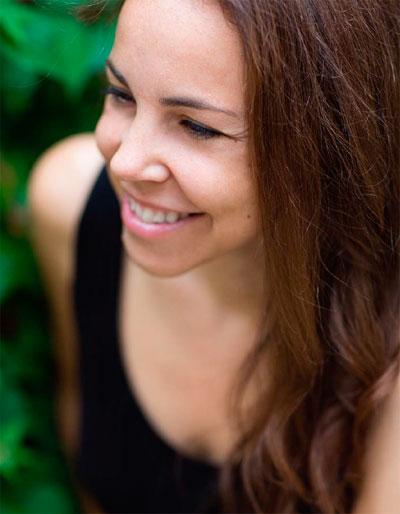 de Edificios y Obras, en 1998, y empieza los estudios de Diseño de Interiores, en Barcelona. Durante su formación académica trabaja en diferentes estudios de arquitectura y empresas relacionadas con el mundo del diseño para complementar su formación.
En el año 2003, realiza un Máster en Escaparatismo, en Madrid, y un año después, uno Diseño de Interiores para la producción audiovisual, en Barcelona. Después de varios años de experiencia, en el 2001 funda su propio estudio de diseño Susanna Cots Estudi de Disseny.
En estos ya más de quince años de carrera profesional, la interiorista ha diseñado espacios de todo tipo y como ella misma dice "todo aquello que sea susceptible de ser diseñado". El trabajo de Susanna Cots converge en un punto intermedio entre funcionalidad y estética, atemporalidad y comodidad. Su búsqueda incesante a través del blanco, las líneas estilizadas y el orden visual consiguen que sus proyectos transmitan una personalidad cada vez más consolidada.
Sus proyectos han sido reconocido en publicaciones de ámbito nacional como "Diseño Interior", "Casa Viva", "Mi Casa", "La Vanguardia" o "El País", entre otros. Ha participado en diferentes concursos y premios a nivel nacional e internacional como el ICFF New York (International Contemporary Furniture Fair), los Premios FAD de Barcelona, Porcelanosa Interiores, los Andrew Martin's Interior Design Awards de Londres y los SBID Awards, de The Society of British Interior Design, donde quedó finalista en dos categorías.
Además, es Miembro Honorífico de The Society of British Interior Design y del Colegio de Decoradores de Colombia. En 2014, Susanna Cots abrió su primer estudio internacional en Hong Kong.
---
Información e imágenes facilitadas por el estudio
You might also like