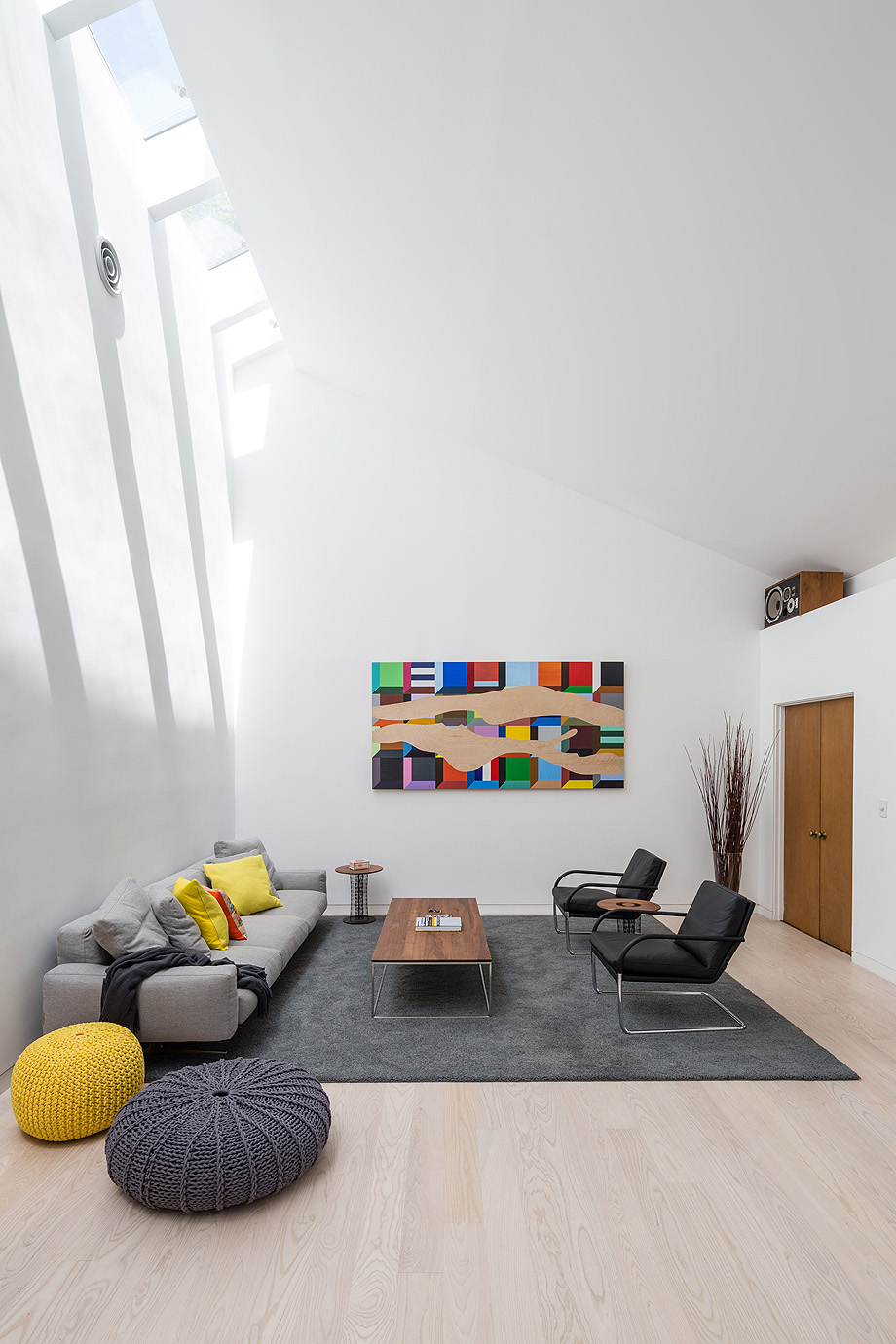 #9 DREAM:
Ubicada en el barrio de Hancock Park de Los Ángeles, ésta es la casa del arquitecto y músico israelí Dan Brunn cuyo diseño, realizado por él mismo, es fiel reflejo del estilo de su estudio de arquitectura. La reforma transformó un hogar de estilo tradicional en un retiro minimalista, salvo una excepción: la habitación de invitados de estilo clásico que se dejó tal como estaba. «Siempre quise tener un refugio con aspecto hogareño como éste pero no está en mi ADN diseñar de esta manera», explica el propio Brunn.
La casa de una sola planta cuenta con sala de estar, sala familiar, comedor, estudio, cocina office, suite principal, suite de invitados, lavandería, dos baños, un aseo y un patio trasero con barbacoa y jacuzzi. En el interior, se hace patente la estética de los trabajos del arquitecto con ambientes limpios, la sensación de encontrarse al aire libre y conexiones armoniosas entre la luz y el volumen arquitectónico. La gran sala principal junto con las vistas al patio posterior y el sistema de tragaluces hacen de la vivienda un verdadero clásico de California.
Entre las modificaciones realizadas en la edificación original, el arquitecto suprimió todas las paredes para abrir el espacio y crear un amplia sala de entretenimiento a la que se llega después de atravesar un pequeño vestíbulo en un gesto que el arquitecto califica de «dramático». Este gran espacio central acoge el comedor y la sala de estar así como la cocina. Unir estas zonas funcionales en un solo ambiente permite que la luz, el aire y la circulación fluyan libremente. Además, las claraboyas instaladas en el techo para abrir aún más la casa inundan la estancia con luz natural y ventilación extra.

El mobiliario, tanto en el salón como en el comedor, es mínimo para mantener el espacio despejado y no sobrecargarlo. Además, su diseño limpio de tonos neutros crea una ilusión de ligereza. En concreto, los colores neutros utilizados en el comedor sirven para mantener el equilibrio visual entre los espacios. En esta zona, destacan la moderna mesa de madera clara  con el sobre de DuPont Corian en color blanco para que su limpieza resulte más fácil y el bajo del arquitecto y músico, pintado por él mismo.
Para Brunn, la cocina es el corazón de la casa y sus pulcros muebles, ultra-blancos y diseñados a medida, ofrecen un sencillo mantenimiento y limpieza. Encima de la cocina, se ha creado un altillo que sirve como «santuario privado», lleno de libros de diseño, discos antiguos y un amplificador vintage 1978 Pioneer Hi-Fi estéreo. Esta zona agrega más altura al espacio central, mientras permanece abierto a las vistas. La apertura del techo requirió la adición de un nuevo pilar de madera, que el arquitecto dejó visto en su color natural para añadir calidez y reconocer el trabajo estructural realizado en la casa. Una delgada barandilla de cristal, flotando elegantemente a lo largo del perímetro, delimita el altillo mientras deja ver lo que ocurre en el resto del espacio. Unas grandes figuras de plástico y caucho de los Beatles -la banda favorita del arquitecto y múscio- añade un toque de color y fantasía.
Los amplios espacios abiertos continúan en el dormitorio principal, donde una alfombra rayada de color magenta aporta una gran nota de color. El cuarto de baño principal está alicatado con azulejos de cerámica de gran formato, mobiliario de madera clara, bañera exenta y ducha.
La habitación de invitados se ha dejado tal como estaba, con un estilo totalmente clásico, que incluye paneles de madera oscura con molduras revistiendo las paredes, un viejo sofá Chester, una mesa de centro también de estilo clásico, mapas enmarcados en cuadros dorados y una gran chimenea de piedra. Toda una sorpresa en este oasis minimalista y blanco.
---
LAS IMÁGENES:
---
FICHA TÉCNICA:
Proyecto:

#9 Dream.

Ubicación:

Los Ángeles (Estados Unidos).


Completado:

2017.


Autor:

Dan Brunn Architecture.

Superficie:

222,96 m².

Contratista:

Merlos Construction, Inc.

Ingeniero estructural:

Chris Salas.

Iluminación interior:

Elco Lighting.

Pavimento de madera:

Premier Flooring Solutions.

Tragaluces:

Velux.

Puertas correderas de cristal:

Panoramah.

Pintura:

Dunn‐Edwards.
Sala de estar:
Sofá:

Soft Dream de Antonio Citterio (Flexform).

Sillones de cuero:

George de EOOS (Walter Knoll).

Lounge chair y otomana:

Eames Lounge Chair and Ottoman diseñado por Charles y Ray Eames (Herman Miller).

Mesa de café:

Crate & Barrel.

Mesa auxiliar:

Vladi de EOOS (Walter Knoll).

Pufs de punto

: CB2.

Arte:

Dan Brunn.

Alfombra:

colección del propietario.
Comedor:
Mesa de comedor:

  Slim + de Bertjan Pot (Arco).

Mesa:

DuPont Corian.

Sillas de comedor:

Café Chair diseñada por Jonathan Prestwich (Arco).

Guitarra:

Rickenbacker 4001, personalizada para Dan Brunn.
Cocina:
Armarios y herrajes:

Aster Cucine.

Encimeras:

Caesarstone.

Fregadero:

Mitrani.

Grifo:

Minta Green (Grohe).
 Frigorífico y horno: Jenn-Air.

Mesa de cocina:

Arc de Norman Foster (Molteni & C).
 

Sillas de cocina:

Malmö de Michele Cazzaniga, Simone Mandelli y Antonio Pagliarulo (Pedrali).

Luz de techo:

Mirror Ball Pendant de Tom Dixon (Tom Dixon Lighting).
Cama:

a medida por Dann Brunn.

Lounge chair y otomana:

Eames Lounge Chair and Ottoman diseñado por Charles y Ray Eames (Herman Miller).

Mesa auxiliar:

mesa ajustable E1027 de Eileen Gray (ClassiCon).

Estanterías de noche:

City (Calligaris).

Lámpara de pie:

Ikea.

Ventilador de techo:

Cirrus Hugger (Modern Fan Company).

Jarrón:

Ikea.

Arte:

Dan Brunn.

Alfombra:

Crate & Barrel.
Patio cubierto:
Sofá, mesa auxiliar y lounge chairs:

Zuo Modern Contemporary, Inc.

Altavoz vintage 1978:

JBL HPM‐100.

Taburete Elephant:

Eames Elephant de Charles y Ray Eames (Vitra).
Fotografías: Brandon Shigeta.
---
PLANIMETRÍA: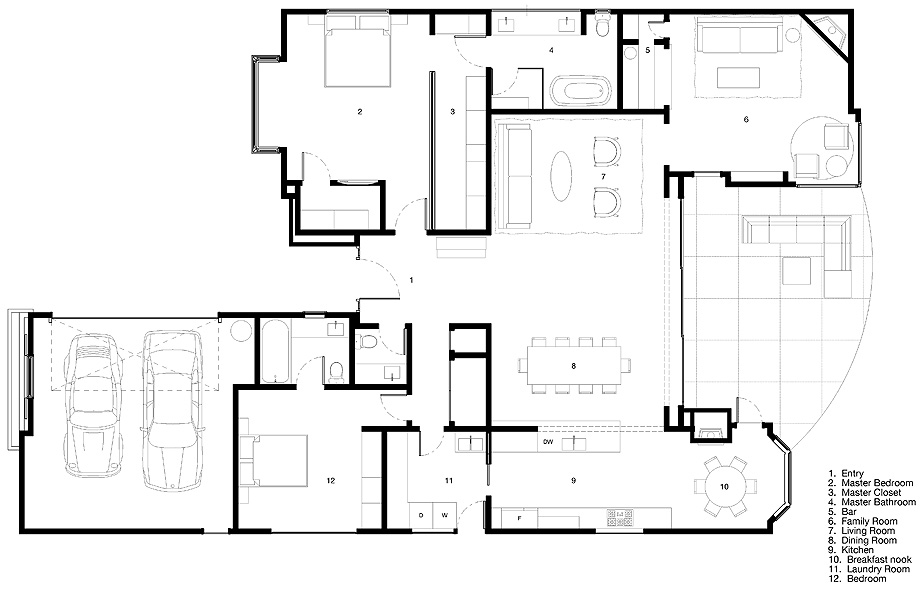 Planta
---
SOBRE DAN BRUNN ARCHITECTURE:
Dan Brunn nació en Tel Aviv, aunque se mudó a Los Ángeles a mediados de los años 80, donde se crió. En su etapa universitaria, estudió y viajó por toda Italia, mientras estaba establecido en la zona del Lago Como. Brunn trabajó para el estudió John Friedman Alice Kimm Architects (JFAK) antes de fundar el suyo propio, Dan Brunn Architecture, donde lleva a cabo proyectos comerciales y residenciales en todo el mundo. DBA se onorgullece de llevar a cabo una arquitectura provoque una interacción sensual con el medio ambiente.
Dan ha compaginado su labor profesional como arquitecto con la docencia. En su tiempo libre, compone y toca en la banda de música DLD.
Fotografía: Stefania Rosini
---
Información e imágenes facilitadas por el estudio
You might also like