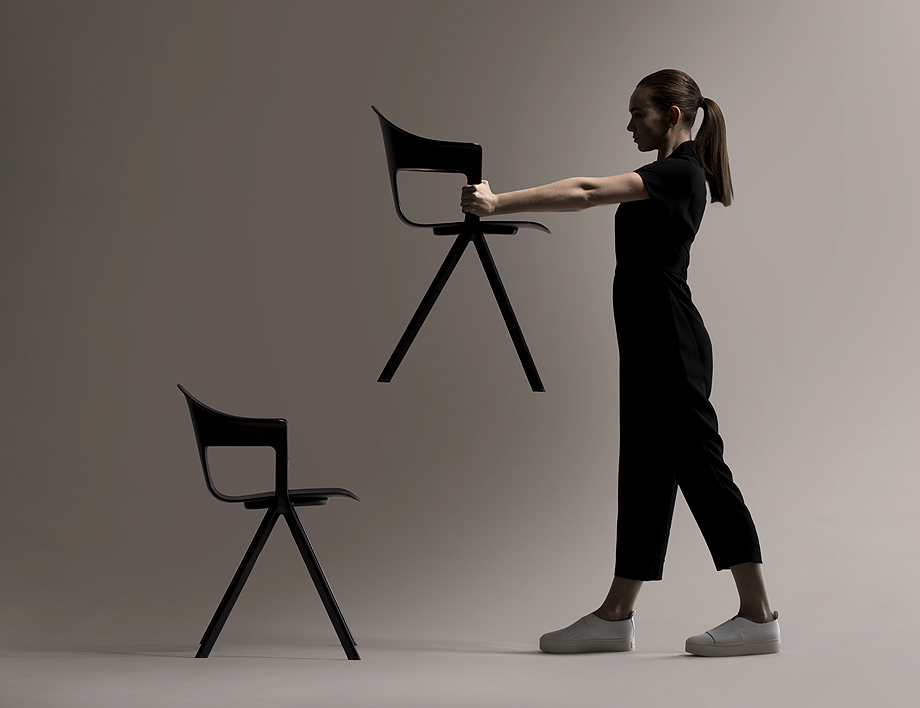 AXYL:
Como parte del compromiso continuo de ofrecer productos, procesos de producción eco-friendly y de trabajar con empresas que contribuyen a reducir su impacto medioambiental, Benjamin Hubert y su estudio Layer han colaborado con la firma británica Allermuir en el desarrollo de la colección Axyl. La nueva familia de mobiliario se presentará en Somerset House durante el London Design Festival (16-24 de septiembre).
Ésta primera colaboración entre ambas empresas está compuesta de una silla, con o sin brazos, un taburete y una mesita auxiliar, tres diseños que utilizan un lenguaje formal geométrico que es totalmente original, pero que está basado en referencias familiares como las estructuras en forma de A y un Mid-Century danés. El proyecto, que incluyó una alta inversión en herramientas, se completó en dos años, desde el boceto hasta la fabricación de las diferentes piezas.
Las tres piezas de mobiliario están realizadas en material reciclado como aluminio, madera y otros materiales de bajo impacto. El aluminio reciclado del marco en forma de Y invertida de las sillas utiliza sólo el 5% de la energía necesaria para crear nuevo aluminio y también ofrece un significativo ahorro en los costes. Las carcasas de la silla, los asientos de los taburetes y los sobres de las mesitas están disponibles en varios materiales de bajo impacto, incluyendo fibra de madera, madera recuperada y nylon reciclado, ofreciendo una eficiente manera de reutilizar los descartes de la industrial del mueble.
Explican desde Layer que el estudio se centra en «encontrar nuevas formas y formatos que ofrezcan algo visualmente único al mercado mientras se exceden en los requisitos funcionales necesarios. Con la colección Axyl, creo que hemos creado una silla apilable con una expresión verdaderamente nueva encarnada en la silueta de la Y invertida en aluminio de fundición». «Esperamos que Axyl redefina la apariencia y la función de los asientos de las cafeterías y restaurantes de la escena internacional», concluye Robert Mustoe, CEO de Allermuir.
---
LAS IMÁGENES:
---
SOBRE BENJAMIN HUBERT: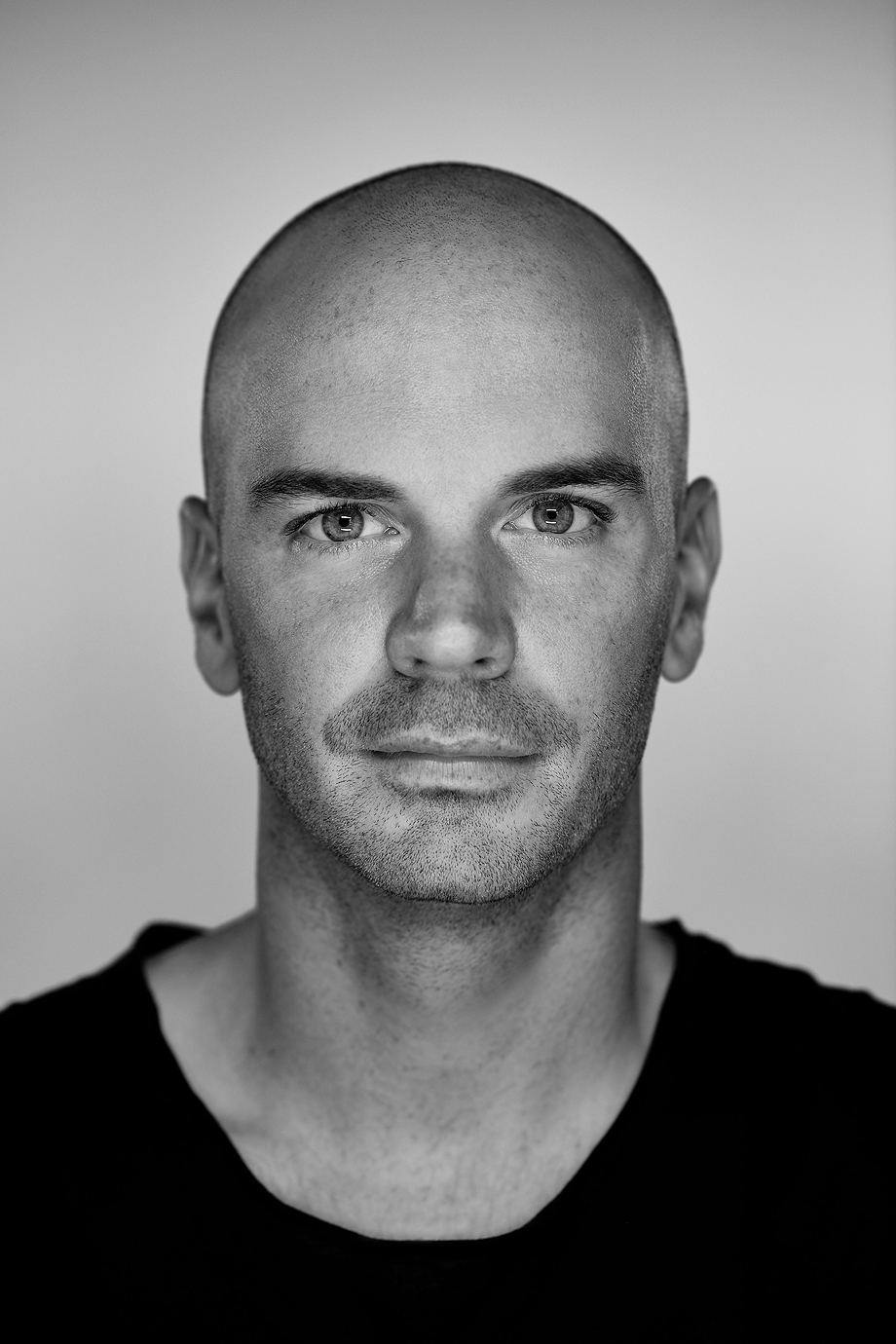 El diseñador Benjamin Hubert se graduó en Diseño Industrial y Tecnología en Loughborough University. Después de adquirir experiencia en varias consultorías de diseño de renombre como Seymour Powell, DCA y Tangerine, fundó el estudio que llevaba su nombre, en 2009,  en North East London.  Durante este periodo, trabajó con multinacionales como Nike, Samsung, LG, Mamas and Papas, Coca-Cola y Eurostar.
En septiembre de 2015, el diseñador relanzó su estudio con el nombre de Layer, centrado en el diseño de productos tanto físicos como digitales, incluyendo productos y software conectados. Este momento de su carrera significó un importante cambio en la dirección de Hubert, que ha creado muebles y utensilios para marcas como Moroso, Ligne Roset y Menu.
Actualmente, Benjamin Hubert lidera un equipo de diseñadores industriales que trabajan en una amplia gama de sectores, incluyendo mobiliario, iluminación, productos de consumo, instalaciones arquitectónicas y dirección de arte. Hubert trabaja a nivel internacional en una amplia variedad de mercados, incluyendo Europa, Asia, Australia, Brasil y Estados Unidos.

El estudio también ha recibido diferentes y prestigiosos premios incluyendo: Diseño del Año (British Design awards 2010), Mejor Producto (100% design/Blueprint awards 2009) y EDIDA International Young Designer of the Year 2010, entre otros.
---
SOBRE ALLERMUIR:
Allermuir es una empresa británica que concibe, diseña, produce y distribuye diferentes piezas de mobiliario (sillas, taburetes, mesas, sillones, sofás y sistemas para espacios de trabajo) en todo el mundo. Fundada, en la década de 1970, por la familia Vaghetti, Allermuir pasó a formar parte de The Senator Group, en 2005. Actualmente, cuenta con una fuerte presencia en seis continentes y distribuye a más de 70 países, un número que aumenta mes a mes.
El empleo de tecnología de fabricación de última generación junto a mano de obra con experiencia en trabajo artesanal, les permite crear bellas colecciones de muebles. Como verdaderos fabricantes, diseñan, pintan, moldean, cortan y cosen. Parte fundamental de su trabajo es la sostenibilidad, escrita en todo aquello que hacen, desde los materiales hasta la entrega de los productos, pasando por la forma en que los diseñan y elaboran.
---
Información facilitada por el estudio y en la web de la empresa de mobiliario. Imágenes facilitadas por el estudio
You might also like