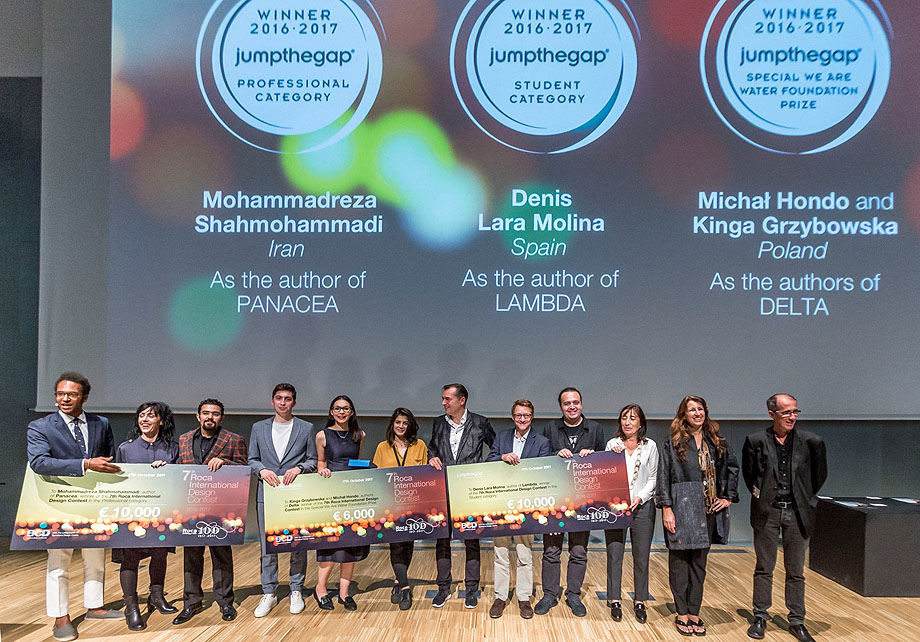 JUMPTHEGAP 2017:
Una bañera que puede adaptarse a cualquier espacio, un esterilizador de manos que no necesita agua y una ducha con mampara extensible y deshumidificador han sido los tres proyectos ganadores, en sus respectivas categorías, de la séptima edición del concurso internacional de diseño jumpthegap. Organizado por la empresa Roca junto a BCD Barcelona Centro de Diseño, jumpthegap fue creado en el año 2004 con el objetivo de apoyar a estudiantes, y a arquitectos y diseñadores menores de 35 años. El concurso se divide en dos categorías: Profesional y Estudiantes, y, desde 2015, se entrega también el Premio Especial a la Sostenibilidad, otorgado por la Fundación We Are Water.
La ceremonia de entrega de estos premios, que tuvo lugar este pasado martes en el auditorio del Disseny Hub Barcelona, se inició con la conferencia del arquitecto Patrik Schumacher, director del estudio Zaha Hadid Architects y presidente del jurado, dentro de la serie «jumpthegap talk». Estas charlas, que se celebran en diferentes ciudades del mundo en el marco internacional de jumpthegap, son impartidas por destacados profesionales del ámbito del diseño y la arquitectura. En la sesión de este martes y bajo el título «Tectonism. Engineering and Fabrication Logics as Stylistic Drivers», Schumacher expuso su punto de vista sobre el escenario actual y las perspectivas de futuro del diseño y la arquitectura, acompañado por las imágenes de algunos de los impactantes y futuristas trabajos realizados por el despacho de la fallecida arquitecta iraní.
Este año, el concurso, que coincide con el centenario de la empresa que nació en la localidad barcelonesa de Gavà en 1917, ha recibido más de 6.000 inscripciones de 134 países, lo que «lo consolida como uno de los certámenes más importantes en el campo del diseño»,  como señaló Xavier Torras, director de comunicación y marca de Roca.
Junto a diversos finalistas del concurso, procedentes de países como Irán, Turquía, Líbano, Hong Kong, Polonia o Portugal, el acto reunió a profesionales del mundo del diseño y la arquitectura, como el ya citado Patrik Schumacher; Isabel Roig, directora general de BCD Barcelona Centro de Diseño; Benedetta Tagliabue, directora de EMBT y de la Fundación Enric Miralles; Josep Congost, director de diseño e innovación de Roca; Valentin Vodev, fundador de la compañía VELLO, especializada en producción y venta de bicicletas y otros productos innovadores de movilidad; y Xavier Torras, director de comunicación y marca de Roca y director de la Fundación We Are Water.
---
PRIMER PREMIO CATEGORÍA PROFESIONAL: PANACEA

El diseñador iraní Mohammadreza Shahmohammadi (Iran University of Science and Technology) es el autor del diseño de esta bañera elaborada con un material elástico que permite moldearla hasta conseguir la forma y el tamaño deseados. De esta manera, puede adaptarse a cualquier espacio y almacenar una cantidad menor de agua. Además, cuenta con un sistema de cierre que permite evitar los ahogamientos de niños mientras no se usa. Patrik Schumacher ha valorado especialmente «la simplicidad, elegancia e innovación de la propuesta, capaz de resolver tres problemas: el consumo excesivo de agua, la falta de espacio en el hogar y los ahogamientos de niños en la bañera».
---
PRIMER PREMIO CATEGORÍA ESTUDIANTES: LAMBDA

La estudiante de diseño española Denis Lara Molina (EINA, Centre Universitari de Disseny i Art de Barcelona) es la autora de este esterilizador que descontamina las manos de los usuarios a partir de la emisión de una luz de frecuencia de onda corta, similar a la ultravioleta, que ya se usa actualmente en otros ámbitos para purificar el agua y el aire. Esta solución permite conseguir una higiene total tanto en el ámbito doméstico como en el público. Además de su originalidad, Valentin Vodev destacó su propósito social: «Resulta una propuesta inteligente que puede contribuir a solucionar el problema de la higiene en lugares públicos y puede implementarse y escalarse para un uso global».
---
PREMIO ESPECIAL A LA SOSTENIBILIDAD (OTORGADO POR LA FUNDACIÓN WE ARE WATER): DELTA

Una ducha formada por una columna de la que se despliegan dos mamparas extensibles, que pueden adaptarse a cualquier espacio de baño, fue el proyecto presentado por los diseñadores polacos Michal Hondo y Kinga Grzybowska (Poznan University of Technology).  Además, la ducha integra un deshumidificador que transforma el vapor de agua en agua, que queda almacenada en la misma columna para que pueda ser reutilizada. Benedetta Tagliabue valoró del proyecto «la fácil adaptación del proyecto a diferentes espacios y su espíritu sostenible, que da una segunda vida al recurso más valioso que tenemos: el agua.»
---
SOBRE ROCA:
Roca es una empresa dedicada al diseño, la producción y la comercialización de productos para el espacio de baño, pavimentos y revestimientos cerámicos destinados a la arquitectura, la construcción y el interiorismo. La compañía emplea a 22.600 personas, tiene 78 centros de producción y está presente en más de 170 países repartidos en los cinco continentes. El Grupo, de capital íntegramente español, es líder del mercado en Europa, Latinoamérica, India y Rusia. También tiene una fuerte presencia en China y el resto de Asia, Oriente Medio, Australia y África. Gracias a ello, es líder mundial en su actividad.
---
SOBRE BCD BARCELONA CENTRO DE DISEÑO:
BCD Barcelona Centro de Diseño, organizador de la Barcelona Design Week, es una entidad de promoción del diseño como herramienta de transformación para hacer que empresas y organizaciones sean más innovadoras, internacionales y sostenibles. Con más de 40 años de experiencia al servicio de las empresas y las instituciones públicas, también tiene como objetivo proyectar internacionalmente la marca Barcelona como referente en creatividad e innovación.
Además, BCD a través de la Barcelona Design Week, es miembro fundador de la World Design Weeks network, red mundial de grandes eventos en el ámbito del diseño que ofrece un abanico de oportunidades para las empresas y los diseñadores del territorio en diferentes mercados.
BCD impulsa anualmente más de 20 proyectos e iniciativas entre los que destacan la misma BDW, el MID Mercado de Ideas Diseño y el Clúster Diseño de Cataluña, que actualmente cuenta con más de 175 miembros.
BCD BARCELONA CENTRO DE DISEÑO EN IM
---
SOBRE LA FUNDACIÓN WE ARE WATER:
La Fundación We Are Water tiene dos objetivos fundamentales. El primero es sensibilizar y hacer reflexionar a la opinión pública y a las instituciones sobre la necesidad de crear una nueva cultura del agua que permita el desarrollo justo y una gestión sostenible de los recursos hídricos en el mundo. El segundo es la realización de todo tipo de acciones destinadas a paliar los efectos negativos de la falta de recursos hídricos adecuados. Las áreas de actuación de la Fundación incluyen la intervención en infraestructuras, educación, salud e investigación en las zonas más necesitadas del planeta.
---
Imágenes facilitadas por Roca
You might also like