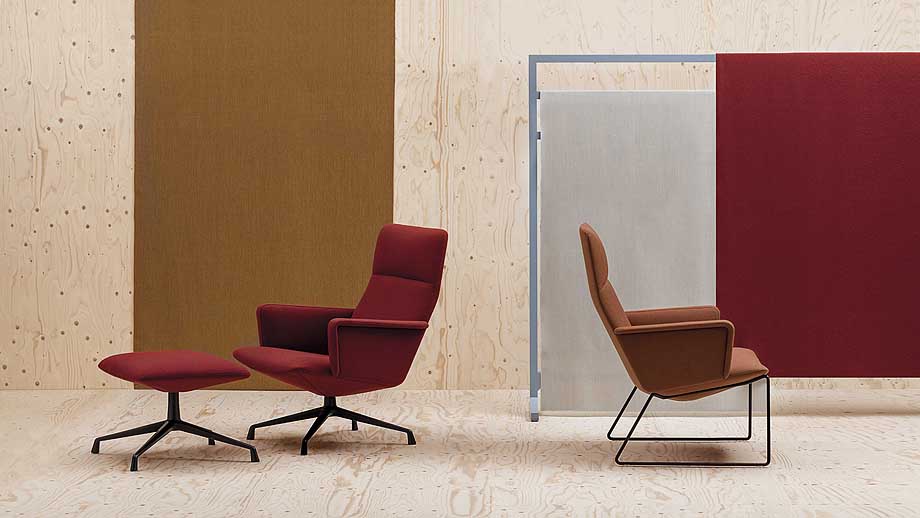 CAPRI LOUNGE:
Andreu World ha presentado, este año, los nuevos productos desarrollados en colaboración con el diseñador Piergiorgio Cazzaniga como son la butaca y el sofá Grand Raglan, el taburete alto Flex o la versión en acabado cemento del programa de mesas de reuniones Reverse. Junto a estas tres novedades, también figura Capri Lounge, una butaca de formas confortables que se adapta sin dificultad a ambientes con funciones muy diferentes (un comedor, unas oficinas o un espacio corporativo).
Con raíces en las clásicas butacas, el diseño de Cazzaniga desprende sencillez y armonía, con un lenguaje transversal que se amplía con las diferentes opciones que Andreu World ofrece para su tapicería: piel y textil en numerosas telas y colores de cuerdo con las especificaciones de cada proyecto. Además, la butaca está disponible con o sin reposabrazos, y los brazos pueden ser de aluminios o estar también tapizados. Asimismo, ofrece dos opciones de base: base central de cuatro aspas o base de patín de acero.
En busca del máximo confort, Capri,  que recibió un Best of NeoCon: Gold Award 2017 en la categoría de Sofas and Lounge, se complementa con un reposapiés, que sigue las mismas directrices que la butaca.
---
LAS IMÁGENES:
---
SOBRE PIERGIORGIO CAZZANIGA: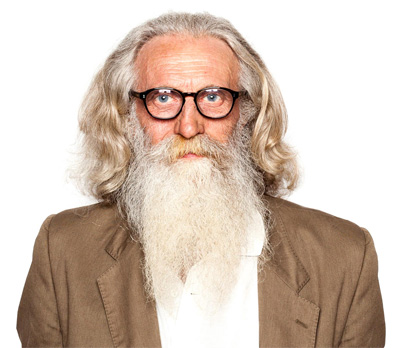 Nacido en 1946, en Liss (Italia), Piergiorgio Cazzaniga es uno de los diseñadores italianos con mayor proyección internacional. Hijo de un ebanista, desde pequeño tiene contacto directo con el taller de su padre, los clientes, la elección de materiales, el diseño… lo que le lleva a atesorar una gran experiencia en lo relativo a la producción industrial del mueble. En 1962, se convierte en jefe de la Oficina Técnica de Besana Mobili, donde trabajó hasta 1964, consolidando su conocimiento sobre cada detalle de la cadena de producción.
En 1966 y hasta 1971, Dino Boffi lo escoge como responsable del Centro de Investigación y Desarrollo Boffi Cucine. En el marco de dicho trabajo  participa en la Normalización Europea de las medidas de los módulos y los electrodomésticos de cocina. En 1971, junto a Luigi Massoni, crea el estudio Bruttura, Massoni, Pellizza, que más tarde se convirtió en el estudio A&D. En 1991, establece su propio despacho, Piergiorgio Cazzaniga Design en Lentate sul Seveso (Lombardía), trabajando desde entonces para primeras firmas de diseño de mobiliario.
Sus creaciones, siempre innovadoras, han merecido numerosos reconocimentos: la silla Mariposa (Premio Chair of the Year en Udine y Premio del jurado en BIO 15 en Lubiana); el sillón Bloom, la silla M1 y la colección de asientos Lofty (seleccionados para los premios I-Dot 2001 y 2004); el sillón Lips (Good Design Award 2004); el sistema de sofás Bora Bora (nominado para el Premio a la Innovación de Interiorismo de Colonia 2008); la silla Sail para Andreu World (Gold Award en la feria Neocon de Chicago 2011, Red Dot Design Award 2012 y seleccionada por el ADI Design Index 2012); y la silla Flexa también para Andreu World (Red Dot 2013).
Cazzaniga mantiene, desde hace algunos años, una estrecha relación con la empresa valenciana Andreu World. Fruto de esta experiencia, han surgido diseños con gran aceptación en el mercado. Entre ellos, el sistema de mesas de reunión Reverse o la premiada silla Sail.
---
SOBRE ANDREU WORLD:
Andreu World es una empresa familiar de mobiliario para interior y exterior fundada, en 1955, gracias a la inquietud de Francisco Andreu Martí. Creada como un pequeño taller de ebanistería en Alaquàs, una localidad muy próxima a Valencia (España), actualmente, reúne a un equipo de profesionales altamente cualificado con una clara vocación internacional a partir de una premisa muy clara: diseño y calidad. Esta premisa va ligada a la categoría de los profesionales que firman sus diseños: Patricia Urquiola, Piergiorgio Cazzaniga, Joan Lao, Mario Bellini, Lievore Altherr Molina, Josep Lluscà, Javier Mariscal y Nancy Robins, entre otros.
Hoy en día, Andreu World dedica un 60% de su producción a la exportación y su red comercial abarca los cinco continentes. Países como Nueva Zelanda, Emiratos Árabes Unidos, Singapur, Japón, México, Argentina y EE.UU. son sólo algunos ejemplos en los que la marca está presente.
La firma dispone de un showroom de más de 2.000 m2 en Valencia, donde están ubicadas sus oficinas centrales, y de tres centros de producción: dos localizados en la misma provincia de Valencia y el tercero en Navarra. Además, también cuenta con espacios expositivos en otras ciudades como Chicago, Nueva York, Pune, New Delhi o San Francisco, así como las oficinas de la delegación americana en el emblemático edificio Merchandise Mart.
La madera proviene de sus bosques, controlados mediante un protocolo de custodia que incluye la plantación, la tala, el secado –durante más de un año desde la tala, para evitar que la madera se quiebre en el futuro– y todas las fases de manipulado. Este proceso cuenta con la certificación FSC® (Forest Stewardship Council), que garantiza madera con origen en bosques reforestados y controlados.
Entre los numerosos premios recibidos a lo largo de su trayectoria figuran: Red Dot Design Award 2013, Best of Year Honoree 2012, ADI Design Index 2012, Best of Neocon 2012, Red Dot Design Award 2012 y Best of NeoCon People choice 2011 o el Premio Nacional de Diseño 2007.
---
Información e imágenes facilitadas por la empresa y en la web del diseñador
You might also like