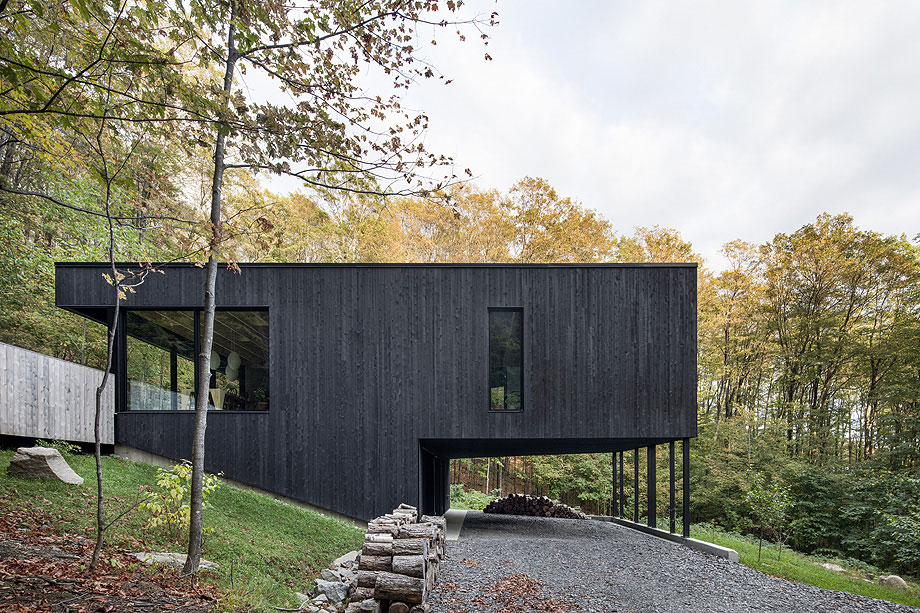 THE ROCK:
El estudio Atelier Général es el autor de este refugio aéreo, que se fusiona con la montaña adyacente, inmerso en un bosque de arces. The Rock, nombre que se le ha dado a la casa, está construida en la ladera del monte Shefford y, mientras que por un lado se presenta como un volumen elevado, por el otro, se abre a la escarparda naturaleza. Explican Alexis Naylor y Stéphanie Plourde que «la idea inicial del proyecto era fusionarse con la montaña, anclarse en el terreno hasta que se convirtiera en uno con la residencia».
A la vivienda, se accede desde la planta inferior, precedida por una zona aparcamiento protegida por la proyección en voladizo de la primera planta. En el piso inferior, hay también dos dormitorio, un baño con ducha y una tercera estancia. El volumen parece emerger de la pendiente y desprenderse de la vegetación circundante, mientras su oscura forma se hace eco de las rocas.
Desde este nivel, una escalera de madera conduce al piso principal, donde los espacios fluyen libremente bajo un techo plano, en el que se ha dejado vista la estructura de madera laminada.

En esta planta, las zonas de vida se abren al exterior de dos maneras diferentes, ofreciendo a los habitantes de la casa una relación intensa con la naturaleza: en la fachada posterior (a la que vuelcan el comedor y el dormitorio principal), se ha creado una gran terraza perfilada según la topografía del terreno. En el otro extremo, donde se encuentra la sala de estar, la casa se eleva por encima del vacío, hacia las copas de los árboles del terreno en descenso.

La cocina, terminada en chapa de pino blanco, está enmarcada por dos bloques paralelos de color blanco que forman un vínculo indirecto con el comedor contiguo. Este espacio se abre completamente hacia la pendiente.
En continuidad con el dormitorio principal, se encuentra el cuarto de baño donde un «bloque» formado por la bañera y la ducha, delimitado por el revestimiento cerámico blanco, se enfrenta a una enorme ventana con vistas al bosque. Ubicada entre este espacio y la sala de estar, una galería de forma triangular se abre a una cubierta de hojas.

---
LAS IMÁGENES:
---
FICHA TÉCNICA:
Proyecto:

The Rock.

Ubicación:

Shefford (Quebec / Canadá).

Completado:

2017.

Autor:

Atelier Général.

Equipo:

Alexis Naylor, Stéphanie Plourde, Xavier Crépeau Bellefeuille, Patrick Lévesque.

Superficie:

213,67 m².
Colaboradores:
Ingeniero de estructuras:

Latéral.

Contratista general:

Constructions Boivin.

Ebanista:

Ébénisterie Gaston Chouinard.
Acabados y equipamientos:
Ventanas:

Shalwin.

Cerámica:

Olympia Tile.

Accesorios de fontanería:

Montréal-Les-Bains.

Iluminación:

Luminaire Authentik.
Fotografías: Adrien Williams.
---
PLANIMETRÍA: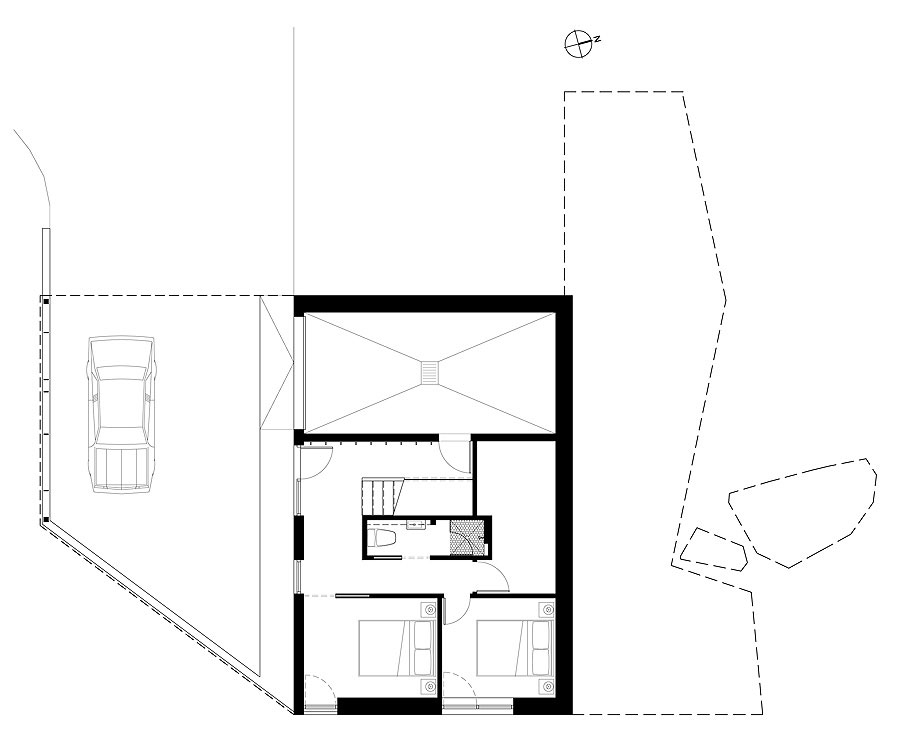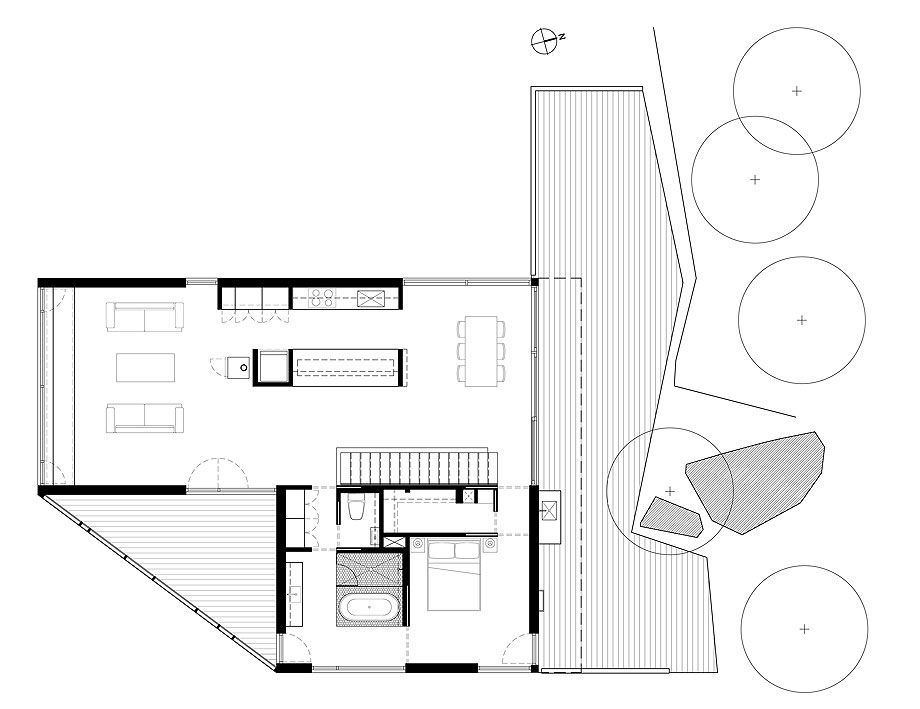 ---
SOBRE ATELIER GÉNÉRAL ARCHITECTURE: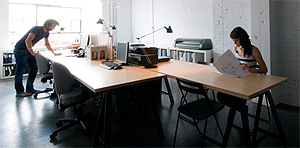 Atelier Général es un estudio de arquitectura con sede en Montreal, fundado por Alexis Naylor y Stéphanie Plourde.
El estudio es para ellos un lugar de experimentación e intercambio en el que transforman las restricciones en soluciones creativas. Para diseñar una arquitectura personalizada con medios sencillos, lo primero en lo que confían es el espacio y la luz. Organizan estos recursos para crear espacios inspiradores y vivos, y usan la misma creatividad en proyectos de diferentes escalas y diferentes naturalezas a fin de enriquecer la experiencia del espacio en el que vivimos.
El trabajo de la agencia ha sido reconocido a través de numerosas publicaciones y premios, como el reciente Primer Premio del concurso Paysages en Dialogue, organizado por la Comisión de la Capital Nacional de la ciudad de Quebec, en el otoño de 2014.
---
Información e imágenes facilitadas por v2com.biz
You might also like