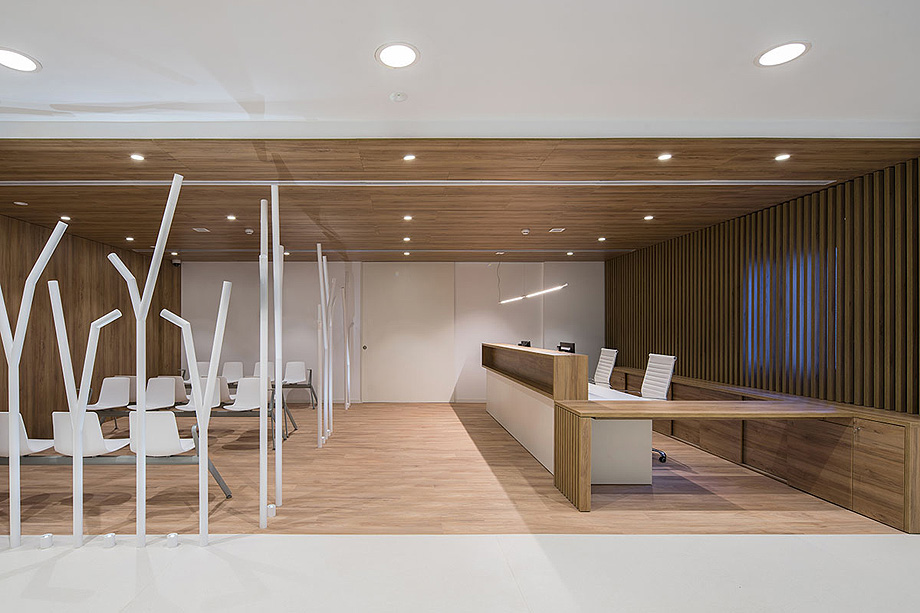 CLÍNICA ST. JOSEP:
La sencillez de líneas, la calidez y la funcionalidad son tres de los valores que definen los proyectos de la diseñadora de interiores Susanna Cots, cuyas viviendas y locales son un claro ejemplo de la filosofía slow design. Uno de sus trabajos más recientes es la clínica St. Josep, ubicada en la localida de Manresa (Barcelona), donde la madera y el color blanco son el hilo argumental que recorre cada uno de los espacios del establecimiento sanitario.
Susanna Cots ha utilizado la premisa «la ciencia demuestra que los humanos somos susceptibles de modelar nuestro estado de ánimos según los objetos que nos rodean» para diseñar la clínica, persiguiendo transformar lo que sentimos en un espacio de salud. Pensando en los paciente, la diseñadora ha proyectado un espacio amable con elementos nobles que aportan calma y serenidad.
Las salas de estar se han ubicado en cubos de madera que, a través de la forma y la calidez de los materiales, ofrecen «protección» a los clientes frente a los típicos sentimientos que provoca el tiempo de espera en una consulta médica. La continuidad con el resto de espacios se «produce siempre a través de la naturaleza, sea simbólica o real«. Ejemplo de ello son los árboles tubulares, diseñados para la zona de recepción, que simulan conceptualmente la mirada a la naturaleza que nos rodea. Estos árboles simbólicos también delimitan uno de los lados abiertos del cubo de la sala de espera, estableciendo límites sin necesidad de levantar una pared física.
Un segundo elemento de unión es la madera que, en forma de listones, recorre el techo del pasillo de la clínica y la pared posterior de la recepción, reviste el suelo y algunas de las paredes.
Finalmente, la luz se ha trabajado para unir emocionalmente los espacios de manera imperceptible, creando un juego de sombras que hace que «el espacio vibre y las emociones se suavicen», describe la interiorista.
Las consultas médicas son las estancias donde se percibe la calidad centenaria del edificio (la clínica se inauguró el 1 de enero de 1929), fusionándose el pasado y el presente a través del diseño y los materiales. El buen savoir faire de principios de siglo está representado en detalles antiguos recuperados y las puertas de cristal originales, que se han trabajado con mimo y respeto.
---
LAS IMÁGENES:
---
FICHA TÉCNICA:
Proyecto: Clínica Sant Josep.
Ubicación: Manresa (Barcelona / España).
Completado: 2017.
Diseño interior: Susanna Cots Interior Design.
Superficie: 570 m².
Distribución: cuatro salas de espera, trece consultas médicas, dos baños y dos laboratorios.
Mesas: Actiu.

Silla:

Panton, Pedrali y Vitra.

Bancos:

Enea.

Mostradores y caseta:

Susanna Cots.

Cuadros:

del artista Àngel Uranga.
Iluminación: Simon y Artemide.
Fotografías: Mauricio Fuertes.
---
PLANIMETRÍA: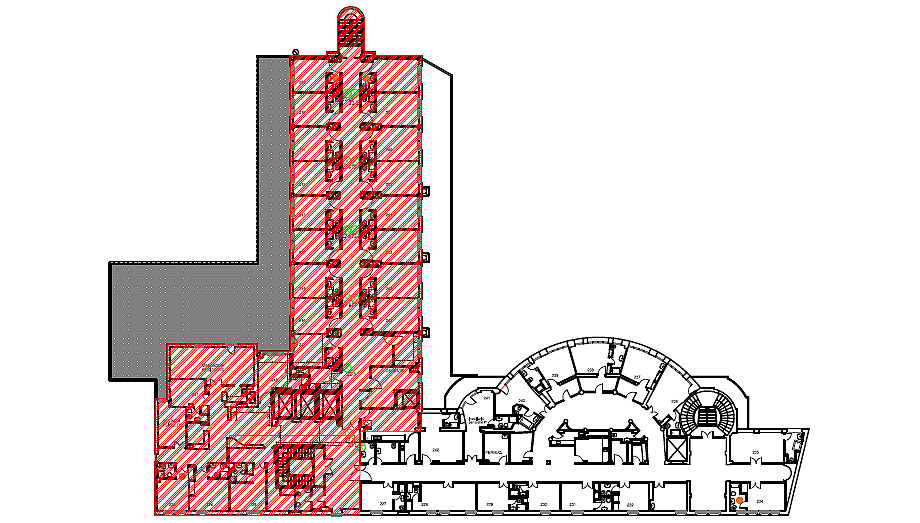 ---

Planta
---
SOBRE SUSANNA COTS INTERIOR DESIGN: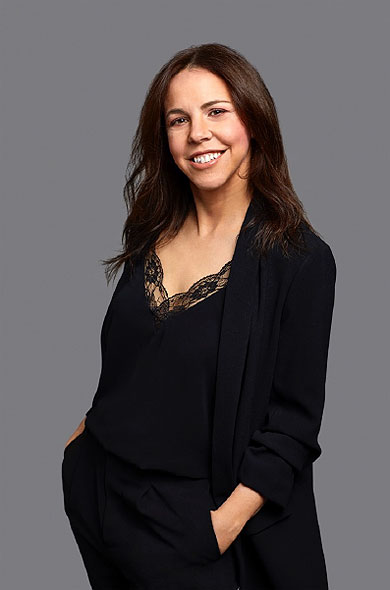 La interiorista Susanna Cots (Solsona, 1977) acaba sus estudios de Proyectista de Edificios y Obras, en 1998, y empieza los estudios de Diseño de Interiores, en Barcelona. Durante su formación académica trabaja en diferentes estudios de arquitectura y empresas relacionadas con el mundo del diseño para complementar su formación. En el año 2003, realiza un Máster en Escaparatismo, en Madrid, y un año después, uno Diseño de Interiores para la producción audiovisual, en Barcelona. Después de varios años de experiencia, en el 2001 funda su propio estudio de diseño Susanna Cots Estudi de Disseny.
En estos ya más de quince años de carrera profesional, la interiorista ha diseñado espacios de todo tipo y como ella misma dice "todo aquello que sea susceptible de ser diseñado". El trabajo de Susanna Cots converge en un punto intermedio entre funcionalidad y estética, atemporalidad y comodidad. Su búsqueda incesante a través del blanco, las líneas estilizadas y el orden visual consiguen que sus proyectos transmitan una personalidad cada vez más consolidada.
Sus proyectos han sido reconocido en publicaciones de ámbito nacional como "Diseño Interior", "Casa Viva", "Mi Casa", "La Vanguardia" o "El País", entre otros. Ha participado en diferentes concursos y premios a nivel nacional e internacional como el ICFF New York (International Contemporary Furniture Fair), los Premios FAD de Barcelona, Porcelanosa Interiores, los Andrew Martin's Interior Design Awards de Londres y los SBID Awards, de The Society of British Interior Design, donde quedó finalista en dos categorías. Recientemente, ha ganado el premio Mejor Interiorista del Año, concedido por los Luxury Lifestyle Awards. Su trabajo está presente en diferentes universidades del país, es Miembro Honorífico de The Society of British Interior Design y del Colegio de Decoradores de Colombia. En 2014, Susanna Cots abrió su primer estudio internacional en Hong Kong.
SUSANNA COTS EN INTERIOR MINIMALISTAS
---
Información e imágenes facilitadas por el estudio
You might also like