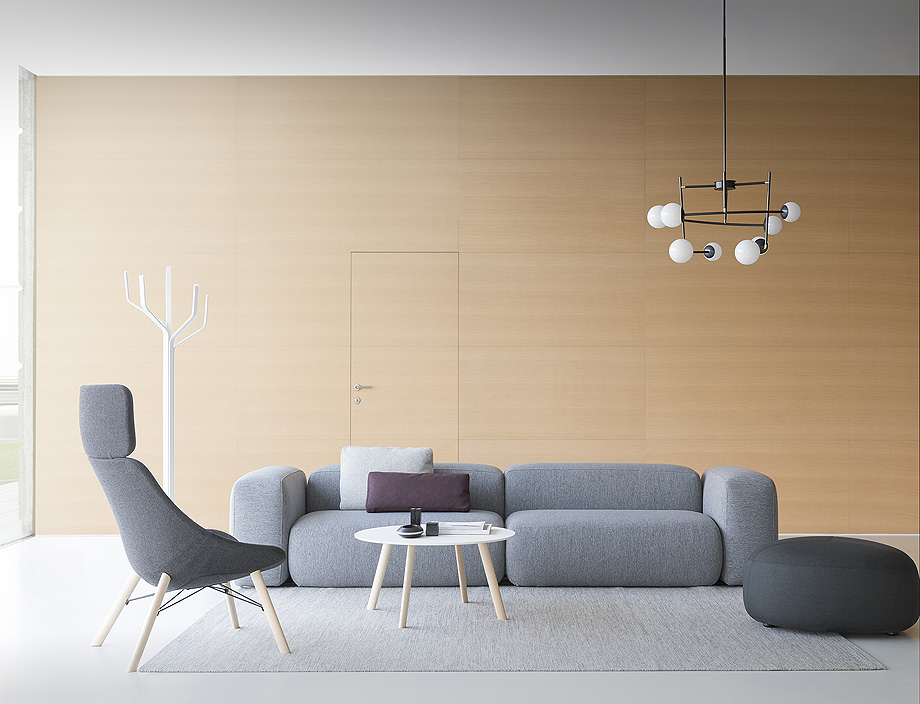 PLUS:
Los nuevos tiempos han traído nuevas formas y espacios de trabajo, centrados en la movilidad y el eclecticismo. Mientras los hoteles comienzan a ofrecer espacios de trabajo y las oficinas se reconfiguran para ofrecer mayor comodidad, las casas se vuelven inteligentes y abiertas. Fruto de esta nueva situación, el mobiliario se vuelve más versátil y busca la total adaptación, presentando nuevas experiencias al usuario.
Dentro de este contexto, la firma italiana de mobiliario Lapalma presentó, en la feria imm cologne, el nuevo sistema modular de asientos Plus, diseñado por Francesco Rota. La colección, que destaca por sus suaves líneas, está compuesta por asientos con cinco formas y dos alturas, que se completan con respaldos de dos longitudes, un apoyabrazos y una mesa auxiliar, con la tapa en HPL Fenix® o madera, donde se pueden cargar smartphones, tablets y ordenadores portátiles, facilitando que el usuario no tenga que estar pendiente de la batería.
Los distintos elementos, disponibles con forma rectangular, cuadrada y redondeada, pueden configurarse de muy distintas maneras: desde una composición lineal, simple y sencilla, para el salón de una casa, hasta verdaderas islas ideales para vestíbulos de hoteles. Los asientos más profundos se pueden hacer más cómodos con los nuevos cojines Oort.
Además de las amplias opciones de combinación, con la posibilidad de integrar el panel divisor Screen también de Rota y Lapalma, hay asimismo varios tipos de tapicerías desenfundables.
En imm cologne, se presentaron dos composiciones que destacaban la versatilidad del proyecto. La primera, más clásica, representaba una elegante sala de estar donde se combinaban un sofá en esquina con isla de color gris claro; dos sillones Auki, diseñados por Hee Welling, con un cálido tejido marrón y base de madera; y las mesas de café Jey y Add de Francesco Rota.
La segunda composición, en el centro de la habitación, jugaba libremente con formas y colores, lo que sugería las amplias y fáciles posibilidades de configuración que ofrece el sistema. La mesa de café, con enchufes centrales insertados en la parte superior y el cargador de batería inalámbrico, hacía referencia al concepto de hogar inteligente, convirtiéndose en una atractiva propuesta para áreas lounge de hoteles y oficinas.
---
LAS IMÁGENES:
---
SOBRE FRANCESCO ROTA: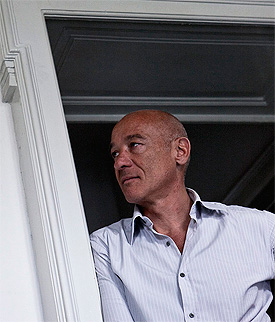 El diseñador de interiores e industrial Francesco Rota vive y trabaja en Milán, ciudad donde nació en 1966. Tras graduarse en Diseño Industrial en el Art Center College of Design en La Tour de Peilz (Suiza), abrió su propio estudio en 1998. En él, realiza proyectos de interiorismo (showrooms, oficinas, viviendas), diseño (mobiliario, iluminación y productos) y exposiciones.
Entre sus clientes figuran: Alchemy, Arketipo, Bals Tokyo, Barilla, Fiat, Frag, John Richmond, Knoll International, KME Italy Lapalma, Lema, Living Divani, L'Oreal Paris, Malo, Mercedes Benz, Moroso, Paola Lenti, Oluce y Versus. Desde 2013, es director de arte de Lapalma.
Francesco Rota ha recibido dos menciones honoríficas en los premios Compasso d'Oro por la chaise longue Linea y el sofá Island, que forman parte de la colección histórica de estos prestigiosos galardones del diseño industrial italiano. Además, sus trabajos han formado parte de exposiciones y de eventos realizados por instituciones internacionales como la Bienal Internacional del Diseño de St. Etienne, la Feria de Hanover, la Triennale de Milán o la Royal Academy of Arts de Londres.
FRANCESCO ROTA EN INTERIORES MINIMALISTAS
---
SOBRE LAPALMA:
Lapalma es una empresa italiana de muebles de diseño contemporáneo, modernos y funcionales, con más de 30 años de historia y sede en Cadoneghe, cerca de la ciudad de Padua (Italia). Su historia se remonta a los años 80, cuando los hermanos Marcato deciden iniciar una actividad propia. La idea evoluciona rápidamente y nace Lapalma, empresa que desde sus orígenes trabaja con materiales naturales y reciclables. También se invierte en maquinaria, entran en escena nuevos materiales y se delinea una vasta gama de productos para el contract, desde hoteles a tiendas, desde museos a aeropuertos.
De la fusión entre funcionalidad y estética nacen productos de fuerte personalidad y colaboraciones con diseñadores de renombre internacional como Shin y Tomoko Azumi, Enzo Berti, Patrick Norguet, Simon Pengelly, Mario Ruiz, Andreas Störiko, Alfredo Häberli y Francesco Rota que, desde abril de 2013, es director artístico de la firma. Prueba de esta destacada trayectoria son los muchos reconocimientos que Lapalma ha ido cosechando a lo largo de los años, premios como el Good Design Award, el FX International Interior Design Award y el Design Plus.
LAPALMA EN INTERIORES MINIMALISTAS
---
Información e imágenes facilitadas por la empresa
You might also like