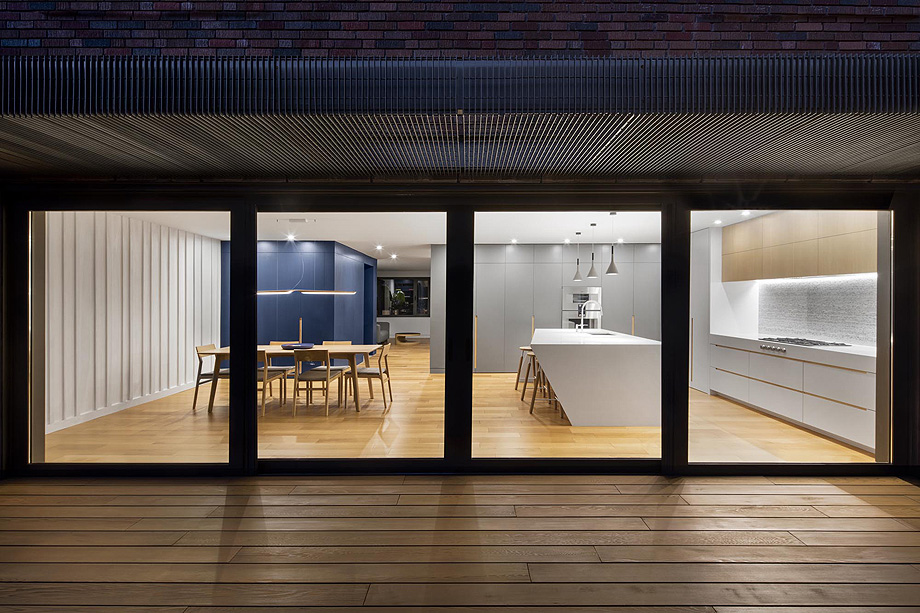 RESIDENCIA COURCELETTE:
El proyecto de reforma de esta casa unifamiliar de finales de la década de 1940, ubicada en Montreal, no sólo la abrió al exterior, sino que revitalizó la relación entre los espacios y creó un vínculo visual entre ellos. La nueva vivienda, cuyo diseño se debe al estudio canadiense naturehumaine, disfruta de esta manera de cálidos interiores que fluyen con calma a través de los materiales, las formas y los colores.
El primer paso que se dio fue abrir la fachada posterior, que da al jardín, mediante una superficie acristalada con puertas correderas de 7,40 m de largo, eliminando las barreras existentes entre la casa y la terraza exterior. Cuando las puertas se abren, se amplía la superficie del comedor y la cocina que conecta físicamente con la terraza a través del pavimento de madera y la dirección de las lamas. Sobre este espacio al aire libre, un enrejado metálico crea una zona de porche y filtra el calor del sol hacia la cocina y el comedor.
El programa funcional ha ubicado las zonas comunes (dos salas de estar en dos diferentes niveles, comedor, cocina y aseo) en la planta a nivel de calle, donde una pared móvil de acero microperforado modula el nivel de privacidad entre la sala de estar y la habitación familiar con doble altura. El primer piso acoge el dormitorio principal con baño propio, dos habitaciones sencillas, un segundo baño y una zona de estudio abierta con espacio de almacenamiento en una de sus paredes.
Explican los arquitectos que «en cada elemento de este proyecto subyace la pasión de los propietarios por los detalles«. Detalles que cobran fuerza en el paisajismo de la terraza y el exhuberante jardín vertical interior, el volumen multifuncional azul del nivel inferior que oculta el baño y espacio de almacenaje o la escultural isla de la cocina. Además, concluyen los autores del proyecto, al «jugar con los pisos existentes y crear nuevos espacios, se ha transformado la percepción de las dimensiones de la casa.»
---
LAS IMÁGENES:
---
EL VÍDEO:
---
FICHA TÉCNICA:
Proyecto:

Residencia Courcelette.

Ubicación:

Outremont / Montreal (Canadá).

Completado:

agosto 2017.

Autor:

naturehumaine [architecture+design].

Superficie:

350 m².

Contratista:

Sienna Construction.

Vídeo:

 David Dworkind.

Fotografías:

Adrien Williams.
---
PLANIMETRÍA: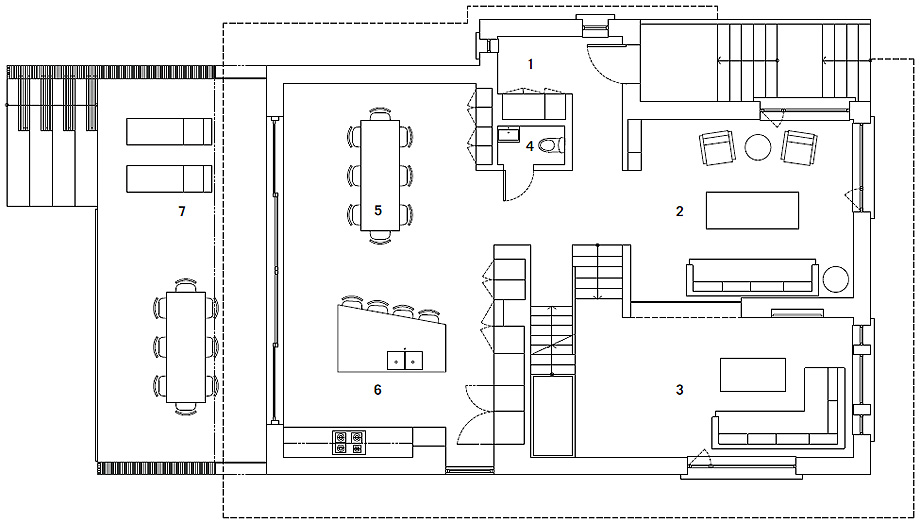 Planta baja
---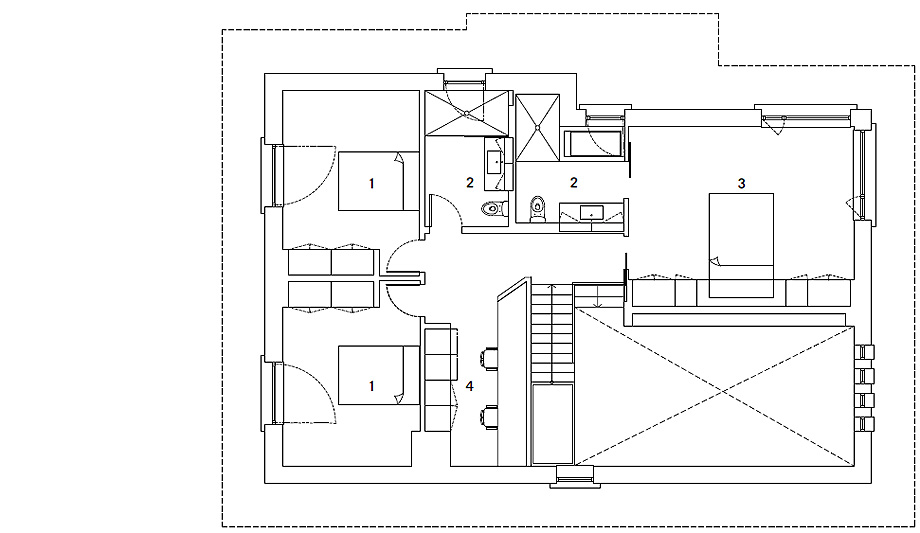 Primera planta
---
SOBRE NATUREHUMAINE: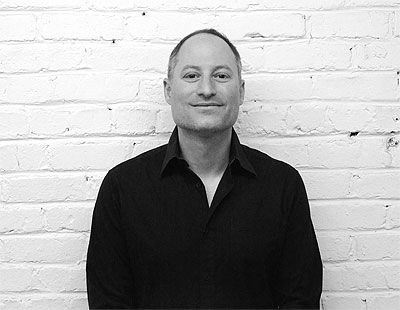 naturehumaine [architecture+design] es un estudio canadiense de arquitectura y diseño, fundado por Stéphane Rasselet (en la imagen) y Marc-André Plasse, que ya no se encuentra en el despacho, cuyos proyectos se desarrollan en los sectores residencial, comercial y cultural.
Entre los numerosos premios recibidos se encuentran el Grands Prix du Design (2017) en la categoría de Espacios comerciales con menos de 150 pies cuadrados, por la tienda Aesop Mile End; Award of Excellence de Quebec Order of Architects en la categoría de Diseño Interior (2017) por su proyecto residencial In Supension; y el Grands Prix du Design (2016) en la categoría Área Residencia entre 150-300 metro cuadrados, también por In Suspension.

La filosofía del estudio es «poner al ser humano en el centro de nuestras preocupaciones y crear ambientes inspiradores y dinámicos. En esencia, creemos que la arquitectura es un poderoso medio de inmersión que tiene la capacidad de influir en nuestro estado mental y regular nuestras interacciones con el mundo. La arquitectura forma el marco que equilibra cuidadosamente el ecosistema que opera a escala de la ciudad, la casa y el ser humano. Queremos profundizar en el núcleo de la experiencia humana y ofrecer espacios que afecten positivamente a nuestra experiencia diaria.»
NATUREHUMAINE EN INTERIORES MINIMALISTAS
---
Información e imágenes facilitadas por el estudio
You might also like