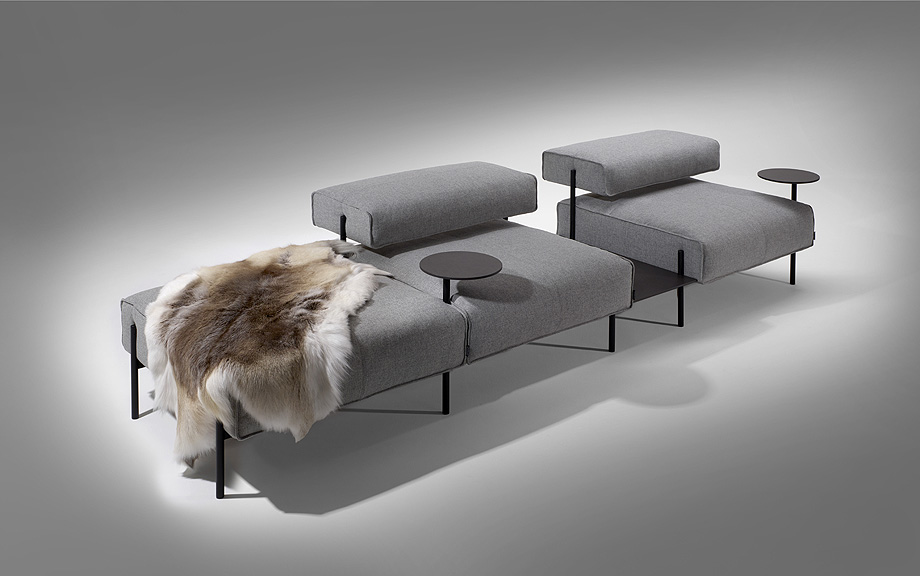 LUCY:
La primera colaboración entre la firma sueca Offecct y la diseñadora londinense Lucy Kurrein es este sofá modular que se presenta como un sofá donde descansar pero también trabajar. Este programa modular, presentado durante la Stockholm Furniture & Light Fair 2018, se compone de asientos tapizados individuales montados en una estructura de acero, lacada en negro, que se pueden unir para crear un sistema personalizado.
La colección se ha diseñado para que pueda ofrecer soluciones ajustadas a los requisitos de diferentes entornos públicos, donde las personas puedan trabajar y no sea sobre la tradicional mesa. Para ello, los asientos de generosas proporciones se combinan con perchas y mesitas giratorias para el ordenador portátil o para apoyar la taza de cafe, mientras que debajo de los respaldos, que también pueden utilizarse como superficies de apoyo, se ubican discretamente puertos USB. Todo ello cumpliendo también con las necesidades de confort que requiere cualquier usuario.
Aunque el sofá modular de Lucy Kurrain y Offecct ha sido diseñado para espacios públicos, como los vestíbulos de los hoteles, tanto el fabricante de mobiliario sueco como la diseñadora británica piensan que se trata de una opción factible para otro tipo de interiores, ya que recoge una tendencia en alza como es la de trabajar en una forma alternativa a las consideradas tradicionales.
---
LAS IMÁGENES:
---
SOBRE LUCY KURREIN: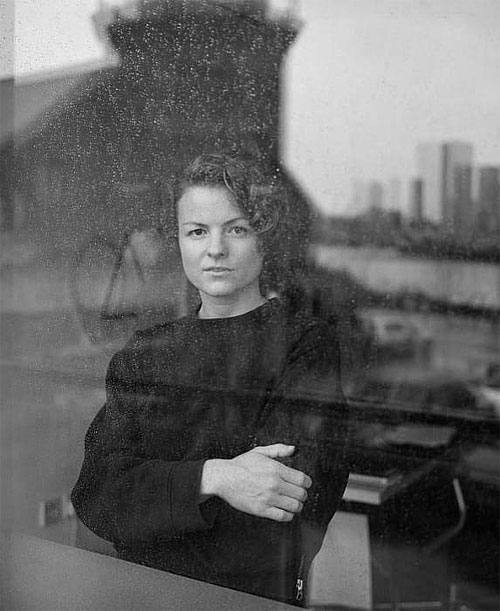 Después de estudiar en el Leeds College of Art and Design y estudiar diseño de mobiliario en la Universidad de Buckinghamshire, Lucy Kurrein empezó su carrera profesional con el diseñador Mattew Hilton. Con él, adquirió el rigor que exige el trabajo de diseño industrial, los conocimientos necesarios sobre materiales y tecnología de fabricación, y trabajó para clientes como SCP, Case Furniture, Habitat y De La Espada.

De 2009 a 2013, trabajó en el estudio PearsonLloyd, donde desarrolló proyectos de diseño en el sector de oficina, salud, menaje del hogar, espacios públicos y transporte, con reconocidos fabricantes de mobiliario como Bene, Alias, Modus y Tacchini.

En 2013, la diseñadora fundó su propio estudio y, durante el primer año, lanzó el sofá Lincoln y las mesitas Lily para SCP. Lucy Kurrein debutó en el mercado español de la mano de la firma Capdell, para la que diseñó la butaca Panel, un original asiento con estructura de pletina o varilla de acero y revestida de cuero o lana, por la que fue galardonada con el Young Furniture Designer of the Year por la revista Home and Gardens.
LUCY KURREIN EN INTERIORES MINIMALISTAS
---
SOBRE OFFECCT:
Offecct fue fundada, en el año 1990, por el CEO Kurt Tingdal y el Jefe de Diseño Anders Englund. Situada en la localidad sueca de Tribo, la empresa creció rápidamente hasta convertirse en un importante fabricante de muebles de diseño con numerosos premios internacionales recibidos durante los últimos años.
Para mantener su cuidado catálogo, la firma trabaja en estrecha colaboración con algunos de los diseñadores más renombrados del panorama internacional como Alfredo Häberli, Broberg & Ridderstråle, Carlos Tíscar, Christophe Pillet, Claesson Koivisto Rune, Front, GamFratesi, Jean-Marie Massaud, Luca Nichetto, Mario Ruiz y Nendo, entre otros.
Offecct cree que el diseño cualitativo, innovador y sostenible crea interiores que tienen un impacto positivo en las personas. También defiende que la Responsabilidad Social Corporativa  (RSC) es tan importante como la calidad y el diseño, que es evidente en la elección de los materiales, la energía, el transporte y la logística. Muchos de sus productos han sido aprobados por la ecoetiqueta nórdica y Møbelfakta. Offecct también está certificada según la norma ISO 9001 (calidad ), así como la norma ISO 14001 (medio ambiente).
Sus diseños han equipado espacios públicos en todo el mundo: las oficinas de Skype y la Asociación de Arquitectos de Suecia, el Nobis Hotel en Estocolmo, el MoMA y el estudio de MTV en Nueva York, Microsoft en Hong Kong, Philips en Estambul, las oficinas de Statoil de Noruega y BMW en Bélgica.
OFFECCT EN INTERIORES MINIMALISTAS
---
Información en la web de Offecct y en la de Lucy Kurrein. Imágenes en la web de Offecct
You might also like