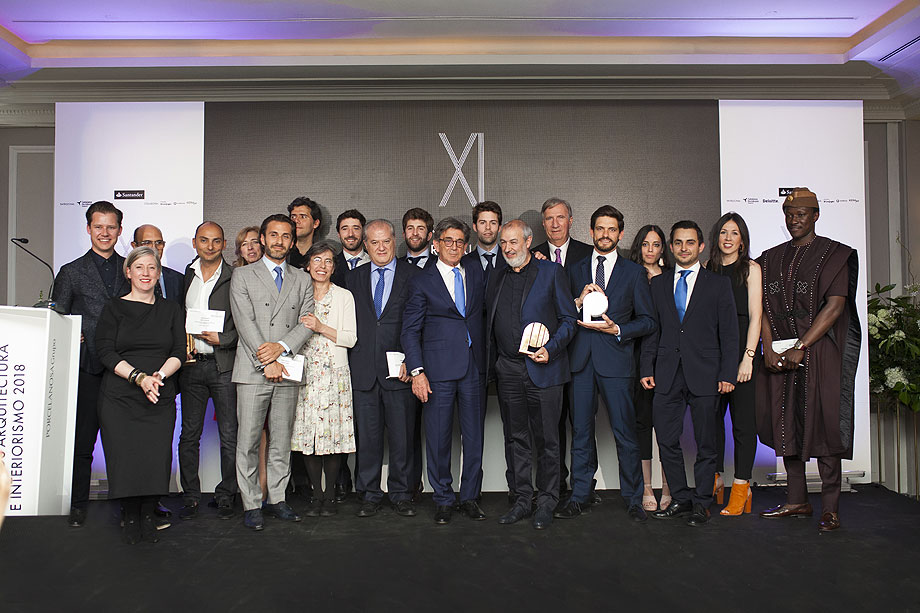 LOS GANADORES:
El pasado 27 de abril, se celebró la XI edición de los Premios PORCELANOSA Grupo de Arquitectura e Interiorismo. El lugar elegido fue el Hotel Villa Magna de Madrid, que se convirtió en el escenario principal de este acto, donde se congregaron 330 profesionales de la arquitectura, el interiorismo y la promoción inmobiliaria. Las categorías galardonadas fueron: Proyectos de Futuro-Estudiantes, Proyectos de Futuro-Profesionales y Proyectos Realizados.
En la categoría Proyectos de Futuro, el reto, tanto para profesionales como para estudiantes, era realizar una propuesta para el showroom de las instalaciones centrales de PORCELANOSA Grupo en Vila-real (Castellón), cuyos planos en Autocad fueron facilitados desde la organización.
El galardón de Proyectos de Futuro-Estudiantes recayó en Luis Orbaiceta de Navascués, Rubén Aldaba Vizcay y Santiago de Pablo Fernández del Máster BIM Manager en CICE, Madrid por su proyecto The Origami.
En la categoría Proyectos de Futuro-Profesionales, el proyecto galardonado fue Watercourse, ideado por Miguel Ángel Mayo, Silvia Díaz, Carmen Córcoles y Borja Cuevas, del estudio de arquitectura Kiga Studio.
En el apartado Proyectos Realizados, en los que se enmarcan los mejores proyectos reales que se han llevado a cabo entre enero de 2016 y febrero de 2018 con los productos del Grupo, el galardón fue otorgado a César Frías Enciso, del estudio de arquitectura Morph Estudio, por el proyecto residencial Terrazas del Lago, construcción pensada y ejecutada por Frías junto al grupo Inmoglaciar.
En el acto también se otorgaron los tradicionales Premios a la trayectoria Profesional y al trabajo de toda una vida. Dichos reconocimientos recayeron sobre los estudios de arquitectura RCR, Conran & Partners y Fenwick Iribarren Architects.
En esta edición, el jurado encargado de otorgar los premios estuvo formado por cinco profesionales de la arquitectura y el diseño nacionales e internacionales: Luis Vidal (luis vidal + arquitectos), Rebecca Jones (RD Jones), Ricardo Mateu (UHA London), Pierre-Yves Rochon (Pierre-Yves Rochon) y Rafael Robledo (Rafael Robledo Arquitectos). El compromiso estético y medioambiental y la innovación tecnológica han sido los pilares que han sustentado esta XI edición.
---
PROYECTOS DE FUTURO ESTUDIANTES: THE ORIGAMI, DE LUIS ORBAICETA DE NAVASCUÉS, RUBÉN ALDABA VIZCAY Y SANTIAGO DE PABLO FERNÁNDEZ:
Volver al origen de la naturaleza para entender las raíces ancestrales de PORCELANOSA. Ésta es la máxima que han seguido los tres estudiantes que han ideado The Origami, un proyecto basado en las infinitas posibilidades que ofrece la orografía española. Presentada como una cueva, la composición crea una malla que horada el material y recrea un paraje natural para el visitante. Los materiales de PORCELANOSA Grupo, que han empleado sus autores, reproducen los contrastes naturales de un paisaje armónico, rocoso y colorido.
El espacio se ilumina sin artificios mediante un lucernario que, a su vez, crea una simbiosis entre la roca y la malla para cobijar a los que allí se encuentren.
La distribución aprovecha el perímetro existente del edificio para ubicar los espacios de vivienda (zonas expositivas). Su entrada de luz libera el núcleo central con el lucernario para las circulaciones y exposiciones singulares. Además, la propia malla delimita los distintos espacios a excepción de las zonas perimetrales, que se dividen entre sí por tabiques de acabados distintos.
---
PROYECTOS DE FUTURO-PROFESIONALES: WATERCOURSE, DE MIGUEL ÁNGEL MAYO, SILVIA DÍAZ, CARMEN CÓRCOLES Y BORJA CUEVAS (KIGA STUDIO)

Basándose en el cauce de un río (de ahí el nombre), el plan arquitectónico de Miguel Ángel Mayo, Silvia Díaz, Carmen Córcoles y Borja Cuevas (Kiga Studio) recupera la esencia del Mediterráneo. Las corrientes de agua, que han incorporado en el showroom de la sede central del Grupo, atraviesan todo el espacio a través de un arroyo acristalado. Esta zona transitable permite pasear y ver los distintos ambientes de la exposición, formada por cinco niveles o elementos naturales (olas, tierra, maderas, rocas, deshielo, cumbre nevada y lluvia) que desembocan en el mar.
Es aquí donde se encuentra el oxígeno puro, representado por una burbuja de material KRION®, y se produce el ciclo hidrológico. El proceso de evaporación lleva el agua de nuevo a la montaña a través de la lluvia y así sucesivamente. Bienestar del hombre y la tierra. Ciclo natural del evolucionismo.
---
PROYECTOS REALIZADOS: TERRAZAS DEL LAGO, DE CÉSAR FRÍAS ENCISO (MORPH ESTUDIO):

Ubicada frente al parque de Felipe V y al lago Valdebebas, el segundo pulmón verde de Madrid, este conjunto de 83 viviendas de 1 a 5 dormitorios cuenta con más de 2000 m² de terrazas, además de piscina, pista de pádel y zonas ajardinadas.
La fachada curva ha sido construida con Krion® y Ston-ker de PORCELANOSA Grupo, y está pensada para aprovechar al máximo la luz solar. Cada una de las nueve plantas del edificio dispondrá de un sistema energético que aprovechará los rayos solares. Un diseño vanguardista y sostenible.
---
PREMIOS ESPECIALES:
En cuanto a los Premios especiales, los ganadores fueron Mr. Nana Kwame Bediako por el  mejor proyecto africano construido con productos Porcelanosa, Grupo Inmoglaciar por el proyecto Terrazas del Lago como la iniciativa residencial más destacada por su fachada ventilada de Krion®, Kronos Homes por su apuesta por la arquitectura de vanguardia y el Estudio Adeli & de Rham por el uso de materiales Porcelanosa en The Emirates Hall de la ONU en Ginebra (Suiza).
---
Información e imágenes facilitadas por PORCELANOSA Grupo
You might also like