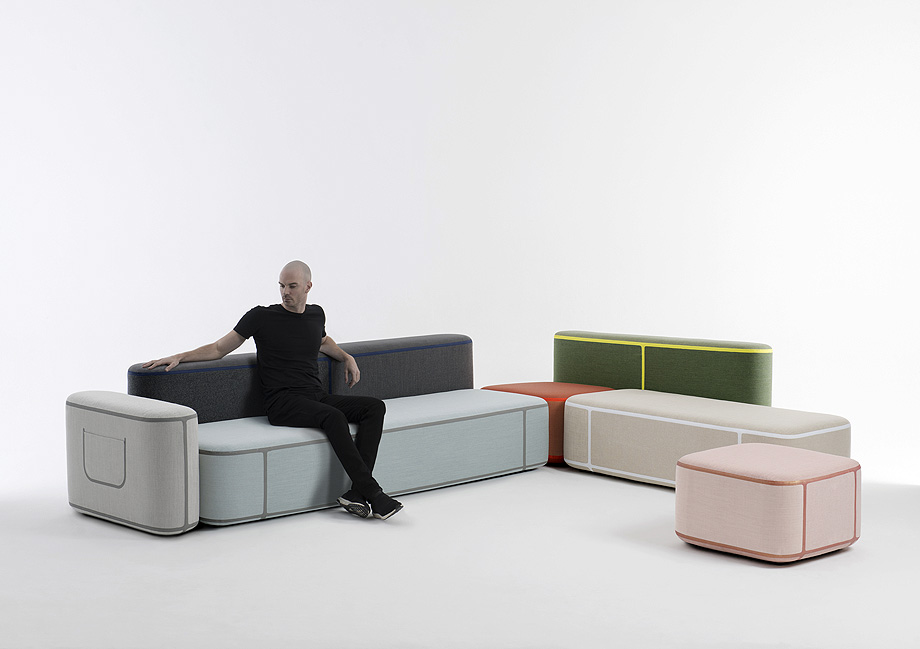 TAPE:
El sofá modular Tape es un nuevo ejemplo del interés que el diseñador Benjamin Hubert siempre ha mostrado por las nuevas tecnologías y la sostenibilidad. El fundador del estudio Layer presentó esta nueva colección, que se completa con una mesa de centro, de la mano de la firma Moroso, responsable de la producción, en la pasada edición del Salón Internacional del Mueble de Milán.
Tape es la octava colaboración con la empresa italiana y el primer sofá modular de Hubert, que utiliza cinta (tape) de poliuretano para unir descartes de piezas textiles que, en otro caso, se hubieran desechado. La colección fue inspirada por la industria del deporte, donde la cinta se emplea para fabricar chaquetas de snowboard, esquís y ropa para la lluvia.
Explica Benjamin Hubert que en «Layer siempre buscamos las tendencias de la moda y la tecnología en industrias paralelas. La colección se inspira en las propiedades técnicas y estéticas de las chaquetas de snowboard, una técnica que nos resulta fascinante. Este método de unión nos permitió poner de relieve cómo puedes usar piezas más pequeñas de deshechos textiles para crear muebles tapizados más sostenibles«. Fue necesaria la asociación con un fabricante de prendas técnicas para desarrollar una cinta que pudiera utilizarse en mobiliario. Además, se usó avanzada maquinaria de unión térmica para la fabricación.
El sofá Tape está formado por una serie de módulos de diferentes formas y medidas que se pueden combinar para satisfacer las necesidades de una amplia gama de espacios y estilos. Cada volumen (asiento, respaldo, reposabrazos) está tapizado con varias piezas de telas unidas con cinta de poliuretano, que dibuja un esquema geomético en la superficie del sofá. Los bolsillos, que también están unidos con la misma cinta, permiten guardar revistas, libros o el mando de la televisión.
La tapicería escogida para el sofá Tape pertenece a la conocida marca textil danesa Kvadrat. Con tela de la misma empresa se fabrica también el estante tipo hamaca de la mesa. Ambas piezas fueron prototipadas en el Reino Unido en el estudio LAYER.
---
LAS IMÁGENES:
---
LOS MÓDULOS:
---
SOBRE BENJAMIN HUBERT (LAYER):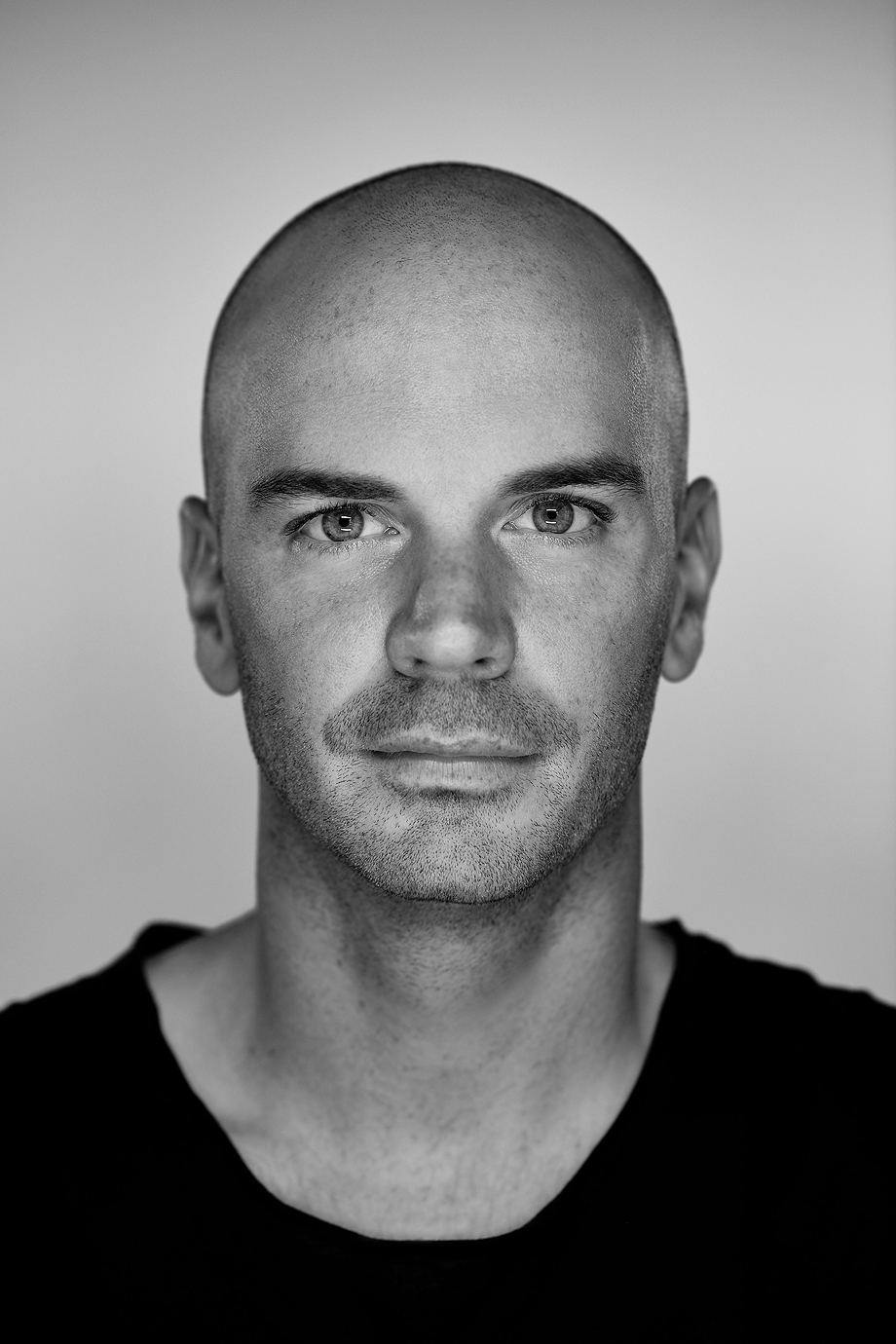 El diseñador Benjamin Hubert se graduó en Diseño Industrial y Tecnología en Loughborough University. Después de adquirir experiencia en varias consultorías de diseño de renombre como Seymour Powell, DCA y Tangerine, fundó el estudio que llevaba su nombre, en 2009,  en North East London.  Durante este periodo, trabajó con multinacionales como Nike, Samsung, LG, Mamas and Papas, Coca-Cola y Eurostar.
En septiembre de 2015, el diseñador relanzó su estudio con el nombre de Layer, centrado en el diseño de productos tanto físicos como digitales, incluyendo productos y software conectados. Este momento de su carrera significó un importante cambio en la dirección de Hubert, que ha creado muebles y utensilios para marcas como Moroso, Ligne Roset y Menu.
Actualmente, Benjamin Hubert lidera un equipo de diseñadores industriales que trabajan en una amplia gama de sectores, incluyendo mobiliario, iluminación, productos de consumo, instalaciones arquitectónicas y dirección de arte. Hubert trabaja a nivel internacional en una amplia variedad de mercados, incluyendo Europa, Asia, Australia, Brasil y Estados Unidos.

El estudio también ha recibido diferentes y prestigiosos premios incluyendo: Diseño del Año (British Design awards 2010), Mejor Producto (100% design/Blueprint awards 2009) y EDIDA International Young Designer of the Year 2010, entre otros.
BENJAMIN HUBERT EN INTERIORES MINIMALISTAS
---
SOBRE MOROSO:

La firma italiana de mobiliario Moroso es conocida por la creatividad y la calidad de sus productos de diseño contemporáneo, que viene fabricando desde hace más de 50 años en colaboración con los diseñadores más destacados del panorama internacional como Ron Arad, Carlo Colombo, Enrico Franzolini, Marc Newson, Toshiyuki Kita y Patricia Urquiola, entre otros. Además, fue una de las primeras empresas de su sector en conseguir la certificación ISO 14001, que se otorga a aquellas organizaciones que enfocan sus esfuerzos en conseguir una protección medioambiental en sus procesos de producción mediante el uso de materiales naturales y reciclables.
MOROSO EN INTERIORES MINIMALISTAS
---
Información e imágenes facilitadas por el estudio
You might also like