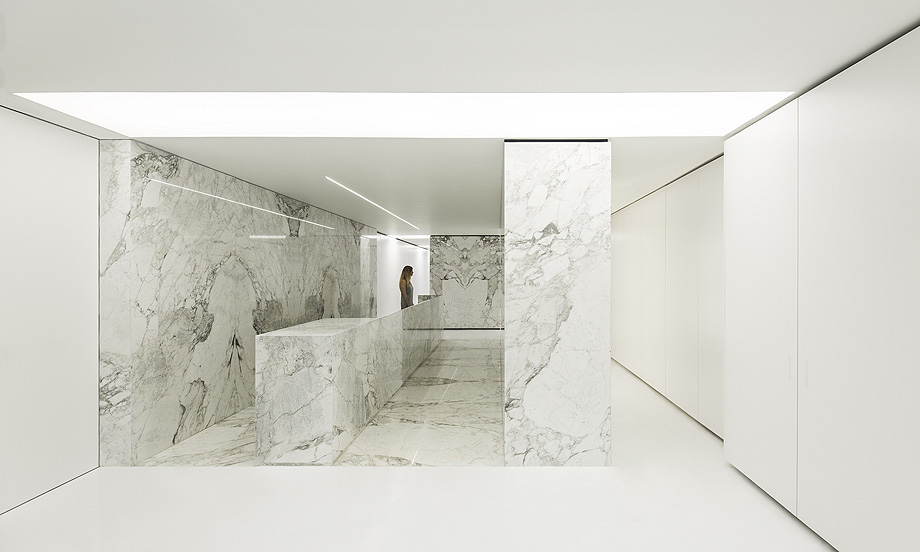 PETRA. THE STONE ATELIER:
Hace ahora un año, la empresa española Stonehegen, especializada en el universo de la piedra natural, abría su nuevo showroom en el corazón de la ciudad de Valencia, frente al edificio modernista del Mercado Colón. Petra. The Stone Atelier, diseñado por Fran Silvestre Arquitectos en colaboración con el estudio Alfaro Hofmann, es la síntesis formal y matérica del amor por el minimalismo y la belleza de un material noble como la piedra natural.
El monumento megalítico crómlech (formado por piedras o dólmenes dispuestos sobre el suelo en forma circular o elíptica), que inspiró la marca Stonehegen, ha servido aquí para trazar la geometría de un local donde convergen tres diferentes actividades, que se complementan. Por un lado, el local sirve como espacio expositivo de las piedras comercializadas por la empresa con sede en Beniparrell. Una gran pieza de mobiliario de forma circular oculta en su interior distintas muestras de piedras naturales, de manera que «las tonalidades de los mármoles, las cuarcitas… no se contaminan entre ellas, pudiendo focalizarse la atención en el material que se observa».
Explica el estudio de arquitectura que «los materiales se ordenan siguiendo la gama cromática. El resto del tiempo, el espacio se muestra aparentemente vacío, neutro y blanco, donde permanecen escondidas las distintas piedras, algunas de ellas semipreciosas». En el centro de este elemento circular, se ha situado de forma concéntrica, igual que en la construcción neolítica, una confortable sala de reuniones tapizada íntegramente en color negro.
Petra. The Stone Atelier se utiliza también como espacio de exposición de las piezas de mobiliario en piedra natural desarrolladas por el interiorista y diseñador industrial Francesc Rifé; el coleccionista, galerista y editor Miquel Alzueta; el diseñador Joan Gaspar; Studio Petra; y el propio Fran Silvestre Navarro para la empresa.
En su tercer uso, el local acoge las oficinas de la firma, ubicadas en cajas de cristal transparente que las limitan física pero no visualmente, sin interrumpir la profundidad espacial.
Por otra parte, la iluminación  se integra con elegancia en el espacio arquitectónico, delimitando y señalizando, en función de la necesidad a la que dé respuesta. Mientras «la luz natural está tamizada mediante lucernarios, la artificial ayuda a interpretarla geometría del local que se dibuja en el techo», concluye el estudio valenciano.
---
INFORMACIÓN PRÁCTICA:
Carrer del Comte de Salvatierra

, 23.
46004 Valencia.

De lunes a viernes: de 10.00 a 14.00 y de 16.00 a 20.00 horas.
Sábados: de 10.00 a 14.00 horas.

T. 963 73 87 56.

 www.thisispetra.com
---
LAS IMÁGENES:
---
FICHA TÉCNICA:
Proyecto:

Petra. The Stone Atelier.

Ubicación:

Valencia (España).

Completado:

2017.

Arquitectura:

Fran Silvestre Arquitectos.

D

iseño interior:

Alfaro Hofmann.

Equipo del proyecto:

Fran Silvestre, Ricardo Candela y Rubén March.

Colaboradores:

María Masià, Fran Ayala, Estefanía Soriano, Pablo Camarasa, Sandra Insa, Santi Dueña, David Sastre, Sevak Asatrián, Álvaro Olivares, Eduardo Sancho, Esther Sanchís, Vicente Picó, José Manuel Arnao, Rosa Juanes, Gemma Aparicio, Giuseppe Felici, Luiz Eduardo Lupatini, Silvia Bonet, Carmela Martí y Sergio Llobregat.
Superficie construida: 638 m².
Mobiliario interior:
Mobiliario exposición mesas y objetos:

Petra. The Stone Atelier.

Mesas oficina:

Neta 200 x 100 cm (Dynamobel) y Reuniones NETA de 260 x 110 cm (Dynamobel).

Sillas oficina:

operativa DIS (Dynamobel), confidente TRAZO giratoria (Dynamobel) y operativa SLAT 16 respaldo alto (Dynamobel).
Instalaciones:
Climatización:

aire acondicionado (MaximBienestar).

Mecanismos:

serie 990 de Jung.
Altavoces integrados: Sonoideas.

Mecanismos:

serie 990 de Jung.
Iluminación:
Foseados en falso techo. Luminaria lineal fluorescente y LED: Enrique Ferrer Plaza Lighting Designer.

Textil tensado LED retroiluminado:

Enrique Ferrer Plaza Lighting Designer.

Laser Blade:

Iguzzini.
Pavimentos:
Resina epoxi blanco mate.

Mármoles:

Stonehegen.
Revestimientos:
Interiores:

placa cartón yeso con acabado de esmalte mate al agua.

Panelado de tablero DM lacado en blanco:

Papema.

Baños:

mármol negro Marquina Stonehege.

Falsos techos:

placas lisas de cartón-yeso.

Pinturas de paredes y techos:

esmalte mate al agua.
Carpintería y cerrajería:
Carpintería interior:

puertas de paso y armarios coplanares DM lacado blanco (Papema).

Vidrios:

doble vidrio templado (Cristalería Monserrat).

Cerrajería:

vidrio templado laminado (Cristalería Monserrat).
Baños:
Sanitarios:

inodoro serie Link (Flaminia).

Bastidores y pulsador:

Geberit.

Griferías:

Pan (Zuchetti).

Iluminación:

iluminación LED insertada en el espejo: Erique Ferrer Plaza Lighting Designer.
Fotografías: Fran Silvestre Arquitectos.
---
ESBOZOS: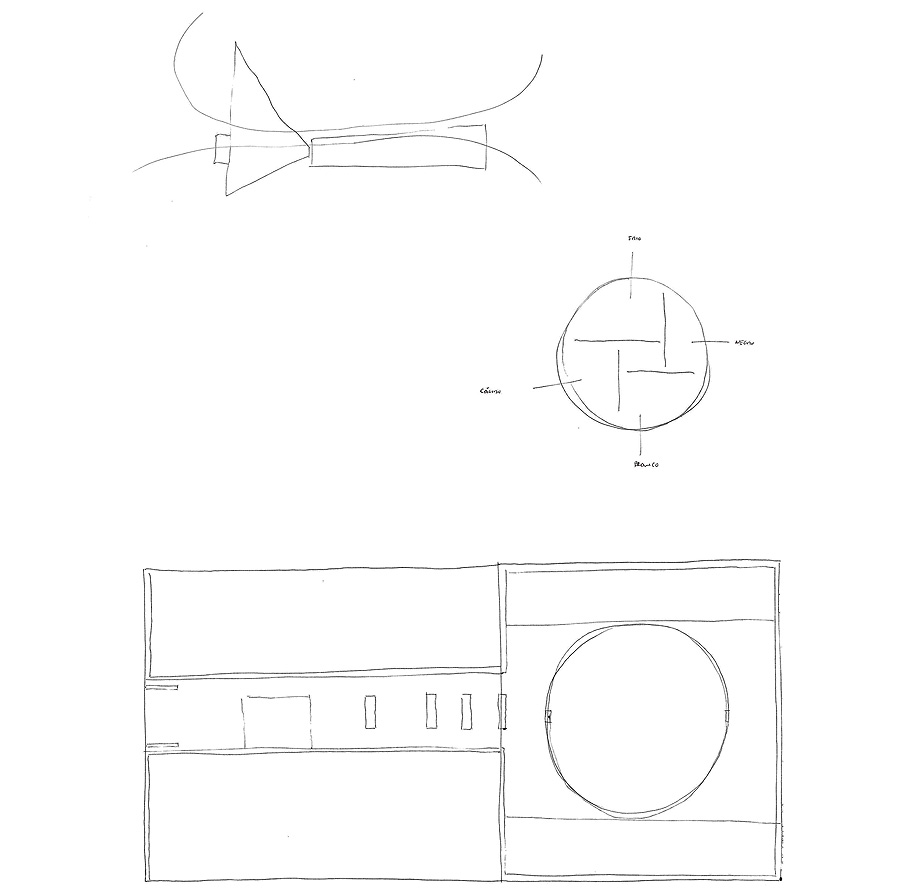 ---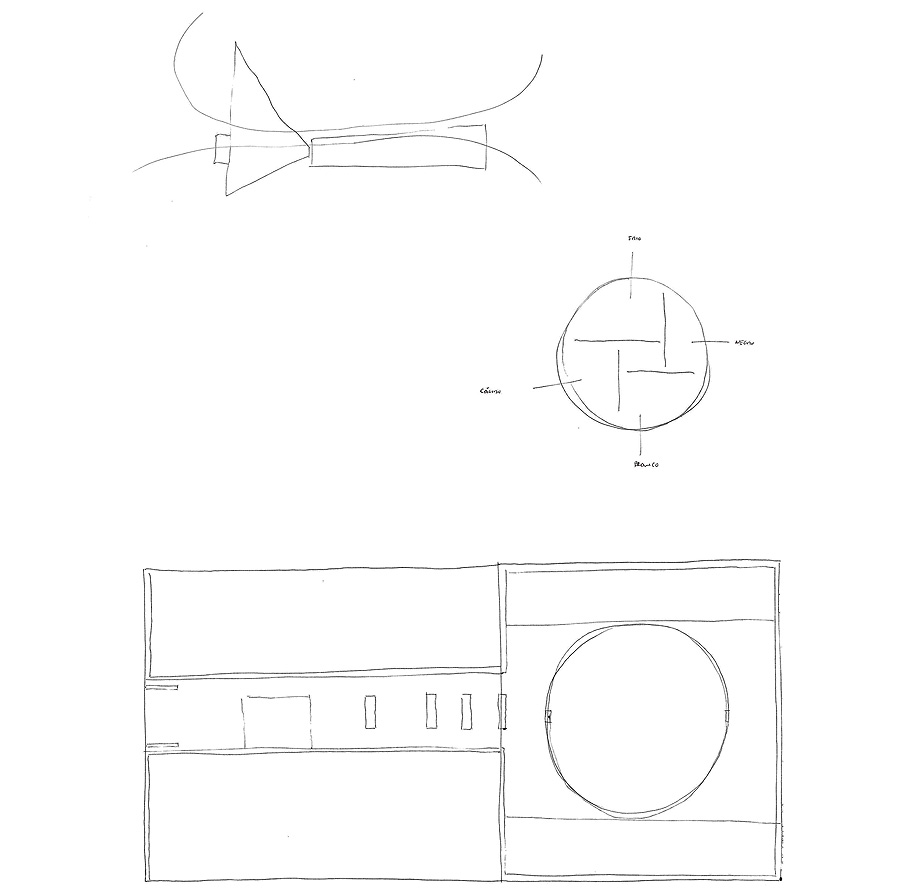 ---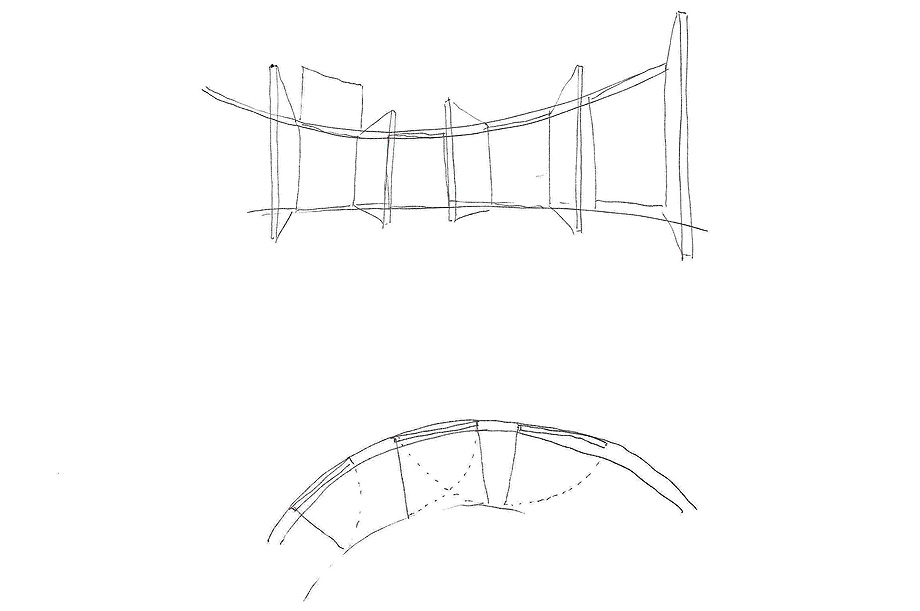 ---
PLANIMETRÍA: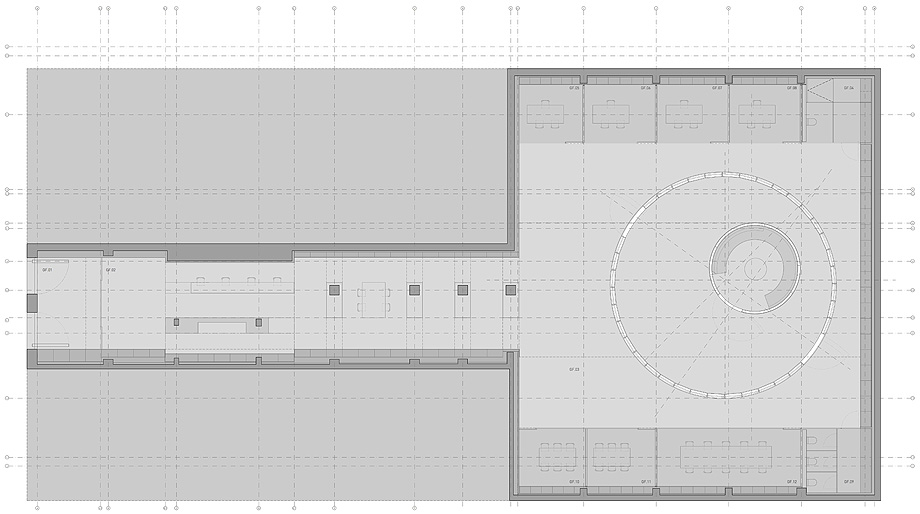 Planta
---

Sección
---

Sección
---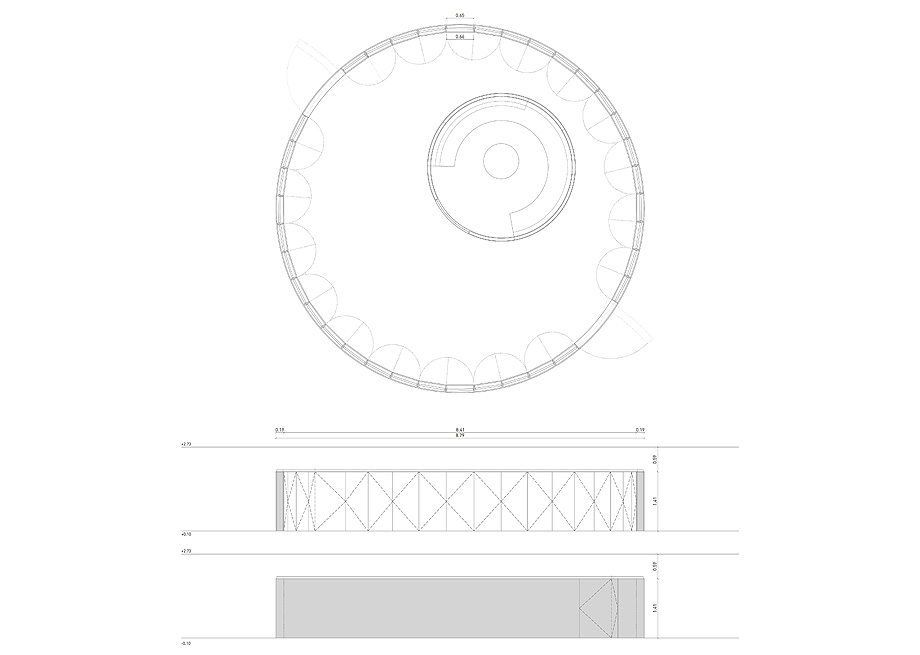 Planta y sección mobiliario circular
---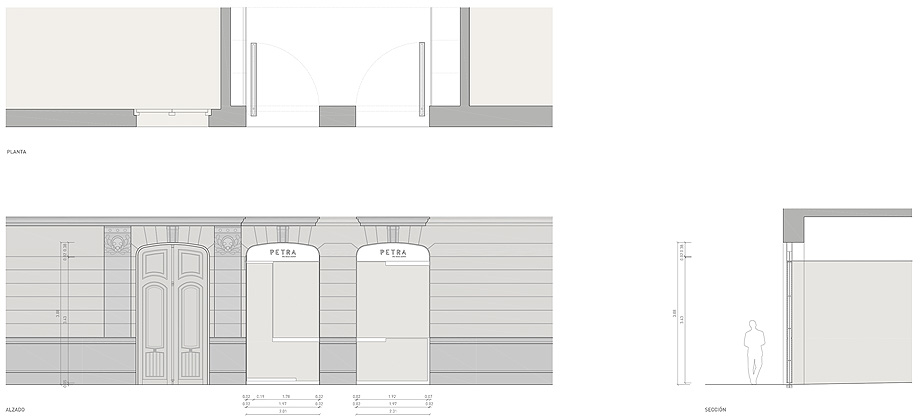 Planta, alzado y sección zona entrada
---
EL VÍDEO:
---
SOBRE FRAN SILVESTRE ARQUITECTOS: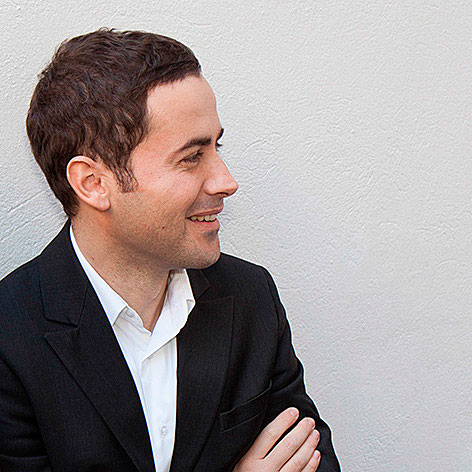 El estudio Fran Silvestre Arquitectos fue fundado por Fran Silvestre en el año 2005. FSA está formado por un grupo multidisciplinar de arquitectos que comparten un mismo proyecto: la participación activa de todos sus componentes, el trabajo en equipo y la pasión por su trabajo como esencia del estudio. El despacho lleva a cabo toda una serie de proyectos en los que se tienen en cuenta factores como la modulación, la seriación o la luz, haciendo un uso constante de una innovación tanto material como tecnológica.
Desde su creación, FSA se ha centrado en la ejecución de proyectos de pequeña escala como la Casa del atrio (2009), la Casa en la ladera de un castillo (2010), la Casa del Acantilado (2012) o la Casa Balint (2014) y en el diseño de objetos como la silla Alis, colaborando con otros estudios como Alfaro Hofmann en diseño interior.
Los proyectos del estudio han sido publicados en revistas internacionales de arquitectura y diseño, entre las que destacan: TC Cuadernos, Pencil, GG, GA Houses, On-Site o AV3; y han sido expuesto en diversos museos y galerías de arte y diseño tanto a nivel nacional como internacional, como en el caso del MoMA (New architecture in Spain, 2008), en la Ga Gallery de Shibuya-ky en Tokyo (GA Emerging Future International, 2012) o en la Villa Noailles en Hyères (Aimer, aimer, aimer, bâtir, 2013).
También ha recibido varios premios como el Red Dot Design Award, el Product Design 2013 por la Casa del acantilado, en Calpe, además de ser también finalista del portal online Archdaily en la categoría de Mejor Casa durante los años 2011 y 2012, siendo seleccionadas la Casa del atrio y la Casa en la ladera de un castillo, en la primera ocasión, y Casa del Acantilado, en la segunda.
Paralelamente, también ha participado en diferentes exposiciones y conferencias.
FRAN SILVESTRE NAVARRO EN INTERIORES MINIMALISTAS
---
SOBRE ALFARO HOFMANN:
El estudio de arquitectura e interiorismo Alfaro Hofmann comienza su actividad en 1982 como complemento a la venta de muebles en su local de la calle del Mar, en Valencia (España). Sus proyectos están dirigidos principalmente al ámbito doméstico y comercial, potenciando el tratamiento integral de la arquitectura, el interiorismo y la imagen gráfica.
En la actualidad, el estudio se encuentra ubicado en la localidad valenciana de Godella, compartiendo instalaciones con la Colección Alfaro Hofmann. Ésta es una entidad privada dedicada a la muestra y divulgación de sus fondos sobre la cultura del objeto cotidiano del siglo XX y, en especial, del electrodoméstico.
El interés de Alfaro Hofmann por el mundo del hogar abarca todas sus dimensiones: desde su evolución estética o aspectos relacionados con la etnología, hasta las últimas tendencias en diseño.
El estudio colabora habitualmente con Fran Silvestre Arquitectos.
ALFARO HOFMANN EN INTERIORES MINIMALISTAS
---
Información e imágenes facilitadas por el estudio
You might also like