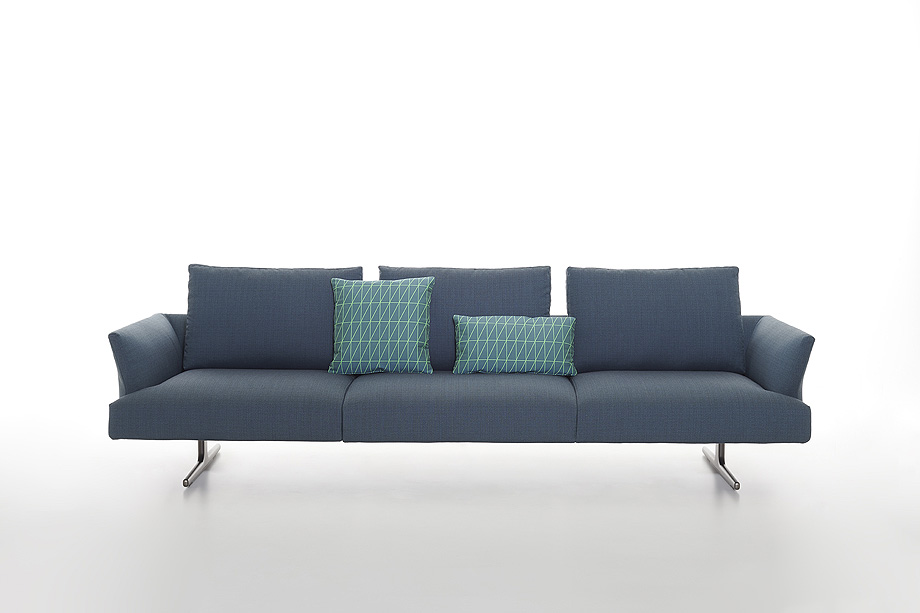 HIRO:
Durante la pasada edición de la Semana del Diseño de Milán, la firma italiana Zanotta presentó como novedad el sofá modular Hiro, un diseño de Damian Williamson, asiduo colaborador de esta firma desde 2010 con productos como los sofás Botero y Flamingo, la silla Ella, las mesas Spillo y Spillino, o la cama Talamo, entre otros. Respecto a esta nueva propuesta, William señala que «Hiro es un sofá con una imagen clara, que parece flotar casualmente sobre el suelo, en línea con mi visión original del sofá 'por excelencia'».
Se trata de un sofá monobloque con un diseño esencial y contemporáneo que se adapta a cualquier ambiente, aportando una personalidad propia. Visualmente, parece ligeramente elevado del suelo, un efecto visual que se consigue gracias al diseño de sus patas en forma de "T" invertida. Aunque lo que distingue principalmente a este moderno sofá son las líneas que se extienden a lo largo del perímetro del reposabrazos que, en contraste con la suavidad del perfil interno, crean un encuentro curioso con la estructura y mejoran su sofisticación y elegancia.
«Mi interés radica en encontrar respuestas bien razonadas a las preguntas continuas. La riqueza de un proyecto se deriva de una idea fuerte, lo suficientemente sensible como para ser el punto de partida del proceso creativo», explica Damian Williamson.
El programa optimiza la comodidad gracias al ancho del asiento mientras que el reposabrazos y el respaldo se proponen en la misma altura, equipados con cojines grandes que garantizan un soporte ergonómico eficiente.
En cuanto a los materiales utilizados en su fabricación, las patas están disponibles en aleación de aluminio pulido o con acabado de níquel satinado en color natural o negro. La estructura es de acero inoxidable y el relleno en espuma de poliuretano autoextinguible (se apaga sola en caso de incendio y no lo propaga) y fibra de poliéster. El cojín del asiento es de poliuretano y fibra de poliéster termofusible, mientras que el del respaldo es de Solotex®. El revestimiento interior es de nylon y es fijo.
Por último, la tela de los cojines es de algodón y el revestimiento externo es extraíble en tela o cuero.
---
LAS IMÁGENES:
Fotografías: Miro Zagnoli
---
SOBRE DAMIAN WILLIAMSON:
Nacido en Londres, en 1974, Damian Williamson estudió en el London College of Supplies y en la Wimbledon School of Art. En 1998, se graduó en el Departamento de Diseño de Producto de la Universidad de Kingston, en Londres, con una tesis en diseño 3D. Comenzó su carrera trabajando en varios proyectos de diseño, colaborando con distintos estudios de diseño.
Se trasladó a Sandellsandberg, donde trabajó como asistente de Thomas Sandell hasta 2003. Esto permitió a Damian trabajar en una amplia gama de proyectos, entre otros para Artemide, B & B Italia, De Padova y Swedese. Desde 2001, la obra de Damian se ha destacado en numerosas exposiciones y publicaciones tanto en Suecia como en Italia.
De 2002 a 2004, Damian formó parte del jurado de la exposición Greenhouse, un evento para la selección de diseñadores emergentes que tiene lugar en la Stockholm Furniture Fair.
En 2004, fundó su propio estudio con sede en Estocolmo y recibió una beca del Swedish Arts Grants Committe para investigación de diseño. Desde 2005, Damian colabora con la LTH Design University Sweden.
Entre sus principales clientes se encuentran David Design, Gärsnäs, BAS Brand Identity, Forum y Stockholm Furniture Fair.
DAMIAN WILLIAMSON EN INTERIORES MINIMALISTAS
---
SOBRE ZANOTTA:
Fundada, en 1954, por Aurelio Zanotta,
Zanotta
 es una de las firmas líderes de mobiliario de diseño italiano de reconocido prestigio internacional. Desde sus inicios, el diseño de sus productos ha contado con las firmas de arquitectos y diseñadores de fama internacional como Achille Castiglioni, Gae Aulenti, Marco Zanuso, Ettore Sottssas, Joe Colombo, Alessandro Mendini, Ross Lovegrove…
ZANOTTA EN INTERIORES MINIMALISTAS
---
Información e imágenes facilitadas por Zanotta

You might also like