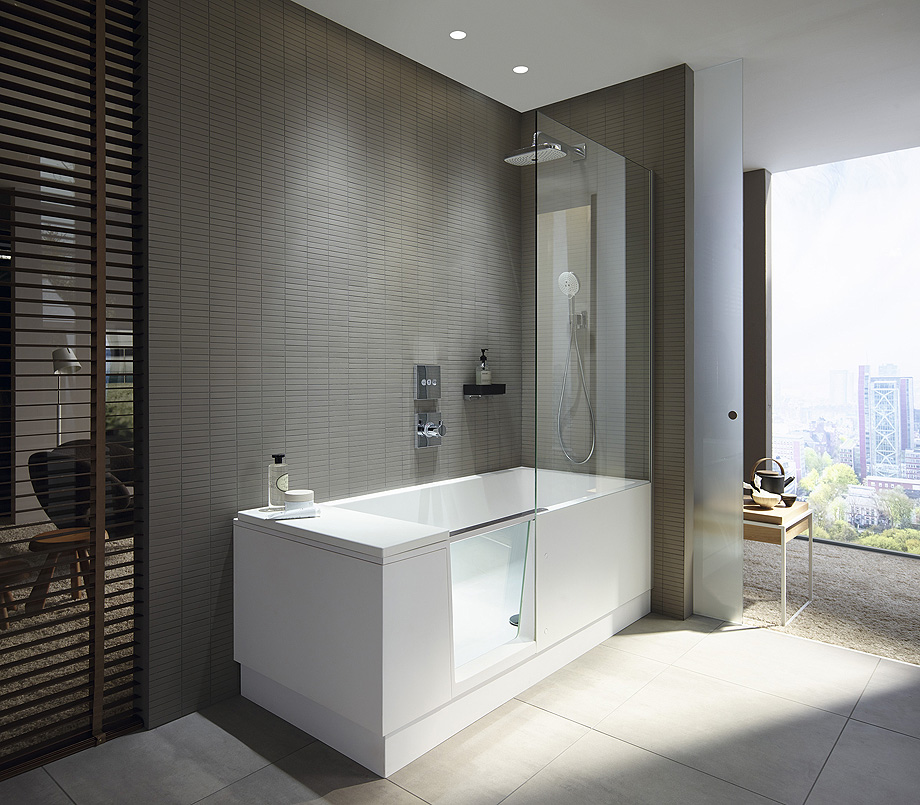 BAÑERA + DUCHA:
Shower + Bath (ducha y bañera) de Duravit es una ingeniosa solución para baños relativamente pequeños donde no se quiere renunciar a tener una bañera. El diseño del estudio austriaco EOOS, que ha diseñado varios productos para la firma alemana, presenta unas líneas muy precisas. Una forma base rectangular y una pronunciada inclinación de las paredes interiores ofrecen mucha libertad de movimiento dentro de la ducha. Ésta queda enmarcada por una amplia mampara de cristal. Opcionalmente, Duravit ofrece la mampara también en un acabado espejo, que aporta amplitud visual a los baños pequeños.
Gracias a la puerta integrada, la entrada en la bañera es muy cómoda. Con ayuda de la puerta con cierre, la ducha se convierte en una bañera relajante. Un cierre de seguridad mecánico garantiza que la puerta sólo se puede abrir si el desagüe de la bañera está abierto. Por esto no hace falta ninguna conexión eléctrica. De esta forma, la bañera es una solución perfecta para las reformas.
Durante la ducha, el usuario se puede sentar cómodamente en el cojín que, además, se puede trasladar a cualquier punto de la bañera. Este elemento también puede servir como un apoyo dorsal ajustable o como un espacio para depositar utensilios. Con la puerta cerrada, el cojín sirve para sentarse y tomar un baño de pies.
DuraSolid, un material de alta tecnología.
Shower + Bath está fabricado en DuraSolid, un material que posibilita diseños cada vez más nuevos y una altísima precisión en la fabricación. Este material de alta tecnología, desarrollado por el equipo de investigación de Duravit AG, es especialmente apto para la fabricación de bañeras y platos de ducha. En este producto, tanto el cuerpo de la bañera como el zócalo y el faldón está fabricados en esta materia mineral.
La Shower + Bath dispone como estándar de una mampara fija de cristal (8 mm cristal de seguridad ESG) y una puerta de cristal estanca con cierre (10 mm cristal de seguridad ESG), un asiento de material sintético resistente al agua en blanco y un vaciador automático y rebosadero. El vaciador automático y rebosadero se puede combinar -opcionalmente- con un llenado. Así se puede prescindir de una entrada adicional de agua para la bañera. La bañera, en la versión rinconera izquierda o derecha, está disponible en la medida de 170 x 75 cm. 
---
LAS IMÁGENES:
---
SOBRE EOOS: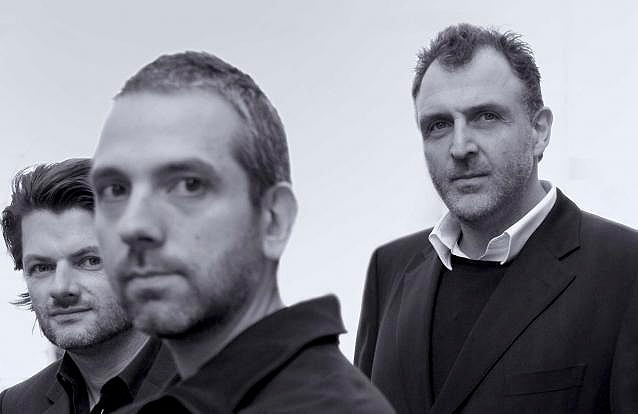 El trío de diseñadores austriacos EOOS, compuesto por Martin Bergmann (Lienz/Este del Tirol), Gernot Bohmann (1968, Krieglach/Styria) y Harald Gründl (1967, Viena), fundó en 1995 su propio estudio de diseño después de estudiar en la Universidad de Artes Aplicadas de la capital austriaca.  Para ellos, el diseño es "una disciplina poética y un servicio cultural para la sociedad".
EOOS opera en el sector del diseño de mobiliario y de producto así como el diseño de tiendas. A lo largo de su carrera han trabajado para importantes firmas como Adidas, Alessi, Arman Cosmetics, Dedon, Duravit, MatteoGrassi, Moroso, Red Bull o Zumtobel.
Sus trabajos le han reportado más de 50 premios, entre otros, el Compasso d'Oro (2004), el Design Week Award (2005), el IF Design Award (2007) y el Red Dot Design Award: Best of the Best (2007).  En 2008, la revista Elle Deco consideró su sistema de cocina móvil b2 para Bulthaup el mejor del año en la categoría Cocina. En 2012, la ducha Open Space de Duravit consiguió el Best of the Best en los premios Red Dot.
EOOS EN INTERIORES MINIMALISTAS
---
SOBRE DURAVIT:
La empresa Duravit AG, fundada en el año 1817 en Hornberg en el centro de la Selva Negra, es actualmente uno de los fabricantes punteros en todo el mundo en el sector de los baños de diseño. La firma está presente en más de 130 países y se caracteriza por la innovación en el diseño original, la aplicación de técnica inteligente y la elevada calidad.
En cooperación con diseñadores de renombre internacional como Philippe Starck, EOOS, Phoenix Design, Sieger Design, Kurt Merki Jr., Christian Werner, Matteo Thun o Cecilie Manz se crean baños que aportan confort y aumentan la calidad de vida de los usuarios de forma sustancial.
El portfolio de Duravit integra cerámica sanitaria, muebles de baño, platos de ducha, bañeras, sistemas de hidromasaje, asientos de lavado, grifería y accesorios.
DURAVIT EN INTERIORES MINIMALISTAS
---
Información e imágenes
You might also like