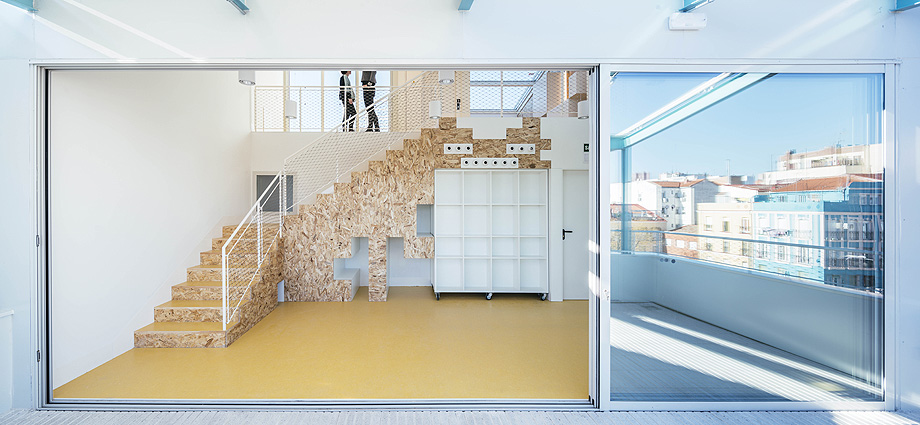 Sede de Save The Children,  de Estudio Elii. Fotografía: Open House Madrid
OPEN HOUSE MADRID 2018:
Este fin de semana, se celebrará la cuarta edición del festival de arquitectura y ciudad Open House Madrid. Como novedades de este año figuran la ampliación del programa de actividades y extensión temporal del festival, que también se desarrollará durante todo el mes de octubre. Además, el circuito de edificios que abren sus puertas se extiende también a otras localidades del área metropolitana y alrededores de Madrid.
---
NUEVOS EDIFICIOS.
Entre los nuevos edificios que se incorporan al festival, se encuentran la Casa del Lector, un proyecto de Ensamble Studio ubicado en el antiguo Matadero convertido en un vivero municipal de empresas vinculadas al diseño; la espectacular Casa Villaseñor de Fernando Higueras, en Torrelodones; la Escuela de Minas (con visita al Museo Geominero y a las Minas de Río Rosas); La [email protected] (antigua Fábrica Boetticher), en Villaverde, del estudio ch+qs Churtichaga-Quadra Salcedo; el Ministerio de Agricultura – Palacio de Fomento; el Consulado Italiano – Palacio de Santa Coloma; la sede de Save the Children a cargo del Estudio Elii; o el hotel Vincci Capitol 4*, en el emblemático edificio art déco en la Gran Vía de Madrid.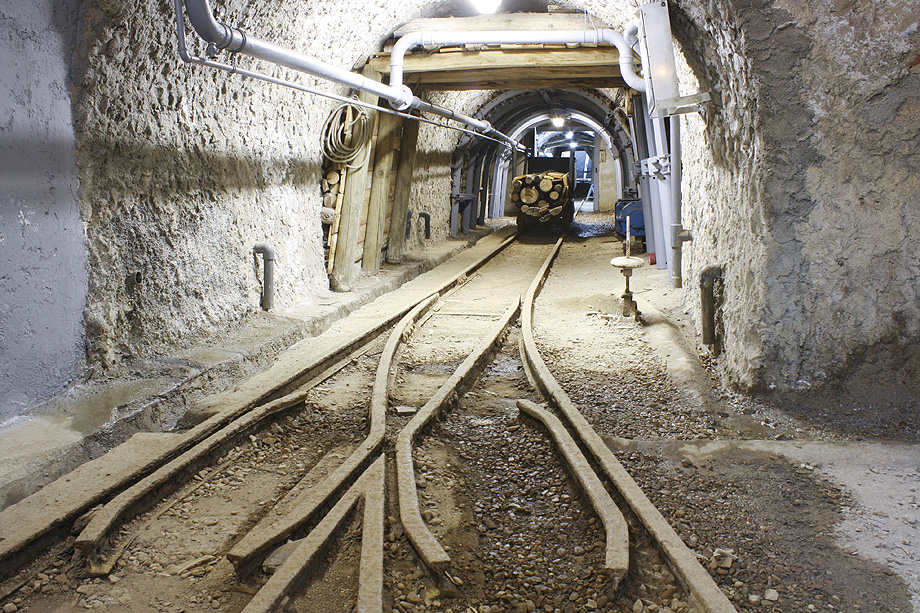 Escuela de minas. Fotografía: ETSIME
---
HOMENAJE A FERNANDO HIGUERAS.
El festival centrará este año su atención en la figura del arquitecto Fernando Higueras. En el circuito de edificios que se podrán visitar este año se encuentran sus proyectos Casa Lucio Muñoz, la mencionada Casa Villaseñor, las Oficinas en Serrano 69, el Instituto de Patrimonio Cultural (Corona de Espinas), las Viviendas militares en la calle San Bernardo o la propia Fundación Fernando Higueras, conocida como Rascainfiernos, una construcción bajo tierra que inició en 1972 y fue estudio y vivienda del arquitecto hasta su fallecimiento en 2008.
El programa cuenta, además, con una exposición de fotografías de su obra comisariada por el arquitecto Jacobo García-Germán, autor del libro «Fernando Higueras. Canarias y Las Salinas». García-Germán, subrayó durante la presentación del Open House Madrid, la importante huella que el arquitecto Higueras dejó en la ciudad de Madrid y destacó que, a pesar de contar con una obra reconocida y premiada, raramente ha sido expuesta al gran público.
De igual manera, se llevará a cabo un taller Living Higueras, con la Universidad Europea, y un concurso en Instagram con la colaboración de Casa Lucio Muñoz.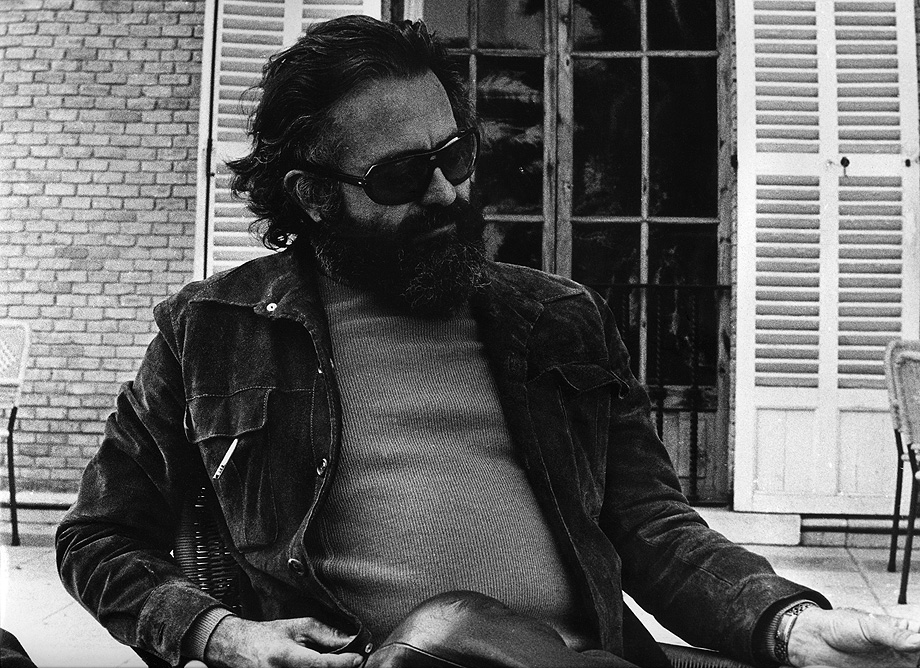 Fernando Higueras. Fotografía: cortesía de la Fundación Fernando Higueras
---
PROGRAMA DE ACTIVIDADES ESPECIALES:
La cuarta edición de Open House Madrid destaca por la ampliación de su programa de actividades y de colaboraciones, y por la extensión de las mismas durante todo el mes de octubre. Están programadas visitas especiales a estudios de interiorismo, arquitectura, talleres artísticos, viviendas privadas y rutas históricas por la ciudad. Se han programado exposiciones también en el ámbito del arte y del diseño, disciplinas que se complementan con la arquitectura.
Entre las actividades se cuenta un ciclo de cine y arquitectura en el Círculo de Bellas Artes, una ruta de mujeres arquitectas, así como exposiciones, instalaciones, talleres para arquitectos, actividades para el público general y familiar, y conferencias sobre arquitectura.
Los colaboradores ARUP, Propamsa, Idealista, Bulthaup, ST Sociedad de Tasación y Monapart organizarán actividades paralelas y rutas destacadas dentro del festival.
---
EL CONGRESO OPEN HOUSE MADRID:
Open House Madrid no muestra sólo el patrimonio de la arquitectura, también reflexionará sobre el futuro de la misma. La cuarta edición del Congreso Open House Madrid se celebrará mañana 28 de septiembre, en el auditorio Centro Centro. Bajo el título "Cities. What's next?", reconocidos arquitectos y expertos debatirán acerca de los nuevos modelos de ciudad.
Moderado por la periodista e historiadora especializada en arquitectura Anatxu Zabalbeascoa, el congreso girará en torno a la relación entre ciudad y arquitectura, y la responsabilidad del arquitecto en el futuro de las ciudades. En ediciones anteriores del Congreso Open House han participado expertos como Tatiana Bilbao, Iñaki Ábalos, Carme Pinós o Santiago Cirugeda.
Para esta edición 2018, el congreso contará con expertos en diferentes disciplinas como el arquitecto Andrés Jaque, el fotógrafo Dionisio González o el filósofo Fernando Castro.
Casa del Lector, de Ensamble Studio. Fotografía: ©Roland Halbe
---
SOBRE OPEN HOUSE:
OPEN HOUSE es un festival de arquitectura y ciudad que tiene lugar un fin de semana al año en más de 40 ciudades de todo el mundo. Durante dos días, se abren las puertas de decenas de edificios públicos, espacios de trabajo, residencias, estudios de artistas y arquitectos, etc. que no pueden visitarse habitualmente. Es un evento gratuito para el público, que fomenta el conocimiento de la ciudad y el reconocimiento del valor del espacio urbano.
OPEN HOUSE nació en Londres hace 30 años. Actualmente, el festival se organiza también en Nueva York, Chicago, Sidney, Melbourne, Roma, Viena, Oslo, Buenos Aires, Atenas, Oporto, Barcelona… y Madrid. En esta última ciudad está dirigido por Paloma Gómez Marín, arquitecta especializada en gestión cultural, y Pati Núñez, periodista, comisaria, consultora y directora de Pati Núñez Agency y de Cultural Affairs Bureau.
OPEN HOUSE MADRID EN INTERIORES MINIMALISTAS
---
Información e imágenes facilitadas por la organización