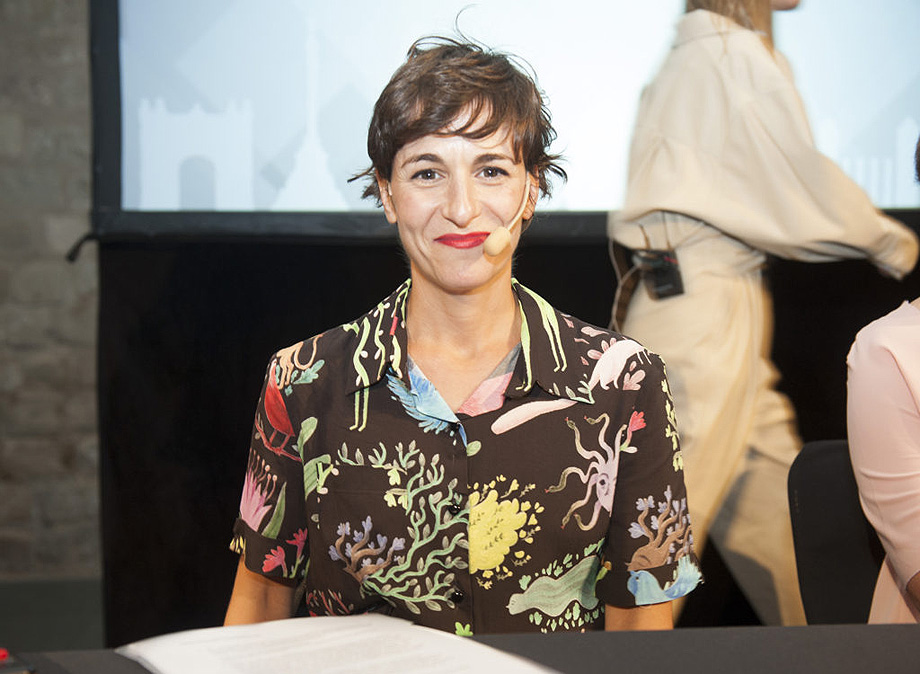 WELLBEING Y FELICIDAD:
Este pasado 10 de octubre, Natali Canas del Pozo, co-fundadora y directora del estudio El Equipo Creativo, tomaba parte como ponente en un interesante evento organizado por la firma Villeroy & Boch en el Convent dels Àngels de Barcelona. Bajo el título «Smart Design & Wellbeing», el encuentro fue todo un éxito y completó el aforo con más de 250 invitados del mundo de la arquitectura, el interiorismo y la prensa especializada con un claro enfoque internacional. A los invitados presenciales, se sumaron más de 27.000 personas que pudieron seguir en streaming el debate difundido por la plataforma online Dezeen, uno de los medios especializados en arquitectura y diseño más influyentes del mundo, y colaborador del evento junto a Elite Spain (Federación Española del Lujo).
En el encuentro, la representante del estudio especializado en diseño de hoteles y espacios para la gastronomía, estuvo acompañada por otros reconocidos profesionales del sector como las hermanas Irina y Olga Sundukovy (Sundukovy Sisters), el interiorista Pepe Leal y la arquitecta Andrea Navarro Golobart de GCA Architects, quienes debatieron sobre la concepción de interiores innovadores, aportando su experiencia profesional al tema central de la conferencia: diseño inteligente y wellbeing en proyectos contract.
Felicidad y experiencia memorable.
Natali Canas del Pozo inició su intervención presentando una serie de proyectos elegidos para reforzar los conceptos de «felicidad» y «experiencia memorable» que nos procuran espacios como restaurantes y hoteles. La búsqueda de la diferenciación y la originalidad son dos de los objetivos perseguidos por el estudio en sus personales proyectos y como puntualizó la arquitecta «el espacio es importante para generar experiencias significativas para el cuerpo y el alma».
Para El Equipo Creativo el sentido de wellbeing que les interesa explorar «está asociado al estado de felicidad. Cuando vamos a un restaurante o un hotel, buscamos, además de una buena comida y descanso, una experiencia interesante que nos hará sentir bien. El diseño de espacios es, sin duda, un factor principal para lograr este objetivo. Creemos en el efecto sorpresa, en los espacios que comunican y que cuentan algo diferente convirtiéndose en una experiencia memorable«.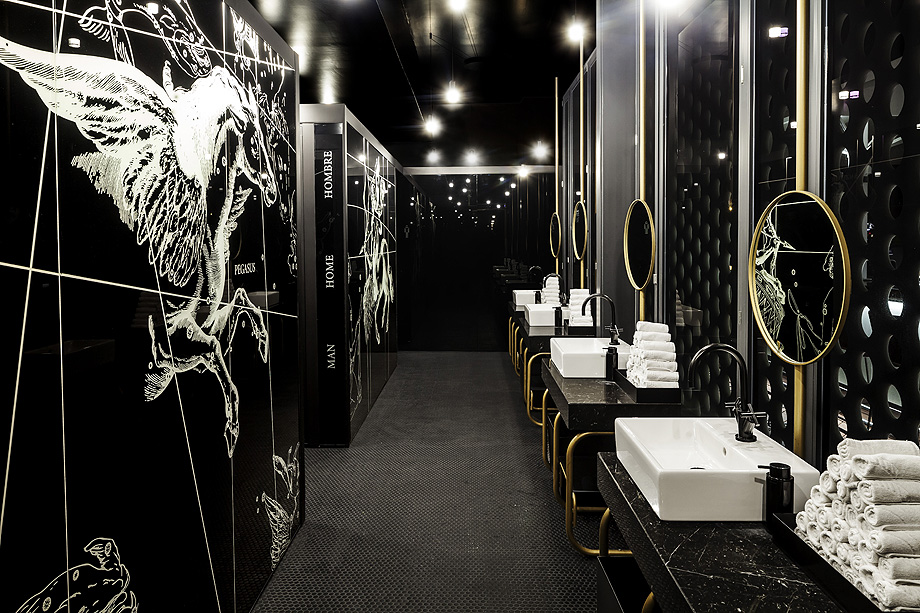 Baños del One Ocean Club Restaurant. Fotografía: Adrià Goula
Ejemplos de esta manera de pensar y de diseñar son los diferentes proyectos que Natali fue presentando a lo largo de su conferencia. Uno de ellos fue el conocido One Ocean Club Restaurant donde, a través del interiorismo, se destacan elementos del entorno como los reflejos del agua o la verticalidad de los mástiles de los barcos, ya que este exclusivo restaurante y coctelería está ubicado en el Port Vell de Barcelona.
En este proyecto y con el fin de mantener una elegante armonía en todos los espacios, el estudio confió en Villeroy & Boch por ser una marca de alta calidad, adecuada al concepto que se quiere transmitir al usuario final, para la realización de los baños. "Es un reto sorprender a los clientes en lo que respecta al diseño de los baños: los interioristas tendemos, cada vez más, a recrear espacios acogedores con el fin de distanciarnos de la noción histórica que asociaba el baño a un lugar frío». En el One Ocean Club, los baños invitan a viajar a través del Mediterráneo y del tiempo, mediante las antiguas cartas de navegación, constelaciones estelares y personajes mitológicos de la cultura mediterránea que aparecen como líneas de luz sobre el fondo negro.
Otros proyectos.
El Hotel Axel Madrid, en pleno barrio de Las Letras, fue otro de los trabajos presentados durante la ponencia. En algunas de las habitaciones de este desenfadado y «disruptor» establecimiento, los baños se integran en las habitaciones, difuminando esta tradicional barrera espacial. Natali también habló del restaurante Pakta, cuyo diseño parte de la unión de dos culturas y de dos gastronomías, la japonesa y la peruana, y donde la sobriedad nipona se ve envuelta por una explosión de colores peruanos; o el restaurante Las Chicas, los Chicos y los Maniquís, un local con marcado carácter colorista, grandes elementos gráficos de color, referencias a la Movida madrileña y al universo visual almodovariano.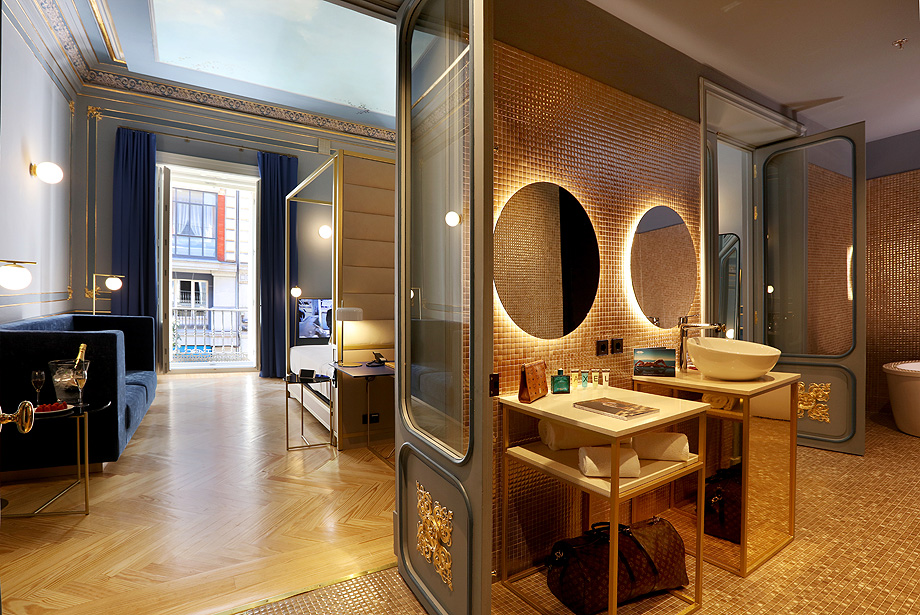 Una de las suites del Hotel Axel Madrid. Fotografía: Adrià Goula
---
SOBRE EL EQUIPO CREATIVO:
El Equipo Creativo está formado por los arquitectos Oliver Franz Schmidt, Natali Canas del Pozo y Lucas Echeveste Lacy. La trayectoria de este estudio de Barcelona, especializado especializado en el diseño de espacios para la gastronomía, así como espacios de marca y comerciales, se inició, en 2010, con el diseño del emblemático restaurante Tickets y la coctelería 41º de Ferran y Albert Adrià. Sus trabajos han sido reconocido en numerosos premios de diseño internacional, como los prestigiosos Restaurant and Bar Design Awards, The Great Indoors Awards, FX International Award, Best of the Year Award o AIT Interior Contract Award.  El Equipo Creativo se sumerge en una nueva etapa con el desarrollo de proyectos internacionales y como directores del Máster de Interiorismo del Instituto Europeo di Design de Barcelona.
EL EQUIPO CREATIVO EN INTERIORES MINIMALISTAS
---
SOBRE VILLEROY & BOCH:
Villeroy & Boch es una de las marcas premium líderes en el mundo de los productos de porcelana. La empresa familiar, fundada en 1748 y con sede en Mettlach (Alemania), es sinónimo de innovación, tradición y un cuidado estilo. Sus diseñadores y jefes de producto desarrollan las colecciones e ideas que dan forma al hogar. Además, la firma trabaja con diseñadores externos de renombre, que aportan frescura y originalidad al proceso de creación, como Oliver Conrad, Sebastian Conran, Gesa Hansen y Annette Marie Sontag, entre otros.
Como marca de estilo de vida de renombre, Villeroy & Boch ofrece productos de baño y wellness, menaje de mesa, azulejos, griferías y fregaderos de cocina, suelos laminados, lámparas y mobiliario de exterior.
Además, Villeroy & Boch muestra su pasión por la arquitectura, el interiorismo y la decoración a través de su blog 1748 y de las principales redes sociales como Facebook, Twitter, Instagram y Pinterest.
VILLEROY & BOCH EN INTERIORES MINIMALISTAS
---
Información facilitada por la empresa y en la web del estudio. Imágenes facilitadas por Villeroy & Boch

You might also like