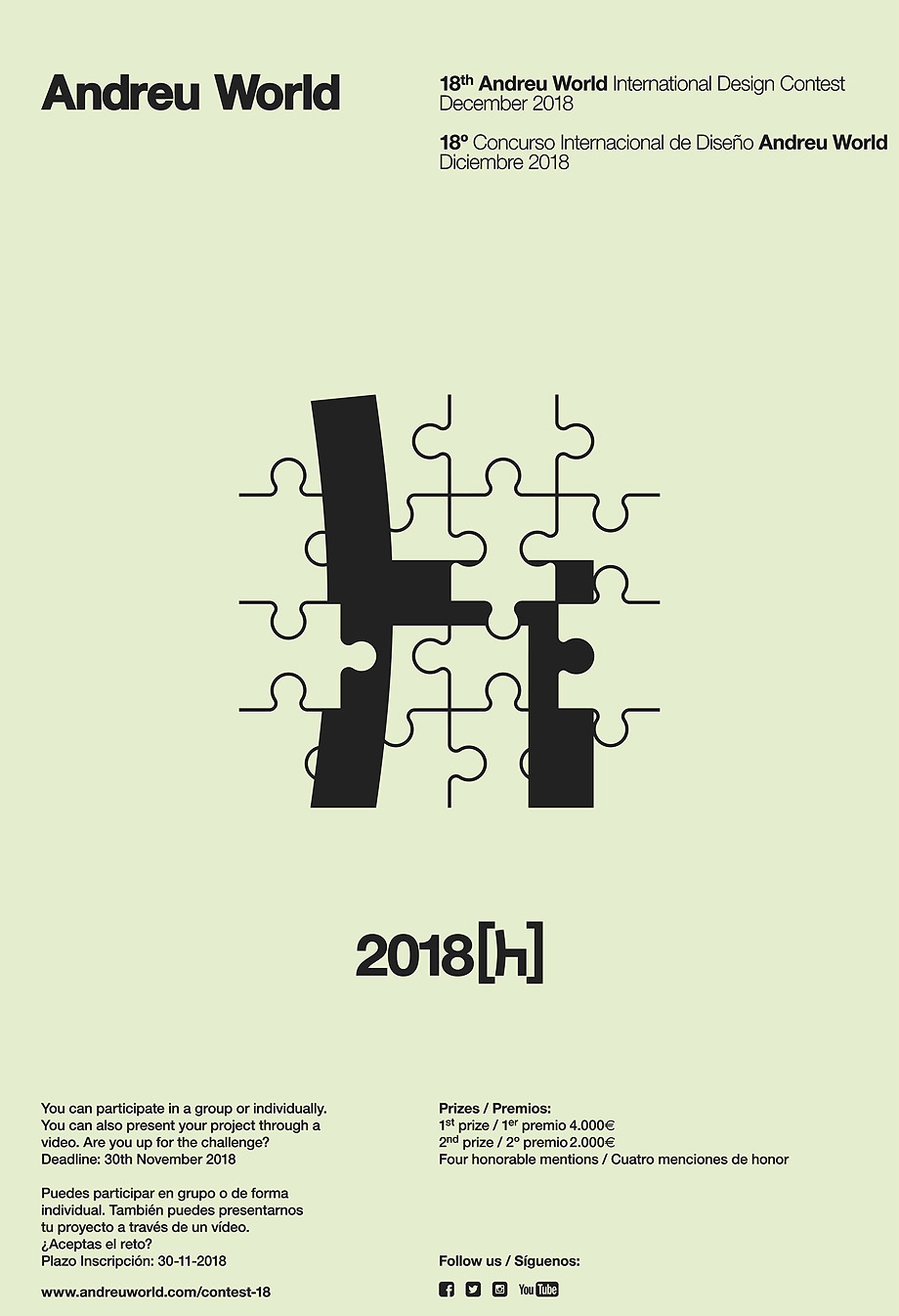 CONCURSO:
El próximo 30 de noviembre finaliza el plazo de inscripción al Concurso Internacional de Diseño Andreu World que, como cada año, reta a estudiantes y profesionales del diseño sin límite de edad a presentar el diseño de una silla o una mesa que cumpla con el briefing que la reconocida firma de mobiliario plantea.
Se dice que crear una silla es uno de los retos más difíciles que se le puede plantear a cualquier diseñador y, sin embargo, cada año continuan apareciendo cientos de nuevas piezas. Para los que, en este concurso, se decanten por diseñar un asiento, el material principal a utilizar será la madera maciza de haya, roble o nogal, así como el tablero contrachapado en cualquiera de estas maderas, pudiéndose tapizar total o parcialmente si se desea.
En el caso de las mesas, será la madera maciza de haya, roble o nogal, con la posibilidad de utilizar tablero contrachapado y tablero chapado en cualquiera de estas maderas, el material principal. Podrán utilizarse otros materiales (metales, plásticos, cristal…) de forma complementaria, estructural o accesorio de los principales.
El jurado.
El jurado de esta edición está compuesto por Alberto Anaut, periodista y gestor cultural; Ana Domínguez Siemens, licenciada en Historia del Arte y especializada en Diseño; Luis Fernández Galiano, arquitecto y director de la revista Arquitectura Viva; Ej Lee, responsable de diseño en la firma Gensler; y Giulio Ridolfo, diseñador y maestro en color.
Para elegir los proyectos ganadores, se valorarán las posibles aportaciones innovadoras en diseño, calidad, tecnología y procesos de fabricación; consideración de los costes de fabricación y/o amortización; la funcionalidad, la versatilidad y la posibilidad de la producción en serie de forma sencilla y viable. También se valorará la presentación de un vídeo creativo explicando el proyecto y/o mostrando los detalles y maqueta del diseño. El ganador recibirá un premio de 4.000 euros y el segundo clasificado, 2.000 euros. El jurado también podrá otorgar hasta cuatro menciones especiales sin cuantía económica.
El plazo de presentación de proyectos finaliza el 30 de noviembre de 2018 y los concursantes pueden inscribirse siguiendo el siguiente link: https://www.andreuworld.com/es/concurso-18/
Décimo octava edición.
Por otra parte, el concurso de Andreu World celebra este año su décimo octava edición y, para celebrarlo, ha reunido en una publicación toda su trayectoria e historia desde 2001 a 2018. El monográfico recoge los detalles de la historia del certamen, las bases, el briefing, los proyectos premiados, la imagen gráfica y los retratos de los casi 100 jurados que han tomado parte. Desde su primera cita en 2001, más de 28.000 concursantes procedentes de 124 países han participado en el Concurso Internacional de Diseño Andreu World.
---
Actualizado el 29/11: el plazo de presentación de proyectos se amplía hasta el 10 de diciembre.
---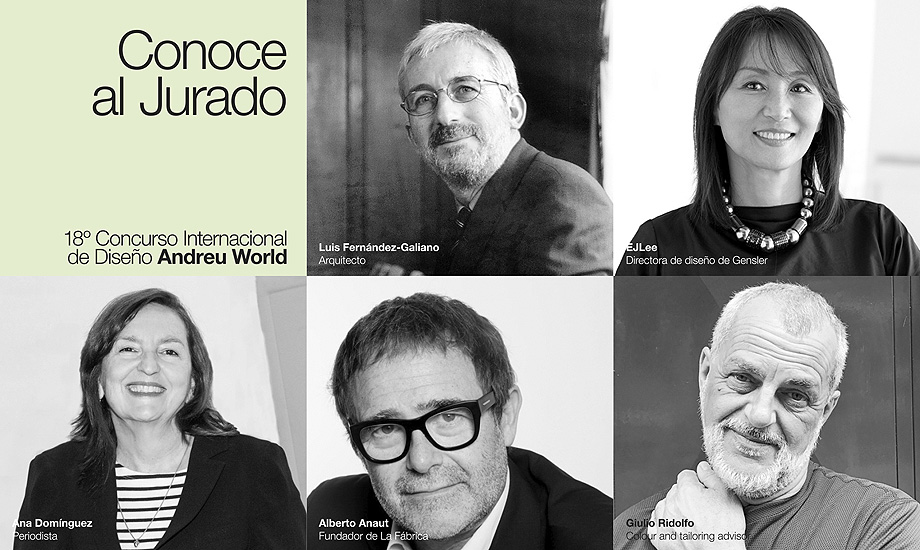 ---
SOBRE ANDREU WORLD:
Andreu World es una empresa familiar de mobiliario para interior y exterior fundada, en 1955, gracias a la inquietud de Francisco Andreu Martí. Creada como un pequeño taller de ebanistería en Alaquàs, una localidad muy próxima a Valencia (España), actualmente, reúne a un equipo de profesionales altamente cualificado con una clara vocación internacional a partir de una premisa muy clara: diseño y calidad. Esta premisa va ligada a la categoría de los profesionales que firman sus diseños: Patricia Urquiola, Piergiorgio Cazzaniga, Joan Lao, Mario Bellini, Lievore Altherr Molina, Josep Lluscà, Javier Mariscal y Nancy Robins, entre otros.
Hoy en día, Andreu World dedica un 60% de su producción a la exportación y su red comercial abarca los cinco continentes. Países como Nueva Zelanda, Emiratos Árabes Unidos, Singapur, Japón, México, Argentina y EE.UU. son sólo algunos ejemplos en los que la marca está presente.
La firma dispone de un showroom de más de 2.000 m² en Valencia, donde están ubicadas sus oficinas centrales, y de tres centros de producción: dos localizados en la misma provincia de Valencia y el tercero en Navarra. Además, también cuenta con espacios expositivos en otras ciudades como Chicago, Nueva York, Pune, New Delhi o San Francisco, así como las oficinas de la delegación americana en el emblemático edificio Merchandise Mart.
La madera proviene de sus bosques, controlados mediante un protocolo de custodia que incluye la plantación, la tala, el secado –durante más de un año desde la tala, para evitar que la madera se quiebre en el futuro– y todas las fases de manipulado. Este proceso cuenta con la certificación FSC® (Forest Stewardship Council), que garantiza madera con origen en bosques reforestados y controlados.
Entre los numerosos premios recibidos a lo largo de su trayectoria figuran: Red Dot Design Award 2013, Best of Year Honoree 2012, ADI Design Index 2012, Best of Neocon 2012, Red Dot Design Award 2012 y Best of NeoCon People choice 2011 o el Premio Nacional de Diseño 2007.
ANDREU WORLD EN INTERIORES MINIMALISTAS
---
Información e imágenes facilitadas por la firma
You might also like