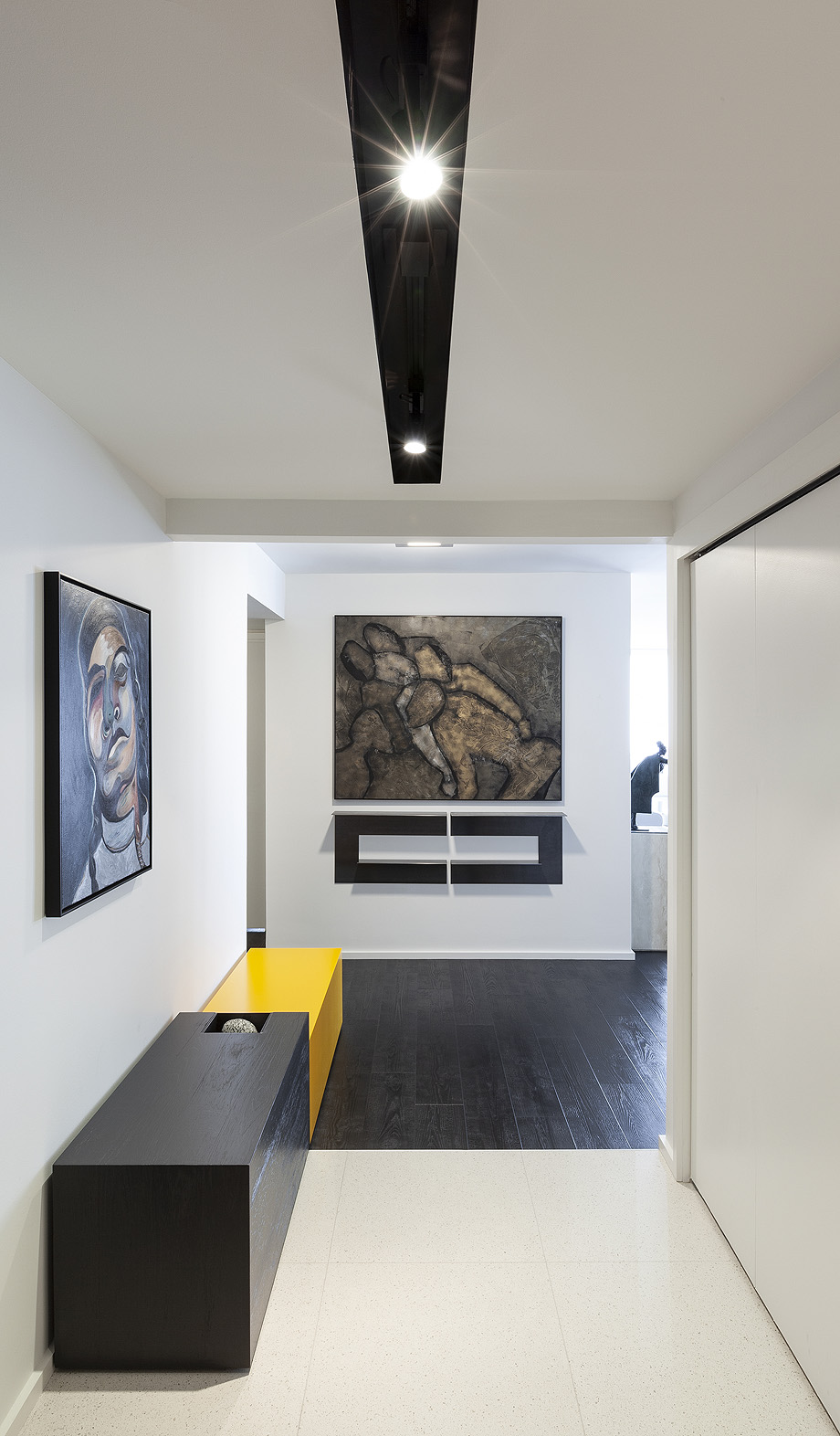 DOHA NEST:
Antes de acometer este proyecto, el arquitecto Reza Aliabadi (Atelier RZLBD) ya había llevado a cabo la reforma de algunas viviendas ubicadas en edificios residenciales, originalmente uniformes y faltas de personalidad, respondiendo así a un mercado con unas necesidades muy dispares. En estos casos, los interiores de las viviendas fueron transformados en espacios arquitectónicamente integrados, con un orden espacial claro y una simplicidad que se ajustaba a la vida de sus habitantes.
En DOHA Nest y al igual que en sus predecesores, el arquitecto de origen iraní convirtió el inmueble en un espacio arquitectónico donde el estilo de vida de los residentes es lo verdaderamente importante. Pero antes de llegar a este final feliz, fue necesario resolver algunos problemas como la disposición ineficiente de las habitaciones, sin un orden claro, el espacio mal aprovechado con puertas que chocaban entre ellas o paredes que hacían que las estancias se sintieran pequeñas.
Un imaginativo pasillo.
Para «curar» el lugar, se demolieron algunos tabiques y se estableció un pasillo que se extiende de un extremo a otro. Todas las habitaciones se articulan alrededor de este pasaje central, así como la cocina y los baños, permitiendo percibir la linealidad del apartamento. Además, este corredor también ofrece «una dimensión más imaginativa del espacio: con una ventana en un extremo y la pared pintada de negro, en el otro, la línea del horizonte del pasillo está oscurecida por el brillo y la oscuridad, respectivamente, creando una mayor sensación de profundidad y atmósferas transitorias al entrar en las zonas públicas y privadas», explica Reza Aliabadi. Otros elementos que inciden en este eje son las luces lineales del techo y las puertas correderas que no invaden en ningún momento este punto de paso.
Poner orden.
Parte importante fue poner orden a las pertenencias acumuladas por los propietarios durante más de 30 años debido a la falta de espacio de almacenamiento. Entre ellas, numerosas obras de arte que el estudio combinó con elementos arquitectónicos y algunas piezas de mobiliario para darles importancia. Por ejemplo, la pared divisoria entre la sala de estar y la cocina, contiene múltiples aberturas que se convierten en nichos de exposición, conectando ambas estancias.
En frente de esta pared, se colocó el banco modular en forma de S R-08 , diseñado específicamente para el proyecto, cuyas diversas configuraciones complementan la linealidad del espacio. La base está hecha de madera contrachada laminada en el mismo tono que el suelo, de forma que parece flotar sobre él, mientras que el color amarillo canario de la tapicería ha sido elegido por el cliente.

Mobiliario y obras de arte.
Los muebles más pequeños, como las consolas y el banco del vestíbulo de entrada, también han sido diseñados y fabricados por el taller y sus dimensiones están determinadas por las pinturas expuestas sobre ellos, lo que hace que cada pareja «sea insustituible». Bautizado como R-06, este banco formado por dos cajas lineales, distintas en alturas, materiales, colores y algunos detalles formales, sirve para dejar objetos (por ejemplo, bolsos o llaves) y también para sentarse. Sin embargo, alineado con «las paredes, el piso, el techo e, incluso, centrado como un elemento decorativo con una pintura colgada sobre él, estas dos formas separadas están vinculadas al orden geométrico de la casa, como si fuera una anécdota», dice el arquitecto.
Por otra parte, la consola de plancha de acero R-07 parte de una geometría pura plana que ofrece tres variantes a través del plegado, con pestañas donde se exhiben delicadamente las obras de arte de tamaño más reducido.
---
LAS IMÁGENES:
---
FICHA TÉCNICA:
Proyecto:

DOHA Nest.

Ubicación:

North York, área de Willowdale (Toronto / Canadá).

Superficie:

181,16 m².

Completado:

2018.

Autor:

rzlbd.

Director de proyecto:

Reza Aliabadi.

Equipo de proyecto:

Arman Azar, Aziza Asat, James Chungwon Park y Bahar Joshan.

Gestión de la construcción:

Maxamin Homes.

Diseño:

2015-2016.

Fotografías:

Borzu Talaie.
---
DIAGRAMAS: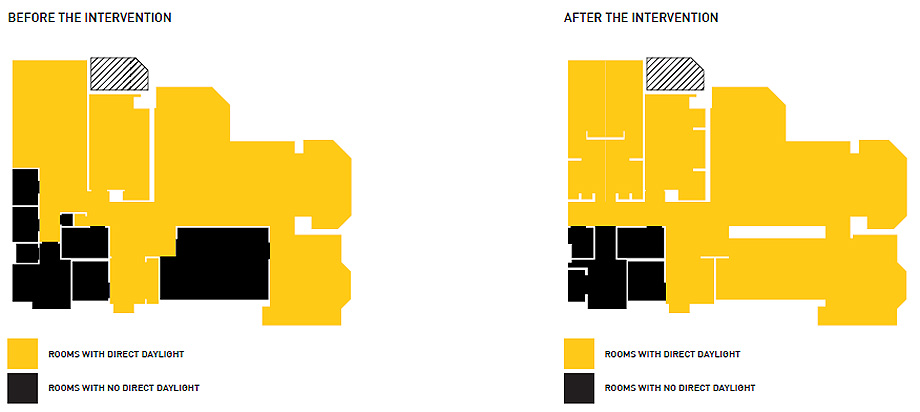 ---
BANCO CURVADO: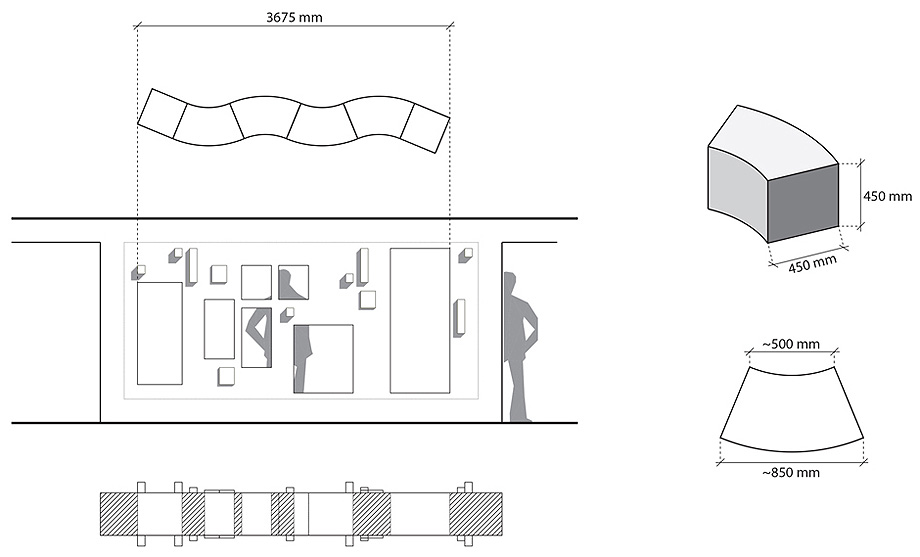 ---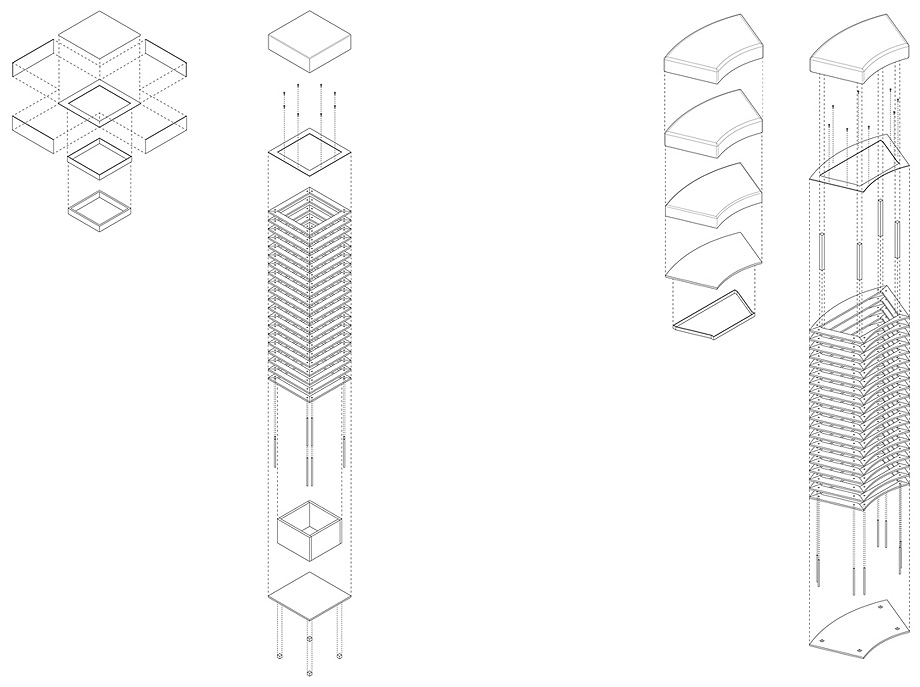 ---

---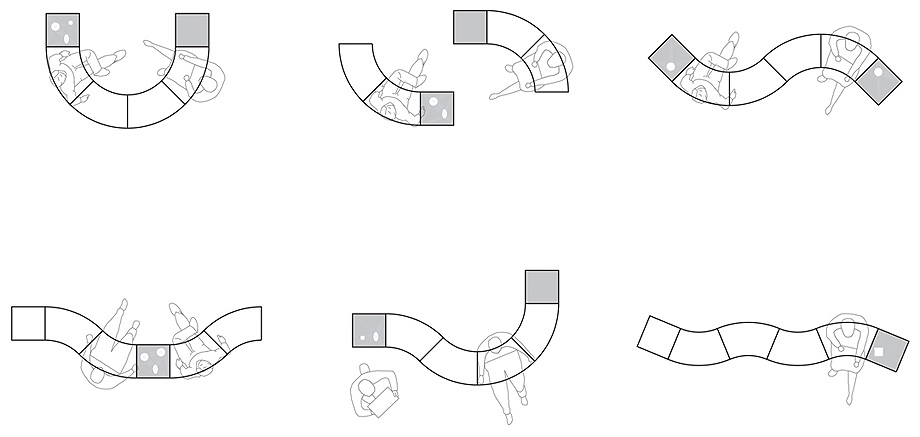 ---
---
SOBRE REZA ALIABADI [ATELIER RZLBD]:
Atelier RZLBD es un estudio de arquitectura con sede en Toronto (Canadá), fundado por el arquitecto Reza Aliabadi (Teherán, 1974), en 2010. Con anterioridad, Reza Aliabadi fundó Reza Aliabadi Building Workshop. El trabajo de Aliabadi se extiende al diseño de edificios residenciales, comerciales e institucionales, diseño de producto, comisariado de instalaciones y exposiciones, y la publicación de un magazine llamado rzlbdPOST. 
Muchos de sus proyectos han sido publicados en diferentes medios y distinguidos con distintos galardones como el International Architecture Master Prize (2018), el American Architecture Prize (2017) y Ontario Association of Architects Awards (2009, 2011); exhibido en muchos lugares, incluyendo el Sir John Soane's Museum (London 2018), el World Architecture Festival (Berlín, 2017 y Amsterdam, 2018), la School of Architecture de la McGill University (Montreal 2009, 2017), y en el Toronto Harbourfront Centre (2012).
REZA ALIABADI EN INTERIORES MINIMALISTAS
---
Información e imágenes facilitadas por el estudio
You might also like