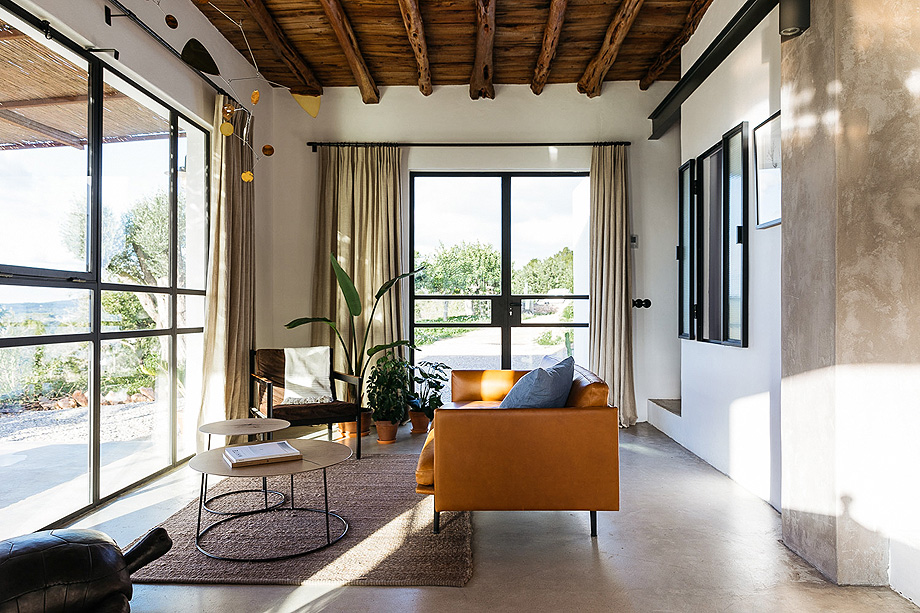 THE IBIZA CAMPO LOFT:
Después de haber estado abandonado durante décadas, este antiguo taller y almacén se ha convertido en una vivienda confortable y funcional, donde se puede disfrutar de su bello emplazamiento en el norte de la isla de Ibiza. El proyecto de renovación se debe al arquitecto de interiores Jurjen van Hulzen, propietario de los estudios Ibiza Interiors y the Nieuw, que cuando vio la ubicación y la estructura de la edificación tuvo claro cual sería el concepto del diseño, mezcla de rústico e industrial.
Materiales básicos y locales.
En su estado inicial, la caseta de 80 m² presentaba un avanzado estado deterioro que afectaba a las vigas de madera de sabina, al suelo de hormigón y a las paredes de cal y barro. Sólo algunas partes del tejado y de las paredes pudieron aprovecharse. Explica el arquitecto de interiores que «la hermosa estructura de la construcción original se conservó para mantener el carácter de la estructura típica ibicenca. Se han utilizado materiales básicos y locales como el suelo de hormigón, las paredes de piedra con yeso y barro, y las vigas de sabina hechas con la madera de árboles que sólo crecen en la isla». Con la reforma, también se introdujo un nuevo material: el acero, que se ha utilizado con recubrimiento en polvo para los marcos de las ventanas y las puertas, para la cocina hecha a medida y en las vigas que soportan el antiguo techo.
Nueva distribución e instalaciones.
También fue necesario dotar al espacio restaurado de las instalaciones necesarias como el agua, la electricidad y el alcantarillado, ya que inicalmente carecía de ellas, para convertirlo en un hogar contemporáneo y funcional. Actualmente, el agua proviene de un pozo privado y hay paneles solares para el agua caliente, calefacción por suelo radiante y electricidad. Lo que significa que la casa es completamente independiente de la red y, por lo tanto, autosostenible.
La distribución del interior incluyó un gran espacio abierto en el lado sur, desde donde se disfruta de vistas a todo el valle. El espacio principal está conectado a la gran terraza privada, mientras que los dormitorios se ubicaron en las esquinas de la fachada norte para manterlos frescos. También hay un comedor con un banco construido a medida, haciendo que un espacio un poco perdido formara parte del loft. A su lado, el baño, con el suelo de terracota dispuesto en espiga, dispone de una bañera exenta y de una ventana con vistas a la naturaleza a través del estar.
Yoga y árboles frutales.
«El resultado -dice Jurjen van Hulzen- es una fantástica residencia natural y contemporánea, donde el contraste juega un importante papel: viejo y nuevo, elegante y rústico, claro y oscuro, áspero y suave. Al mismo tiempo, también hay un cierto equilibrio y, donde quieras que mires, algo está sucediendo. Con unas increíbles vistas de la montaña, una plataforma para hacer yoga en el techo, muchos árboles frutales y un huerto, ésto es realmente un trozo del paraíso. Actualmente, el Campo Loft se está utilizando como casa de huéspedes. Un lugar único para relajarse y descansar, diseñado por y para los amantes del diseño.»
---
LAS IMÁGENES:
---
FICHA TÉCNICA:
Proyecto:

The Ibiza Campo Loft.

Ubicación:

San Lorenzo (Ibiza).

Superficie:

80 m².

Completado:

2018.

Arquitectura:

the Nieuw.

Diseño interior:

Ibiza Interiors.

Equipo de proyecto:

Jurjen van Hulzen, Giovanni Marchesi,  Ariadna Puigdomenech y Carmen van den Hoogen.

Mobiliario:

The Modern.

Firmas:

Carl Hansen & Son, Muuto, TineK, Modernica, Heerenhuis, Ay Illuminate, Weltevree, Serax y Marie Stella Maris.

Cocina:

Eginstill.

Mobiliario de baño:

Not Only White.

Grifería y ducha:

Piet Boon para Cocoon.

Cortinas:

The Modern Fabrics.

Camas:

Coco-Mat.

Arte:

Vroom & Varossieau y Lolo Loren & Oliver Marder.

Fotografías:

On A Hazy Morning.
---
PLANIMETRÍA: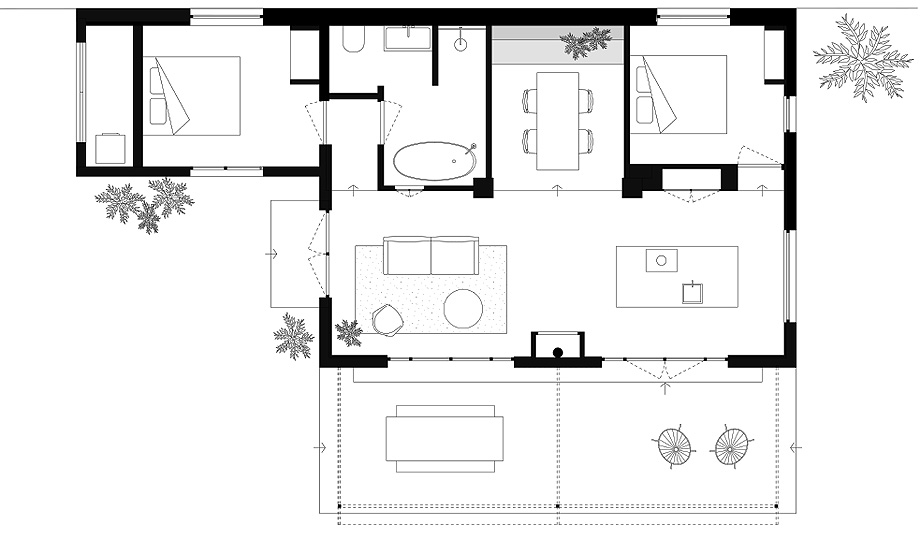 Planta
---

Sección 1
---

Sección 2
---

Fachada 1
---

Fachada 2
---

Fachada 3
---
SOBRE JURJEN VAN HULZEN (THE NIEUW & IBIZA INTERIORS):
Jurgen van Hulzen es arquitecto y diseñador de interiores holandés, que vive con su esposa Selina y sus tres hijos en Ibiza después de mudarse desde Amsterdam hace cuatro años. Trabaja a nivel internacional en diferentes proyectos y desarrolla conceptos espaciales para comercios minoristas, hoteles y residencias privadas. Jurgen dirige los estudios the Nieuw, con sede en Amsterdam (Países Bajos), e Ibiza Interiors, con sede en la isla de Ibiza (España) y fundado en 2014.
---
Información e imágenes facilitadas por el diseñador
You might also like