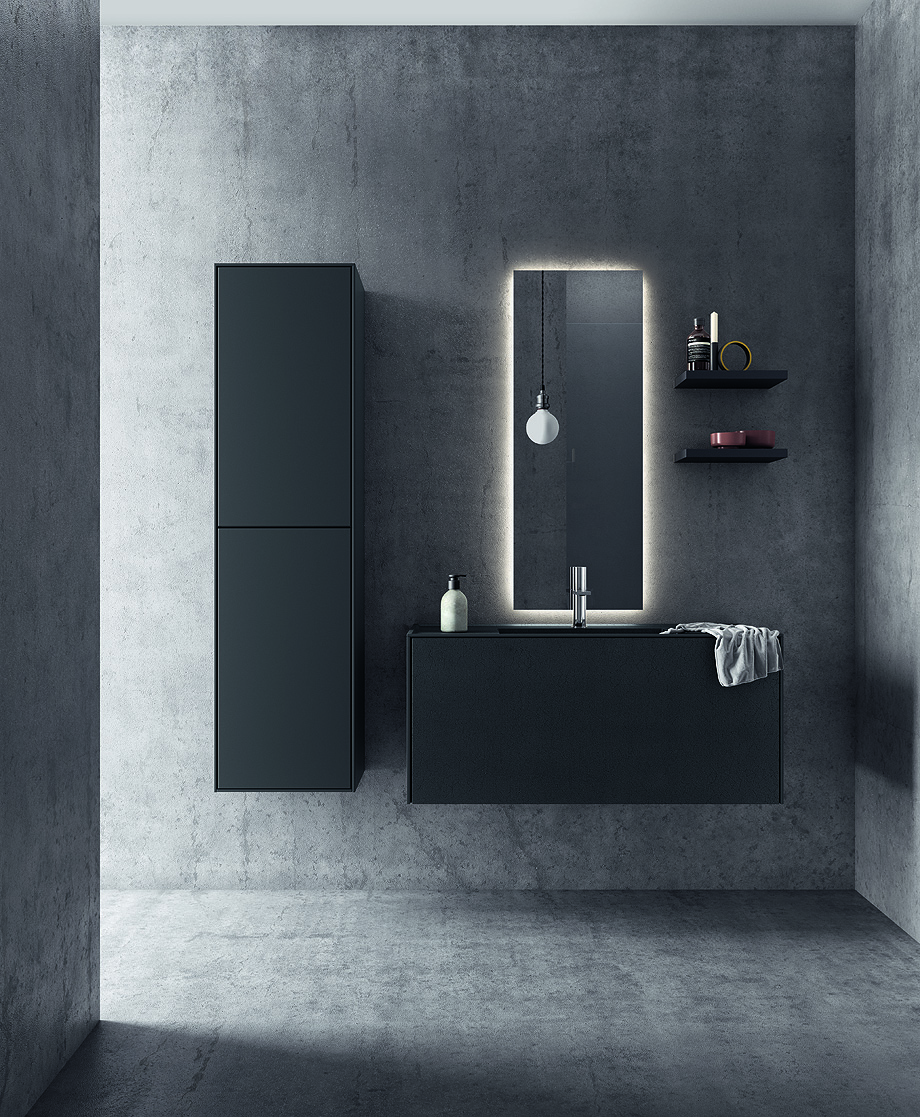 BLOC:
Junto a su renovada imagen y entre las últimas novedades presentadas por FIORA, empresa riojana especializada en soluciones globales para el baño, se encuentra la colección Bloc. Esta nueva serie de mobiliario, espejos y lavabo encastrado lleva la firma del estudio The RoBoT Design, que ha diseñado una colección de formas limpias y contundentes.
La colección Bloc se compone de mueble con cajón, columna con una o dos puertas, armario mural de una o dos puertas, armario camerino, espejos y encimera integral de Silexpol, un material exclusivo de Fiora, mezcla homogénea de sílices y cuarzos conglomerados con polímero que ofrecen una gran resistencia al rayado y a la abrasión. Por otra parte, el mueble con cajón, pieza principal, se presenta como un gran bloque monolítico cuyo lateral, frente y encimera comparten la misma textura.
Esta nueva colección de mobiliario para baño cuenta con dos acabados: Betao, desarrollado en exclusiva para esta línea, que destaca por un craquelado intenso y de aspecto rústico, y Pizarra, que reproduce la característica textura de este material.
---
LAS IMÁGENES:
---
SOBRE THE ROBOT DESIGN:
The RoBoT Design nace de los fundadores de Roviras y Torrente Industrial Design (1997), Pau Roviras y Carlos Torrente, junto a la colaboración de Urbs Disseny i Comunicació, empresa de diseño gráfico, fundada por Marc Barnola en 2002. El diseño del estudio explora en la búsqueda de un auténtico servicio global en el campo del diseño industrial, el desarrollo global de producto y de la comunicación dentro de múltiples sectores. El objetivo de the RoBoT design es ofrecer asesoramiento global en el diseño y desarrollo de productos. Su enfoque parte de su capacidad de emprender proyectos con un alto componente tecnológico global.
Sus proyectos han sido reconocidos por diferentes premios y selecciones oficiales tales como ADI-FAD e InteriHotel (Barcelona), Design Plus, Bundesrepublic Design y Red Dot (Alemania), así como el Good Design y Gold Adex (Estados Unidos).
---
SOBRE FIORA:
FIORA es una empresa riojana, especializada en soluciones globales para el baño, que comienza su andadura en la década de los 80 de la mano de tres socios. La totalidad de las instalaciones se encuentran en la localidad de Nájera (Logroño). Un total de 15.000 m² comprenden el conjunto de instalaciones, de los que la mayor parte de ellos son cubiertos, acondicionados con las más modernas tecnologías que permite ser autosuficiente en la mayoría de los procesos productivos. La permanente renovación e innovación en los procesos productivos y de gestión han permitido a la organización haberse situado y mantenerse como empresa de referencia dentro del sector.
Un importante porcentaje de esta superficie está dedicado a un espacio para la búsqueda e innovación, donde, a modo de laboratorio, el equipo de FIORA realiza pruebas sobre distintos productos, experimentos con materiales, formas, colores, etc. Todo este proceso va en constante crecimiento, ya que a la investigación centrada en las texturas, se añade la innovación en la funcionalidad de los productos: platos de ducha, paneles para paredes, radiadores, muebles y lavabos en poliuretano, un material avanzado especialmente adaptado a las zonas húmedas.
Minimizar o eliminar los impactos ambientales de los procesos es asumido, cada vez más, por todos los que componen la empresa, de manera que el compromiso de que "la calidad y el medio ambiente son cosa de todos" se convierta en la conducta habitual, con actitud abierta y positiva hacia la mejora continua.
FIORA EN INTERIORES MINIMALISTAS
---
Información facilitada por Fiora y en la web de The RoBoT Design. Imágenes facilitadas por la empresa
You might also like