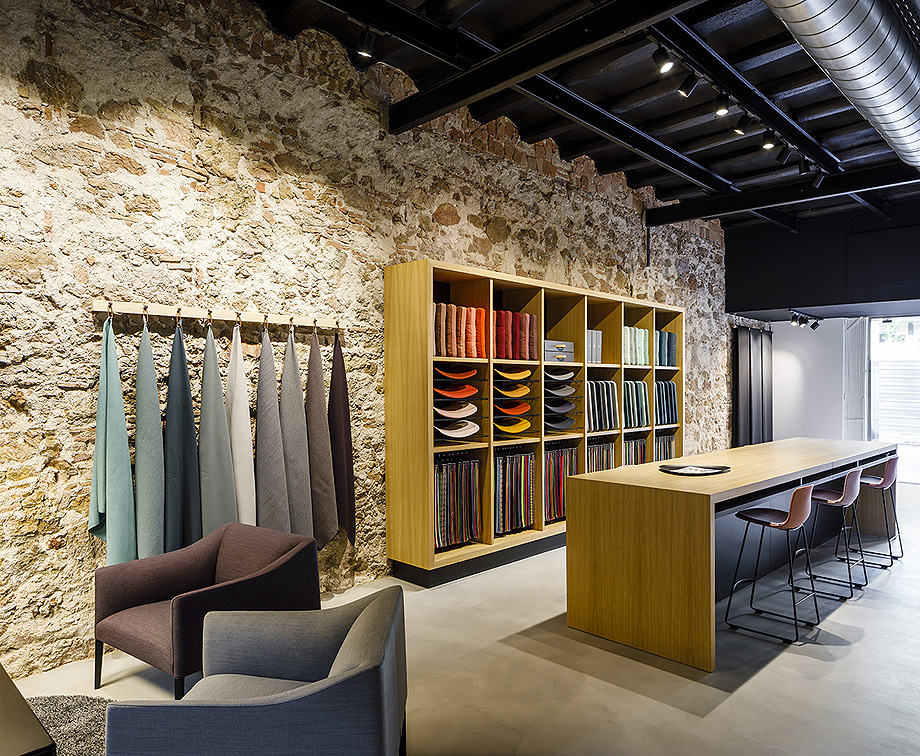 GABRIEL:
Después de la abertura de showrooms y oficinas de venta en Alemania, Francia, Inglaterra y Estados Unidos, la firma danesa Gabriel desembarca en Barcelona, con un nuevo espacio expositivo, que se convierte en su primer showroom en España. Gabriel es un reconocido fabricante de tejidos respetuosos con el medio ambiente para mobiliario de oficina, superficies tapizadas y entornos contract.
El espacio busca ser un punto de encuentro entre Gabriel y profesionales del sector (arquitectos, diseñadores, interioristas y fabricantes de mobiliario españoles), así como un entorno en el que trabajar conjuntamente con el equipo de Gabriel España en el desarrollo de nuevos productos y generación de ideas. La tienda también servirá para que estos profesionales puedan agilizar sus proyectos ya que podrán disponer más rápidamente de las muestras de telas.
Diseño interior de Friis & Moltke & Areazero 2.0.
El showroom, situado en el número 16 de la calle Julián Romea, cuenta con un superficie de 130 m² y ha sido proyectado por el estudio de arquitectura danés Friis & Moltke en colaboración con el estudio barcelonés Areazero 2.0, especializado en espacios de trabajo, que se ha encargado de la rehabilitación del local.
Funcionalmente, el showroom está dividido en tres zonas. La primera, situada en la entrada, está destinada a la exposición de los productos y al trabajo colectivo (reuniones informales o de co-creación). Este espacio ha sido equipado con una biblioteca de tejidos y una gran mesa alta de trabajo, donde se atenderá a los clientes o donde se podrán mantener charlas informales.
En la mitad posterior del local, se encuentra la segunda zona, reservada al trabajo de oficina así como al trabajo itinerante para los visitantes de la firma, a reuniones individuales y colectivas para el desarrollo de nuevos productos, a la realización de presentaciones o a formaciones para clientes, prescriptores o estudiantes.
Por último, al fondo, buscando la mayor intimidad, se sitúa la sala de reuniones, el único espacio cerrado al estar destinado a reuniones privadas. La pared de cristal transparente que la aísla permite que no se pierda la profundidad real del local.
Mobiliario multifuncional.
El nuevo showroom destaca por su ambiente industrial pero cálido, en el que materiales como el ladrillo visto, la piedra, el metal, la madera y el hormigón mantienen un armónico diálogo con el color y las texturas de los tejidos expuestos. El mobiliario sirve para establecer una separación entre las diferentes zonas, delimitando un entorno más privado y otro orientado al trabajo individual y de reuniones. Diferentes piezas de clientes de la firma danesa (Alki, Andreu World, Enea, Forma5, Four Design, Humanscale, La Granja by Vergés y La Palma) se han vestido con tejidos en lana o poliéster reciclado.
En el mobiliario, se ha optado por mostrar una mezcla entre las líneas clásicas de tejidos: Fame Hybrid, Crisscross, Capture y Luna 2, así como otros más recientes: Select y Harmony junto con la nueva gama pastel de Mood, Crisp y Breeze Fusion. Por otro lado, se han incluido también los últimos tejidos de poliéster reciclado como Cura, Mica, Tonal y Noma que, con su textura cálida de aspecto natural y su estética informal aportan una sensación de hogar a los interiores de la oficina. Estos tejidos fabricados con poliéster reciclado post consumo, están certificados por Oeko-Tex y EU Ecolabel y tienen un excelente perfil medio ambiental: 98% de poliéster reciclado post consumo.
Sostenibilidad e I + D.
Los bellos tejidos de esta firma se caracterizan por una especial atención a la estética, la calidad y la funcionalidad, pero sobre todo por cumplir con los más altos estándares de calidad y sostenibilidad. Explican que «se realizan a base de lana o hilos obtenidos a partir de poliéster reciclado post consumo y han sido, dentro de la industria, los primeros en obtener una serie de certificaciones por realizar una producción ambientalmente correcta.
De forma resumida, Gabriel ha obtenido desde la década de los 80 hasta 2018: la certificación en "procedimientos de teñido sin metales pesados" (años 80), la ISO 9001 (1991) y la certificación medioambiental de la Unión Europea para el 61% de sus tejidos, la certificación Oeko-Tex para el 95% de sus tejidos, así como la certificación Cradle to Cradle (de la cuna a la cuna) para el 13% de sus tejidos. Éstas tres últimas en 2018.
Además, el equipo de diseñadores y de I+D de la empresa busca constantemente nuevas soluciones textiles con un importante valor añadido tanto en su estética como en su funcionalidad. Los tejidos fabricados a partir del poliéster reciclado son un ejemplo de ello y forman parte de la estrategia empresarial de Gabriel para los próximos años, desarrolla productos realizados a partir de material reciclado, así como seguir su compromiso con el medioambiente y con sus políticas de RSE orientadas a implementar el modelo de economía circular.
---
SHOWROOM:
Calle Julián Romea, 16.
08006 Barcelona (España).
Lunes a viernes: 8.30 a 13.30 y 14.00 a 17.00 horas.
T. +34 93 225 98 54.
M. + 34 619 71 64 86.
www.gabriel.dk
---
LAS IMÁGENES:
---
SOBRE FRIIS & MOLTKE:
Friis & Moltke es un estudio danés de arquitectura y diseño, fundado en 1954, cuyo objetivo es crear una arquitectura hermosa y útil para las personas. Les interesa el impacto de la arquitectura en las personas y el espacio, y la sostenibilidad social es una de sus principales prioridades. Tiene una especial experiencia en el sector sanitario y educativo.
Knud Friis (1926-2010) y Elmar Moltke Nielsen (1924-1997) fundaron Friis & Moltke en 1954. En la década de 1960, presentaron a los daneses su versión suave del brutalismo que, a menudo, presentaba enormes y robustos edificios ocultos en el paisaje, muros de hormigón en bruto e instalaciones técnicas vistas. Diseñaron casas unifamiliares, casas adosadas y complejos de viviendas, además de una serie de edificios comerciales e institucionales en Dinamarca.

Knud y Elmar mantuvieron una asociación creativa única y sus innovadores proyectos, tanto en Dinamarca como en el extranjero, tuvieron un impacto decisivo en la arquitectura danesa. Los dos socios trabajaron juntos en prácticamente todos los edificios realizados por su estudio.

En la actualidad, el despacho pertenece y está gestionado por ocho socios: Palle Hurwitz, Mikkel Wienberg, Mikkel Bahr, Mogens Husted Kristensen, Jens Ole Bahr, Thomas Hjortlund Svendsen, Thomas Ruus Christensen and Anders Christian Bregnballe.
---
SOBRE AREAZERO 2.0:
Areazero 2.0 es una firma de Barcelona, especializada en transformar y proyectar interiores, desde los primeros bocetos del diseño hasta la entrega de todos los proyectos e instalaciones ejecutados y legalizados. Son especialistas en diseñar espacios de trabajo adaptados a cada empresa, con una gran experiencia en proyectar y reformar espacios comerciales.
AREAZERO 2.0 EN INTERIORES MINIMALISTAS
---
SOBRE GABRIEL:
Gabriel es una empresa danesa fundada en 1851 bajo el nombre de Kjaers Molle por tres emprendedores con el objetivo de crear una producción sostenible de telas para el sector de la moda. Desde entonces, se ha convertido en una empresa global con presencia en casi todo el mundo y con una larga trayectoria industrial en sus 168 años de historia en diseño e innovación en tejidos para la industria del mueble.
Con sede central en Aalborg, Dinamarca, emplea a unas 940 personas, exporta el 90% de su producción a más de 50 países y posee tres empresas subsidiarias en tres continentes (Gabriel Europa, Gabriel Norteamérica y Gabriel Asia Pacifico) lo que le ha permitido alcanzar una cifra de ventas de más de 80 millones de Euros y alcanzar exitosamente los objetivos generales del grupo en innovación y generación de valor.
Gabriel, desarrolla, fabrica y vende tejidos para tapicería, componentes, superficies tapizadas, así como otros productos y servicios relacionados con el mobiliario de oficina y entornos contract (teatros, cines, auditorios, restaurantes, hospitales, etc.) Sus gamas de productos son amplias y van desde los tejidos más tradicionales como la pura lana y el fieltro, hasta los más innovadores como textiles para soluciones acústicas, poliéster reciclado, microfibra, ZenXit, etc.
Gabriel se caracteriza por la especial atención al diseño, estética, calidad y funcionalidad de sus tejidos, pero sobre todo, por su compromiso con el medioambiente y con unas políticas de RSE orientadas a la implementación del modelo de economía circular.
---
Información facilitada por Gabriel y en las webs de Friis & Moltke y Areazero 2.0. Imágenes facilitadas por la firma
You might also like