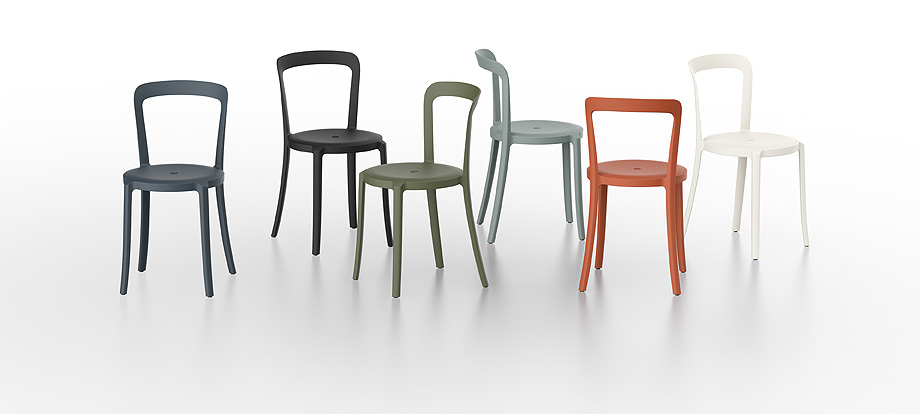 ON & ON:
La colección de sillas y taburetes On & On es la primera colaboración entre el dúo de diseñadores Edward Barber y Jay Osgerby y el fabricante norteamericano Emeco, conocido por sus famosas sillas de aluminio.
El punto de partida del trabajo fue crear una silla simple, atemporal, resistente y diseñada específicamente para poder ser reciclada, abriendo nuevos caminos a una nueva forma de pensar circular, que combinara la larga vida del producto con la resistencia y el uso de materiales reciclados que pudieran reciclarse una y otra vez (on & on).
Partiendo de esta base, Emeco junto a Barber & Osgerby han creado un familia de sillas y taburetes que son física y visualmente livianos, pero muy fuertes y duraderos, lo que los hace adecuados tanto para exigentes entornos comerciales como para uso doméstico, en interiores y exteriores. Además, se pueden reciclar y apilar hasta seis piezas.
rPET reciclado y «de la silla a la silla».
Emeco utilizó PET (rPET) reciclado, por primera vez, para fabricar la 111 Navy Chair en 2010. Desde entonces, ha continuado diseñando y mejorando el material para una mayor longevidad y durabilidad. Las sillas y taburetes On & On están hechos en un 70% de rPET (botellas de plástico recicladas), 10% de un pigmento no tóxico y un 20% de fibra de vidrio para tener una mayor resistencia. Estéticamente, la colección referencia a las famosas sillas de madera curvada de los cafés de los año 30.

Actualmente y de cara a un reciclaje de ciclo cerrado, la empresa creada en 1944 está trabajando en el programa «de la silla a la silla», en el que los clientes pueden devolver sus sillas viejas para fabricar nuevas, todas en Estados Unidos.

Diferentes tipos de asientos.
La nueva colección On & On, presentada durante la Milan Design Week 2019, ofrece diferentes tipos de asientos para distintos entornos y propósitos: asientos en rPET -a juego con la estructura de las sillas y taburetes- que están disponibles en seis atemporales colores, adecuados para interior y exterior; asientos de madera contrachapada en roble o fresno; y asientos tapizados con un atractivo diferente para los interiores. La serie al completo, que llevó más de un año y medio de desarrollo, se compone de silla, taburete bajo y taburete alto.

---
LAS IMÁGENES: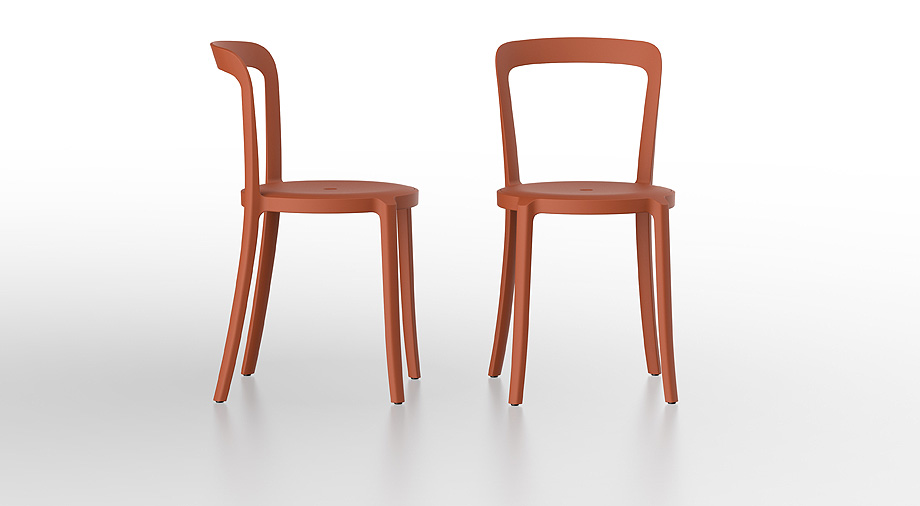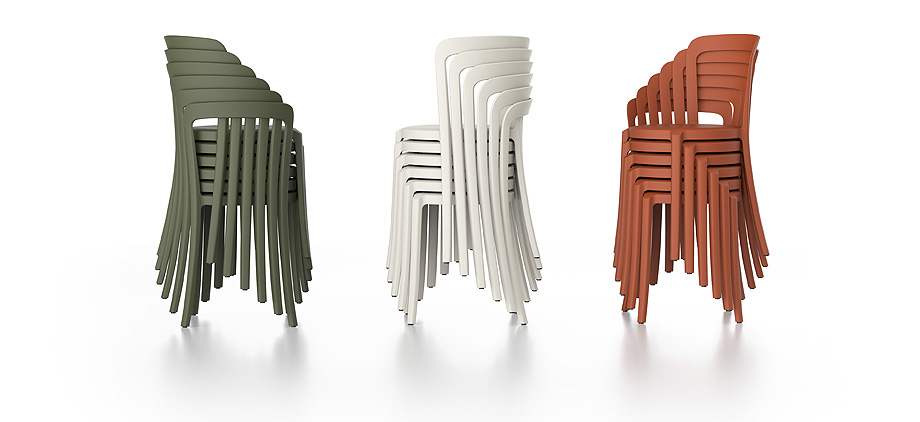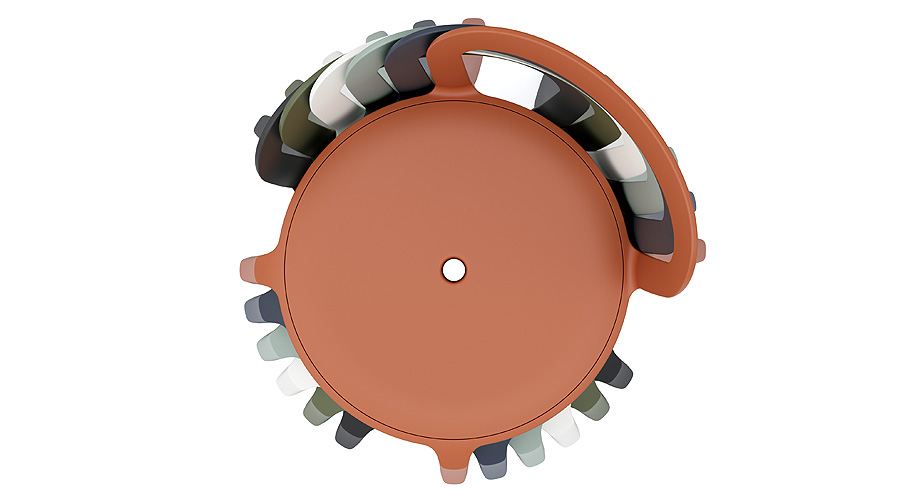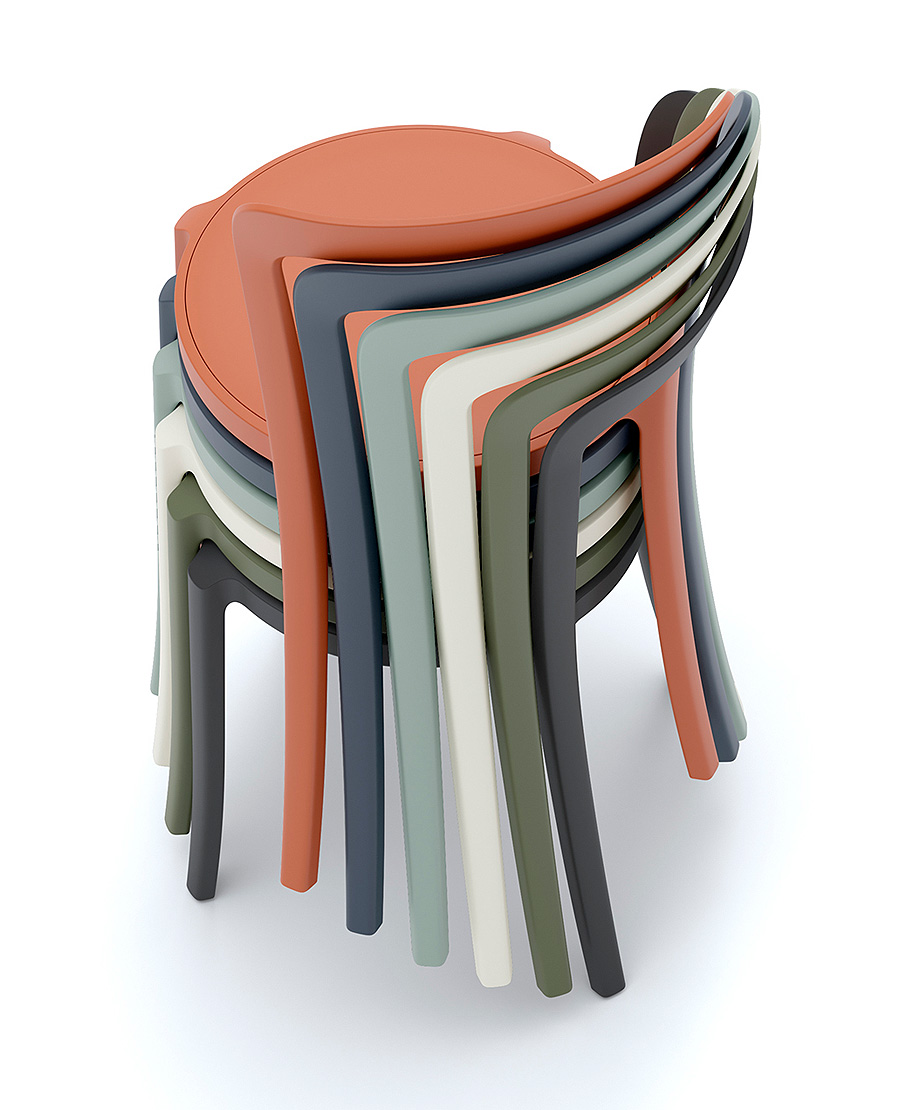 ---
SOBRE BARBER & OSGERBY: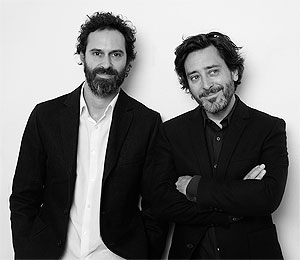 Edward Barber y Jay Osgerby nacieron en 1969, estudiaron arquitectura juntos en el Royal College of Art en Londres y fundaron su propio estudio en 1996. Desde entonces, han trabajado en los campos del diseño industrial, diseño de mobiliario, iluminación, instalaciones y arquitectura. También han realizado encargos de galerías y organismos públicos como la antorcha olímpica de Londres (2012).
Su primer producto fue la mesa Loop, que produjo Isokon, en 1997. En 2009, iniciaron el proyecto de la silla Tip Ton para Vitra, partiendo de la de la premisa de que la educación moderna y los ámbitos de aprendizaje dinámicos necesitaban un nuevo mobiliario. Hasta el momento, han trabajado para importantes empresas como Knoll, B&B Italia, Hermès, Cappellini, Magis, Vitra, Venini, Swarovski, Flos y Established & Sons.
En 2001 y paralelamente a su estudio, Barber y Osgerby fundaron Universal Design Studio, ahora reconocida como una de las consultoras de diseño creativo más innovadoras del mundo, trabajando en arquitectura, interiores y diseño de exposiciones. En 2012, la pareja siguió con el lanzamiento de MAP, un estudio de diseño industrial basado en la estrategia y en las habilidades creativas y comerciales de Barber & Osgerby.
Los trabajos del estudio forman parte de las colecciones permanentes del Victoria & Albert Museum y el Design Museum de Londres; el Metropolitan Museum of Art (New York); el Art Institute of Chicago; y el Indianapolis Museum of Art. Además, han recibido diferentes reconocimientos como el Premio Jerwood de las Artes Aplicadas (2004), el prestigioso premio internacional del Diseño del Año por la antorcha olímpica (2012), el iF Award, el German Design Award, el Red Dot Award y el Wallpaper* Design Awards, entre otros.
BARBER & OSGERBY EN INTERIORES MINIMALISTAS
---
SOBRE EMECO:
Fundada en 1944, por Wilton C. Dinges, Emeco (Electrical Machine and Equipment Company), con base en Hanover (Pensylvannia / Estados Unidos), ha sido el principal fabricante de sillas de aluminio hechas a mano durante 65 años.
En los años 40, en plena II Guerra Mundial, la armada estadounidense encargó a Emeco un modelo de silla ligera, fuerte y resistente al agua. En colaboración con el fabricante de aluminio Alcoa, la empresa desarrolló la silla Navy, que pronto se convirtió en un icono de durabilidad, estilo y compromiso medioambiental que sigue en plena vigencia en nuestros días.
Con los años, el cuidadoso proceso de fabricación artesanal de Emeco ha ido enriqueciéndose con la aportación de grandes diseñadores y arquitectos. Por ejemplo, Philippe Starck diseñó los modelos Hudson, Heritage e Icon; Norman Foster, la 2006; el modelo Superlight es obra de Frank Gehry; y Adrian Van Hooydonk realizó el proyecto para la 1951. Una de sus alianzas más sonadas ha sido la que llevó a cabo, en 2011, con Coca-Cola para la producción de la Navy 111, hecha a partir de las botellas recicladas de la bebida más famosa del mundo.
Hoy en día, Emeco está comprometida con una forma de producción sostenible: sus sillas y taburetes están fabricados con un 80% de aluminio reciclado o un 65% de rPET reciclable.
EMECO EN INTERIORES MINIMALISTAS
---
Información e imágenes facilitadas por la firma y en la web de los diseñadores
You might also like