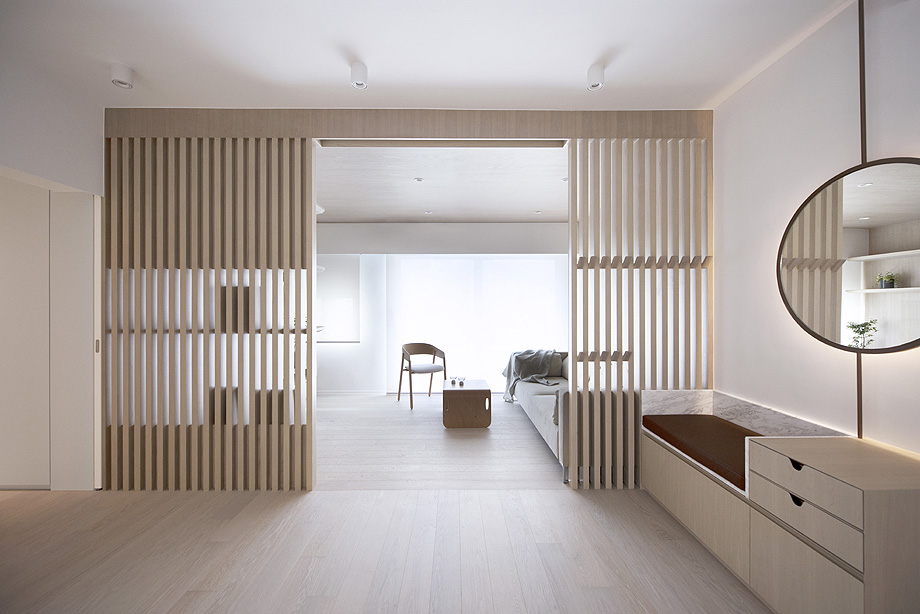 URBAN COCOON:
El estudio Bean (Between Exchanges of Architectural Narratives) Buro diseñó este apartamento de 110 m² para una pareja y su hijo recién nacido, concibiendo cada uno de sus espacios como cocoons, adaptados y diseñados a medida para responder a las necesidades de la familia. «Las actividades cotidianas, como leer un libro o hacer la siesta, se convierten en un momento especial ya que los habitantes de la vivienda pueden anidar en esos personales rincones», explican los arquitectos Lorène Faure y Kenny Kinusaga-Tsui.
Después de un cuidadoso estudio del lugar, los diseñadores decidieron ubicar los dormitorios y ver donde podrían tener acceso a las mejores vistas. Esta decisión también permitiría la entrada de mucha luz natural, ya que era esencial que la familia se sintiera a gusto en aquellos espacios donde pasarían la mayor parte del tiempo.
Madera y tonos neutros.
Los interiores de la sala de estar y la habitación se revistieron de una madera de tono claro mientras que, en espacios de transición, como la entrada y el pasillo, este material natural cambia a pintura de un relajante color gris. Las estanterías de listones de madera con colgadores integrados para los abrigos y sombreros se utilizan como mamparas divisorias entre los dos espacios. Esta paleta «se inspira en la arquitectura tradicional japonesa, donde la madera clara se usa ampliamente para crear una atmósfera cálida y relajante», explica el estudio.
En el proyecto, también se han utilizado otros materiales como cobre, baldosas de cuero y mármol. Todos ellos fueron escogidos en tonos neutros para ajustarse a una paleta minimalista y neutral. En este ambiente, dos grandes espejos enfrentados -uno en la entrada y el otro en el dormitorio principal- establecen «una conversación dentro del espacio».
Definir los espacios de trabajo.
Como la pareja trabaja desde casa, uno de los desafíos del proyecto giró en torno a la definición de las zonas de trabajo, ya que el marido y la mujer necesitaban espacios de características distintas: mientras él requería de un espacio privado y cerrado, ella prefería un rincón escondido abierto, con un escritorio integrado, suficiente espacio para guardar libros escolares y cerca del piano, que toca ocasionalmente cuando quiere darse un breve respiro durante la jornada laboral. Esta necesidad se resolvió integrando el rincón de estudio y el piano en la misma pared.
La habitación infantil.
El espacio infantil está diseñado teniendo en cuenta las teorías de la pedádoga, filósofa y científica italiana Maria Montessori. De esta manera, el niño crecerá «aprendiendo y jugando en un espacio cuidadosamente diseñado para él. Todas las repisas, estanterías y escritorio están hechas a medida y adaptadas a su altura, escondidas debajo de la cama como un espacio seguro para las fantasías y el desarrollo infantil», concluye el estudio Bean Buro.
---
LAS IMÁGENES:
---
FICHA TÉCNICA:
Proyecto:

Urban Cocoon.

Ubicación:

China.

Superficie:

110 m².

Completado:

2018.

Autor:

Bean Buro.

Equipo:

Lorène Faure, Kenny Kinugasa-Tsui, Pauline Paradis, Abby Liu, Michelle Ho e Isaac Tam.

Fotografías:

Bean Buro.
---
PLANIMETRÍA: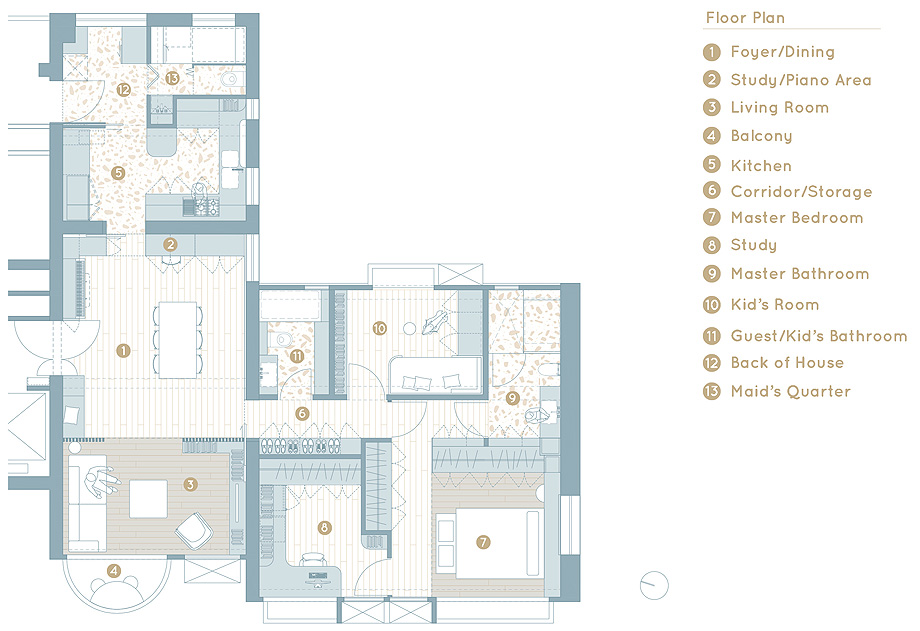 Planta
---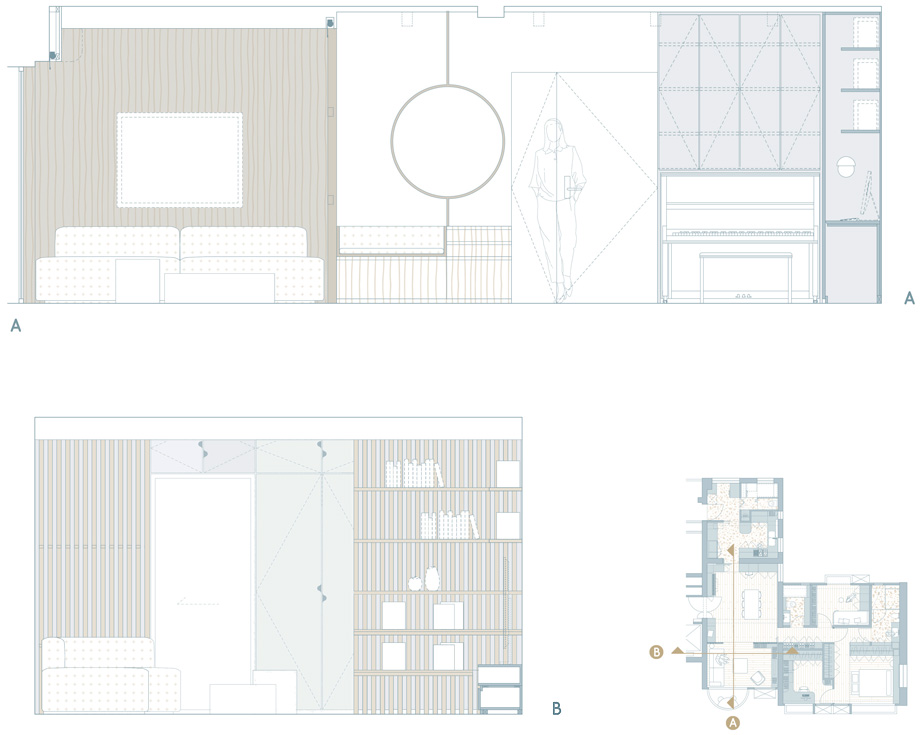 Sección A y Sección B
---

Sección
---
SOBRE BEAN BURO: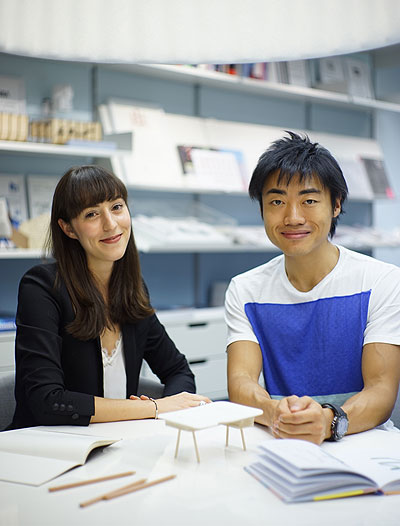 Bean (Between Exchanges of Architectural Narratives) Buro es un estudio de arquitectura y diseño de interiores con sede en Hong Kong desde 2013. Lo lideran los arquitectos Lorène Faure (París) y Kenny Kinusaga-Tsui (Hong Kong) que, junto a un equipo de diseñadores internacionales, ofrecen servicios de arquitectura, interiorismo, instalaciones, diseño de mobiliario y de producto.
El equipo de Bean Buro cree que la arquitectura es una experiencia emocional y espacial producida tanto por el usuario como por el autor. "Nuestras metodologías de diseño derivan de la observación, la especulación y el análisis de narrativas contextuales. Estas narraciones o 'historias' generan intercambios dinámicos de factores históricos, ambientales, culturales y sociales, dando lugar a intervenciones altamente inventivas mientras se preserva el ingenio intelectual".
COLLABean, como parte integrante de Bean Buro, es una plataforma transdisciplinaria para la colaboración entre el estudio, la investigación y el mundo académico. COLLABean puede proporcionar servicios de investigación para organizaciones empresariales y, cuando sea apropiado, provocar la entrada de especialistas en una red de diseñadores, académicos e investigadores de alta reputación en el campo del diseño.
El estudio ha llevado a cabo una serie de proyectos de arquitectura de interiores para clientes privados así como empresas renombradas como Cheil, Leo Burnett o Warner Music, y ha sido galardonado en los premios Asia Pacific Interior Design Award 2015 y en los A'Design Awards, y finalista en 13th Modern Decoration International Media Award.
BEAN BURO EN INTERIORES MINIMALISTAS
---
Información e imágenes facilitadas por el estudio
You might also like