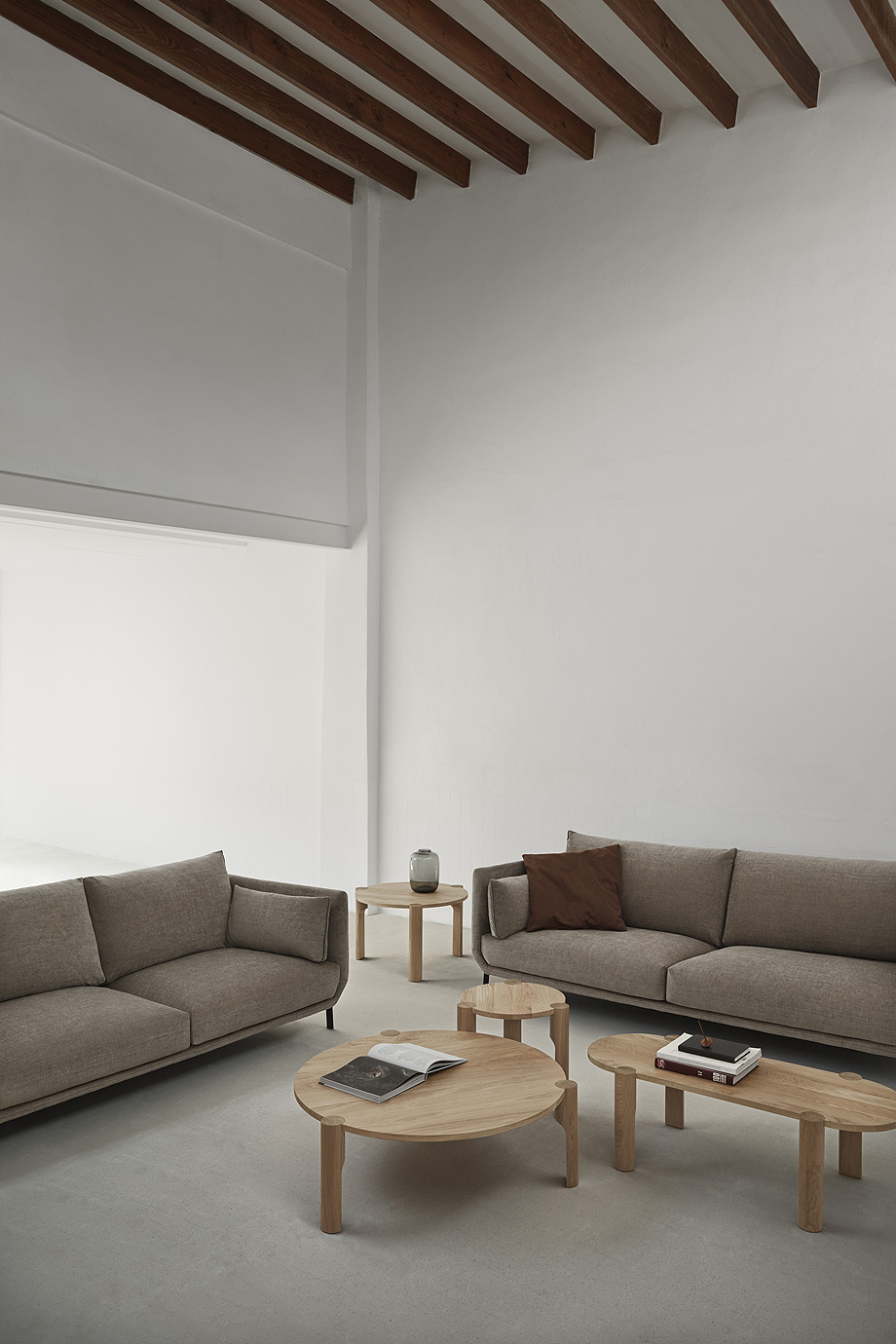 REFLEXIONES MEDITERRÁNEAS:
Omelette Editions presenta, hasta hoy viernes, en Feria Hábitat Valencia (17-20 septiembre), su nueva colección Mediterranean Reflections 02, donde la editora vuelve a mostrar su buen hacer con diseños atemporales y frescos que llevan la firma de reconocidos diseñadores. Francesc Rifé es el autor de la mesa OX, la lámpara Bold es un diseño del estudio La Mamba y Álex Piñeiro es el responsable de las nuevas colecciones Alex y Domus, y de la ampliación Terra Swivel, que os mostramos a continuación.
Todas las piezas se definen por transmitir un estilo contemporáneo y una esencia cercana que les permite encajar en espacios contract de restauración y de hotelería, entre otros, pero también en entornos residenciales. "Buscamos que nuestros materiales sean honestos, naturales y que posean una gran carga de artesanía de calidad. Materiales como la madera de roble, el fresno y el metal repiten protagonismo en este catálogo, pero, al mismo tiempo, se incorporan materiales nuevos como el vidrio, presente en la nueva colección de lámpara Bold", explica Omar Uribe de Omelette Editions.
---
ALEX:
Alex es una silla muy liviana, apilable y funcional, inspirada en la escultura del estadounidense Alexander Calder y su equilibrio entre formas, líneas y materiales. Sencilla pero expresiva ofrece la posibilidad de utilizarse en espacios muy diversos: comedores, salones, estudios, oficinas, zonas de reunión… que se beneficiarán de su principal seña de identidad: los reposabrazos.
---
DOMUS:
Colección de mesas y taburetes que se definen por su simplicidad, sobriedad, carácter y por el original encuentro entre la pata con el asiento o el sobre. Domus incluye mesas auxiliares y de centro en cuatro tamaños (∅ 120, 100, 71 y 45 cm) y dos alturas que permiten generar juegos visuales muy sugerentes. Por su parte, los taburetes están disponibles en dos alturas: uno de 46 cm y otro alto, de 65 cm, para barras de restaurante y cocinas particulares. Esta versión incorpora un reposapiés a modo de aro métalico, en acabado negro o cromado. Producida en madera de roble maciza, la colección Domus cuenta con tres acabados: roble natural, roble lacado negro y roble humo.
---
TERRA SWIVEL:

La familia Terra crece con una nueva versión, con pie giratorio, con el nombre de Terra Swivel. La colección contaba ya con un modelo con pie de madera, una silla con cuatro patas metálicas, un taburete de 65 cm con cuatro patas metálicas y otro de 75 cm también con patas metálicas. Con esta colección, se ha querido potenciar la parte más artesanal de la ebanistería y el metal, combinándola con el proceso más industrial de la madera curvada.
---
SOBRE ISAAC PIÑEIRO:
Isaac Piñeiro es un diseñador de producto establecido en Barcelona. Nació en Pontevedra (1976) y, tras formarse en la Escuela de Artes Mestre Mateo de Santiago, se trasladó a Valencia donde estudió Diseño de Producto en la EASD (Escuela de Arte y Superior de Diseño de Valencia).
Continuó su formación en la Scuola Politécnica di Milano, donde tuvo la ocasión de aprender de profesionales como Odoardo Fioravanti, Huub Ubbens o Matali Crasset. Tras una fructífera carrera como socio co-fundador del estudio de diseño multidisciplinar Nadadora, en 2017, comienza una nueva etapa con la creación de Isaac Piñeiro Design Studio, para continuar desarrollando proyectos de diseño de producto.
Su trabajo ha sido publicado y expuesto en varios medios, museos y ferias internacionales. Su último reconocimiento, entre otros, es el Best of the Year 2017 del magazine Interior Design por la colección de butacas Tortuga para Sancal.
ISAAC PIÑEIRO EN INTERIORES MINIMALISTAS
---
SOBRE OMELETTE EDITIONS:
Omelette Editions es una editora de productos para el hábitat y colectividades con una perspectiva humana, cercana y de calidad. Por ello, todos sus diseños son fabricados en España por proveedores cualificados, controlando en todo momento la calidad de los productos así como la utilización de materiales nobles como la madera.
Creada en 2010, fue fundada por el estudio de diseño La Mamba como una salida para sus propios diseños. Bajo esta marca, que tiene su sede en la ciudad de Valencia, pueden encontrarse elementos de mobiliario, iluminación y accesorios para uso contract o residencial, siempre bajo los principios de simplicidad y honestidad.
OMELETTE EN INTERIORES MINIMALISTAS
LA MAMBA EN INTERIORES MINIMALISTAS
---
Información e imágenes facilitadas por la editora
You might also like