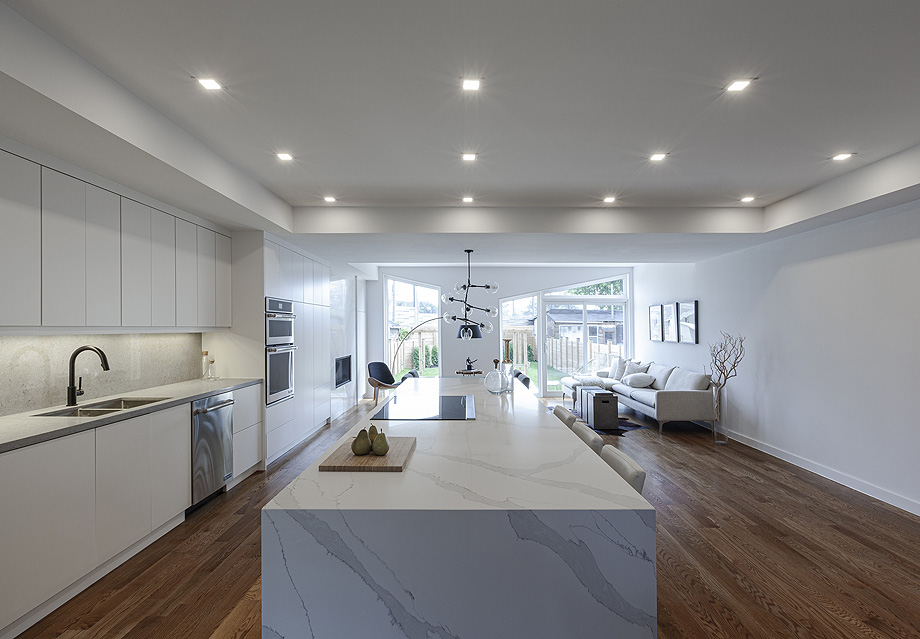 MASK HOUSE:
La Mask House es una vivienda de dos plantas, situada en el pueblo de Roncesvalles, en el extremo oeste de Toronto, que fue diseñada y construida respetando la forma trapezoidal alargada y estrecha de la parcela, un presupuesto limitado, los restringidos estatutos de zonificación y unas altas exigencias por parte del cliente.
Originales fachadas.
En el exterior de la casa, las originales fachadas (las máscaras) sorprenden con el trazado de sus líneas en diagonal que invitan a especular sobre una relación entre el interior y el exterior.  Sin embargo, la máscara «juega intencionadamente el papel de mediadora entre el entorno fortuito que la rodea y el sereno orden interior ortogonal», explica el arquitecto Reza Aliabadi, autor del proyecto. Esta arquitectura contrasta con la de las casas circundantes de ladrillo rojo, mucho más tradicionales, «afectando, comprometiendo y cambiando su entorno inmediato y extendiendo una invitación para jugar a un nuevo juego», comenta.
Espacios multifuncionales.
Una vez se entra en la casa, te saluda el guardarropa del vestíbulo que, si bien es pequeño en planta, presenta una generosa altura de dos pisos y medio que se funde, en el hueco de la escalera, con una claraboya en la parte superior. Juntos, sirven como un punto de referencia en la casa. A continuación, un gran espacio abierto combina cocina, comedor y salas de estar con salida al patio trasero. El nivel inferior ofrece una sala de fiestas con una cocina que se puede convertir fácilmente en una suite de invitados independiente con su propia entrada desde el exterior. La segunda planta acomoda el dormitorio principal con baño propio y las habitaciones infantiles con baño compartido.
Adaptarse a los cambios.
Con la intervención, la esquina suroeste de la vivienda se ha desplazado medio piso para crear tres entrepisos, cada uno como un espacio multifuncional que permiten un uso flexible, semiseparados pero dentro de la envoltura, unidos por la escalera al resto de la casa. «La vida impone cambios y una familia en crecimiento siempre requiere un lugar adicional para trabajar, hacer ejercicio y reunirse. Estos espacios se adaptarían perfectamente y servirían a cualquiera de estas necesidades», dice Reza Aliabadi.
---
LAS IMÁGENES by BORZU TALAIE:
---
FICHA TÉCNICA:
Proyecto: Mask House.
Ubicación: Ontario, Toronto (Canadá).
Superficie parcela: 451 m².
Superficie casa: 228,50 m².
Completado: verano 2019.
Autor: RZLBD / Atelier Reza Aliabadi.
Director de proyecto: Reza Aliabadi.
Equipo de proyecto:

Arman Azar y Aziza Asat

.

Estructura:

 

Dibaj Tech Inc.

Mecánica:

 

Noor Design Inc.

Gestión de la construcción: G.K. Development.


Diseño:

2016-17.
Fotografías: Borzu Talaie.

---
DIAGRAMA CONCEPTUAL Y DE DISTRIBUCIÓN: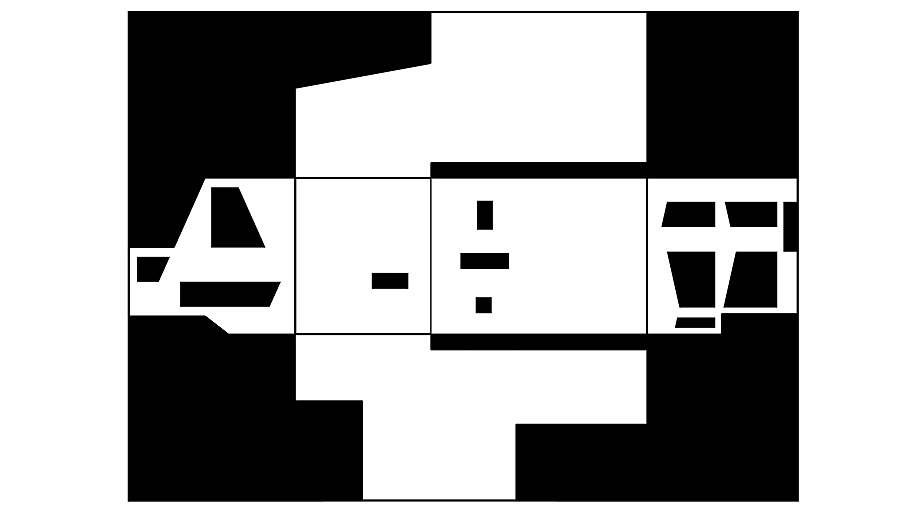 Diagrama
---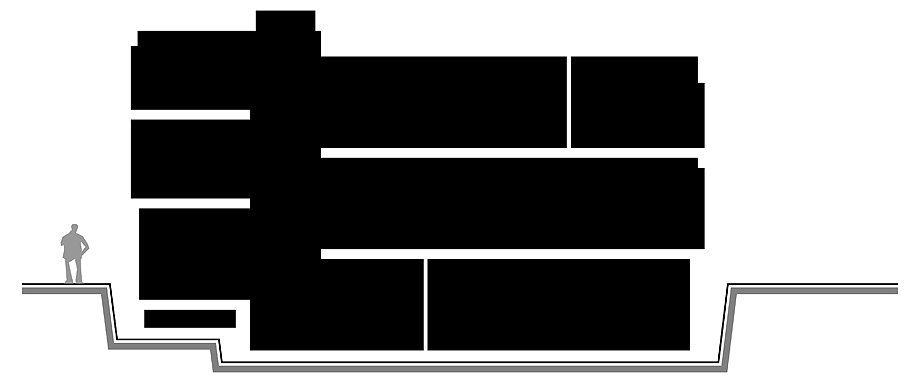 Diagrama sección
---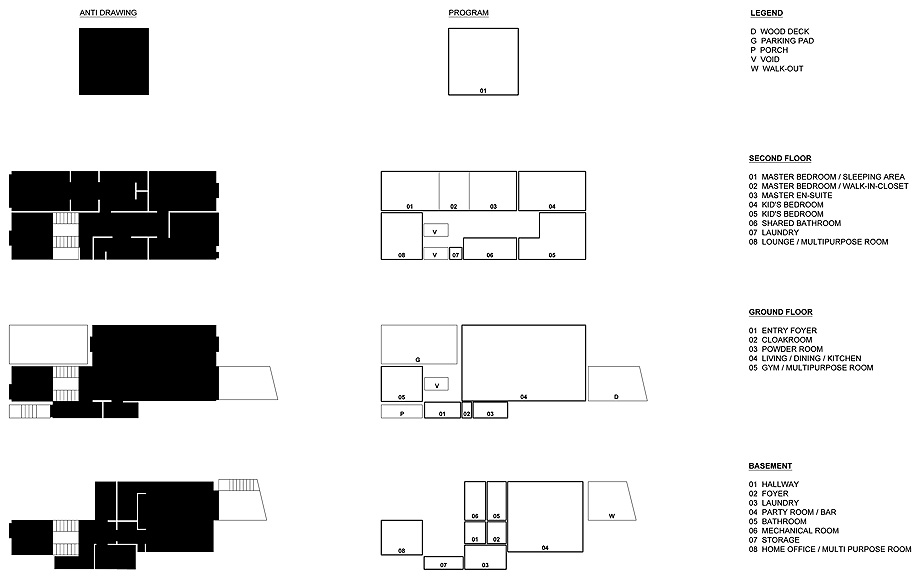 Plantas
---
LA MAQUETA: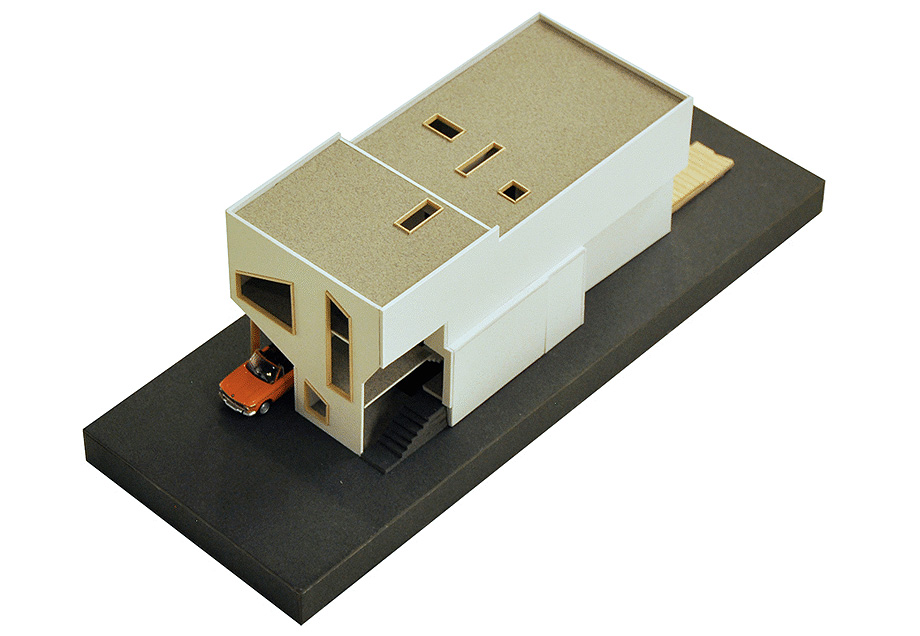 ---
SOBRE REZA ALIABADI [ATELIER RZLBD]:
Atelier RZLBD es un estudio de arquitectura con sede en la ciudad de Toronto (Canadá), fundado por el arquitecto Reza Aliabadi (Teherán, 1974), en el año 2010. Con anterioridad, Reza Aliabadi había fundado Reza Aliabadi Building Workshop. El trabajo de Aliabadi se extiende al diseño de edificios residenciales, comerciales e institucionales, diseño de producto, comisariado de instalaciones y exposiciones, y la publicación de un magazine llamado rzlbdPOST. 
Muchos de sus proyectos han sido publicados en diferentes medios y distinguidos con distintos galardones como el International Architecture Master Prize (2018), el American Architecture Prize (2017) y Ontario Association of Architects Awards (2009, 2011); exhibido en muchos lugares, incluyendo el Sir John Soane's Museum (London 2018), el World Architecture Festival (Berlín, 2017 y Amsterdam, 2018), la School of Architecture de la McGill University (Montreal 2009, 2017), y en el Toronto Harbourfront Centre (2012).
REZA ALIABADI EN INTERIORES MINIMALISTAS
---
Información e imágenes facilitadas por el arquitecto
You might also like