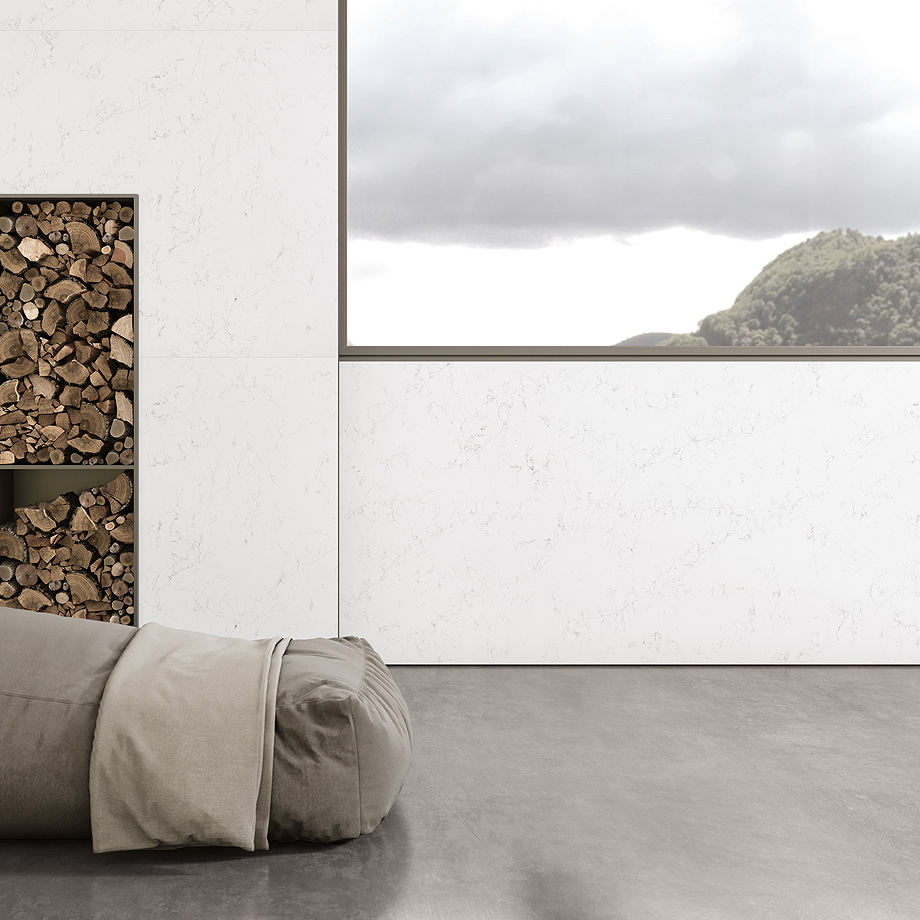 UNIQUE COLLECTION:
Bajo el lema "Be at the one with nature", COMPAC ha presentado sus tres nuevas creaciones que completan la Unique Collection: Unique Carrara™, Unique Bianco™ y Unique Pietra™, una rica paleta de diseños que invitan a fundirse con la naturaleza e imprimen serenidad y sofisticación a cualquier ambiente.
Explica la compañía especializada en la fabricación y distribución de superficies de mármol y cuarzo que la filosofía de Unique Collection es «aunar la insuperable perfección natural con las características propias del cuarzo tecnológico COMPAC. El resultado es un material de excepcional durabilidad y resistencia, indicado para superficies de interior sometidas a un uso intensivo, como las encimeras de cocina, a las que COMPAC ofrece en España garantía de por vida».
Las nuevas creaciones de COMPAC están disponibles en tres diferentes acabados: Pulido, que intensifica y da vida a los colores; Glacé, que ofrece una superficie completamente lisa, sin poros, de fácil limpieza; y, por último, Crepe, una nueva textura pionera en el mercado, cuya delicada rugosidad confiere a las superficies un aspecto totalmente natural e inédito.
Por otra parte, Compac cuenta en su catálogo con el formato Giant XS (320 x 155 cm, que permite apreciar la armonía de los diseños veteados con espectaculares resultados en pavimentos, aplacados y revestimientos de todo tipo de superficies.
---
UNIQUE CARRARA™:
Diseño bello, atemporal y distinguido que realza cualquier espacio con su estilo y originalidad. Unique Carrara™ ha sido concebido para aquellos que buscan piezas que desprenden luz propia.
---
UNIQUE BIANCO™:
Una creación llena de fuerza y personalidad que consigue imprimir movimiento a la materia. Sus texturas exclusivas son las señas de identidad de esta superficie especialmente diseñada para ambientes de gran carácter.
---
UNIQUE PIETRA™:
El tono de Unique Pietra™ y el dibujo de sus vetas son pura inspiración. Su armonía y textura te invitan a viajar por territorios desconocidos y suponen una apuesta segura para aquellos que aman todo aquello que es artístico e insólito.
---
SOBRE COMPAC:
Fundada en 1975, COMPAC The Surfaces Company fue la primera compañía española especializada en la fabricación y distribución de superficies de mármol y cuarzo, que se utilizan en campos como la arquitectura y el diseño de interiores. El cuarzo tecnológico COMPAC es un mate­rial altamente resistente y de gran calidad decorativa gracias a su composición, de hasta un 92% de carga mineral, al que se añaden pigmentos y resinas mediante la aplicación de un proceso tecnológico denominado engineered stone.
Actualmente, es una gran multinacional con capital 100% español, con almacenes propios en España, Portugal, Reino Unido y Estados Unidos, y una red comercial de más de 250 distribuidores en los cinco continentes. Compac cuenta con dos modernos centros de producción para mármol (España) y cuarzo (Portugal), con una capacidad conjunta que sobrepasa los 4,5 millones de m2 anuales, y cuenta con una plantilla formada por más de 400 profesionales.
En su interés por evitar el menor impacto medioambiental, en 1981, construyeron la primera planta de recuperación y reutilización del agua; en 1998, redujeron un 40% el consumo energético, mejorando la gestión productiva del proceso de corte de bloques; en 2004, comenzaron con una reforestación de 15.000 árboles autóctonos en Portugal, teniendo hoy más de 30.000 árboles en sus terrenos; y, desde 2011, se producen productos de la línea Nature con bioresinas de origen vegetal renovable. Además, el 100% de la energía eléctrica que se consume en su planta de Portugal proviene de fuentes renovables.
COMPAC EN INTERIORES MINIMALISTAS
---
Información e imágenes facilitadas por la firma
You might also like