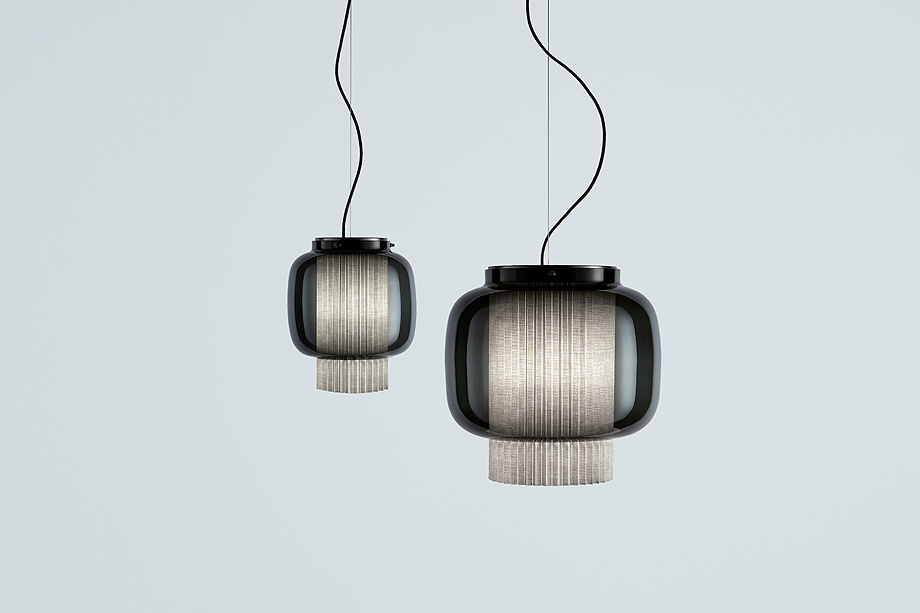 MANILA:
El diseñador alemán Sebastian Herkner es el autor de esta luminaria de suspensión, presente en el catálogo de la firma de iluminación decorativa Parachilna. Manila, que debe su nombre al tradicional mantón de Manila de las bailaoras flamencas, es una elegante combinación de vidrio soplado artesanalmente y una delicada pantalla textil plisada. A estos dos materiales, se suma una estructura de acero que recibe un tratamiento especial: un baño electrolítico oro mate o grafito mate.
Esta luminaria de interior, primera colaboración entre Parachilna y Herkner, está disponible en dos tamaños y acabados: por un lado, vidrio transparente y plisado beige, para un ambiente cálido. Por otro, cristal negro y pantalla textil gris claro, para una luz más íntima y acogedora. Asimismo, la lámpara se presenta en dos tamaños: la Manila pequeña (PE) con un vidrio de 25 cm de diámetro y la grande (GR), con una pantalla de vidrio de 42 cm de diámetro. Acabados y medidas facilitan su adaptación a diferentes interiores.
Además, Manila ofrece la posibilidad de utilizar una bombilla halógena (Manila PE) o una fuente LED (Manila PE y GR).
---
FICHA TÉCNICA:
Tipo:

lámpara de suspensión.

Estructura:

acero.

Difusor:

cristal y tela.

Voltaje:

230 V.

Alimentación:

regleta.

Longitud del cable:

2,5 m.

Fuente de luz Manila T PE:

E27 Halo ECO Max. 77W / E27 LED 13W 3000K.

Fuente de luz Manila T GR:

E27 LED Globe ø120 18W 3000K.
---
LAS IMÁGENES:
---
SOBRE SEBASTIAN HERKNER: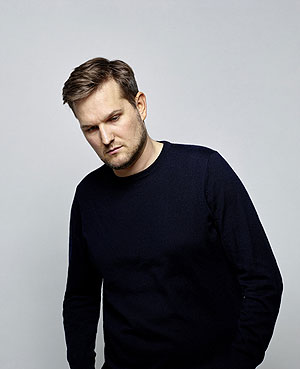 Nacido en Bad Mergentheim, Sebastian Herkner estudió Arte y Diseño en la Universidad de Offenbach y fundó su propio estudio en esta ciudad alemana en 2009. Ya durante sus estudios, se centró en el diseño de objetos y mobiliario, fusionando varios contextos culturales.
Considerado un mediador entre la artesanía tradicional y la alta tecnología, sus proyectos dan voz a los materiales y añaden al diseño moderno un toque sensual y, a veces, humorístico.
Es esta naturaleza sensual, su especial paleta de color y una intención creativa, que no siempre se fija en un propósito concreto, lo que le han permitido a sus 34 años de edad dar una nueva cara al diseño alemán. Sus éxitos internacionales quedan reflejados en sus trabajos para firmas como Moroso, Fontana Arte, Sizfeldt, Very Wood, Sancal, Böwer, Gubi, Le Amsterdam, Carl Mertens, Pulpo, La Chance, De Vorm, Verreum, Rosenthal y Nya Nordiska.
A lo largo de su carrera, el diseñador ha recibido diversos premios como el Designpreiss Deustchland 2011, el Red Dot Design Award 2010, el Wallpaper Design Awards 2014, el Design Plus y el Interior Design Best of the Year 2014. En 2016, ha sido el Invitado de Honor y el encargado de diseñar la vivienda del futuro en la sección Das Haus de la feria imm Colonia.
Fotografía: Gaby Gerster
SEBASTIAN HERKNER EN INTERIORES MINIMALISTAS
---
SOBRE PARACHILNA:
Además de ser uno de los últimos reductos civilizados antes de adentrarse en el desierto australiano, al norte de Adelaida, Parachilna es una firma de iluminación decorativa, fundada en 2013, que basa sus valores en la honestidad del diseño, el valor de los materiales nobles y la manufactura artesanal, recuperando el saber hacer de los pocos talleres metalistas, ceramistas y vidrieros que quedan en Europa.
La empresa, cuyo socio fundador y director artístico es Román Riera, busca rodearse de los mejores diseñadores, aquellos que, además, sepan entender su concepto de lujo artesanal llevado al diseño de lámparas. Ésta ha sido su apuesta desde el principio y su nueva visión en el sector ha sido compartida por nombres como Stephen Burks, Jaime Hayon, Neri&Hu o Jordi Veciana, y sigue adelante con más nombres del diseño para sus próximas colecciones.
PARACHILNA EN INTERIORES MINIMALISTAS
---
Información e imágenes facilitadas por la firma
You might also like