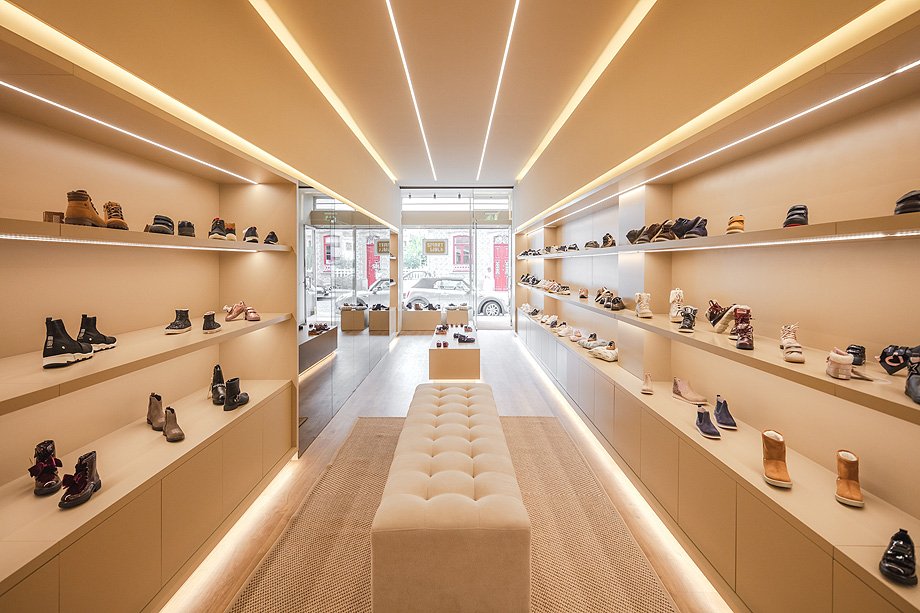 SMART WALK:
El arquitecto Raulino Ricardo Oliveira da Silva ha diseñado los interiores de esta pequeña zapatería, situada en la ciudad de Vila do Conde, al norte de Portugal, que, en su estado original, presentaba un aspecto completamente diferente. La tienda, que se abre a la avenida Dr. João Canavarro, una de las calles más importantes de esta ciudad, era un local estrecho y vacío, sin paredes divisorias y sin decoración, que ahora es un espacio agradable y neutro que cede el protagonismo al producto expuesto.
El proyecto ha buscado mostrar la simplicidad del espacio, con una economía de medios tanto en las soluciones de diseño como en los materiales. En cuanto a la distribución del programa funcional, la zapatería se ha zonificado en función de su forma rectangular, distribuyendo el espacio expositivo entre el escaparate y las paredes laterales, mientras que la zona de caja y el mostrador de atención la cliente se encuentran al fondo de la zapatería.
Escaparate, exposición y caja.
En el escaparate, totalmente acristalado, se han dispuesto pequeñas cajas cuyo tamaño permite cambiar fácilmente su posición y también la de los productos expuestos. Para controlar el frío en invierno, ya que la puerta exterior permanece siempre abierta, se ha creado una antecámara con doble puerta. El panel publicitario de la tienda también está dentró del escaparate, como una caja suspendida del techo, mientras que la reja de seguridad se ha colocado detrás del escaparate, permitiendo mostrar los diferentes zapatos  incluso cuando la tienda está cerrada.
Los laterales del establecimiento se han revestido con sencillas estanterías con espacio de almacenaje en su parte inferior para poder guardar el género no expuesto. La zona de la caja se encuentra en la parte posterior de la tienda, hecha con espejo y madera contrachapada lacada. En la pared de esta parte de la zapatería, una gran televisión muestra anuncios y videoclips musicales.
Placas de yeso y parquet flotante.
El interior del establecimiento, que cuenta con 65 m², se ha renovado por completo con nuevos techos y paredes de placas de yeso, y un pavimento de parquet flotante de madera de roble. Por otra parte, se han conservado la fachada existente así como los marcos de las ventanas de cara a controlar los costes. En la fachada posterior, el marco de la ventana sólo se ha pintado por su cara interna.
La tienda también dispone de un sótano, cuyas escaleras están escondidas detrás de un espejo, con una puerta oculta que da acceso al trastero. En este espacio, se han conservado el trastero existente y el baño, y sólo se han pintado las paredes y el techo.
Luz natural y LEDs.
La luz natural entra en la tienda a través de la fachada completamente acristalada y de una ventana en la parte posterior que también permite la ventilación del establecimiento comercial.
Un color crema suave viste las paredes, los techos, la carpintería lacada, la alfombra y el sofá de la zapatería, iluminados por luces LED ocultas, lo que permite crear un ambiente tranquilo y confortable.
---
LAS IMÁGENES DE JOÃO MORGADO:
---
FICHA TÉCNICA:
Proyecto:

Smart Walk.

Ubicación:

Vila do Conde (Portugal).

Superficie:

65 m².

Año:

2019.

Autor:

Raulino Silva Arquitecto.

Equipo:

Raulino Silva, Daniela Amorim, Carla Ribeiro, Hélder Jesus, Elena Marino y Giuliano Pavarese.

Fotografías:

João Morgado.
---
PLANIMETRÍA:

Sótano
---

Planta baja
---

Sección longitudinal
---

Sección longitudinal
---

Sección transversal
---
AXONOMETRÍA:

---
SOBRE RAULINO SILVA ARQUITECTO: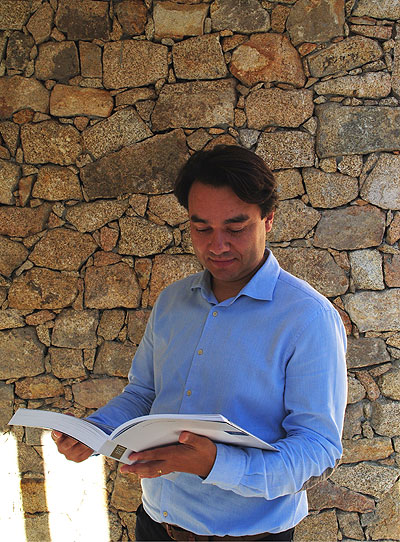 Raulino Ricardo Oliveira da Silva reside y trabaja en Vila do Conde (Portugal), donde nació en 1981. Arquitecto por la Escuela Superior Artística de Oporto (ESAP) desde el año 2006, es miembro de la Ordem dos Arquitectos Portugueses n.º 15294. Entre 2006 y 2011, trabajó en algunos despachos de arquitectura de Oporto, de los que cabe destacar el estudio del arquitecto Paulo Silvestre.
Desde 2011, tiene despacho de arquitectura propio en un pequeño pueblo de Vila do Conde donde, esencialmente, desarrolla junto a un equipo de arquitectos proyectos de vivienda unifamiliar y pequeños equipamientos.
Las obras del despacho han sido expuestas en Portugal, México, Italia, Noruega, Francia, Argentina y Azerbaiyán, así como presentadas en la Pecha Kucha Night Lisboa, Pecha Kucha Night Porto, en el WIP2 de Imancowork y en las Conferencias de Arquitectura en el Centro de la Memoria de Vila do Conde. En 2016, se publicó en el libro monográfico de Uzina Books, "Casa Touguinhó II / Casa Gandra", con edición de José Manuel das Neves.
Sus obras han ganados los siguientes premios: iF Design Awards 2019 (Alemania); Build Architecture Awards 2019 (Inglaterra); World Architecture and Design Awards 2019 (India); the Design and Build Awards 2019 (Inglaterra); Global Future Design Awards 2019 (India); Europe 40 Under 40 Awards 2018 (Grecia); International Architecture Awards 2018 (Estados Unidos); Architecture MasterPrize 2018 (Estados Unidos); Iconic Awards 2017 (Alemania); y Baku International Award 2015 (Azerbaiyán).
RAULINO SILVA EN INTERIORES MINIMALISTAS
---
Fuente: Raulino Silva
You might also like