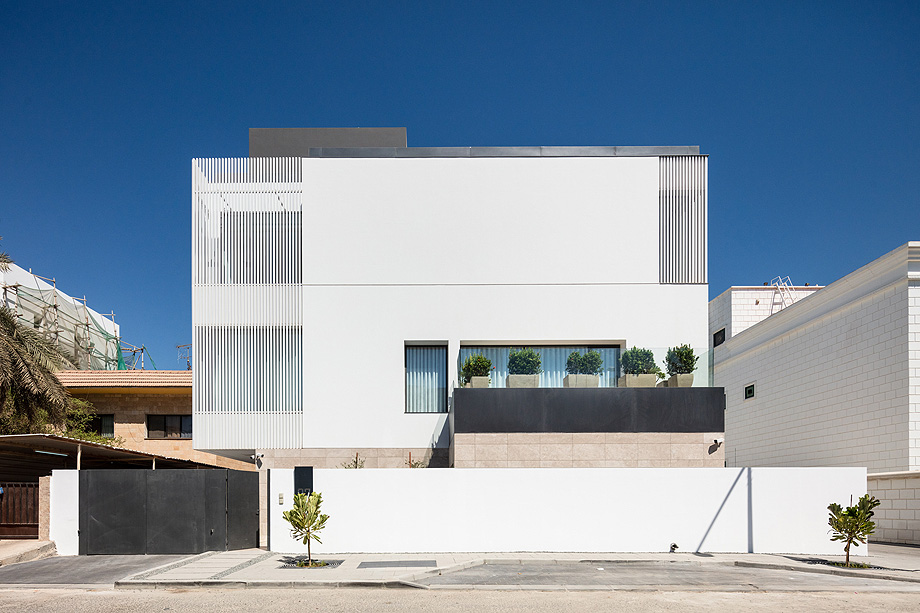 CASA EN MISHREF:
Este proyecto es obra del estudio de arquitectura con sede en Kuwait y Portugal, Studio Toggle, fundado, en 2011, por los arquitectos Hend Almatrouk y Gijo Paul George. El objetivo del encargo era el diseño de una residencia multifamiliar en Mishref (un suburbio de Kuwait), destinada a ser el hogar de dos hermanos y sus respectivas familias, con sus diferentes estilos de vida y necesidades de privacidad además de espacios abiertos. El resultado es una composición de dos viviendas separadas pero agrupadas alrededor de un patio interno, convirtiéndose en la interpretación contemporánea de la casa tradicional kuwaití.
En Mishref, la construcción de viviendas se basa, principalmente, en casas independientes de 2 o 3 pisos. El grupo demográfico es mayoritariamente kuwaití y el vecindario valora mucho la privacidad y la tranquilidad. El fuerte sol del desierto –Mishref es una de las ciudades más cálidas del mundo– hace que la temperatura ambiente aumente de forma regular durante el verano hasta llegar a los 50º centígrados. Las tormentas de polvo también son un fenómeno muy habitual que dicta las estrategias de planificación y construcción en esta zona.
Una construcción marcada por el clima y los comportamientos de las personas de la zona.
Además de tener en cuenta las condiciones climáticas, los arquitectos realizaron un estudio de la zona para conocer el comportamiento y preferencias de sus habitantes, llegando a la conclusión de que, en este lugar, los habitantes prefieren dar prioridad a los espacios interiores, provistos de un clima controlado, que a los espacios abiertos o semi abiertos al aire libre. Al maximizar los espacios internos, las ventanas en las paredes perimétricas se conviertan en la única fuente de luz natural. La necesidad de privacidad provoca que la mayoría de estas ventanas perimétricas permanezcan cerradas la mayor parte del tiempo, lo que da como resultado unos interiores oscuros y poco saludables. Otra de las conclusiones a las que llegaron fue que existía una falta de espacios sociales interiores.
En torno a un patio interior.
El desafío de Studio Toggle consistió en abordar estas preocupaciones y definir unas estrategias de diseño optimizadas sin aumentar el presupuesto. En consecuencia, los arquitectos proyectaron el edificio con una fachada limpia y serena en la parte que se expone a la calle, manifestándose como un volumen monolítico blanco colocado elegantemente sobre un podio revestido de piedra. La disposición rítmica de las ventanas con persianas en la fachada suaviza el volumen, otorgándole una sensación de ligereza.
La casa está organizada alrededor de un patio interior y el volumen en forma de U, revestido de piedra omaní, queda enfrentado al mismo. El patio y el vacío que éste forma da como resultado una tipología interna que permite al edificio beneficiarse de la máxima luz difusa diurna sin comprometer la privacidad. La vivienda, por lo tanto, se abre hacia el interior alrededor de un patio privado bordeado por árboles cítricos y una fuente escultórica que recuerda a los jardines de los Alcázares árabes.
Escalera suspendida.
La creación del patio, junto con la altura de los cuatro pisos y el hueco que se generaba, presentaba una cuestión de escala humana así como la necesidad de una eficiente conectividad entre las viviendas enfrentadas. Una gran escalera suspendida fue la clave para crear un paseo arquitectónico que recorre todos los pisos ofreciendo distintos puntos de vista y facilidad de acceso.
En el interior de la vivienda, destacan las maderas blancas y naturales. Las líneas rectas que dominan el proyecto se compensan con las elegantes curvas de las escaleras de caracol. Los muebles han sido escogidos cuidadosamente para contrastar con el ambiente sereno que respira el proyecto. El sonido relajante del agua y la luz difusa, que se filtra a través de las ventanas provistas de persianas, hacen de esta casa un oasis de tranquilidad en medio del concurrido suburbio kuwaití.
---
LAS IMÁGENES DE JOÃO MORGADO:
---
FICHA TÉCNICA:
Proyecto:

Casa en Mishref.

Ubicación:

Al Mishref (Kuwait).

Superficie parcela:

750 m².

Superficie construida:

1.400 m².

Año:

2019.

Autor:

Studio Toggle.

Equipo:

Hend Almatrouk, Gijo Paul George, Rui Goncalves, Pedro Varela, Fabio Verissimos, Filipe Goncalves, Dionne Pereira, Abdul Rashed y Ashlon Frank.

Diseño de estructuras:

Al Thurath consultores.

Iluminación arquitectónica:

Spaces and Concepts.

Mobiliario e iluminación decorativa:

MenaCasa y Natuzzi Kuwait.

Fotografías:

João Morgado.
---
PLANIMETRÍA: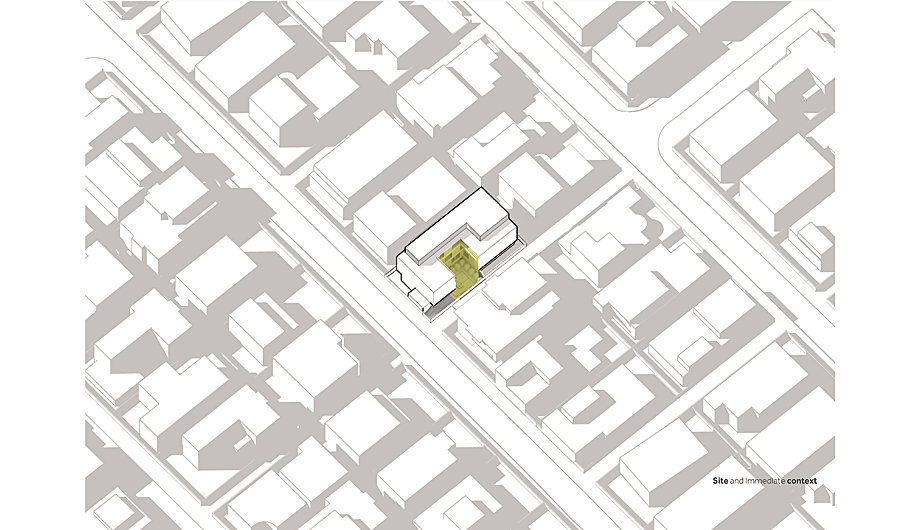 Plano de situación
---

Planta sótano
---

Planta baja
---

Primera planta
---

Segunda planta
---

Planta cubierta
---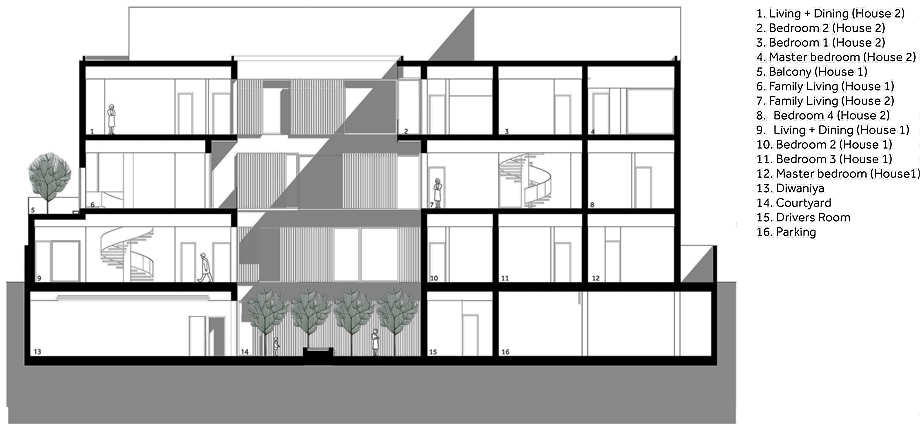 Sección
---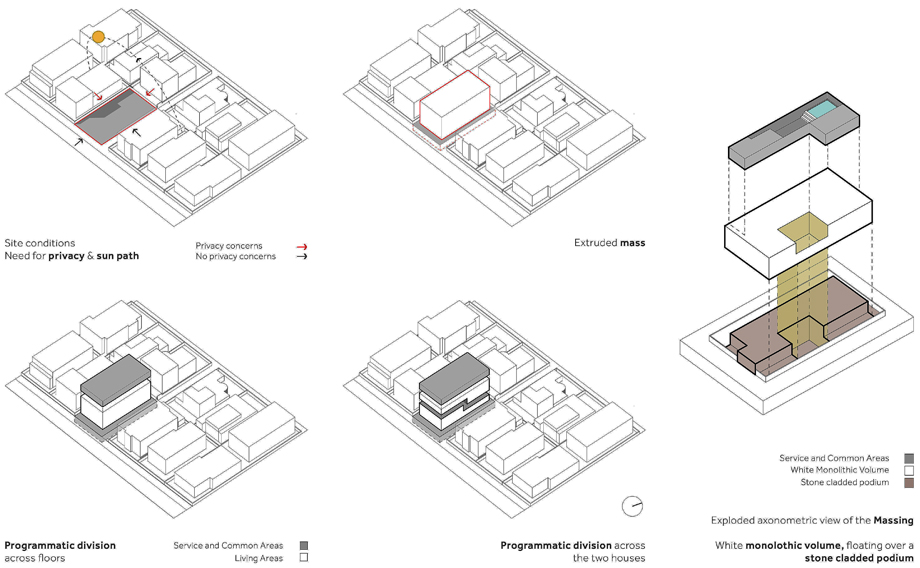 ---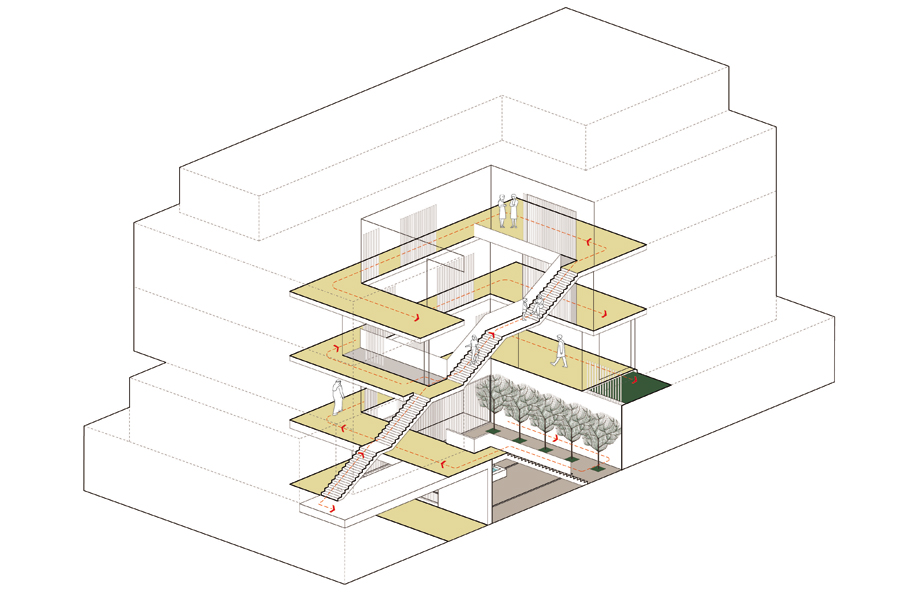 Plano de circulación
---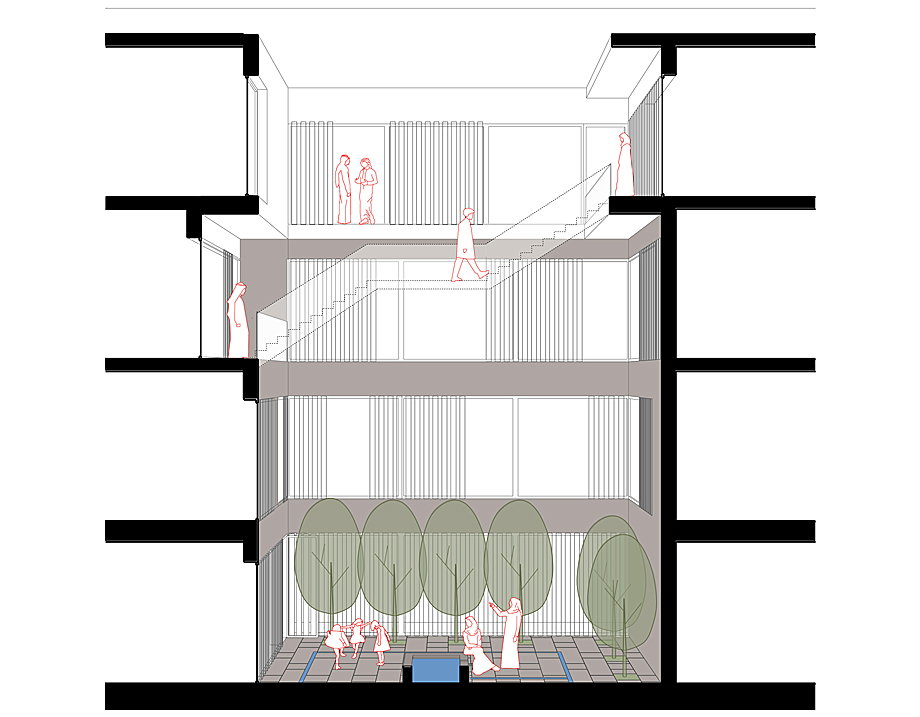 Escenario del patio
---
SOBRE STUDIO TOGGLE:
Studio Toggle fue fundado, en 2011, por los arquitectos Hend Almatrouk y Gijo Paul George durante sus estudios de posgrado en la Universität für Angewandte Kunst de Viena. En 2012, se mudaron a Kuwait para estar más cerca de los proyectos que les iban surgiendo y, en 2015, se asociaron con Rui Gonçalves y Pedro Varela, y establecieron Studio Toggle también en Porto (Portugal). Su trabajo se centra en el diseño lógico y las técnicas de resolución de problemas con un énfasis específico en arquitectura y diseño urbano.
Sus proyectos se desarrollan en diversos campos: arquitectura del sector público, comercial, residencial, hotelero y diseño de interior. En el corto lapso de seis años, Studio Toggle se ha convertido en un equipo de 15 profesionales con sede en Kuwait y Portugal. "Creemos en un equilibrio entre los opuestos, que la forma sigue a la función, la simplicidad es compleja y que, incluso, se puede organizar el caos", explican en su web.
El despacho ha recibido distintos premios: en 2018, fue elegida Firma Boutique de Arquitectura del Año por la revista Middle East Architect; en 2016, su proyecto F.LOT fue elegido Proyecto Residencial de Arquitectos de Oriente Medio; y el prestigioso Premio Cityscape 2017 recayó en su edificio residencial The Edges, en Salmiya (Kuwait).
---
Fuente: Studio Toggle
You might also like