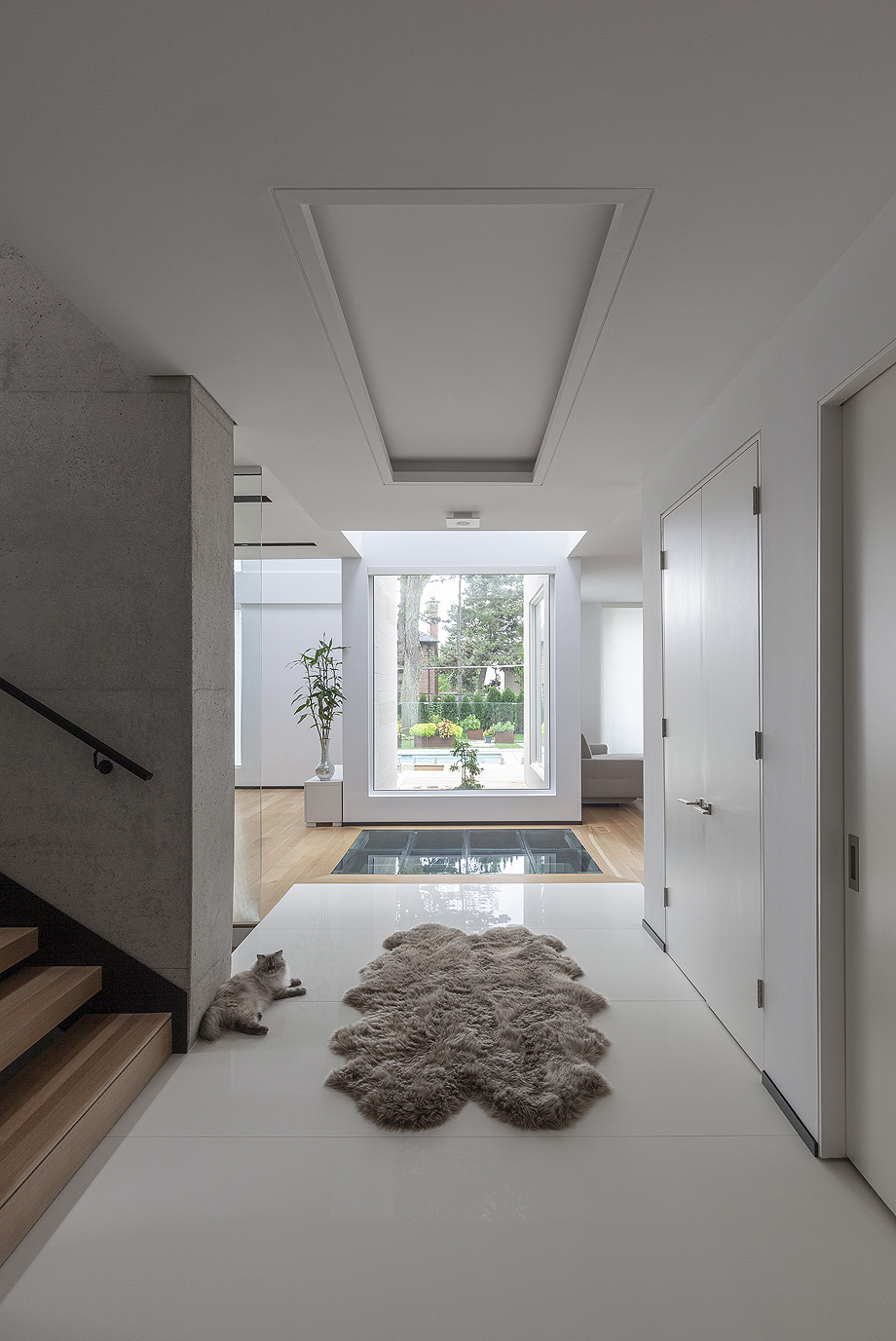 CASA EN ONTARIO:
El arquitecto Reza Aliabadi (Atelier RZLBD) diseñó esta casa de dos pisos y 540 m² para una familia de cinco miembros, que se encuentra en el distrito de Etobicoke de Toronto (Canadá). Explica el arquitecto, afincado en esta ciudad, que «siguiendo la tradición de Louis I. Kahn, las plantas están definidas por precisas líneas que las regulan. De esta manera, dos ejes dividen la propiedad en diferentes zonas, con habitaciones trazadas según su programa. Esta organización en torno a espacios públicos / privados y sirvientes / servidos establece un claro sentido del orden en todo el hogar.
Dos ejes organizadores.
El primero de estos ejes recorre la casa de norte a sur. Al acercarse a ella, la edificación se muestra como dos volúmenes distintos: un bloque rectangular estucado, en el lado occidental, y un ala cuadrada, en el oriental, revestida de piedra. Esta configuración separa las zonas para la familia (en el oeste) de los espacios destinados a alojar a los huéspedes (en el lado este).
En la planta baja, esto se traduce en una cocina íntima y una sala familiar, escondidas en el corredor occidental, y en una flexible sala de estar mucho más grande, en el ala de forma cuadrada. Un pasillo de dos metros de ancho, ligeramente empotrado, actúa como punto de referencia entre ambos espacios y sirve como entrada principal de la casa.
Un segundo eje discurre a lo largo del lado este de la casa, de oeste a este. El punto focal de este volumen es un muro de hormigón de triple altura que soporta una escalera envolvente. Diseñado como «un símbolo de rigidez, introducido para concebir el hogar como una sólida fortaleza», también funciona como frontera: a un lado de esta pared, hay habitaciones de servicio que quedan fuera de la vista, mientras que, al otro lado, hay espacios de entretenimiento más flexibles. Por ejemplo, en el segundo piso, el lado norte de la escalera está ocupado por una lavandería, una segunda sala técnica y el ascensor, mientras que la zona sur está dominada por un rellano que se abre al salón de doble altura.
Estrategias energéticas y el factor salud.
La configuración de la casa, además de resolver el programa funcional, también sirve para mejorar la gestión del calor y la luz. El volumen rectangular funciona como un protector solar, protegiendo el ala adyacente tanto del sol como del viento. La calefacción radiante en el sótano, una cortina practicable de doble altura, que cubre parcialmente las ventanas orientadas a sur del ala oriental, y la inclusión de dos salas técnicas separadas completan las estrategias energéticas de la casa.
Como uno de los propietarios trabaja en el sector de la salud, los espacios de servicio que promueven el bienestar se convirtieron en otra prioridad. La vivienda cuenta con una sala de ejercicios y una piscina infinita al aire libre, así como una sauna y un jacuzzi para recuperarse después del entrenamiento.
En un mismo nivel de importancia, el diseño presenta momentos tranquilos que promueven una conexión más cercana con los elementos circundantes. Por ejemplo, un suelo de vidrio en el pasillo del primer piso permite que la luz de una claraboya, una de las siete que hay en la casa, llegue hasta una piscina instalada en el exterior, al lado de la sauna del sótano.
---
LAS IMÁGENES DE BORZU TALAIE:
---
FICHA TÉCNICA:
Proyecto:

Twosome House.

Ubicación:

Etobicoke, Toronto ( Ontario / Canadá).

Superficie:

540 m².

Año:

2019.

Autor:

RZLBD / Atelier Reza Aliabadi.

Arquitecto:

Reza Aliabadi.

Equipo de proyecto:

Sebastien Beauregard, Arman Azar, Aziza Asa y James Chungwon Park.

Estructura:

Recon Consulting.

Ingeniería mecánica:

Noor Design Inc.

Fotografías:

Borzu Talaie.
---
PLANIMETRÍA: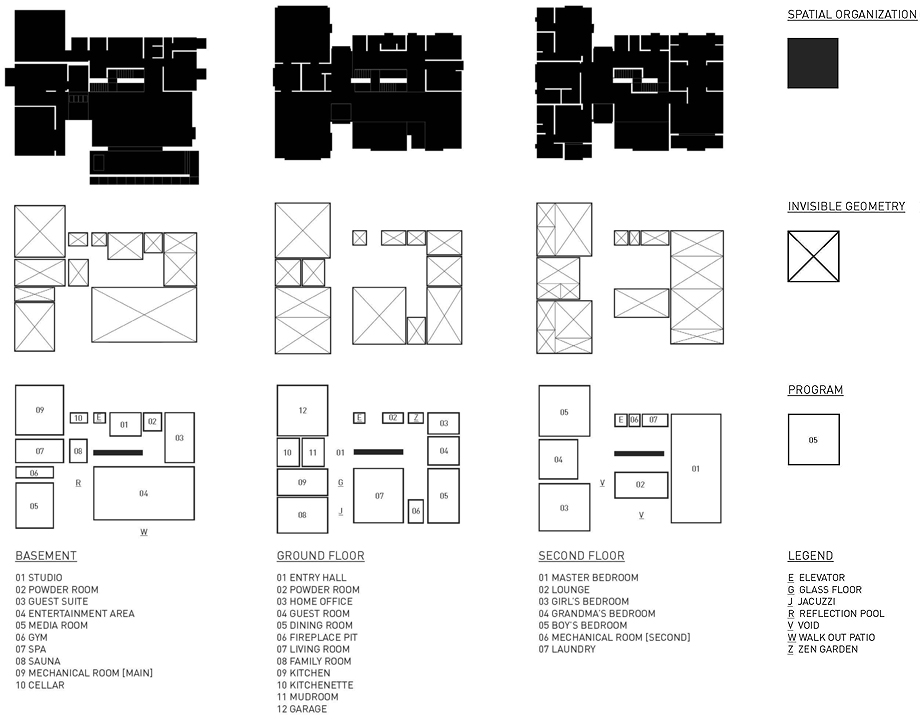 Plantas
---

Diagrama escaleras
---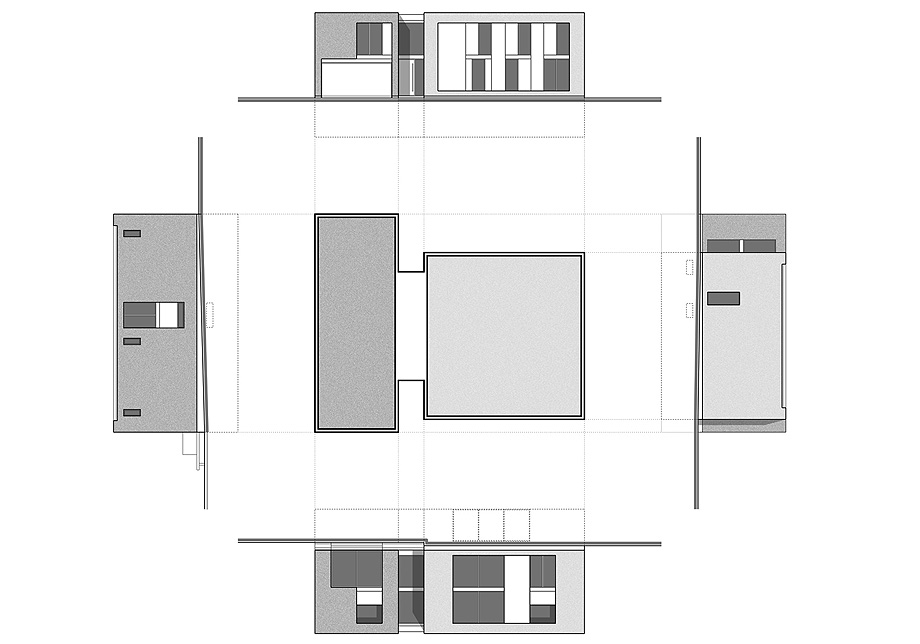 Diagrama alzados
---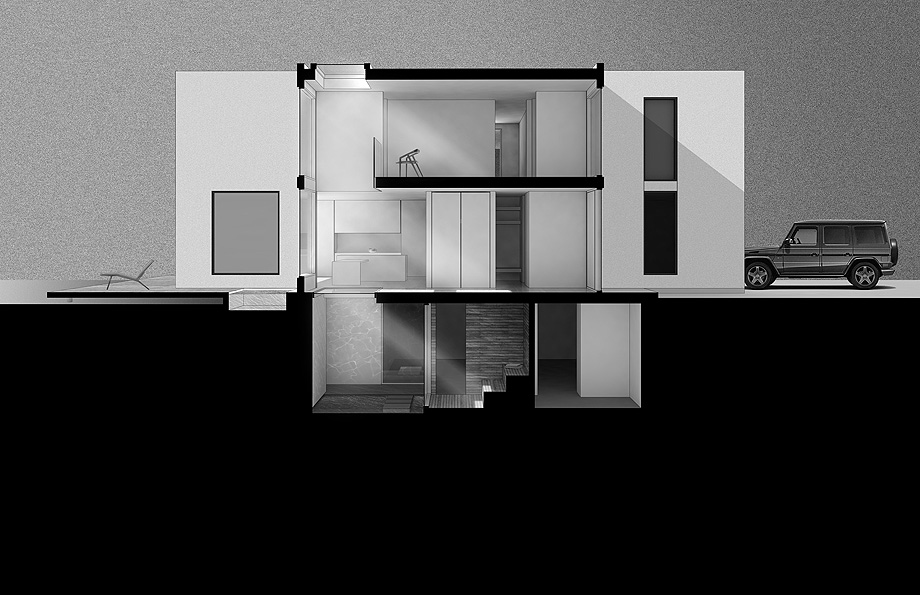 Diagrama sección
---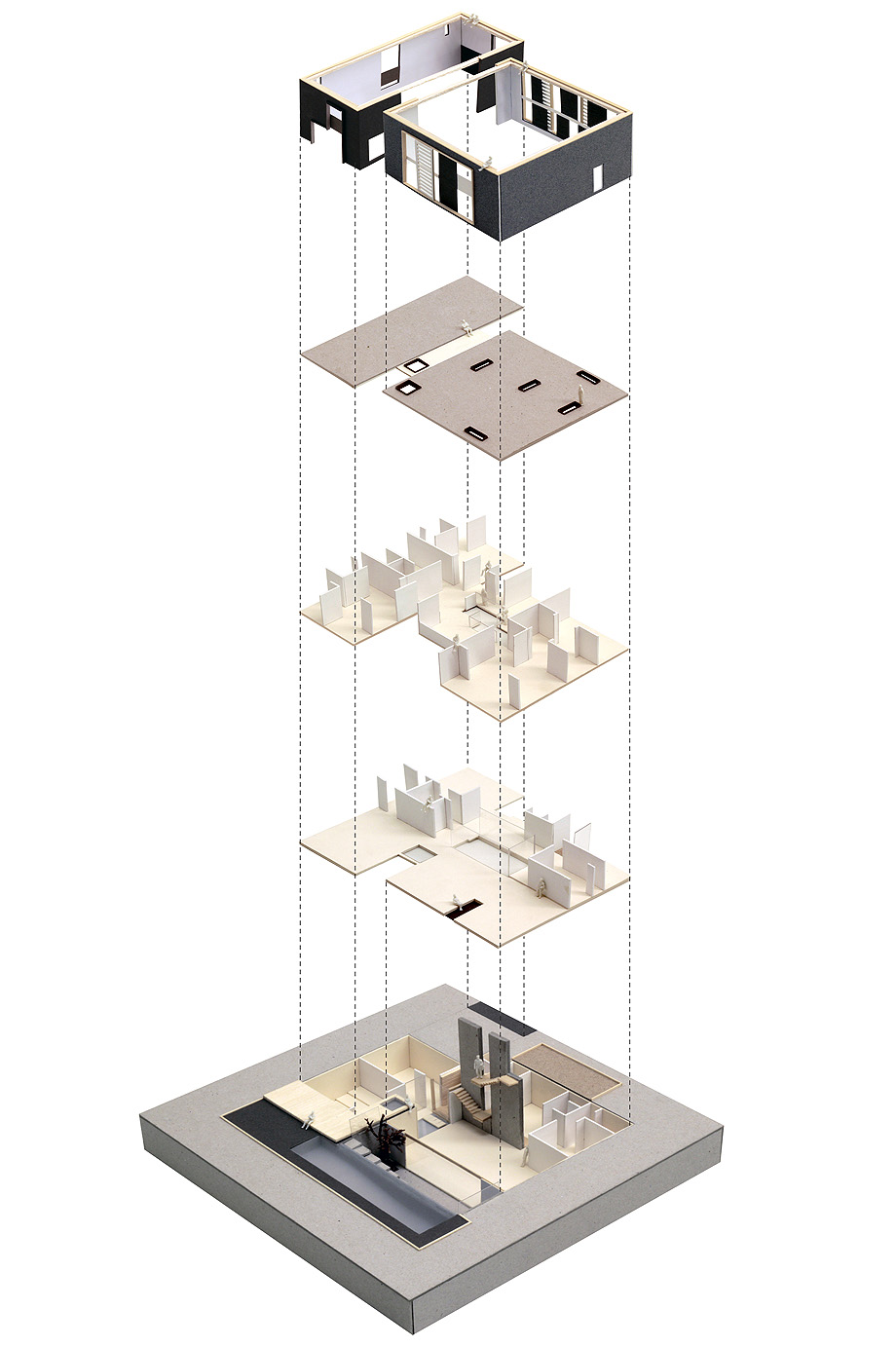 Axonometría explotada
---
LA MAQUETA: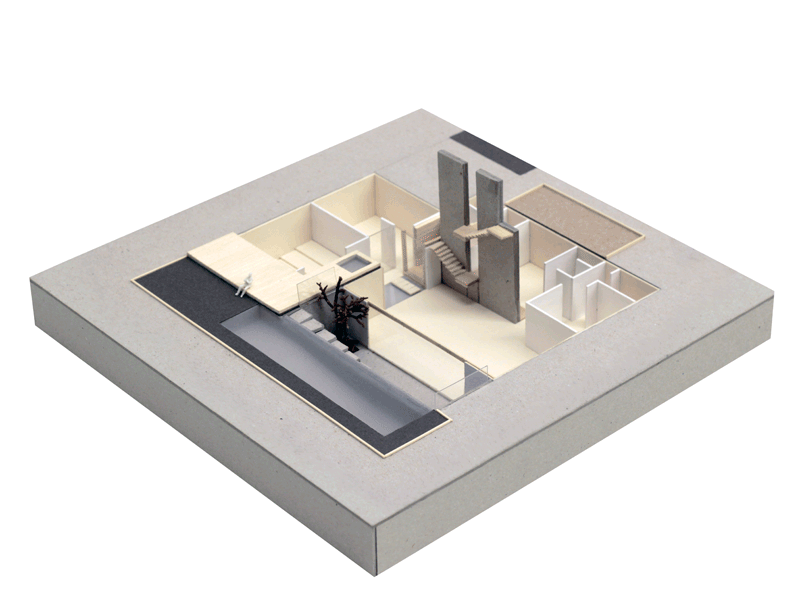 ---
SOBRE REZA ALIABADI [ATELIER RZLBD]:
Atelier RZLBD es un estudio de arquitectura con sede en la ciudad de Toronto (Canadá), fundado por el arquitecto Reza Aliabadi (Teherán, 1974), en el año 2010. Con anterioridad, Reza Aliabadi había fundado Reza Aliabadi Building Workshop. El trabajo de Aliabadi se extiende al diseño de edificios residenciales, comerciales e institucionales, diseño de producto, comisariado de instalaciones y exposiciones, y la publicación de un magazine llamado rzlbdPOST. 
Muchos de sus proyectos han sido publicados en diferentes medios y distinguidos con distintos galardones como el International Architecture Master Prize (2018), el American Architecture Prize (2017) y Ontario Association of Architects Awards (2009, 2011); exhibido en muchos lugares, incluyendo el Sir John Soane's Museum (London 2018), el World Architecture Festival (Berlín, 2017 y Amsterdam, 2018), la School of Architecture de la McGill University (Montreal 2009, 2017), y en el Toronto Harbourfront Centre (2012).
REZA ALIABADI EN INTERIORES MINIMALISTAS
---
Fuente: Reza Aliabadi
You might also like