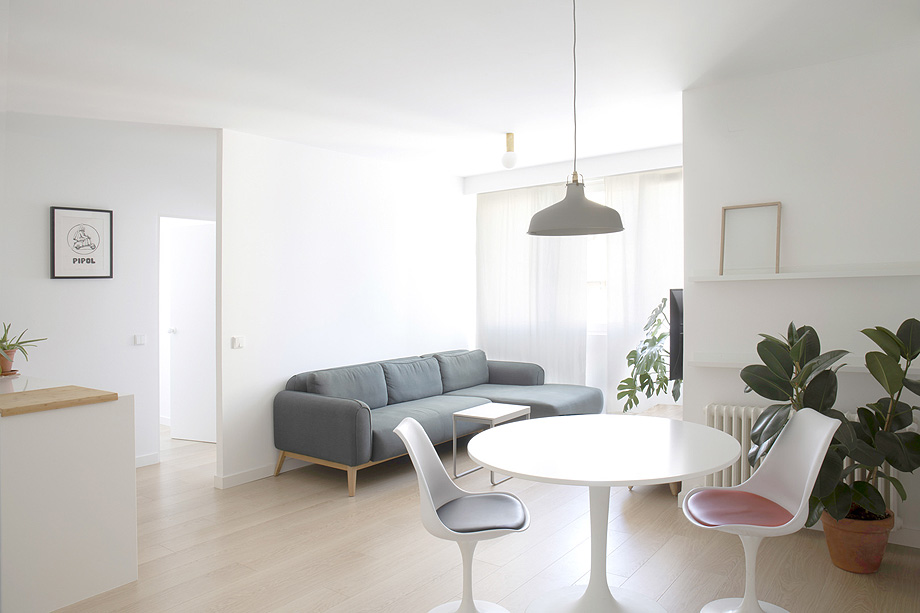 REFORMA EN ORENSE:
Una reforma integral para unos clientes únicos. Así resume la arquitecta Sara Palomar Pérez, cofundadora de Another Office of Architecture (AOA), el proyecto de renovación de este luminoso piso, situado en la calle Orense de Madrid, una de las más comerciales y muy cercana al estadio de fútbol Santiago Bernabeu.
En su estado original, la vivienda presentaba una distribución de espacios muy fragmentada en una superficie de sólo 66 m², un esquema habitacional que no encajaba en las necesidades y gustos de sus clientes: una publicista y un abogado, además, músicos y cantantes en dos bandas de rock. En su lugar, la pareja necesitaba una vivienda flexible y espaciosa, donde poder combinar su día a día profesional con sus aficiones.
Priorida: las estancias comunes.
En el nuevo diseño interior del piso, se dio prioridad a las estancias comunes, reduciendo al mínimo los dormitorios, mientras que la incorporación de la terraza de mayor tamaño a la zona de día contribuyó a crear un espacio polivalente y central, en el que conviven, sin tabiques, la sala de estar, el comedor y la cocina ya que el mobiliario resulta suficiente para establecer la separación entre estas tres funciones. Además, esta distribución permite que la luz natural, que entra por el ventanal de la terraza, bañe toda la estancia.
Previo a esta sala diáfana, un pequeño pasillo acoge el vestíbulo de entrada y el baño, que ocupa el espacio donde antes se encontraba la cocina. El lado opuesto de la casa alberga la zona de noche, con dos dormitorios, uno doble y uno individual.
Diseño nórdico.
Explica la autora de este piso en Madrid que «los clientes se decidieron por un diseño nórdico con la elección del blanco y la madera como elementos principales en la decoración, con toques 'punk' de color en el aseo y en la cocina a través de las juntas de sus azulejos». Una elección a la que se suma el cuidadoso trabajo de reforma, donde todo se ha diseñado hasta el más mínimo detalle: cocina, armarios, pomos, puertas, elección de mobiliario o el diseño personalizado a medida de todas las luminarias de la casa.
---
LAS IMÁGENES DE ANDREA BRUIZ:
---
FICHA TÉCNICA:
Proyecto:

Reforma en Orense.

Ubicación:

Madrid (España).

Superficie útil:

60 m².

Superficie construida:

66 m².

Año:

2020.

Autora:

Sara Palomar Pérez (Another Office of Architecture / AOA).

Constructora:

Pemar.
Acabados y equipamientos:
Salón comedor:
Tarima:

de madera sintética AC5.

Diseño luminarias:

Sara Palomar Pérez e IKEA.

Equipamiento:

IKEA, El Corte Inglés, sillas Tulip, Zara Home y MADE.

Cuadro:

Coco Dávez.
Cocina:
Azulejos:

Pamesa Cerámica.

Tarima:

de madera sintética AC5.

Equipamiento cocina:

Leroy Merlin, IKEA.

Electrodomésticos:

Balay, Candy y Fagor.

Diseño luminarias:

Sara Palomar Pérez.
Baño:
Azulejos:

Pamesa cerámica.

Baldosas cerámicas:

Baldocer.

Equipamiento baño:

ROCA, Leroy Merlin e IKEA.
Diseño luminarias: Sara Palomar Pérez
Luminarias pasillos:
Diseño:

Sara Palomar Pérez.
Fotografías: Andrea Bruiz.
---
PLANIMETRÍA: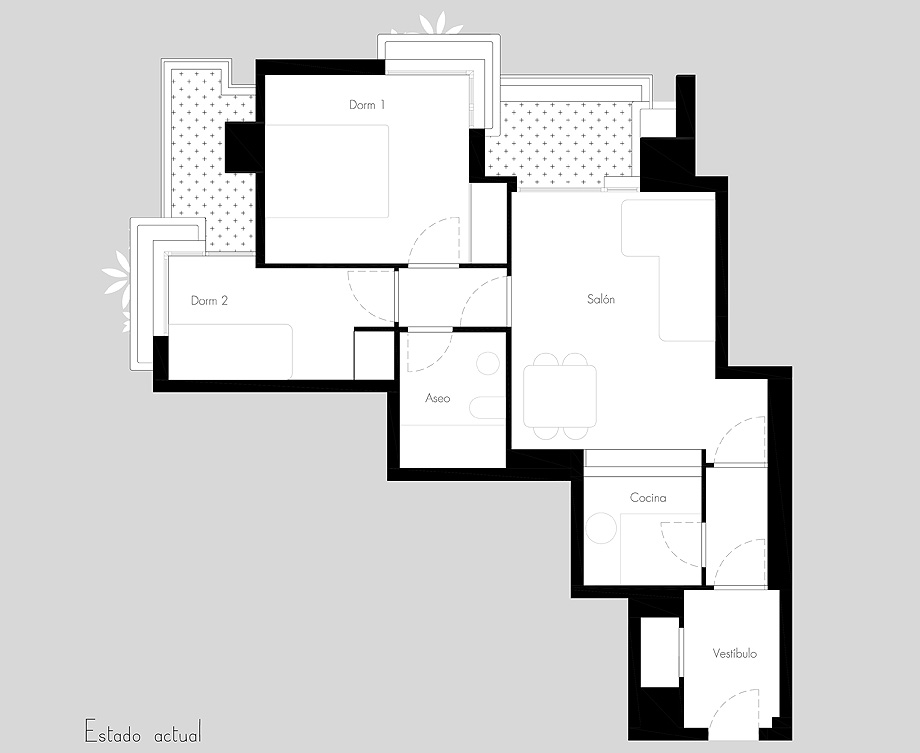 Estado original
---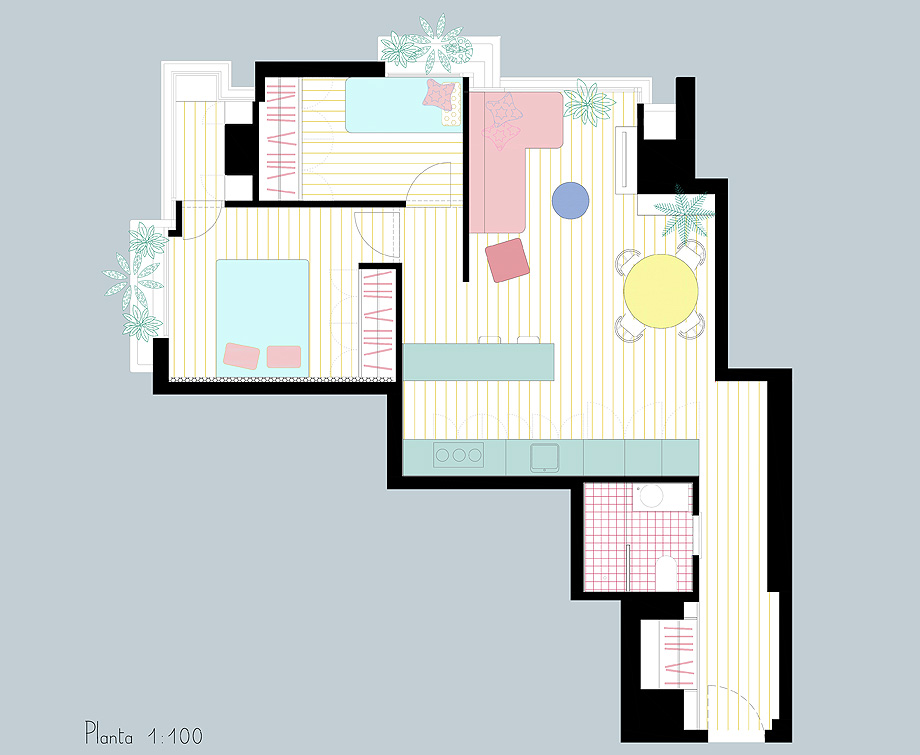 Estado actual
---
AXONOMETRÍA: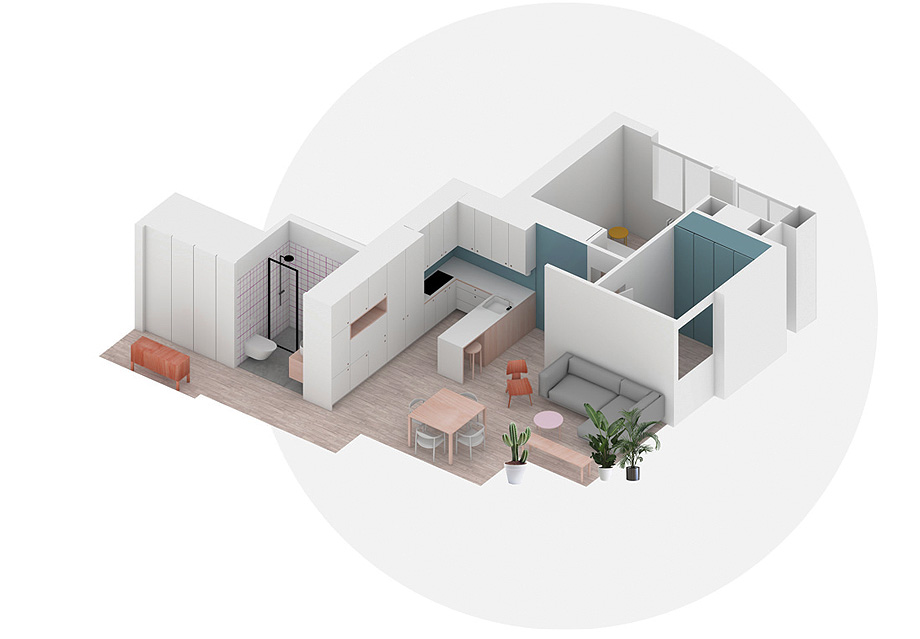 ---
SOBRE ANOTHER OFFICE OF ARCHITECTURE (AOA):
Another Office of Architecture (AOA) es una joven oficina creativa con sede en Madrid. Fue fundada, en 2017, por Sara Palomar, Víctor Díaz y Javier López, tras ganar el primer premio en el concurso internacional European Croacia, un concurso bienal de ideas urbanas y arquitectónicas que pretende dar visibilidad internacional a jóvenes arquitectos menores de 40 años.
El despacho, que ha trabajado con otros estudios nacionales e internacionales, realiza proyectos de arquitectura, diseño de interiores, de exposiciones y de productos, y branding. Asimismo, están interesados en la arquitectura, el arte, el diseño, la sociología, la tecnología y la política como una forma de mejorar y promover la convivencia urbana.

---
Fuente: Sara Palomar