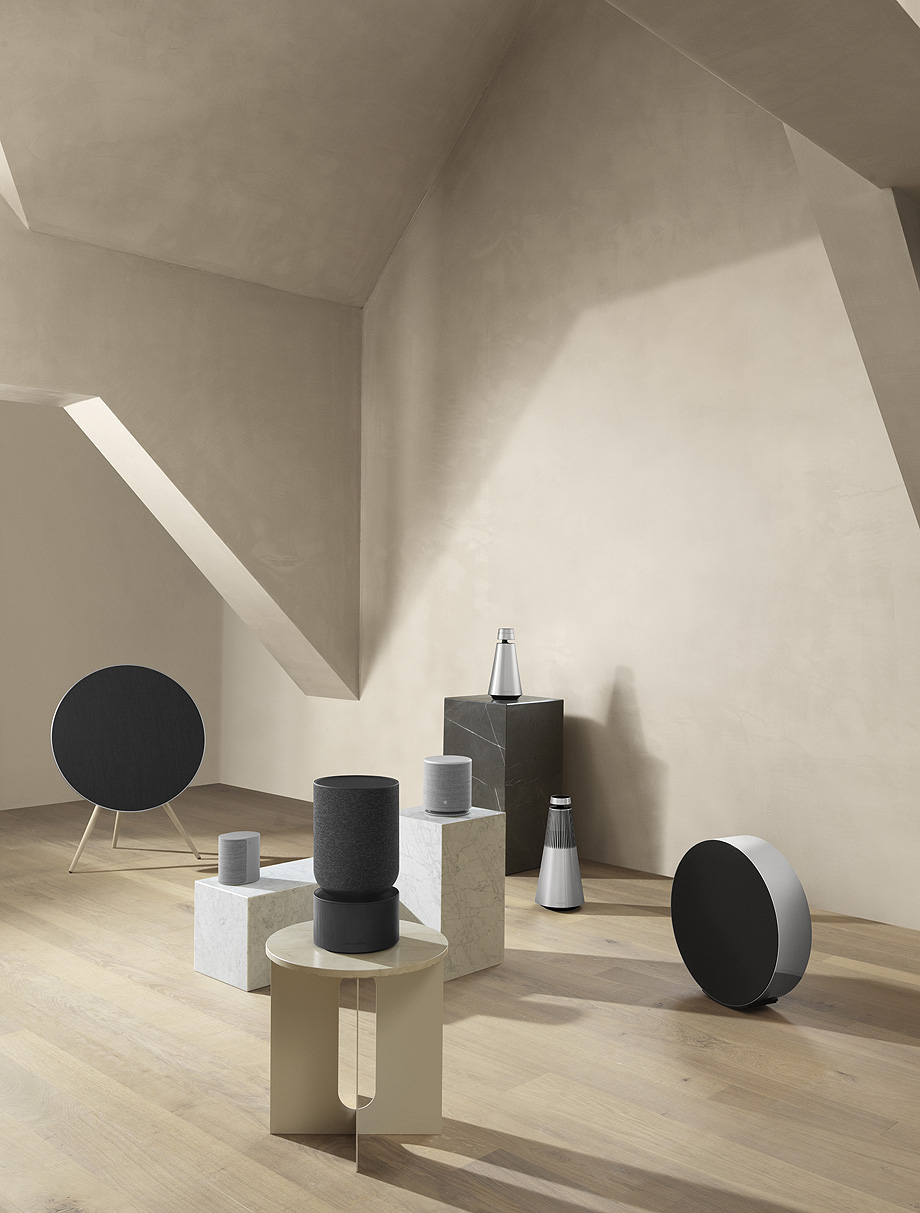 BEOSOUND BALANCE:
Beosound Balance es el nuevo altavoz de Bang & Olufsen para espacios domésticos, creado por Benjamin Hubert y su estudio Layer. Esta primera colaboración entre el diseñador británico y la compañía danesa está inspirada en los objetos de decoración para interiores bajo una silueta suave de forma redondeada, materializada con materiales de primera calidad combinados con una avanzada tecnología de sonido.
El altavoz, que conllevó 18 meses de investigación y desarrollo, presenta una base de madera de roble maciza natural o en color negro, aprobada por el FSC, y un revestimiento textil sin costuras para la parte superior. La madera no sólo transmite un carácter artesanal sino que ofrece una calidad de sonido y resonancia superiores. La parte superior está revestida de tejido, haciendo referencia a la tapicería doméstica.
Para su integración como objeto decorativo, alejándolo de su cara más tecnológica, Beosound Balance tiene una interfaz táctil para controlar de forma manual el altavoz. Cuando alguien se acerca al altavoz, la interfaz (una placa de aluminio microperforada retroiluminada con LEDs), se ilumina y permite controlar el volumen, cambiar de canción, pausar la música y seleccionar una lista de favoritos para poder acceder a ellos fácilmente. Si nos alejamos del altavoz, la luz disminuye y solo se ve la superficie de aluminio, un material inspirado en artículos de mesa finamente elaborados.
Estética, innovación y potente sonido.
Explica Benjamin Hubert que «con Balance para Bang & Olufsen, queríamos crear un escultórico objeto para el hogar, sin dejar de ofrecer el rendimiento de un equipo de audio de alta gama. Los volúmenes geométricos puros son impulsados por el rendimiento acústico del altavoz, que describe visualmente como funciona el audio. Este enfoque ofrece un producto que es fácil de usar y se adapta fácilmente al entorno doméstico sin comprometer la calidad de sonido».
Experiencia acústica flexible e innovadora.
Beosound Balance viene con siete controladores de altavoz y dos woofers contrapuestos que generan un sonido de bajo potente que cancela cualquier vibración que pudiera molestar a los vecinos. Asimismo ofrece una experiencia acústica flexible e innovadora, basada en dos modos de sonido -un modo omnidireccional, que asegura una experiencia de sonido uniforme alrededor del altavoz, y un modo que brinda una experiencia de ambiente única con un enfoque preciso. Ambas tecnologías han derivado de los altavoces emblemáticos de Bang & Olufsen.
Compensación de sala activa para un sonido a medida.
En el momento de montar por primera vez Beosound Balance, el altavoz le guiará a través de la tecnología de compensación de sala activa de Beosound Balance, permitiendo que el altavoz analice la sala con un micrófono interno y crear una serie de filtros definidos que compensen los reflejos acústicos de su hogar. Beosound Balance utilizará frecuencias bajas para analizar la habitación y el resultado es el sonido perfectamente adaptado emblemático de B&O.
Funcionalidad multiroom y control de voz.
Beosound Balance es un altavoz multiroom que admite Google Chromecast, Apple Airplay2 y Spotify Connect1. Asimismo, viene con los principales asistentes de voz incorporados: Google Assistant y Amazon Alexa2, para que pueda, cuando está conectado al Wi-Fi, poner música, escuchar las noticias y mucho más, con sistema manos libres.
---
LAS IMÁGENES:
---
---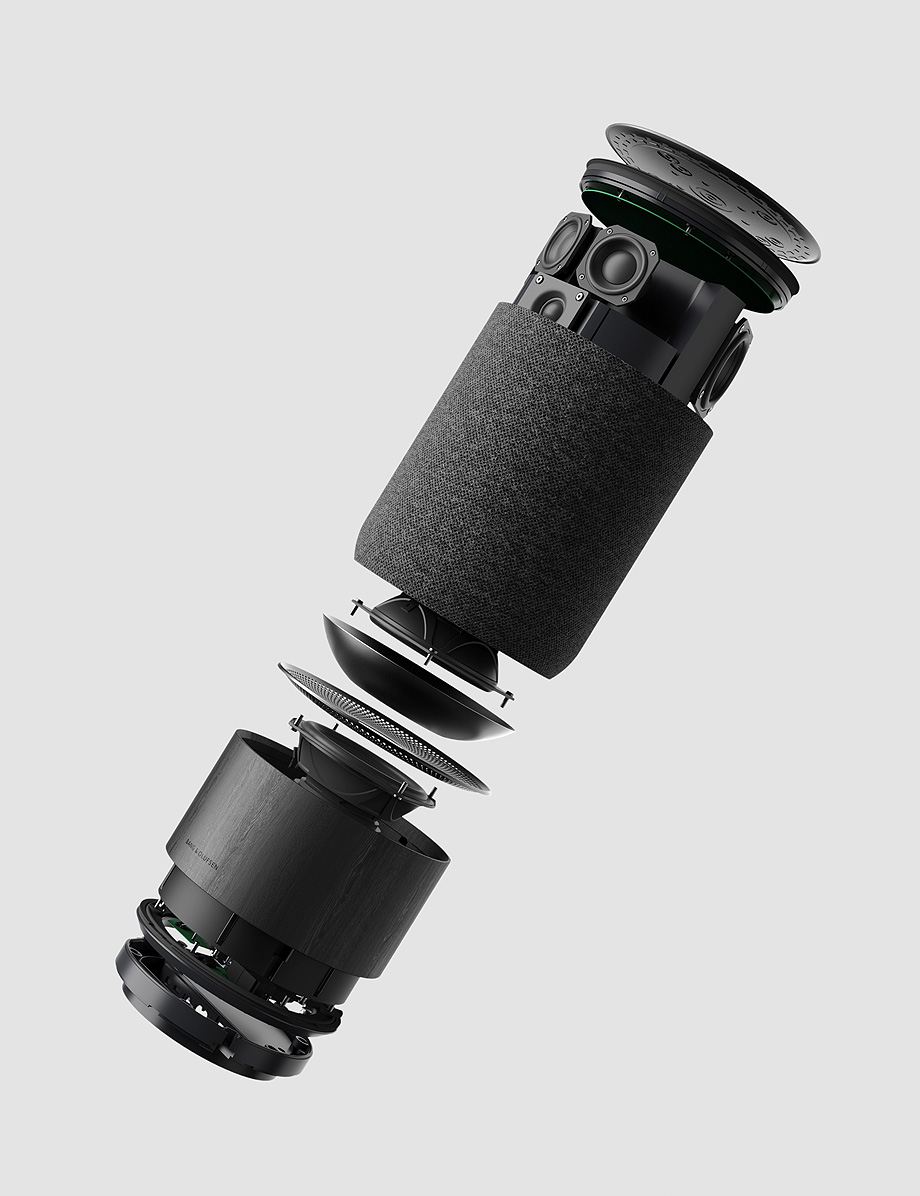 ---
---
SOBRE BENJAMIN HUBERT:
El diseñador Benjamin Hubert se graduó en Diseño Industrial y Tecnología en la Loughborough University. Después de adquirir experiencia en varias consultorías de diseño de renombre como Seymour Powell, DCA y Tangerine, fundó el estudio que llevaba su nombre en North East London, en 2009. Durante este periodo, trabajó con multinacionales como Nike, Samsung, LG, Mamas and Papas, Coca-Cola y Eurostar.
En septiembre de 2015, el diseñador relanzó su estudio con el nombre de Layer, centrándose en el diseño de productos tanto físicos como digitales, incluyendo productos y software conectados. Este momento de su carrera significó un importante cambio en la trayectoria de Hubert, que ha creado muebles y utensilios para marcas como Moroso, Ligne Roset y Menu.
Actualmente, Benjamin Hubert lidera un equipo de diseñadores industriales que trabajan en una amplia gama de sectores, incluyendo mobiliario, iluminación, productos de consumo, instalaciones arquitectónicas y dirección de arte. Hubert trabaja a nivel internacional en una amplia variedad de mercados, incluyendo Europa, Asia, Australia, Brasil y EE.UU.

El estudio también ha recibido diferentes y prestigiosos premios incluyendo: Diseño del Año (British Design awards 2010), Mejor Producto (100% design/Blueprint awards 2009) y EDIDA International Young Designer of the Year 2010, entre otros.
BENJAMIN HUBERT EN INTERIORES MINIMALISTAS
---
SOBRE BANG & OLUFSEN:
Bang & Olufsen fue fundada en Struer (Dinamarca), en 1925, por Peter Bang y Svend Olufsen, dos innovadores y jóvenes ingenieros dedicados a conseguir una reproducción de audio de gran calidad. Desde entonces, la marca se ha convertido en un icono de excelencia y diseño por su larga tradición artesanal y su insuperable compromiso con el desarrollo e investigación más avanzados.
Sin abandonar la vanguardia de la tecnología doméstica, en los últimos años Bang & Olufsen ha expandido su enorme experiencia en las soluciones integradas de audio y vídeo para el hogar a otros sectores como el de la hostelería o la industria automovilística.
Así pues, en cuestión de sonido e imagen su actual gama de productos personifica la perfección e integración audiovisual no solo en sistemas para el hogar, sino también para automóviles.
BANG & OLUFSEN EN INTERIORES MINIMALISTAS
---
Fuentes: Layer y Love your time (Bang & Olufsen)
You might also like