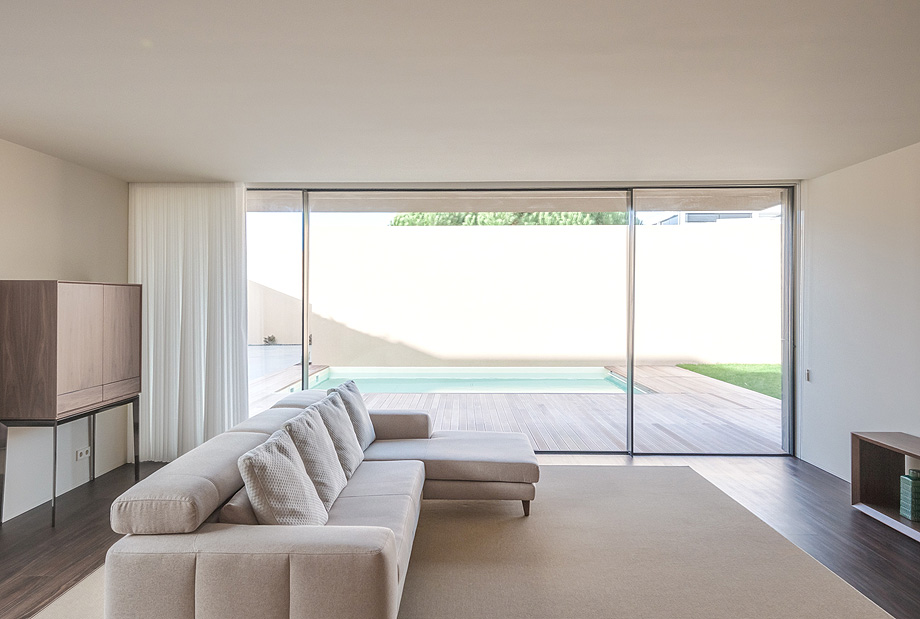 AREIA HOUSE:
La Casa Areia se encuentra en Árvore, una parroquia portuguesa del municipio de Vila do Conde, en una parcela urbana muy cercana a la playa de Areia. La vivienda, proyectada por el arquitecto Raulino Silva, consta de un sótano, dos plantas y un anexo para estacionar los coches.
Exteriormente, un zócalo de esquisto negro de Valongo (Portugal) recorre las paredes de la planta a nivel de calle y el sótano, ofreciendo visualmente un fuerte contraste con las paredes del primer piso, en un tono mucho más claro. La prolongación en voladizo del nivel superior crea una zona de sombra sobre la piscina y en la fachada contraria.
Desdibujar interior-exterior.
La entrada principal se encuentra en la fachada este, protegida por el volumen del patio, en la misma fachada lateral. En la planta baja, frente a la calle, se encuentran la sala de estar, el comedor, la cocina y, en el centro, las escaleras, el baño de servicio y un trastero. Este núcleo también sirve para separar el estar de la cocina propiamente dicha, justo en el lado opuesto. A ella se accede a través de las dos aberturas laterales que genera este espacio central.
El salón y la zona de comedor, en la parte posterior de la vivienda, se extienden hasta la piscina a través de una tarima de madera. Explica Raulino Silva que «cuando ubicamos la piscina al lado del anexo, la pared de este espacio se extendió a través de toda la piscina, para ocultar la puerta del garaje».
Patio a nivel de sótano.
El sótano acoge la bodega, la sala técnica, la sala de lavandería y la sala de televisión, que se abre hacia el patio este. El patio, con escaleras exteriores, permite la iluminación y la ventilación natural de este espacio.
Arriba, la suite principal cuenta con un vestidor, un baño con patio y un balcón que da a la calle. Las otras dos habitaciones se encuentran en la fachada opuesta y tienen un vestidor y un balcón comunes. El baño de apoyo también recibe luz natural a través de un patio.
---
LAS IMÁGENES JOÃO MORGADO:
---
FICHA TÉCNICA:
Proyecto:

Casa Areia.

Ubicación:

Árvore, Vila do Conde (Portugal).

Superficie:

290 m².

Año:

2019.

Autor:

Raulino Silva Arquitecto.

Equipo:

Raulino Silva, Daniela Amorim, Cátia Sampaio, João Mendes, Hélder Jesus, Carla Ribeiro, Elena Marino y Giuliano Pavarese.

Fotografías:

João Morgado.
---
PLANIMETRÍA: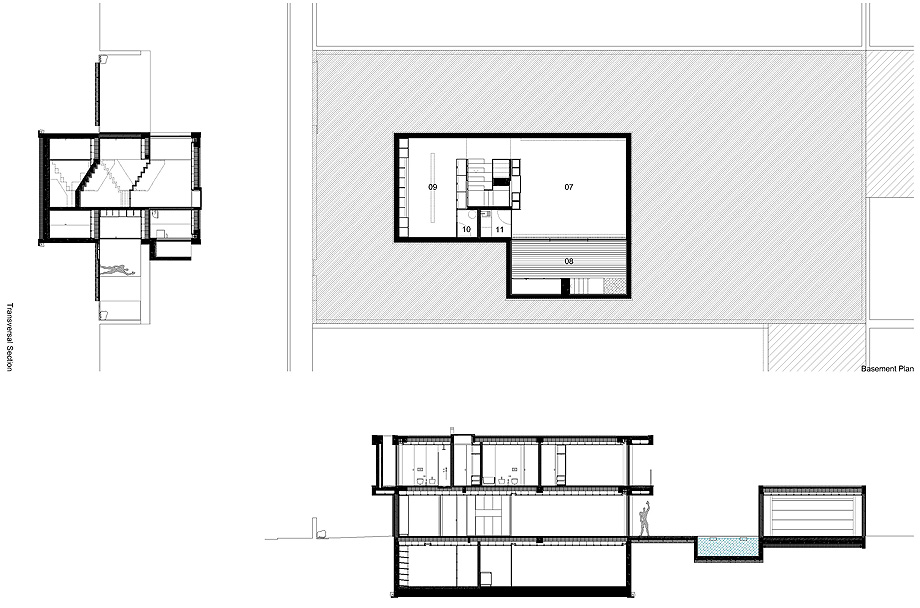 Sección transversal / Planta sótano / Sección longitudinal

---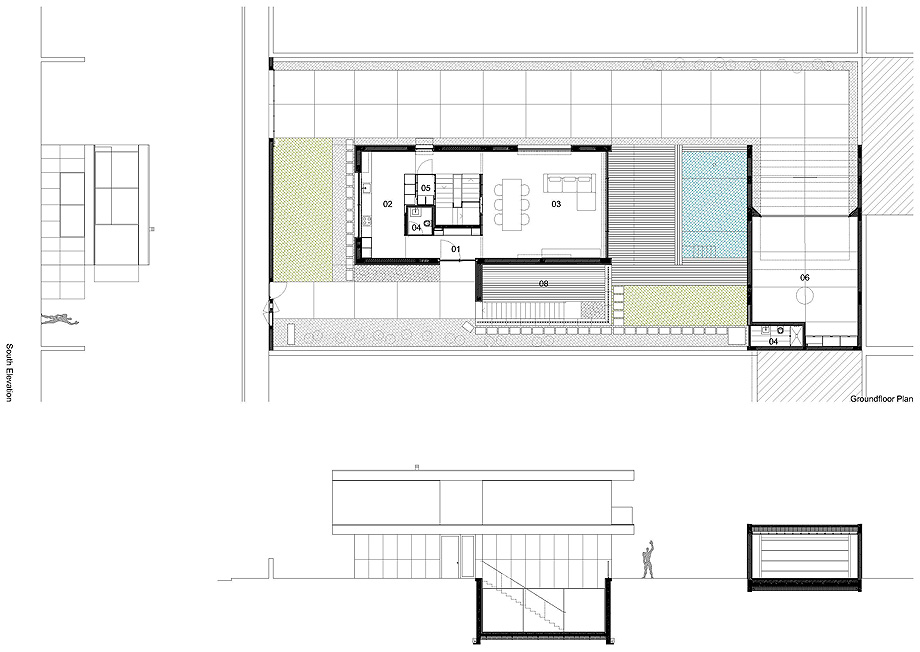 Alzado sur / Planta baja / Sección longitudinal

---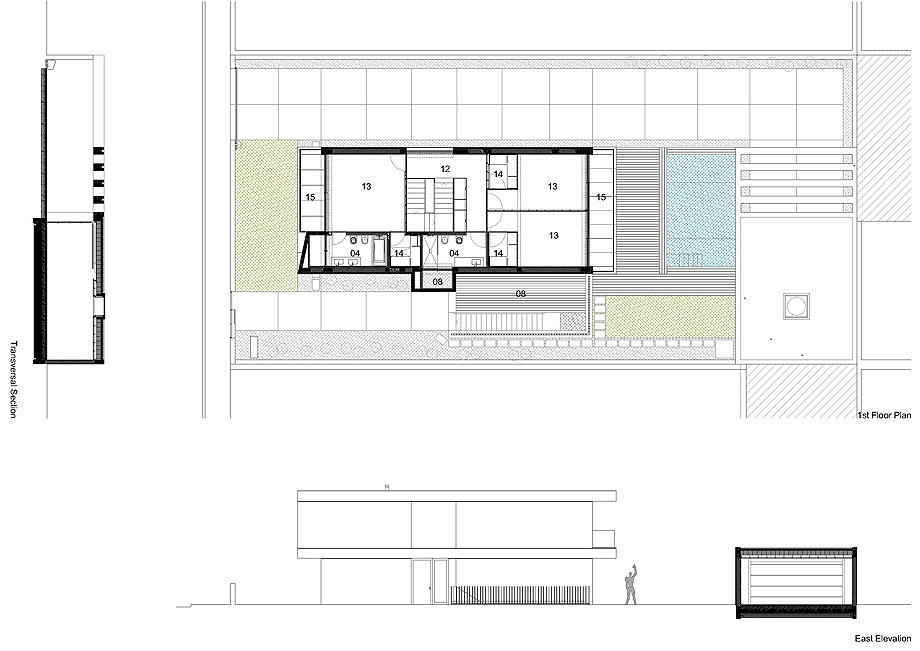 Sección transversal / Primera planta / Alzado este

---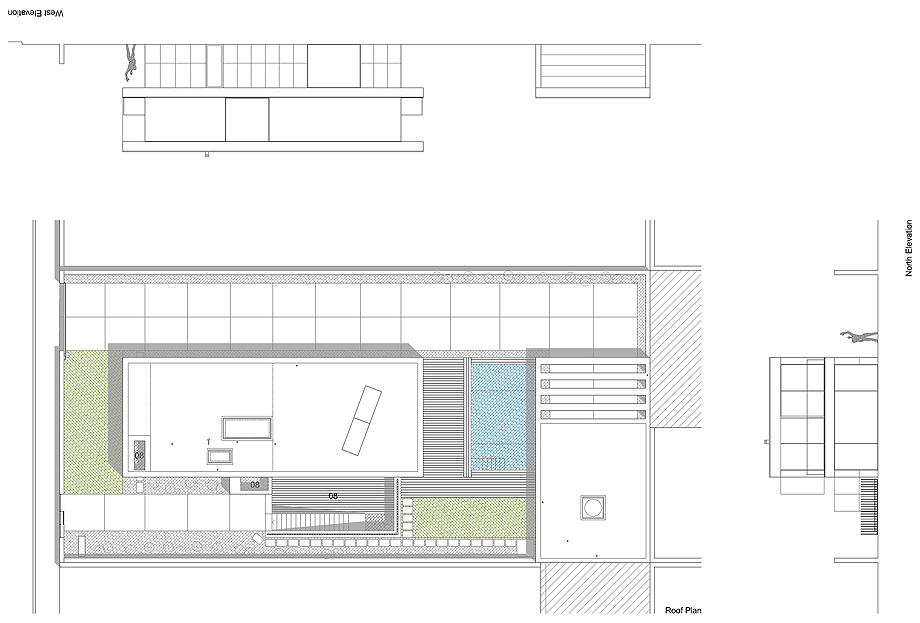 Alzado oeste/ Planta cubierta / Alzado norte

---
LA MAQUETA:
---
SOBRE RAULINO SILVA ARQUITECTO: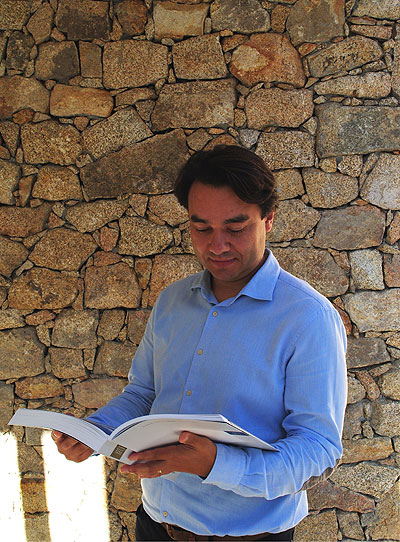 Raulino Ricardo Oliveira da Silva reside y trabaja en Vila do Conde (Portugal), donde nació en 1981. Arquitecto por la Escuela Superior Artística de Oporto (ESAP) desde el año 2006, es miembro de la Ordem dos Arquitectos Portugueses n.º 15294. Entre 2006 y 2011, trabajó en algunos despachos de arquitectura de Oporto, de los que cabe destacar el estudio del arquitecto Paulo Silvestre.
Desde 2011, tiene despacho de arquitectura propio en un pequeño pueblo de Vila do Conde donde, esencialmente, desarrolla junto a un equipo de arquitectos proyectos de vivienda unifamiliar y pequeños equipamientos.
Las obras del despacho han sido expuestas en Portugal, México, Italia, Noruega, Francia, Argentina y Azerbaiyán, así como presentadas en la Pecha Kucha Night Lisboa, Pecha Kucha Night Porto, en el WIP2 de Imancowork y en las Conferencias de Arquitectura en el Centro de la Memoria de Vila do Conde. En 2016, se publicó en el libro monográfico de Uzina Books, "Casa Touguinhó II / Casa Gandra", con edición de José Manuel das Neves.
Sus obras han ganados los siguientes premios: iF Design Awards 2019 (Alemania); Build Architecture Awards 2019 (Inglaterra); World Architecture and Design Awards 2019 (India); the Design and Build Awards 2019 (Inglaterra); Global Future Design Awards 2019 (India); Europe 40 Under 40 Awards 2018 (Grecia); International Architecture Awards 2018 (Estados Unidos); Architecture MasterPrize 2018 (Estados Unidos); Iconic Awards 2017 (Alemania); y Baku International Award 2015 (Azerbaiyán).
RAULINO SILVA EN INTERIORES MINIMALISTAS
---
Fuente: Raulino Silva
You might also like